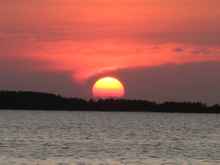 Well I am back from the wet "dry run" of the OBX sailing raid. It was fun, hard, scary, frustrating, funny, beautiful, tiring, and invigorating. I think the same could be said about the Texas 200 and the Florida 120. There were 4 boats involved this year which where all very different from each other and helped refine the event by simply being so different. My boat is a Jeff Gilbert designed catamaran whose design is named Roonio. It is 16' long and can sail in less then a foot of water. Its two lug sails are in bi-plane formation. I call it Serendipity. Then there is my brother Sean's boat which is a Jim Michalak designed Piccup Squared which is a pram bowed 11' boat. It is a flat bottomed boat with a balanced lug and a small mizzen. The mizzen was added to the design by Sean and he calls his boat Patox. Then there is my father Bill's boat, again a Jim Michalak designed boat called Mikes Boat. A large, roomy, and deceptively fast 17' pram bowed boat. It also has a balance lug with a mizzen. Bill's boat is named Ember's Watch. Finally there was George Broadlick's boat which is a Martha Jane designed by Bolger. It is 23'-6" and has a balanced lug and mizzen. The more I sail with this boat the more I am envious of its practicality and brute beauty. Its name is Terrapin.
I will assume that most of the readers of this have followed the development of this event on the forum, website, or here on Duckworks in the previous article. I will also just briefly hit on sjome of the things that happened during this event, and not a play by play.
| | |
| --- | --- |
| | Serendipity setup and anchored a day early. |
I arrived with my boat and crew a day earlier then everyone else at Cedar Island in North Carolina which lies on the south side of Pamlico Sound. Martin, my crew and best friend, got the boat together and in the water. The place we were staying is called the Driftwood Inn and Campground. They do not take reservations and it is first come first served. There are two boat ramps within a short walk of each other. The one on the south side of the island is part of the campground and in order to use it you must be a guest with either the campground or the inn. The other boat ramp is on the north side of the island and is public access. For people who are coming to this event the difference is very important to note. The one in the campground is narrow and shallow and is only good for smaller boats. Bill's Embers Watch is about the biggest boat that can launch from this ramp. The Campground has space for about ten smaller boats packed very close to each other to dock for a night with the camping spaces right there next them. The other dock is where George's Terrapin launched. The north boat ramp is an easy walk from the campground but does not have anywhere to dock. You can pull out into the bay and anchor easily. To top off the complications only about twenty boats total will be able to park their rigs at the Campground and Inn. So I will be taking names of those who wish to be a part of this event and all others who wish to attend will be put on a waiting list or will have to figure out a way to meet us on the way, or find a different parking space. Please contact me directly and you will be put on the list, first come first served.
| | |
| --- | --- |
| | The boats at the small dock. We will all have to make room next year. |
As you may know the point of this first trip was to finalize a course and the campgrounds we will be using for this trip.
| | |
| --- | --- |
| | If you don't have Google Earth, you can download it from the link above. Then click the image at left to see the track of Herco's cruise. |
Once we were all gathered and ready to leave Monday morning we headed out to Pamlico sound north along the outer banks toward Whale Bone Island. The winds were at best indifferent in the morning with a heavy storm thrown in the middle with heavy winds. We did not make it all the way there and the water was very shallow. The sun was setting and camp had to be made. There was no beach to be had, so we all set camp on our boats anchored loosely in a group. I decided to head south the next day towards Dump Island to see what there was down there.
| | |
| --- | --- |
| | We are running out of light so we pull up to a duck blind to make camp on our boats. |
This part of Pamlico was not going to fit into the trip. It is to far a sail out of the way from Cape Lookout. For mile on end there is nothing but stakes setup in the shallow water to hold fishing nets. But there is the occasional duck blind that some sailors can tie up to. At sunset we saw a water spout about three to four miles north of us. It was scary and beautiful all at the same time.
| | |
| --- | --- |
| | Martin Looking for shells on Dump Island |
The sailing each day fell into a vague routine. In the morning the wind would be light or nonexistent for about an hour or two, then the wind would pick up throughout the day and maybe even a storm with much stronger wind by the end of the day. Reefs were definitely used, so were oars and occasionally outboards. I would tend to take a straight course to the next destination over shallow waters, and the rest of the boats would stick to the deeper water and a slightly longer course. It should be noted that the tides were a 1' or 2' higher than normal due to the alignment of the spheres during our visit. I am not sure how much this will affect our travels for next year except to say most people should stick to the channel.
| | |
| --- | --- |
| | The Beach at Dump Island. |
The second night we got to our first campground for next year. It is called Dump Island. Black Skimmers flew low over the water with their beaks in the water catching fish. This was on the Atlantic side of the island. We collected driftwood for a camp fire and set up camp. It is shallow and there is a little channel if you are heading in from the north to the island. Shallow boats will be able to make it all the way to the beach. The Martha Jane got as close as she could and then George and David walked in to shore about 50 meters to enjoy the campfire. To get out in the morning we had to sail west and then south to get around the sand bar. I actually just sailed straight south since it was high tide, but I would not want someone getting stuck.
| | |
| --- | --- |
| | Martin looking comfy while sailing. You can see Embers Watch and Terrapin in the background. |
We sailed the rest of the way down to Cape Lookout the third day. At the end of the day when we were getting close, a squall came creeping up behind us. I was in the shallow water again on the east side of the channel, and the other three boats were about 2 miles across in the channel. You could see the classical shadow line and rain. I knew it would hit me in about 25 minutes. Martin Reams, my best friend and crew, was a virgin to sailing.
I pointed out to him the storm and told him it was heading straight for us. This is something like what the conversation went.
"What should we do?" Marty nervously asked.
"Well we have several options, and we have some time." I had been through a few storms like this before. "We could try to get to the barrier islands and lower the masts, but the storm is heading from that direction and I am not sure we could sail into the wind and make it to that island in the time we have." I paused and looked at the storm again.
| | |
| --- | --- |
| | The storm coming up from the aft port side. |
Marty looked at the storm and the barrier island in a way that let me know he understood. I continued, "We can not make it across the bay to the other boats, it is just to far and the storm will be on us before we get there. We have two things on our side. We are in very shallow water and can stand with the water at our knees, and there is no lightning in that storm. The smart thing to do would be to reef down and ride out the storm. We can always point up into the wind and ride it out." This whole time I am scanning and thinking the problem through as I was talking to him. I was getting a giddy feeling and not at all as scared as I should have been.
"Well should we go ahead and do that then?" Marty did not know what he was getting into but for some strange reason trusted me. "I think that I want to get to Cape Lookout fast. I am confident that we can sail out the storm safely and very fast. I think we should just ride it out." I had made my decision. I felt that the winds would be high, but until it got too high we would have a great ride and then point into the wind. I had done this before, with this boat, and felt fine with the risk. Besides, I could always stand up in the sheltered water which was only 2' deep. This whole time up till now during the conversation we were doing about 3.5 knots.
"ahhh.... OK if you think so." I love a good crew. One which doesn't know enough to argue.
So we made all fast, tightened down the hatches, strapped on the life jackets and rode on. I love storms. I love the fear, I love the shadow line heading towards you with unstoppable inertia, the adrenaline, the last minute check to make sure your sheets can run clear, all of it. The storm hit and we went flying. The rain was almost sideways. Visibility went from miles to meters. We ended up hitting 8.6 knots before we headed up into the wind. At which point we were heading slightly sideways still towards our destination at a few knots, but I did not have my GPS out. The GPS did register my max speed though which I saw afterward. Marty was visibly shaken by the experience, but also exhilarated. I was not, I am ashamed to say, ever scared or fearful for my boat. Serendipity performed just as expected. When the squall left after about 15 minutes the wind was still kicking but slightly less. We rode the tail of it into Cape Lookout doing about 4.5 knots. It was great. Please do not do this yourself. I am not a trained professional. Just stupid and lucky. That is all I really want to say about that.
| | |
| --- | --- |
| | Oh Cape Lookout, I could sing a song about you. But I haven't written it yet. So gorgeous. |

When we went into the storm we disappeared from sight of the other boats. My radio was not working. From deck's of Embers Watch, Terrapin, and Patox, I simply disappeared into the storm and then 10 minutes later it hit them. Once the squall passed them I was not on the horizon. So for about an hour until they got through the channel and into the bight they could not see me. To my credit I did call my mom, and I did call Bill to tell them I was fine. But Bill's phone was packed away.
I checked out the lighthouse and Ranger Station. At the Ranger's Station I found that you no longer need a camping pass to camp along the Cape Lookout barrier islands. Also Driftwood fires are totally legal. WOW. Awesome.
| | |
| --- | --- |
| | We had a campfire every night of the event. |
Remember, there is no such thing as taking along too much Jameson's for campfires. We had a really good time chatting the night away. We had some discussions and I came to some conclusions.
The next day we sailed over to the lighthouse and checked out the museum. All of us also walked over the board walks to the Atlantic side as well. This is a must do for this trip. The waves where huge! Six to eight foot monster waves and a lot of guys out there surfing in it. This is why it is not a good idea to sail on the out side of the Barrier islands, at least with our boats.
| | |
| --- | --- |
| | The Lighthouse from our tent. |

We went back up to Dump Island the next night and enjoyed another beautiful night. The sailing was great. The tide ran real low and I wished I had taken the longer route to be in deeper waters. It is annoying to have to get out of the boat and push or pull for a few hundred yards at a time. The next Morning it stormed for several hours and I took a shower, read in the tent, and had a beer until the lighting storm passed. We did not end up leaving until 11 am. Up till now we had been leaving at 8:30ish after coffee and breakfast. I had to get Martin back to Driftwood so he could be picked up by his sister to go to a wedding where he got to tell the tale of how crazy his friend is. Of course he wants to do it again, so what does that say about him?
| | |
| --- | --- |
| | George standing on the Terrapin. A boat I might have to own, or maybe the Bolger Micro...... |
It stormed all the way back and we pulled out once we got back to the Driftwood. George in Terrapin found a better beach across the inlet from Dump Island which has good deep water anchorage. It has a clear approach and a nice sand beach. It is not on the official national seashore, but it is totally abandoned too. This was a real find and will be camp 4 next year.
Conclusions about next years event:
Start at Cedar Island.
Monday Night Camp 1 Dump Island
Tuesday Night Camp 2 Cape Lookout
Wednesday Night Camp 3 Shackleford Island (with the horses)
Thursday Night Camp 4 George's Beach.
Friday Night back to Cedar Island.
This Course is subject to change and is only a guide line.
Now I have camped at Shackleford Island before and you can read about that experience in a past article. It is also a short sail away from Cape Lookout. There are several place's on the island to camp but my favorite is on the north west end. So on Wednesday we will be at Cape Lookout and have plenty of time to explore and perhaps sail each others boats if anyone is interested. Then a short sail over to Shackleford to make camp for the evening. Then back on up. This course has everything and is all around beautiful. I hope that twenty boats will take the opportunity to join us next May 23rd-28th. The 23rd we will have a captains meeting at some point in the evening and on the 28th we will have some awards and dinner at the Driftwood restaurant followed by a little party in the campground.
I would like to thank those who came this year. There was a total of seven people and 4 boats that set out to explore, have fun, get home safely, and that is what we did. I hope to make some new friends next year out there and have a drink with the old ones.
More of my photo's can be found here.
| | |
| --- | --- |
| | Cape Lookout at sunset. |
More articles about the OBX130:
I can't believe I ate half that bag of … ! By Sean Moffitt
The OBX By Paul Moffitt
Article in Reports by Paul
The OBX 130 Website
*****