January - February - March - April - May - June - July
August - September - October - November - December

Hi, Chuck,
The 2011 PDRacer desk calendars are now at the printers. About half have already been sold. I would still appreciate a link, though. The calendars can be ordered on the PDRacer Products Page at https://polysail.com/pdracerproducts.htm near the bottom of the page.
Dave

I love the photos of the PuddleCat in your November Splash. Are there plans available for that or did he just build it as he went? it reminds me of Mark Grumpecht's Lil Nip. Since it's a multihull instead of a monohull, is it faster than a regular PDR? I would love to see some photos of it sailing. It looks like it would be ideal for small lakes.
Paul Cook
_____________________
Hi Chuck,
Do you have any plans available for the puddle cat by Roger Mann Taylors, SC
Kindest regards,
Stuart Keane
_____________________
You folks will be happy to know that PuddleCat plans are available at:
https://www.rogermann.org/puddlecat/

Chuck,
Thanks for running the epoxy balance article. The layout looks nice. It might be useful to add a small addendum. It came about after I ran an epoxy question by System Three tech support and provided the link to the article. They responded as follows;
... Thanks for the heads-up on the measuring method. Since any "teeter-totter" method depends upon moments (distance from the pivot to the weight) one must be careful to not change these by moving a cup off-line during the process.

System Three Resins, Inc.
Technical Support
253/333-8118
www.systemthree.com
I looked at the article and no where did I state to be careful in centering the cups on the appropriate lines. Thus a source of error exists for readers who may not fully understand the "teeter-totter" math. If you think this could be an issue, an Addendum at the end of the article would help clarify this, something like;

Addendum: A reader pointed out that for accurate mixing, one must be careful to ensure that the the cups stay centered on the appropriate balance lines.

Best regards,
Ole Helgerson
Carson, WA

I have been looking into building my own sailboat for some time and have explored hundreds of options. Steel is something I understand and am good with and the origami design is perfect in simplicity of design and strength. I'd like to build a fast ocean cruiser 35+ feet but your boat is the first origami hull I've seen that looks promising. I have done a fair bit of modeling in an attempt to meet my wants and wishes in a boat while keeping things origami simple and believe I have found a way to construct an origami boat that completely eliminates the hard chines while maintaining pleasing and hydrodynamic curves from stem to stern. I plan to build a thin gauge metal sailing model for testing my theory when i find time, so far I have only managed a cardboard model between wheel watches.
My main reason for writing you is to satisfy some curiosity and to make a contact to bounce construction and design ideas off of, there aren't many people here in Alaska who build sailboats that i can find to talk to. I am no engineer, not exactly qualified to undertake the reinventing of a "wheel" as sound as origami boat building but I'd like to at least test my(?) theory... to your knowledge has anyone presented a design for a radius chine origami boat? if you don't know, is there anyone you know of who may be able to give me more info?
the gist of my design came from a steel recycling concept, using a 30,000 gallon steel oil tank to cut and pull a hull from. I had access to one at the time but had neither time nor the working space and the opportunity passed but the idea remained. basically, take a tube and flatten one end creating the bow of the model. obviously some trimming is needed to correct the geometric difference between radius and circumference but with this, roughly the first half of the hull is given shape. a reference line is drawn down the center line from the bow and a curved widening V cut is made from about halfway aft from the bow centered on that center line to the stern. perpendicular to the edge of the V cut, more V cuts are made so that their open end is towards center. this allows the stern to be pulled together somewhat without losing the radius formed by the shaping of the bow. once the hull is pulled and tacked, its ready for stringers frames and then floors.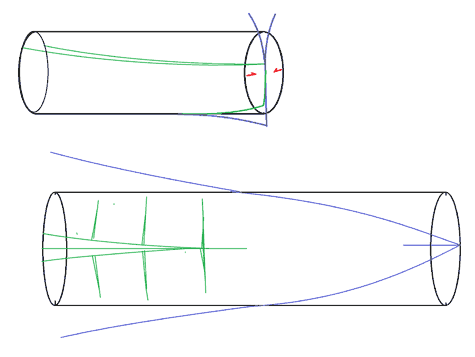 I'll include a basic drawing, somethings I find myself unable to properly described in words.

I hope I haven't wasted your time, I'd appreciate any input you might be able to provide.
thanks,
Jason Crew.
_________________________
Jason: I am afraid you have me confused with someone else, but your ideas are interesting and I am presenting them here so that our readers may comment - Chuck

Stream level info from your mobile device
Greetings,
I am Howard Perlman, hydrologist for the U.S. Geological Survey in the Georgia Water Science Center. We monitor thousands of rivers in the U.S. in real time; there is a good chance you already look at our data when you do kayaking activities.
But, we have a service called "StreaMail" which we have never advertised much, but might be of use to your members. In fact, I'd like to find out if your members would use it. StreaMail lets you use your cell phone (or any email system) to ask for the stage and flow of any USGS real-time monitoring site.
All you do is send a text message or email to "streamail@usgs.gov" and in the "subject" line (or possibly the body line, depending on cell phone type) put in the USGS site number (usually an 8 digit number..for Texas, the list or sites is HERE. (there is a drop-down to find data for other states-chuck) or HERE.
Now, I have to say StreaMail was never really finalized, so there may be problems with certain cell-phone companies.. no way to tell. Still, it seems to work fine almost all the time.
I just thought the service would be handy for people who recreate in rivers, as they could ask for the current conditions of certain rivers by using their cell phones.
So, please let me know if you try this service out and if you think it might be a useful tool to your group.
Thanks,
Howard Perlman
USGS

If a man is to be obsessed by something, I suppose a boat is as good as anything, perhaps a bit better than most.
-E. B. White
Greatness is not where we stand, but in what direction we are moving....we must sail, sometimes with the wind, sometimes against it, but sail we must, and not drift nor lie at anchor.
- Oliver Wendell Holmes
contributed by Bill Moffitt

Jackie
Your Duckworks article of November 2nd is excellent, as are all your writings. I did see one error in the very first line that I must correct as it is likely my one chance for recognition in this small boat world. I do believe that I coined the word messabout for an event I organized in April 1990. This was the beginning of the Southern California Small Boat Messabout Society, SCSBMS, or scuzbums as Annie Holmes was later to call it. It has continued for 20 years thanks to the efforts of scuzmum Annie.
My first use of the word messabout as a small boat gathering is documented in MAIB, V8 No3 of June 15 1990. It pleases me that others have found it useful in sharing their enthusiasm for small boats. Thanks to Bob Hicks and the Internet, the idea continues to grow. I get a twinge of joy each time the word used, and so many people enjoying messing about in boats.
Thanks to you for helping to keep this joy alive in all of us.
Joe Tribulato
SCSBMS founder
_______________________________
Jackie replies:
Joe,
I am so sorry to have misattributed the creation of "Messabout" to Bob Hicks. I did not properly research that and my "sources" just jumped to same misconclusion!
I know about the Scuzbums of course, as my friend Shawn Payment belonged when he lived in California I am sure.
Thanks for setting the record straight! I will ask Chuck to run your letter of correction in Duckworks with my column next month or in letters. It is nice to know how things actually get started that we do.
You confirm my theory about the pebble tossed into the water and the ripples keep moving, never knowing where they will end up!
Jackie Monies

I'm not sure where to go with an idea that has occurred to me but the Duckworks audience might be a place to start. The topic is emergency signaling. If we wind up either in the water or on the beach at night, the challenge is to attract the attention of those looking for us. On the beach we have the option of a fire (and I have another idea for that) but if we're in the water it's another story. What about a laser flashlight incorporating a small array of lasers covering between them an angle of a few degrees? Looking at a laser flashlight I have it seems that the devise could measure as little as an inch or so in diameter. The idea would be to rapidly sweep the unit in the direction of the searchers. We couldn't aim it very well but the searcher would get the intermittent flashes of the laser array as it periodically hit him. The angle of each light would be too small to hit very often but multiple lights would raise the odds by as many times as you had lights - say four or five.
This is not an idea that I'm very likely to carry forward and I'm offering it free. Do you think some Duckworks tinkerer might pick it up?
fair winds
Brooke Elgie

Dear Chuck. I have a wooden boat, a Bolger AS-29. I have owned it for 5 or 6 years, and a while ago, I damaged my back doing some construction work. Since then I have not been able to sail the boat, and now I wish to part with it.
I don't know how much you know about this boat, but I am sure you have heard of Phil Bolger. He was an American marine architect known for his eccentric, but highly practical and innovative designs. The AS-29 is a good representative of his work and this boat is the prototype! Phil described it as an Advanced Sharpie with a Gaff rig. Some of its features are: extreme shallow draft, (13" on a 29 foot sailboat) retractable lee boards on both sides of the boat. Cantilevered Masts that can be lowered to pass under low bridges (which enable on to explore areas inaccessible to most sailboats.
It is constructed of marine plywood covered by fiberglass. There are some areas that need attention, some rot in the stern above the water line, but overall it is in good condition and could be sailed with not too much work. I feel like this boat is a contemporary icon in American marine history and I hate to see it slowly deteriorate as it sits in the boat yard. I have enclosed some pictures taken a few years back when it was in prime condition. I will entertain any offer and would actually donate it to some worth cause if necessary. Like I say, It is an icon in American boat design and deserves a new home.
Thanks for your time,
Alan Boutilier
We have posted some pictures and contact information for Alan in the "For Sale" section of the Classified page of Duckworks - Chuck

Woodenboat Family boatbuilding in Oklahoma
Hello Everyone-
It is now official, our Sail Oklahoma! group and our volunteer builders are officially approved as a formally endorsed Wooden Boat Family Boat Building Project. We are listed on the website and can announce it as a Wooden Boat project.
I got e-mail from Gregg confirming this morning. There is an error and it is running from April 15 through April 17, not April to November. They will correct it!
We are approved to build the three Ducks, the Welsford Kiwi, the Michalak CatBox and the Storer-Owens Texas Duck. This is to meet one of Wooden Boats requirements, that there must be writen plans and building instructions available to all participants to study and use at the build.
A second requirement is a covered building space, which we will meet with a combination of the Boat Palace and its annex, along with covered canopy tents outside the Boat Palace.
A third requirement is using teachers with experience and we are meeting that with Mike leading one boat, John Owens, Brad Hickman and other experienced builders leading others.
We have experienced builders assisting as well who will have built prototypes of each boat in advance with Mike that the attendees can use to follow.
We are cutting kits on all the boats and doing step by step pattern guides for simplicity, to be used along with the plans and building guides. Costs will be kept as close as possible to materials to reduce participation costs. This will be a not-for-profit project, hoping to cover costs.
The Michalak CatBox is already in the works out in the Boat Palace with Mike and Dockdog aka. Richard Brown building two at once. We have a volunteer to build a pair of sample Kiwi's in form of By Miller, an experienced and talented builder of a Skiff America, who wants one for himself. We hope to recruit By for the teaching team as well.
John Owens of JOBoatBuilders will take responsibility for the Texas Duck team, doing his own samples and kits, instructions.
While we have been asked to bring this to Wooden Boats "big show" I will be happy to smoothly have this happen here in Oklahoma in April as a "little show". Small baby steps, small baby steps!
This is to me some very positive and good things that can happen with PDRS and Ducks. The three hulls are all class legal hulls. Mike has drafted and done all the samples except on the Texas Duck, which John Owens has done.
We need to move our group in positive directions together as smoothly as we can. I am grateful to Carl Cramer and Gregg for approving us as one of their project builds. I am also very proud.
Love, Jackie Monies and Mike (who is building two Ducks right now)

https://groups.yahoo.com/group/SailOklahoma/
https://familyboatbuilding.com./events-calendar.html

Chuck, I just want to thank you most sincerely for your support given to me with the Smallest Model Schooner on Planet Earth Contest. With some thirty or more entries it has been a successful one and my column for February 2011 will in clued an item on it.
As your columnist principally I would like to thank you and Sandra for participating and lending support.
Mark Steele

I have received cooperation and agreement from a Technical Specialist at Titebond (a Franklin International Company), that Titebond III, as I have described its use, is acceptable for use in the "Tape & Glue Process" (download instructional PDF file HERE) that I recommend in my plans. This was necessitated by the negative remarks made by a boating website, that indicated the process was not "Marine Approved", and therefore should not be used. I have since conversed with the web host, and this information has satisfied his concerns. I am sure there are other naysayers out there, so I have added this information to the T&G Process document..
It's hard to believe that this all started in 2008. Look at the list of my designs now, and it's growing. Soon to be released is an 8 foot Kayak for young people, that will fit in the back seat of the family car. The design was prompted by my 2 Grandsons, age 10 and 15. They live in New Hampshire, near a small quiet river, ideal for kayaking. And, thanks to you, Chuck, and to Sandra, my portable boats are now being built all over the globe.
Sincerely,

Ken Simpson
www.duckworksbbs.com/plans/simpson/

Dear Chuck:

Sea Tow Services International, the world's leading on-water assistance provider, has launched its "Rig Your Boat With $10,000" Sweepstakes, where Sea Tow is giving $10,000 to one lucky boater!

Participants can enter to win at www.seatow.com/10000bucks The sweepstakes will run through Jan. 31, 2011, and is open to boat owners nationwide who are at least 18 years old. No purchase is necessary to participate.

For more information, please write to me at Gbeckett4@comcast.net, or contact Emily Corman, Sea Tow Corporate Communications, at ecorman@seatow.com -- (800) 473-2869 x3136.

Sincerely,

Gary Beckett
Gbeckett4@comcast.net
Turnkey Communications
& Public Relations, Inc.


I've been trying to contact Warren Messer regarding one of his designs, the "12' granville bay". I know it shows to not be completed as yet but I was looking for some information as to when it might become available but I have not received a response from Warren on my inquiry. Can you give me an update on the design and on Warren himself. None of us are getting any younger and I was concerned that I had not heard from him.
Thanks
Larry Frasier
Warren Replies:
Still here working on the GB12.

I replied to someone in the past few days on when the plans will be finished, and I said some time in November or December. I hope. I'm way behind on working on the drawings, but it shouldn't take too long once I get into them.

Warren
Stitch and Glue and Stylish Too

Another vote for Redbarnboats
Dear Chuck,
Thank you for providing such a good and helpful website. I think that you should create a permanent and prominent link to Warren Messer's redbarnboat You Tube Channel.
https://www.youtube.com/user/redbarnboats
He has oodles of helpful videos and his ongoing series on building his Granville Bay is a classic and should be watched by everyone who has ever dreamed of building a boat.
Thanks,
Tad Johnson

Making Hand Screw Clamps with Warren Messer
Dear Chuck,
I have been an avid viewer of Warren Messer's YouTube videos about building the 12' Padilla Bay Skiff. Warren shares his wealth of knowledge and tips including how to make the wooden hand screw clamps he uses.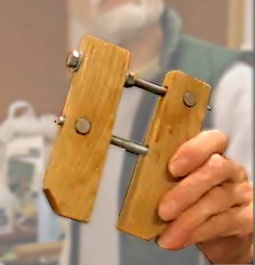 In Part 33-1 he left out a few details so I emailed him for more specifics. I then made a one page instruction about how to make these clamps, getting some pictures as screen captures from his video, sent it to him and suggested he post it online as part of his information for anyone to print and use. He thought that was a good idea and gave me your link.
The page is very simple and meant to be used as an addendum to his Parts 33-1 and 33-4 Installing Rudder and Trim videos. 33-4 was just posted and he answers some of the questions I had after viewing 33-1.
I am a retired Graphic Designer and Illustrator and enjoy making visual products that are easy to understand and would like to contribute this as my way of thanking Warren for sharing his information. I included a revision date at the bottom of the page so if there are any changes you'll be able to track the most recent version.
Best Regards,
Robert Ellis, Anchorage, Alaska
Thanks for the instruction sheet, Robert! - it is very professional - we have given it a permanent home on Warren Messer's plans page:
www.duckworksbbs.com/plans/messer/handscrewclamps/

Stacy Smith's One Sheeter
Chuck--
That's a seriously interesting one-sheeter, maybe the best I've ever seen-- Maybe you could encourage the designer to work up an accurate plan? It looks like it would be dead easy, light as a feather, and perfect for a middle-school, early high-school aged kid, both as building project and a fun boat to use...
Best,
Mike

The picture of the binnacle and correcting spheres (Tall Ships in Tampa) was a good description, but we in the Gyrocompass Shop at NNSY called them quardlantral spheres or the "navigators balls".
Bob G

Chuck
My blog hits doubled the last couple of days. I went to blogspot's statistics page and found that 90% of those new hits came from Duckworks! Thanks very much for posting the link, you have quite a following.
We are down to the last few weeks of sailing here, but I'll get out a few more times including a sail this weekend with Paul and Dawn Stewart of the EC crowd. That should be fun.
Thanks again for the link, best wishes.

Chuck-
Did you notice this fellow slinging dirt at you on the Bolger group? Here is his post:
From: "c.ruzer"
To: bolger@yahoogroups.com

Susanne, it's great to hear you're gaining strength, and that progress is being made. More power to you! In so far as 'normal' and your query about overlooking anybody are concerned, have you addressed the 'grover' libel as published by your competitor plan seller, Duckworks Inc?

Susanne, I looked it up in MAIB here:

MAIB Vol 27 No 2, June 2009, page 42.
Bolger On Design
Nano Cruiser
Water Beetle 10
Design #680

5th paragraph:
"Fast forward to last December when an old client wrote from Texas that he wanted "a brick with a Birdwatcher top." As usual we were behind on all sorts of matters, somewhat exhausted and down from wrestling with too many things for too long. So we thought it would be a therapeutic diversion from matters much more serious in serious times to make a quick drawing showing how a Flying Cloud hull could be modified into a cruiser?!...

..Plans of NanoCruiser Water Beetle-10, our Design #680, are available for $125 to build one boat, sent priority mail..."

The MAIB BOD article includes 2 photos of PCB sailing Flying Cloud, and 1 reproduced sheet showing profile, layout, and optional sailplans.

The 'grover' claims published by Duckworks Inc in the undated 'letter' may pehaps be true, and have some legal if not moral defence to charges of libel and consequent damages. Perhaps this fellow, grover, did commission the design. Perhaps he paid in advance for same, and perhaps more than the quoted $125 plans price? If so he has his years, 08/09, a little mixed up, but perhaps he has actually been overlooked by PB&F? Duckworks, a competitor in the boat plans retail market, will continue to make a meal of out of this kind of thing as they have in the past.

People pop up in various yahoo groups advising others to stay well clear of PB&F. They recount 'friends' cautionary horror stories. This duckworks story has gotten some traction instead of retraction.
I jumped up and slapped him for you. <g> Here is my reply to him:
I know Chuck Leinweber of Duckworks, and have to defend him against this anonymous "libel." He's not someone who'd "remain miffed" over being rebuffed by PB&F after offering to market their plans. Do we even know if anything like that ever happened? He's not some cutthroat competitor who'd maliciously try to harm his rivals (are there any people like that in the small boat plans business? I've never encountered any...). He's got plenty of business to keep himself and Sandra busy, and is more interested in having time to go boating than in expanding their business until it eats up too much of their life.
Chuck only published a letter from a disgruntled customer of PB&F. If there's any truth behind Grover's gripe, there's no libel, and there may be something to it, given the chaotic state of PB&F in the last few years. Acknowledging the troubles of PB&F by no means indicates that I think there was ever any intentional wrongdoing by Susanne!
PB&F is hardly a competitor with anyone in the boat plans business now. It's just too difficult to find out about the plans Susan sells and then make a purchase. Short of having someone build and maintain a Website for PB&F, like I did for another widow, Pat Atkin, and put together a catalog, Duckworks would be an excellent way to market Bolger's plans. I don't know why Susanne would be resistant to the idea. <shrug> Duckworks handles the online catalog and deals with the payments, the designer ships the plans. The plans are never out of the designers control, so there's no chance of problems like PB&F have had with Common Sense Boats and Duckflat down in the Antipodes. Jim Michalak has been happily using Duckworks for many years to sell his plans, and I'm sure he'd be willing to tell Susanne about it, if she'd ask.
John Kohnen


Chuck,
Thought you would enjoy this post I copied for you off the PDR Forum. This is the result of the Sail Oklahoma! showing people beautiful Puddleducks like the Kiwi and the Oz's. I am not bragging, just a fact, they HAVE to see and SAIL a boat to appreciate how good they are, whether it be a Duck or a Pathfinder me thinks!
Wish we could have sample boats like we did cars when I sold cars!
Jackie
PDR Forum tonight:
Which PDR to build first?........(second)

I sailed my first PDR at the Oklahoma Messabout and then when I hit home ordered the OZ and the KIWI and Cat Box plans. Now, which do I build first?

This next boat (the old one will be rebuilt a piece at a time) will be carefully built (not like my old one that appears to have been measured with a tree branch and cut with a stone axe). I want to take my time and really do one well.

So........ I'd kinda like Jackie Monies to be able to build the first Cat Box (she was talking about it) but I could just do it slower than her.

The only problem with the OZ PDR is the hull shape unless I read it wrong and I assume that all I have to do is to measure, cut and shape the hull to conform to the original PDR rules. Right?

Steve Brockwell

Elgin, OK

PDR #484 "OSHU"

(.....Duckworks is gonna get rich off of me.......)

... and a Puddle Duck Hatch
Chuck, Sandra:
I have picked a name for the Catbox "The Cat Lady" which is what I know the neighbors must call me!
Can't decide on a color paint job on her though although I was thinking of maybe a calico cat pattern.
I need to put this on Duckworks too but I put on PDR Forum and Sail Oklahoma! We are going to host a Puddleduck Hatch here at the house and the Boat Palace where people can come and work on their Ducks, build a Duck and take it home. Brad Hickman has already volunteered to help Mike teach the building parts. We have people signed up already for a couple of Ducks.
The idea was to hold in April so they can finish them, sail them before the Worlds here in October. My idea was to build cheap, fast built, basic Ducks just to get them on water. Now it has been suggested we involve Dave Gray and his kits, John Ownens and his kits. This is a good idea no doubt. I am writing them tonight.
My other reasoning was that we could build loaners for others flying in. Shorty is all enthused and has already looked at when he can fly in! Scott Weidemer changed 50 doctoral candidates schedule so he can come, Andrew Linn is coming, talked to him today (not sure he'll get in Duck) Anyway, I need some loaners and thought we could sell them after Worlds just for the materials or store them for next year.
My plan is to put Shorty, Jim Michalak, John Welsford, you and any other legends and celebrities in a Duck and have you race with the Ducks. Kinda like running the bullls in Spain.
Mike is out building decks again. We are going to try and get yard rebuilt in the next year and put in some stuff we need like a cooking and grilling platform, outdoor shower, screen the sleeping porch, etc. We have to do stuff gradually.
All our comments have been that everyone had a great time and they are all coming back.
It is all because of you and Sandra and the TX 200 and that is a thank you!
Love, Jackie

Congratulations on your wonderful website. It contains stories and details of many wonderful designs, boatbuilders and lots of practical information.
I was surprised that, despite many other fine designs and designers being listed in a number of places, Bruce Kirby's Norwalk Islands Sharpies are nowhere to be seen. So I wonder if you would be able to add two more websites to your list of links:
- www.nisboats.com - Nisboats.com - The one-stop-shop for Norwalk Islands Sharpies - worldwide agents for plans, kits, tabernacles, carbon fibre masts, special design rudders, and all other gear related to Norwalk Islands Sharpies - contact Robert Ayliffe at robert@nisboats.com
- https://groups.yahoo.com/group/nisboats - The Norwalk Islands Sharpies (NIS) Forum. Contains lot of information, photos, NIS database, and the chance to get valuable advice and details on these boats. [I am the forum's Moderator].
You may also like to look at the Links page on the nisboats forum as it has many other great websites listed - e.g. Bo Garrison's On The Tide.
Thank you in advance for your help.


Hi Chuck,
Interesting letter you posted on NanoCruiser. I wondered what was up as I've built several Bolger boats and I like small cruisers. Altenberger's writing doesn't hold a candle to Phil's, but that doesn't mean she can't continue the business. I was going to share it with another Bolgerista and it seems to have been removed.
What's going on?
Reed Smith
Ventura, CA
It's still there, Reed - click HERE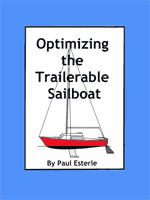 Hi Chuck,
Just a quick note to let you know I've finished my third book, "Optimizing the Trailerable Sailboat". It run 326 pages, has 11 chapters and loads of photos and my CAD drawings. Its $27.95 hard copy or $13.50 download at Lulu. I'll send a review copy as soon as i get some hard copies in (just published it last night!)
Take care!
--
Paul Esterle
Freelance Boating Writer
"Capt'n Pauley's Place"
The Virtual Boatyard
www.thevirtualboatyard.com

Chuck,
I recently spotted the hatch plate article I submitted. Looks nice.
Thanks, Ole

Never Lost: Polynesian Navigation
Chuck - perhaps this might be of interest in the right place on your site. s/Pete
https://www.exploratorium.edu/neverlost/
So you are sailing around in the middle of the Pacific Ocean: What's next? Can you get your bearings? How will you get anywhere? These are all very crucial questions, and they are explored here via a fine interactive feature created by the Exploratorium Museum in San Francisco. After a brief introduction, visitors will be asked to "embark" (you can follow along in Polynesian as well), and here they will learn how Polynesians used to navigate these far-flung islands in the Pacific. The materials on the site are divided into the following areas: "Origins", "Canoe", "Navigation", and "Voyage". The "Origins" area is the place to start, and here visitors can learn "What is Polynesia?" and listen to Polynesians talk about their home. In the "Canoe" area, visitors can interact with a canoe model by clicking on its various parts; learn about knot tying techniques; and the necessary provisions for such a journey. Moving on, the "Navigation" area features a primer on the basics of wayfinding and a slideshow that offers some insights into the voyage on the open ocean. [KMG]
From The Scout Report,
Copyright Internet Scout 1994-2010.
https://scout.wisc.edu/

Chuck,
Many thanks for the reply (I advised him to build the boat that spoke to his heart-Chuck). What you wrote reminded me of something Arthur Beiser wrote:
There are many requirements a sailboat must fulfil to be really satisfactory: it must be solidly built, easily handled, and so on. But these are the barest minima. To my mind, unless one's spirit soars at the sight of a boat, unless one instantly sees oneself at its helm under a blue sky with porpoises leaping alongside, it just won't do. ... I believe that of all the elements that go into a proper yacht, the one that should never be compromised is beauty.
Yeah, the Navigator indeed speaks to my heart. I saw this video on the woodenboat forums and can't wait to start working on one.
Anyhow, again, thanks, Chuck. Ordered the study plans and looking forward to the build!
Thanks, and best regards, Robert

Hi Chuck,
Haven't looked to see where you're off to this week but I had such a great sail yesterday that I can't resist sharing a bit with some one who gets it. I'll do an article later if you think it'll catch eyes, but I'm so damned pleased with my boat that I can't wait to do a complete story.

Steve B. and I launched out of Elk Neck State Park and sailed out the Elk River to the Chesapeake and back. A steady and increasing WNW wind of 10 - 15 with gusts well over 20, mostly sunny & maybe 80'. In the lee of Elk Neck there was a 1 - 2' sea but past the point the fetch was probably 15 miles and it built to 3' with some white caps. WHAT A DELIGHT! The boat just goes ... 4 - 5 kts . some heel of course but very steady with only and occasional slap and a few real pounds. Very able .. we never did both sit to windward tho' I do take the the cleated main sheet in hand. Steve insists "it'll never go over" and I'm not sure he'd come over to sit .. too many years cruising the Maine coast. This was the second time down there and maybe the 6th or 7th time with serious wind but this time on "big water" .. . I'm still learning and surprised with her performance. Doesn't point up as far as I'd like, tho' new sails and a decent shape on the foils would probably gain me another 5'. I'd just pinch her off all the more I suppose, but I'm I'm learning to trust her more and more. I had spoken of getting down on the Chesapeake 5 years ago but it was just day dreaming . now I can't wait to get back .. this boat is way better than I'd dared hope. To I'll grant you I had a modest lake sailors expectations, but it has really come through. We had right of way but .a 60' cruiser passed within 75' without slowing (SOB) and we had to cross a bow wave of at least 6' ... glad I could ease off the wind and take it with enough speed for a solid rudder and at maybe 75 - 80' .. but she just worked up one side and tore down the other . great fun tho' I won't be disappointed if I never do it again.

If you want an article let me know. I'd probably want to use a pictire or two from the earlier ones and I had a computer crash and lost them .. I'm guessing you can get a couple from the archives. The park and ramp are good facilities and others might want to know about them.

Keep up the fine stories on designs, builds, performance and outings. It has been a very rich five years for me.
Fair winds,
Bob Throne

Chuck,
First off Duckworks is a splendid resource for both sailors (I'd imagine) and us wannabe, hope-to-be soon sailors.
I was perusing through the internet (quite the task!) as I contemplate my soon to be built Bolger Light Schooner, and came across Jeff Gilbert's design #117, the "Cartaphylla." It's really a design much more in tune to what my brother and I are looking for, still an inexpensive (comparatively) boat with every feature we were hoping for that Mr. Bolger's admittedly genius design lacked for our purpose.
Sadly, when I looked everywhere online for Mr. Gilbert's work I could not find it, and alas his email listed in Duckworks is no longer valid (it appears to be a 10 year old article). Is there anyone that knows where to go to look at other Gilbert designs, or to contact him for study or construction plans? I appreciate your time.
Thanks and Regards,
Kyle Horton
Sorry, Kyle, we have had no word from Jeff for some time - Chuck

Hi chuck,
... What i need now is navigation using a GPS and laptop or I-pad for electronic mapping in the east Asia... I will be sailing in the Philippines... how can I get maps on laptop and then coordinated it with GPS.. I never even used a GPS so I need to have good information.
Thank you .....Tim

Hi Chuck,
Thought you should know someone is "trolling" Duckworks classifieds with evil intentions. I received a call today from a Sprint operator putting a call thru to me from a "Mary Wilson" who was hearing impaired. She was responding to my wanted ad with a Drascombe for sale. All conversation went thru the operator as "Mary" couldn't hear. Her responses were typed. So, during the conversation (of sorts) another operator cuts in to tell me that this call matches a type which they have been watching as the calls are criminal. She offers to terminate it but now I'm curious so I continue. After saying I'm interested, "Mary" offers to email me the specs promptly. The call ends. A few minutes later, true to her word, I receive a splendid layout with photos of a really nice Lugger for sale. For $1500.00. Pay Pal excepted. This of course adds to the mystery. I notice all measurements are metric. I can't recognize the trailer manufacture. I punch in the trailer brand into Google and up pops the same ad with the same photos for a Lugger which had been sold. In Britain. I emailed "Mary" asking for the location of the boat. Nope, never did hear back. Thought you might want to know. Hope you enjoyed your vacation.
Ed Einhorn

I really loved the article on the Navigator. I think that's one of my favorite sailboats to look at. It just looks very seaworthy.

Paul

Just wondering if you know any cheap or free boat dynamics software. I do some 3D modeling - but need the dynamics info. (fairly computer savvy) What I'm looking for is something my 17 year old son and I could work with.
We have a 16 ft aluminum V bottom boat we would like to convert into a sail boat. We are needing info on an approximate mask height, sail area and design, dagger board depth and rudder size.
Any help would be appreciated!
Thanks,
Taylor

Announcing Skoota from Woods Design
Although it has been some time in the build, we eventually launched our trailable 2 berth 20ft power cat Skoota (still waiting final paint job). The hulls fold for transport as on Wizard/Sango
You can see a video of launch day below
We still have to fine tune the engine angles etc but we did do 14 knots with 3 on board, 15 with one. Pushed by a 25hp Yamaha 4 stroke.
Plans will be available end Nov (the hull plans are available now, the cuddy drawings are still being finished).
Best wishes
Richard Woods of Woods Designs


Hi,
Can you please identify this for me, came with the tender I bought, cant find any serial number, or markings other than JAP, may be a seabee, but doesnt look like any other pictures on the net. is a good runner starts first time every time, but starter recoil spring has snapped, so have to take the assembly off to start with rope only.
it is direct drive no clutch. Runs lumpy on tick over so have to set revs fairly high which churns too much water. Amal 379/78 carb, but no mixture adjustment.
Any help would be apreciated
Martin

Hi
I did not know my father had written anything about this years Texas200. He has very nice words for me which are mainly undeserved. First let me point out that although most of the content at the OBX website is mine, he made the entire site and keeps it up to date. (not up to date right now, but in general) Also everything I have ever done regarding the event was run past him and talked through. Almost every sailing skill and building skill I have comes directly from him. I still call him with all my building or fix problems. He does not tell me how it is because I ask him for his advice instead. If me and my brother can be half the man he is we will be great successes.
Paul

I recently bought a Drascombe Scaffie hull and need a mast, yard, sail, rudder & tiller for the boat. The boat is normally fitted with a lug rig but I will try anything if you have suggestions. I would appreciate any ideas anyone might have of getting this boat back on the water. If you have parts that might work or know someone who knows someone.... please get in touch with me by phone 334-899-4427 or email campcruiser (at) graceba.net
Thanks in advance,
Allen Tedder

More Advise Wanted & Given
I need your advise. I commisioned Philip Bolger in dec of 2009 to do a very small birdwatcher type boat. I believe it was his last complete set of plans and the details were published in maib. His wife and he even referred to me in the article. The boat is known as the Nano. I have made every type of reasonable attempt to get what I paid for. I have talked to maib publisher... he will do nothing. she is dishonest and has defamed the good name of Mr. Bolger. I am going to start a campaign on every internet site I can find telling this sorry tale. I do not want to do this. I am old and not in good health and so many friends and family are dying. I just want what i paid for... the plans. Do you have any advise, please.
grover
ps... be very careful of any dealings w/ susan attenburger[sp]Mr Bolger's widow

I'm turning into a "Plywood Boat Prophet" of sorts around here in the Kemah area. As you know this is sailing central, but so many still believe only the well off can sail. I love telling people about boats like PDRs for $100 and Laguna for only a few hundred. Even here where sailboats are everywhere Laguna gets LOTS of attention!
Gordo - Laguna Uno

Hi Chuck,
I have just realised that the post on your "letters" page of the information on the book Mariette and the Herreshoff Schooners is now outdated as the English version of the book came out in early July and is now available. There will be various articles and reviews published soon in specialist magazines such as Wooden Boat, Classic Boat and Yachting World, for example.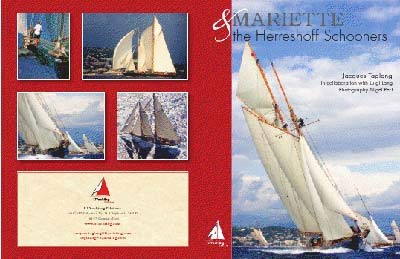 yours sincerely,
Nigel Pert
BASE : 00 33(0)233640591
MOBILE : 00 33(0)614906779
SKYPE : nigelpert
MAIL : contact@nigelpert.com
BLOG : https://nigelpert.wordpress.com
WEB : www.nigelpert.com - www.ltyachting.com

Dear Chuck:
I love reading Duckwords Magazine so imagine my surprise when I saw my adjustable maststep and partner featured on the cover. (see September Treasure Chest) Love it! Keep up the good work.
Cordially,
Mark C. Wiseley


Chuck,
I realized, after I answered the last email, that I don't have an active ad on the Duckworks site. The only mention of the boat was a request for information several years ago:

https://www.duckworksmagazine.com/04/s/projects/mystery/index.htm
The wording of the sender's last email is a typical scam email. Oh, I still have the Pepper although it has been "on the hard" and for sale for 3 years.
https://www.sailingtexas.com/spepper15100.html
Just thought you'd like to know about the scam.
Fran Marinaro
===========================================
Aug 24, 2010 01:38:20 AM, jimmyheng11@yahoo.com wrote:
HELLO I SAW THE ADVERT OF YOUR ITEM FOR SALE AND AM REALLY INTERESTEDIN IT, I WILL LIKE TO KNOW IF IT IS STILL AVAILABLE FOR SALE.PLS GET BACK TO ME WITH THE CONDITION AND ALSO IF IT CAN BE PICKED UP AT YOUR LOCATION
HOPE TO HEAR FROM YOU SOONEST THANK BEST REGARDS.....
Details needed.....1,last price all....2,condition.
===========================================
August 24, 2010, 11:10 AM, fmarinaro wrote:
To which item(s) are you referring?

===========================================
some emails deleted for brevity....
===========================================
Aug 24, 2010 07:40:54 PM, jimmyheng11@yahoo.com wrote:
Thanks for getting back to me, I am ok with the price and the conditions. I would have loved come right away to access it and pay for it once, but due to some circumstances beyond my control I wouldn't be able to do that as am on a business trip. However, If you would accept certified check as the mode of payment, then Kindly send me the details where to send the payment such as your full names how it should appear on postal address with a valid cell/land phone number so it can be sent to you asap. I await your swift response so that we can further discuss.
warmest regards
===========================================
Aug 24, 2010 8:26:20 PM, fmarinaro wrote:
paypal or cash (USD) only


We finally did the sea trials for the kid's kayaks. They both performed well enough, my grandson (8years old) heading about 500 yards off shore to meet his dad in a quick canoe after about 2 hours practice. The downside is that at 100 pounds he really needs a bigger boat, or at least more freeboard. Also, I went to the local kayak shop and was told that kids paddles are 185cm. or about 6', which is too long in this case. I would say maybe 6" longer than the childs height but no shorter than 5'. All in all pretty successful.
Les Grauer


Chuck
Its the dead of winter here in New Zealand, as I write the shortest day was about 3 weeks ago, but the worst weather seems to have blown over and we are having a series of absolutley crystal clear days with light frosts in the morning and gentle afternoon breezes. Perfect weather for sailing, you need your woolly hat, and thick socks but the water is like glass and the popular anchorages empty, the air is so clear that you can almost count the windows on the big tower in the city 25 miles away and its the sort of cold and sharp that makes you feel supercharged.
Dave Perillo has been out there making the rest of us envious, his AWOL, Medusa, performing beautifully in the winter weather. He really is getting the rewards for all those hours working in the garage, and is showing everyone that winter is a good time to be out exploring in an open boat, in New Zealand.
John Welsford
Dave Perillo writes:
Hi John

Stunning weekend out on the harbour here in Auckland... Medusa on the Rangi Lighthouse sandbar. Im thinking a bigger version already... What could be done by building bigger/longer and still using that rig as part of the sail plan to save $$$ - ie Schooner? or ketch rig?

Dave P.

Chuck
Wanted to send a thanks for publishing my article on the spark plug hole repair. I have been busy working on my 63' Aluminum Duracraft, 77' 35 Evinrude. I may have article in this project, if I feel that I can contribute something valuable I'll pass it along.
Brian Gainey,
Bryam,MS


Chuck
While I don't ever see myself needing a boat like the Laguna that you commissioned Jim Michalak to design, it sure is a pretty boat. While it seems obvious, it's fascinating how Jim starts a design with the boat's intended use in mind and works backwards from there. His designs have given me a real understanding of "form follows function" design and the beauty inherent in it. I even think the Blobster is a real looker.
Tad


A Challenge for Model boat builders
Dear Chuck,
I remember years ago Volkswagen had an advertising campaign in the US with the headline THINK SMALL in which they extolled the virtues of their small by US standards car, `Small is beautiful – Think Small' was the message. Here I am my friend, now conducting a search to find `the smallest RC model yacht on Planet Earth' while realizing that space inside the yacht's hull becomes more restricted the smaller the length and the narrower the hull.
My challenge has a closing date of 15th November yet despite this further limiting time factor, two or three RC scale modelers to date have risen to the challenge which requires them to submit three photos by email to me (those in the UK and Europe to send theirs to Barrie Stevens of Marine Modelling International) who will forward them on to me.
The results will form the basis of an article in Marine Modelling International sometime in 2011, the winner of the smallest RC schooner as well as the winner of the smallest freesail model found to be notified by email when the findings materialize. A medallion award will be made for both divisions and adaptations of kits is permitted. My column in Duckworks as well in The Model Yacht, the newsletter of The US Vintage Model Yacht Group will also carry the post-event story.
With micro RC gear now available, the building of ultra-small models are much more possible and it is hoped that the Challenge will perhaps ignite interest in very small RC and freesail models.
Entries will close on 15th November with an entry form which I will email to you if you email me requesting it to windlingworld@xtra.co.nz
Mark Steele

Chuck
A guy I have corresponded with mentioned that Flying Scot boats have a line between two rings on the transom that could be used for reboarding. This is a simple idea and one that is easy to replicate for any flat transomed boats. I looked it up on the web.
The safety line attached between the two rings on the transom serves as a place to hold onto if someone fall overboard. I imagine if it was a bit longer it could allow reboarding after a capsize, perhaps with some difficulty, but at least it would be better than nothing.
After reading on Duckworks about the Mikesboat capsize during the OBX130 and being impressed at the writer's attempt to pass along some safety information related to his capsize, I was inspired to pass this transom safety line idea along to your readers.
Steve


Chuck
The Northwest School of Wooden Boatbuilding in Port Hadlock WA is sponsoring a sail-in for both power and sail boats the afternoon of the 7th of August 2010. It's a community-oriented event. I've attached the press release in case you have space to run it. (I'm managing the event!)
Pete Leenhouts
Northwest School of Wooden Boatbuilding
42 N Water Street
Port Hadlock WA 98339
---
FOR IMMEDIATE RELEASE:
Contact:
Bill Mahler, Director
Northwest School of Wooden Boatbuilding
Phone: (360) 385-4948
Fax: (360) 385-5089
Email: billm@www.nwboatschool.org
Website: www.nwboatschool.org

Boat School holds Sail-In and Community Event
Port Hadlock, WA. July 19, 2010
You don't have to own a sailboat or even a boat of any kind to come down to lower Port Hadlock and enjoy an afternoon of food and fun. Saturday, August 7th is the date for the Northwest School of Wooden Boatbuilding's second annual Sail-In. The event begins at 1:00 pm and ends around 6:00 pm.
The will be free food – hamburgers and hot dogs – provided by the Boat School and a beer garden at the Ajax Café across the street. The community boat, Onward, built at the Boat School by high school students and community volunteers will be in the water to take participants out for a sail and row. Tours will be available on vessels such as the M/V Lotus, a 93 foot cruising houseboat built in 1909 and listed on the National Register of Historic Places. Tours of the Boat School, including information about the boats currently under construction, will also be available.
ALL ARE INVITED! This very informal gathering is for people of all ages. Come down and get to know the Boat School. There are great things happening down in lower Port Hadlock, come see for your self. No need to RSVP, just show up and enjoy.
The Boat School's mission is to teach and preserve the skills and crafts associated with fine wooden boatbuilding and other maritime arts, with emphasis on the development of the individual as a crafts person. The school enrolls up to 50 local, national and international students each year in vocational training programs. The Boat School also builds boats on commission.


Hi Chuck,
For everyone who has dreamed of setting sail on a luxurious yacht, Project Kaisei is offering a chance to win the trip of a lifetime while giving back to the environment. Millions of tons of plastic trash, double the size of Texas, are accumulating in the waters of the North Pacific Gyre. This summer, Ocean Voyages Institute's initiative Project Kaisei is embarking on its second expedition to the "North Pacific Garbage Patch" to collect plastic trash that will be distributed to recyclers to test methods of converting the material into reusable goods.
Your readers can join the voyage by participating in The Dream Sail Raffle, which will give participants an opportunity to give to a good cause and the chance to win a fabulous trip for four people to the Tuamotu Islands in French Polynesia on a 50ft sailing yacht.
Raffle tickets are available for $50 each and the drawing will run until August 28 when the winner will be announced. There are a limited number of tickets being sold (5,000 total), and additional prizes will also be awarded during the early-bird raffle on July 30. Without organizations like Project Kaisei, it would not be possible to enjoy the pristine oceans and coastlines of these exotic voyages.
More information on The Dream Sail Raffle, which is being sponsored by The FusionStorm Foundation, can be found in the release below. Please let me know if you plan on sharing this opportunity with your readers. Thank you!
Best,
Holly
Cohn & Wolfe for Project Kaisei

Hi
I did not know my father had written anything about this years event. He has very nice words for me which are mainly undeserved. First let me point out that although most of the content at the OBX website is mine, he made the entire site and keeps it up to date. (not up to date right now, but in general) Also everything I have ever done regarding the event was run past him and talked through. Almost every sailing skill and building skill I have comes directly from him. I still call him with all my building or fix problems. He does not tell me how it is because I ask him for his advice instead. If me and my brother can be half the man he is we will be great successes.
Paul


There are 12 i550's sailing that we know of. Another 30 are in build. with maybe half of those getting launched this year. more than 300 plan sets have been sold worldwide. For this number of people to have stepped up, encourages us to believe that a lot more are just one clicky from getting a set of plans, patterns or a pre-cut kit. We are working to gain recognition from sailing clubs as an achievable transition boat for junior sailors which will not bore them out of their gourds. ( and the adults, too).
We make no claims that building a boat is not a commitment. We do know that you get more out of it than you put in.
Visit us please also at i550sportboat.com.
TR & SJ



Chuck and All that helped...........
Thank you for this Texas 200.
Credit to all that helped, officially and otherwise.

I had a wonderful time.

The company, food, bus ride, parking and all was well done. Perfect.


Chuck, thank you for commissioning the Laguna design from Jim Michalak.
I am thrilled and amazed with the Laguna's overall performance, draft, speed and most of all its "simplicity of build". It is my sole mate....the "boat" love of my life.

I slept in it in my driveway last night.

Mike Monies let me borrow the temporary frames and spacers for the build and I assume he would allow their use to a new builder. They are tapered and perfect just like everything he does...

johninbastrop


Chuck,

thanks for the heads-up to the video; I always thought that Laguna Dos crew looked piratical (after all, they won the "A Pirate Looks At Forty" Award at the EC), and now we have proof--a documented ramming attempt, at speed!

Oh, I liked your mast making video, too--I'd love to see a section of Duckworks with user-created how-to videos.

Later,

Tom


Chuck - not sure if this has a place in one of your summary columns...I'm putting together a longer article on the Boat School's new welding shop and associated programs now. Pete Leenhouts
================================================

Open Shop Welding, Tuesday & Thursday Mornings
June 01, 2010 - June 24, 2010
STARTS: 9:00 a.m.
LOCATION: Northwest School of Wooden Boatbuilding

Welders are welcome to come use the shop under direction of Instructor Linda Walsh.

Fee includes use of the equipment, supplies and instructional guidance. Students may work on personal projects but must provide their own materials.

You can attend as many days as you want during the time period. The cost per session is $30. You can pay upon arrival or call the school to enroll over the phone: 360-385-4948, ext. 300.
SPONSOR: Northwest School of Wooden Boatbuilding
CONTACT: Kendra Seaman
PHONE: 360-385-4948 Ext. 300
E-MAIL:
Enrollment@nwboatschool.org
WEB SITE:
https://www.nwboatschool.org/programs/Course_Detail.aspx?processID=95

Australian Otter needs help
The Australian Otter is under threat from traps set in the rivers and along with fish caught. The Australian Otter (commonly known as a White tipped water rat) is a very elusive animal and lives alongside the Platypus in the rivers and lakes. Both these animals have been caught in traps set for fish.I bring this to your attention so as your readers may email a comment to:
https://platypus-australia.blogspot.com/
in support of both the Platypus and the Australian Otter. If enough comments are received trapping may be stopped. Note these animals are becoming very rare and will be placed on the endangered list in a time to come. Please do read the posts in the blogspot.
Cheers Stewart

I've written a pirate story for my niece, Ashlynn, who is 10 years old. While it is not appropriate for Duckworks, would you mention that I'm selling copies for $15.
It's set in 1745 Baltimore, about a young girl named Annie, her Dad who is a commercial ship captain, and the English king's gold. Pirates have captured Annie's Dad and his crew, so Annie sneaks onto their topsail schooner on its way to a mysterious island. No one knows where the island is because it is drawn in on a map with disappearing ink. The pirate Styxx and his men sail to the island through a deadly mist. They use Annie's Dad and his crew to get the gold to the ship, but many adventures await them and Annie, who is with them.
There are snakes who chase Styxx's men on the island beach, a parrot, a secret cave, and a happy ending. lt's called, Sailing For Home. This is the first paragraph:
She stood at her upstairs window, staring down at the schooners, square-riggers, and pilot ships in the harbor. She was but a young girl, waiting for her father to come home from his voyage in the Caribbean. Her father was a pilot himself, commanding a commercial ship carrying lumber, cloth, and iron-works to the islands in the warm waters. He always came back, she knew he would, but every day she watched the horizon, hoping, holding her breath, awaiting for those blue sails and gleaming white hull to appear.
Paul Austin
4104 Block Dr. #319
Irving, TX 75038

Feedback wanted on new TSCA Website
Paul Gray has 90% of the TSCA web site converted and up for review. It's time for a wider group to look at it and help find mistakes, broken links, outdated information, etc.

Paul's message and the direct link are below. When you have time, please review as much of the site as you can, and send comments toptgray@archi-tech.com . If you have general comments, you can post them on the Council forum, and the Council will consider any change recommendations and discuss them with Paul.

Thanks! - John Weiss
________________________
I am pretty much done with the site. The only thing under construction is a new photographs page, which I am still trying to figure out the best approach for.

I can't put the prototype up on our normal server, as it will push us way past our allowable amount of disk space, so I put it up on one of my servers here, under my CardinalSailing.com domain. The link to the pages is:

https://www.cardinalsailing.com/tsca/index.html

It should be pretty intact. I think I have gotten all (ok, most) of any orphaned links cleaned up.

Once you get a chance to take a look at it, could you post the notice on the forum for whomever else you want to get a first look? I am going away for the weekend and will have limited access.

I came across another menuing approach that I really like, that would save us some additional space. I will put together a sample and let you take a look to see if you would want to implement it.

Paul


Hi Chuck,

You seem to be getting out on the water a lot these days, what with the Texas 200 etc etc. Duckworks Magazine is still first stop when I switch the computer on in the morning!
All best,
Chris Partridge

Hi there:
I just noticed on one of your pages (Beale park boat show) a small article and image of a little dinghy, 'Mowana'. I and my siblings had one of these when we were small. The plans were purchased by my father along with plans for a GP14, both of which he built. I still have the GP but the small dinghy disappeared many years ago. I must say that I loved that boat dearly and it was a great design, I have been in some similar things and they just don't compare. If it were possible to get hold of a copy of the plans I would be really thrilled and to that end if you could put me in touch with the builder of 'mowana' I would be very grateful.
By the way I did try to find the plans on Yachting world archives but to no avail. I am in the south of Ireland.
Yours sincerely
Jon OConnor

Suggestions for duckworksmagazine.com
Hi, my name is Mary and I'm one of duckworksmagazine.com readers.
I'd like to thank you for the excellent information I've found on duckworksmagazine.com, it's one of my favorite readings on the web.
I have 30 years and live in Florida where I have the passion to share with family and friends tips to help them save energy to lower pollution and CO2 emissions.
I figured you might be interested in including a guest article for duckworksmagazine.com about the most common questions related to wind energy and how to lower energy costs.
Article in form of a little guide to help your readers experiencing with this topic and perhaps discuss the topic at hand.
Please, take a minute to consider this; it would be a pleasure and honor to contribute!
With your help we can educate the public about the dangers of high energy consumption and hopefully help saving a small piece of our Earth.
Either way, thanks for reading and keep posting your excellent information on duckworksmagazine.com.
Hope you a good week.
Sincerely Mary


Help finding Outboard Motor company
Looking for any thing to do with the STARLING OUTBOARD MOTOR CO. or FOX JET CRAFT BOAT.
My Dad ordered a out board and the company went under anb he never received it.
ANY HELP WILL BE APPRECIATED.
Call John 518.423.6078 or e mail me johnlefner@aol.com
THANKS

Chuck,
Wanted to send a thanks for publishing my article on the spark plug hole repair. I have been busy working on my 63' Aluminum Duracraft, 77' 35 Evinrude. I may have article in this project, if I feel that I can contribute something valuable I'll pass it along.
Many thanks and Happy motoring!!!!
Brian Gainey Bryam, MS