We are going to have reports all week from various folks who are either participating or helping with the EC this year. The latest reports will be at the top of the page and the older ones farther down. Check frequiently as we will be posting reports as they arrive. For now, you can see Photos from today (Friday).
Links of interest:
Saturday, March 13
3:00PM - Jackie Monies
Final report in on the EC2010 Awards. Mike and Andrew got the t-shirt, the shark tooth and the paddles for finishing.

They also got two awards, the boat that looked most like a pirate ship and the crew that looked most like pirates.

They also got a "New Blood" award for being first time competitors who finished.

I just counted and 24 finished in all classes, 19 were DNF, including Chief, who runs WaterTribe. The Laguna Dos finished at #17, but Mike and Andrew did spend a lot of time in campsites and motels, resting, and did not attempt to sail straight through.

Gary Blankenship in Oaracle did sail through almost nonstop and was leading almost the entire way in his solo class right up until the end. He finished in second place in solo monohulls.

I was interested that on day one, which saw the most damage and dropouts, the UltraMarathon group, which is just the one day, had a 50-50 dropout rate.
Checkpoint 1 was hard to make this year but it seemed from the accounts I read that the finish was pretty hard to make too, the Checkpoint 3 to finish leg saw a lot of people dropping out as well.

That leg saw Mike and Andrew sailing about 20 hours nonstop, if I added it up right, beating south to the Keys and then back east to the finish.

The accounts of those who made the last leg sounded bad and it stopped a lot this year.
Friday, March 12
12:00AM - Tom Pamperin at the finish line

It's a dark night, and breezy, with winds out of the southwest. I'm at the finish line docks waiting for the end with several other WaterTribers. They've been watching the Spot tracks of each racer closely, hoping that everyone still on the course will find a way to cross Florida Bay in the face of adverse wind. Mike and Andy on the Blue Laguna will be the next arrival; they're getting close to Key Largo, running north up the ICW at six or seven knots. A perfect wind for them for a change, but they had to work to get it. They left checkpoint three at Flamingo at six a.m. and they've been moving ever since.

Florida Bay is proving to be a tough obstacle; winds have been dead on the nose, and strong. Combined with the narrow twisting channels that define the shortest route, the southeast winds have forced Mike and Andy to look for other options. They arrived at checkpoint three in Flamingo on Wednesday afternoon for what they thought would be a brief stop. They headed back out as planned, but found they just couldn't point high enough to make the channels.
And so, a new strategy: spend the night at Flamingo, then head straight south across Florida Bay at first light. Once they make it down to the ICW, they'll have deep water and plenty of room to beat back up to the finish. Even better, they'll have some shelter on the windward side of the bay—winds are strong at the moment. Duncan Vaughn sails into Flamingo shortly after the Blue Laguna arrives, and while his boat—a beautiful O'Day Daysailer—is fine, the skipper feels a bit worse for wear after the long beat.
He's watching the strain on the boat carefully, too. "The stays are humming like piano wire out there," he says. He's not sure at first if he'll continue on Wednesday; it might be too hard on the boat. And he's been taking a bit of a beating himself. But the idea of just getting it over with proves irresistible, and it's not long before he heads back out. I see him two days later at the finish line, where he's still making promises to himself: never again. But somehow I wonder…
I run into Duncan on Saturday at the post-race party. "So, I heard you were promising yourself 'never again' after you got in," I say. "Is that still what you're thinking?"
"Well, the only thing is, the boat's going back to the UK," he says.
"But if you had a boat, you'd do it again?"
"Oh, yeah," he says. "Sure."
*****
After deciding to spend the night at Flamingo, the Laguna crew spends part of Wednesday afternoon pulling their boat out at the Flamingo ramp to avoid a two-dollars-per-foot overnight dock fee. Maybe the biggest advantage of having a ground support crew (me) following them to each checkpoint. And according to race officials, it's legal, since it provides no advantage to them in the race. It's a good thing they do it, too—when they pull the masts down they discover that one of the scarfs on the mainmast has opened up slightly. Mike isn't exactly happy about that—with "Woodcutter" as his tribal name, he feels a big responsibility to perfection and craftsmanship in his Laguna build. He makes a quick repair with a few screws but I can tell the small flaw bothers him.
It wouldn't bother me in the slightest; Mike's build has reached a level of perfection that none of my boats will ever see. Along the way he's made several modifications that are proving their value. Most interesting is the steering system. Mike has designed and installed a remote steering system that allows the helmsman to steer from the forward cockpit, the back cockpit, or even the direct tiller linkage at the stern. It's working well. Not only can the helmsman hand off steering duties at the drop of a hat (handy for quick rig adjustments), but the central steering position keeps the crew weight in the middle of the boat.
Mike has also built in plenty of flotation in the form of bench seats and a huge gear locker between the cockpits. He even lashed plastic fenders along the port gunwale. Not only is this good for docking, but it also provides asymmetrical flotation that may help the boat recover from a capsize. Seems like a good idea, but it probably won't end up being needed. So far the boat has been so stable that it hasn't even come close to putting the rail down. And Jim Michalak's ingenious gunwale design knocks down most of the spray before it reaches the cockpit.
All in all, Laguna Dos is an impressive boat. The practical modifications work well enough. But there are others as well. Mike built a longer aft mast than called for on the plans. Raising the balance lug boom out of the crew's way provides a handy justification for the change, but I suspect Mike's real purpose was different. He wants to leave no doubt that his boat is a schooner. No mizzen aboard Laguna Dos—it's mainsail and foresail. Woodcutter is a schooner captain. He sails a schooner.
Schooner or not, it's a fast beautiful boat. The bright blue hull and white interior call up images of cruising and the Bahamas and the Caribbean. And the profile of the two-masted rig against the mangroves wouldn't be out of place in an Errol Flynn film.
Thursday morning, though, it's back to reality for Andy and Mike; they're up before first light to launch the boat. A few minutes of raising the masts—they are gated whaleboat style, and easy for one person to handle—and they hoist sails and head out to Florida Bay. South to the keys, then turn up the ICW and make the final run to the finish.
*****
Back on the dock at Key Largo, a green light rounds the corner and comes into view way a couple of miles down the ICW. It has to be the Laguna. They're moving fast, almost directly downwind, on a perfect heading for the finish. As they approach, David Bolduc (Freebyrd) shines a light at their bow to give them something to aim at. They shine a light back at us; they've seen us. They'll clock in officially shortly after midnight, a Friday arrival. Someone mentions the old seafaring tradition about bad luck to leave on a Friday, but arriving is good anytime. Especially for Mike and Andy; I'm sure they're glad to be here.
Before long they're tied up alongside, looking like they're in remarkably good shape. They've been on the water for over sixteen hours, but it's been warm for a change, and the last few hours has been a downwind run at better than six knots. They've had moments of excitement along the way, though. Somewhere in Florida Bay they lost an oar overboard. Andy didn't hesitate, just pulled his electronics off his PFD and dove in after it. Man overboard. By the time he grabbed the oar, Mike had already started maneuvering the boat to pick him up.
After a few minutes of accepting congratulations and trading stories at the dock, I lead them away to the hotel room I've reserved for them. They've earned a good rest. And they've earned the shark tooth that Everglades Challenge finishers will receive at Saturday's banquet.
Part of the credit goes to Jim Michalak's Laguna design; Laguna Dos is only the second boat built to Jim's plans, and its performance has been all that Mike hoped for. Averaging seven knots when the wind was good. Screaming across mud flats. Touching fourteen knots while surfing. And it points well, too—forty-five degrees off the wind, maybe. Underfoot it feels steady and stable, and it's proving to be a good shallow-water cruiser.
"It'll claw to windward without the leeboard down," Mike tells me. "It'll maintain a heading of sixty degrees off the wind in eight inches of water."
Of course, the crew deserves its share of the credit, too. I've seen the intricate charts, the hard-to-reach checkpoints, the dark moonless nights and high winds. To come down here in a newly built boat,with a crew that's never sailed together, and make it to the finish line with as little drama as Mike and Andy have had, is better than good. They've done well, the crew of Laguna Dos.
*****
Racers continue to straggle in over the next day or so. There's nothing left for the Laguna Crew to do but wander down to Mrs. Mac's Kitchen for conch fritters and key lime pie, and hang out with other racers trading tall tales. The next morning—Saturday—we head back to the finish line to see Nick Hall (Pelican) off on the next stage of the Ultimate Florida Challenge.
I've had the chance to spend quite a bit of time with Nick at each checkpoint. Ever since rescuing the crew of the Wayfarer back on day one (see video below), Nick has been plagued by troubles: trouble with his steering system. Problems with headwinds. Trouble with timing the tides and adverse currents.
He's got to be disappointed at missing the fair winds that some of the other Ultimate Florida Challenge racers have enjoyed. It all started with the rescue, when Nick had to pull two sailors ("They were both over two hundred pounds," he says) off the overturned Wayfarer. They broke an ama off his boat in the process, and Nick lost an entire day making repairs.
He spends the night at checkpoint three, where I help him portage his boat from the Buttonwood Canal to the ramp into Florida Bay. The wheels that fit his boat somehow never made it to the checkpoint, so we load the boat on the Laguna trailer instead. A few minutes later Nick is back in the water at the ramp. A gator swims by, snout barely visible in the water, and I'm reminded of the stories about Nick wrestling alligators to pay his way through college.
"Let me tell you a secret about that," he says. "There's a big difference between wild gators, and the ones they have at gator farms. It's kind of like the WWF for alligators."
Despite the strong headwinds, Nick heads out into Florida Bay soon afterward, on Wednesday afternoon. But he's back after a while: steering problems in the narrow channels. He could've kept going if he could have beached his boat on a nearby sandbar to adjust his rudder, but no dice. Three powerboats in a row go by, and he asks each one for a tow. The sandbar is only a short distance away, but it's dead upwind, and with his rudder giving him problems Nick can't make it on his own. But the first boat refuses. And the second. When the third boat also declines to give Nick a tow, he takes it a sign. He turns around and comes back to checkpoint three.
Nick decides he'll head out at first light on Thursday, following Mike and Andy in the Laguna. That gives him time to make some other small repairs. His gps, for one. It's an older model, one he's had since 2002, and the buttons are falling out of it. He borrows a few pieces of duct tape to hold them in. The merger of high-tech electronics and backyard handyman tactics is an intriguing combination.
Later it's back to the marina to work on his boat. "No good deed goes unpunished," Nick tells me as he fiddles with his rudder. He's right about that. If he hadn't had to stop to make the rescue, he'd be well north of Miami by now. Now, on Saturday morning, the wind is out of the west at maybe twenty miles per hour, gusting to thirty. Nick has to fight his way off the beach before turning north and heading for Miami.
A powerboat backs down to the ramp that Nick's boat is blocking. The driver hops out and comes down to tell Nick not to worry on his account. "I'm not sticking my boat in today," he says, looking out at the ramp where Nick's boat is sitting. Waves are hitting the shore hard, splashing up over Nick's boat and sending spray off the rocks lining the ramp. "I've been telling my foreman—this guy's been working for me for twenty years, I've been promising to take him down to the Keys fishing, but I don't think he wants to get killed in the process."
Nick looks up from where he's packing his boat. He looks up at the fishing boat waiting on its trailer. It's a center console fishing boat. The 150 horsepower Yamaha hanging from the transom is bigger than Nick is.
"Yeah, your boat looks a little too big to be safe out there today," Nick says, and goes on packing his gear. A few minutes later a couple of WaterTribers help shove Nick's boat off the ramp. He peddles the Mirage drive off the beach, dead into the wind. Even with the wind on his nose, he's motoring along smoothly. He rounds the docks and makes the turn north for Miami. The Everglades Challenge is over; the Ultimate Florida Challenge is still up for grabs.
1:22PM - Watertribe Forum (Chief)

A series of bad luck has left me with two bent akas, a missing ama, bent cross bars, a broken seat, massive bruises on my butt and legs, a sore shoulder, and numerous bruises on my legs and back,.
When I capsized a few days ago conditions were very good with perfect wind and waves only a foot or two at most. Something flipped my boat on top of me causing most of the initial damage and the injuries. Also I lost a lot of stuff including charts. I thought it was a rogue wave, but looking back that doesn't seem right. Even two or three waves coming together would not have been enough to flip me. It could have been a big animal. Perhaps a manatee or whale or a huge fish. I will never know but whatever it was it was big and sudden without any warning what so ever.
After recovering from the first capsize and getting some equipment from Etchemin, I paddle/sailed for 30 hours straight without stopping to get to Choko. I left Choke at high tide the next day after lots of help from DrKayak. But I didn't get far. I was rounding Choko heading for Chokoloskee Pass when I was hit broadside by an extremely powerful gust of wind that knocked me sideways and bent the aka on the right side. I was using my smaller 28 foot sail but the aka still gave way.
At that point I had a bent center tube on the left, a bent aka on the right, while using my smallest sail and looking at 20-30 mile winds right on my nose. I decide that I could not trust my rig any more for those conditions and turned around. I will have to put things back together and try again in 2014.
I'm heading out to pickup my boat at Choko and then drown my sorrows at Key Large.
9:00AM - Jackie Monies

Andrew and Mike finally reached Key Largo and the finish last night/this morning at about 1 a.m.

They crossed south to the lower Keys tacking across the due south route the entire way. They turned when they hit the highway and just moved due east with the more favorable winds, made much better time the last leg of the trip. Their hull speeds were 5-6 or more. I estimated they had been sailing about 19 hours straight.

They checked into a motel with Tom Pamperin who will put a report on Duckworks along with Andrew Linn I am certain after they rest some. Mike said the Laguna sailed great, they had no problems with her whatsoever. He sounded tired but excited to have finished.

It is an accomplishment to have finished at all, especially in a new boat they had never sailed before on a route they had never sailed. The last boat behind them dropped out rather than attempt the crossing.


Thursday, March 11
Dramatic Video of Rescue at Sea
Wednesday, March 10
11:54AM - Blue Laguna's Spot

Click this link to see where I am located.
Message:Everything is fine - we are just checking in.

7:34AM - Jackie Monies

Mike and Andrew are currently off Cape Sable, approaching soon the third checkpoint in Flamingo, Everglades National Park.

Their speeds were quite slow yesterday, they appeared to be fighting light winds from the south requiring extensive tacking, not making much progress. Hull speeds were low and route was a zig-zag.

About dark yesterday rain and thunderstorms did appear off southern tip of Florida in their area, quite close to what their position was. I do not know if they ran into this or not, as their SPOT stopped working about that same time and did not resume until about 4 a.m. this morning, so there are no reports from them for approximately six hours.

Their speeds this morning are still slow, but their route is more direct, winds shifted during night.

They are close, I would estimate perhaps ten to twelve miles west of Flamingo, appear to be approaching it from a southwest position.

Tuesday, March 9
6:00PM - Tom Pamperin

Checkpoint 2, Chokoloskee: Tuesday evening, March 9th
The beach is nearly empty when I return to checkpoint two after a quick run into Everglades City, but there is a Kruger sailing canoe pulled up onto the sand. Got to be one of us. I skim the checkpoint logbook to see who's in, but I've lost track. There's no telling who it could be.
It's not that hard to figure out where the skipper is, though. Sure enough, when I walk down toward the Cuban restaurant two blocks away, I see Leon and Denise, the WaterTribe volunteers for checkpoint two, heading back. Walking with them is a tall lean figure dressed in foul weather bibs. It's Running Mouth, aka Jon Coble.
I already know that Running Mouth lives up to his name. As he was leaving checkpoint one on Saturday night, he made a show of grandly announcing his departure to the other racers gathered there. "Everyone standing here," he called out, "all of you guys, you've just been passed by Running Mouth." Then he laughed. "And that's not a hubris issue or anything for me." That's not the kind of thing that everyone can pull off, but coming from Running Mouth, it's charming rather than obnoxious. I found myself laughing and shaking my head, along with the rest of the audience. You can't help liking him.
He's having a few little problems with his canoe today. Since he's doing the month-long Ultimate Florida Challenge, he's carrying a rig to portage his boat forty miles across Florida to complete the circumnavigation. The PVC pipe he'll be using as a tow bar is too long, though; it's pushing one side of his seat off its track, making his body twist awkwardly as he paddles. He's decided he needs to cut the tow bar shorter. But how?
"How" is Mike Monies. For the second time this week (someone used one of his drills at checkpoint one to repair a rudder), I pull out Mike's box of tools from the back of the truck. The Laguna Dos was built so quickly, and so close to deadline for this year's race, that Mike brought along a portable boatshop's worth of tools to Florida to finish the job last week. Now Running Mouth needs a jigsaw. And thanks to Mike, he gets one.
Cutting the pole takes only a couple of minutes. That's good, because if Running Mouth doesn't get out of Chokoloskee by 4:00 p.m. he'll be fighting an incoming tide. But it doesn't take long to realize that Running Mouth's biggest problem may be getting out of checkpoints—he likes to talk. And to be fair about, half the blame is ours; we're enjoying talking to him at least as much as he is. As Leon and Denise and I stand on the beach watching him re-pack his boat, there's more talking going on than packing; Jon is just a fun guy to be around. To make things even worse, Leon did the Ultimate Florida Challenge in a Kruger canoe back in 2006, so he and Running Mouth find plenty to discuss.
Jon doesn't seem the least bit daunted by the thousand miles ahead; he may as well be out for an evening paddle for all the concern he's showing. Except for missing his dog and girlfriend—not necessarily in that order. But mentioning the dog brings on a slew of dog stories. There was the time his dog fell off Jon's thirty-one foot sailboat while Jon, exhausted from a long passage, was sleeping in the quarter berth. He woke to a persistent thumping sound at the stern.
"I'm hearing this 'clunk-clunk, clunk-clunk' every minute or so," he says. "But man, I thought, I gotta ignore that. I have to sleep." Finally, though, it was too much for him. Visions of a broken rudder made him drag himself up on deck. There he found the source of the noise: his dog had fallen into the river where they were anchored, and was trying to climb back aboard. He'd reach the boarding ladder and manage to hit it once with each front paw—clunk-clunk—before the current would sweep him away downriver. Each time he'd fight his way back to the boat for another try, but he was getting tired. It was a task worthy of Sissyphus.
"I don't let him sleep on deck anymore," Jon says. Then he launches into another dog story: this time, he's rowing an inflatable dinghy to shore, but the dog gets excited and jumps out of the boat in the shallows, racing for dry land. And up ahead, nestled into the mud, is an alligator, just waiting for him. Not wanting to get into a tug-o-war with the gator, with the two of them as anchors and his dog for the rope, Jon jumped out of the dinghy and starting running in the opposite direction, hoping to distract the dog. It worked, but at a price. The sharp oyster shells punctured the dinghy, deflating one side. Which is about the time that Jon built a wooden dinghy, he says.
But there's little time to talk boatbuilding; Jon's alligator story reminds Denise and Leon of another story. That's how things seem to go around Jon. Apparently Nick Hall, aka Pelican, paid his way through college by wrestling gators and milking rattlensnakes. "His thumb got bit really bad one time," Leon says. "That's why he has a pedal drive in his boat—if he paddles for too long, the arthritis in his thumb starts acting up."
A nine-time EC finisher, Nick is also doing the 1200-mile Ultimate Florida Challenge, and he's already made up a lot of time after spending a day repairing his boat. He's ahead of Running Mouth, and left checkpoint two yesterday. He's about the last person here I'd expect to wrestle gators, though. But apparently there's a manic daredevil hidden under the soft-spoken Englishman persona. Wrestling alligators and milking rattlesnakes. These WaterTribe people lead interesting lives.
Remember that all these stories are being traded while Jon is supposed to be packing the boat. And he is, kind of. But the pole he sawed off is still too long to fit well, so he borrows the jigsaw again. This time he saws off a length of pipe decorated with a sticker from Harry's guitar shop, and he and Leon get to talking guitars. Pretty soon Jon just has to try Leon's carbon-fiber guitar. He follows to his hotel room, where Leon hands him a sleek black guitar. Jon sits down on the bed and starts playing an easy blues riff or two. He's good—real good. Then Leon plays a few bars of bluegrass, shows him an ultra-high tech plastic guitar pick.
"This stuff comes in four-by-eight sheets," Leon says. "Costs about eight thousand dollars."
Of course Jon has to try the pick next. And so it goes. But between diversions there are frequent trips to the beach where there is at least some packing going on, stowing and rearranging the countless small bags that seem to define the lifestyle of small boat cruising. In the process Jon discovers that the pole he just sawed off wasn't even causing the problem with his seat in the first place. And thanks to his modifications, it might be too short to be of any use as a towbar now.
Running Mouth, though, is not letting anything get him down. He's having too much fun for that; he'll worry about the forty-mile portage later. He pauses to admire the bright rainbow that's formed in the eastern sky. "That's just how everything is going for me," he says, looking at the arc of shining colors hanging above his head. He's already found his pot of gold.
Thing is, everyone's finding something, sometimes in the most unlikely places. Reading through the logbook, I come across an entry from Fourfather, a racer I haven't met. He had a rough night: "Capsized Sun night, swam ¼ mile to shore then did hypothermia drill. Got up next day late, rudder bent—repair with coconuts. Racoons ate my food, decided to quit b/c not enough time." The best part, though, is his final line:
"Great experience!"
11:28AM - Tom Pamperin

Checkpoint 2, Chokoloskee: Tuesday morning, March 9th
See Tom's photos from Check Point 2
Early morning on Tuesday. Just watched Mike Monies and Andrew Linn sail out on Laguna Dos. Light breezes rippling across the water, the sun low on the horizon, a fine morning. They had to struggle a bit to launch, though; the Laguna was high and dry on the beach, the transom just barely in the water. Tides don't behave here.
As a Midwesterner, actually, I have only vague notions about tides. Something like this: there's a high tide, then about twelve hours later a low tide, then twelve hours later another high tide—simple, easy, the ancient rhythms of the sea. But that's not how it works. Here in the twisting mangrove channels of the Everglades there are several tides a day, lows, highs, currents rushing this way, then that way, sometimes faster than you can row and seemingly always in the wrong direction.
"I thought high tide was supposed to be at eight o'clock," Andrew says when he gets to the beach. Apparently not. At least, the water hasn't reached the boat yet.
No worries, though. With a fair amount of tugging and heaving in ankle-deep mud they managed to slide a bumper under the hull. Once that's done, the Laguna slides smoothly across fifteen yards of mud flat into the water. Pausing only to stage a photo of Andrew pushing the boat into the water—"I want an Iwo Jima kind of shot," Andrew said—Laguna Dos is off again. They're still well up at the front of the pack.
After they're gone I stare out at the water. The sky's pastel colors are reflected in the water. Pelicans glide gracefully overhead only to thump like dropped stones into the water. A driftwood log just off the beach does a fair imitation of a kayaker. A breeze slips through the mangroves with a whisper of leaves.
It's so peaceful that I stand there just watching the sky and the water, watching Laguna Dos's white sails disappear across the water toward Chokoloskee Pass. It doesn't take long to realize that the tide is definitely still coming in. They could have waited twenty minutes and been afloat.
Oh, well. It is a race, after all.
*****
Of course, you can't always tell; if it's a race, it's more about patience than speed for some. Monday morning the first boat on the beach is the Hobie 18 sailed by Ed Engel (aka Paddlecarver) and Joe Mullen (Tyro). Veteran E.C. paddlers, they've chosen to sail the Hobie this year even though they've only been out on the boat a half dozen times before the race. But luck is with them this morning—there's absolutely no wind, so they're back to something more familiar: paddling. The sail is up but it's not doing much. They paddle up to the beach in dead-flat water and arrange for showers and clean clothes at the motel across the road, then walk down to Chokoloskee's Cuban restaurant for breakfast.
No other boats are in sight, so I tag along, wondering what I'll find at a Cuban restaurant serving breakfast at eight a.m. But when we get there, there's a couple already seated on the deck, enjoying a wonderful-looking breakfast—a colorful dish of eggs, red and green peppers, onions, and more. Looks great.
"That looks good," Ed says. "What is it?"
"Huevos rancheros."
Without seeing a the menu, Ed decides that he'll have the same.
We sit outside, enjoying the warm day, the first hint of real Florida weather that the locals have seen this year; it's been cold for weeks. Ed and Joe had a rough day of it on Saturday, cold and wet, so this must be a nice change. The Hobie is fast, but wet, and they both discovered that their dry suits weren't quite as dry as advertised. Water was spraying up onto the tramp all day, keeping them both soaked. Joe tells me at breakfast that after the race he'll replacing his drysuit—it's lasted about nine years but it's time for a replacement.
The waitress asks for our drink orders, then brings menus. I've already decided that, like Ed, I'm having the heuvos rancheros. No dice, though—someone has taken a black marker and crossed "Heuvos Rancheros" off the menu. When Ed asks about it, the waitress nods. "Oh, that," she says. "That's what happens when you have men in the kitchen, they get pissy sometimes." A while back the cook got sick of making heuvos rancheros, so he crossed it off the menus. Today, apparently, his mood is improved. We get our heuvos rancheros without any fuss.
I'm anxious to find out everything I can about this race, so I ask Joe and Ed to fill me in while we're eating.
"I'm thinking of doing this in a year or two," I tell them. "Thinking back, what is it you wish someone had told you before you did the Everglades Challenge the first time?"
Ed thinks for a moment. "I wish someone had told me not to do it."
Everyone laughs. Ed has completed the Everglades Challenge four times; he must be a slow learner.
I have a good time at breakfast, enjoying the company, then Ed and Joe head off to nap through the windless morning before heading out. By waiting around at the checkpoint they're giving up the big lead they have over the next boats, but it's obvious they don't mind. They're making a habit of getting to each checkpoint early, then hanging out for a while. It's fun to watch; there's a solid camaraderie between Ed and Joe, and easy teamwork that speaks of years of friendship. Joe comes out to the beach later in the day, strikes a fashion model pose."Notice anything?" he asks Ed, grinning.
Ed shakes his head. "Nothing is sacred," he says. Joe is wearing a pair of his shorts.
"He's seventy-eight years old," one of the checkpoint volunteers tells me later, watching Joe clowning around on the beach. I tell her I would never he guessed he was that old. "Yeah, he sure doesn't act like it," she says. One thing's for sure: it's not every seventy-eight-year-old man who is in the front of the pack of the Everglades Challenge, with only six days of experience sailing multihulls.
*****
Boats trickle in through Monday afternoon and into the evening. Gary Blankenship (Lugnut) rows through the windless calm in Oaracle, big lug main still hoisted in the hope of a breeze, takes a short nap in his boat and then heads out when the wind picks up a bit. Dances With Mullet sails in before Gary leaves. Some paddlers slip in quietly, harder to see without a sail. Often they're dragging their boats up unto the beach before I notice them. I have to admit I'm not being too conscientious about keeping track of arrivals—I got only two hours of sleep last night after driving John Wright (Karank) back up to Ft. DeSoto. But so far it seems like everyone is in better shape than they were Saturday night, when it was cold and windy.
In the middle of the afternoon a car pulls up, and it's a beautiful sight. On the trailer behind it is David Combs's Sea Pearl, Maggie. It looks in remarkably good shape for a boat that's been hammered by ten-foot waves, capsized, and washed ashore. Better yet, almost the only thing lost was the mizzen mast. And David has plans about that.
"I've got the coordinates for where I capsized, and I have the coordinates for where I was picked up," he says. There's a good chance that the missing mizzen will be somewhere between the two points. He plans to take a skiff out and run back and forth between them on the next calm day to take a look. Aside from that, he's doing well. He even got a friend to dry his money in a toaster oven for him. His twenty dollar bills are now an odd purple color, but he hopes he can spend them somewhere without getting arrested. "Might have to take these to a bank," he says.
A good ending all around, but it's been a sobering experience for Combs. He's been watching the EC discussion forums before the race, and worries when people talk about bringing a new boat to the race. There's no substitute for experience, so bringing a new boat here is asking for trouble, and he hasn't been shy about sharing that opinion of the forums. But, Combs said, bringing an unfamiliar boat is exactly what he did himself. He's been sailing his new boat—a high performance trimaran—far more than he's been out in Maggie lately. He thinks that lack of practice may have had something to do with his capsize Saturday night.
He's learned something else, too. "I always have a hypothermia kit," he says. "It's in a little bag lashed to the mizzenmast." That, combined with a safety tether to keep him in the boat, seemed like adequate safety precautions. But when Maggie turned turtle, the mizzen dropped out and sank, leaving Combs atop his boat in shorts and a foul weather jacket. He'll be rethinking the need to keep the essentials strapped to his PFD from now on.
*****
I miss a few of the arrivals (including Matt Layden) at checkpoint one, but by evening I'm back on the beach to watch David Bolduc (Freebyrd) sail up in the Matt-Layden-designed Enigma. If I hadn't seen Matt's new, even smaller version of this boat, I would think this one is tiny. David sails up to the beach and drops an anchor off the stern, then heads across the street to the checkpoint. Before long he's wading back out to his boat.
"Heading right back out, huh?" I ask him.
"Yeah," he says. "Trying to catch that other tiny little boat like this that's ahead of me."
Bolduc has his work cut out for him. When "that other little boat" arrived earlier Monday evening, Matt Layden was at the helm. He signed the checkpoint log, then noticed that a couple of EC racers he knew were headed in. Rather than wait to talk to them on the beach—he might have gotten caught up in the conversation, wasted too much sailing time—Wizard immediately launched his boat and sailed out to meet them. It's the best of both worlds: Matt gets to greet his friends, but since they're headed in opposite directions, no one can overstay his welcome.
Whatever his reasons, though, no one doubts Matt Layden's effectiveness. His Watertribe name, Wizard—was given to him by other racers, it's not one he chose himself. But everyone agrees he deserves it. One of the checkpoint volunteers jokes about an official EC slogan: "We need bumper stickers that say WWWD," he says. What Would Wizard Do.


8:30AM - Jackie Monies

Tuesday morning report on Andrew and Mike in Laguna Dos. They were up and leaving early this morning, about daylight when I spoke to them. They had gone to sleep at 5 p.m. last night and slept until 5 a.m. this morning.

Reported eating at the popular Cuban restaurant at CP2 last night before crashing at the motel for 12 hours straight.

Mike said the other Sea Pearl 21 was still there when they left, the O'Day was sleeping on boat somewhere at Checkpoint 2. The others, Gary Blankenship in Oaracle, Matt Layden/Wizard in Elusion, Freebyrd in Engima and the little Blue Jay 14 were strung out between Checkpoint 2 and Checkpoint 3, none having made it there during the night.

Mike said they were all leaving when they came in yesterday afternoon, so they have all been out overnight for 12 hours or more without making it to the third checkpoint. I doubt that any of them slept, as there are no log-ins indicating they stopped.

Mike thinks they will make CP3 Ok within time limits.
Monday, March 8
7:35AM - Watertribe forum

Chief lost one of his amas last night and capsized off Ft. Myers Beach. He had a bit of a battle to keep the boat upright - turtled at one point - but he was finally able to get it bailed out and slowly sailed the boat onto the beach. A lovely couple living there helped him secure his boat, offered a hot shower, and then took him to a nearby hotel for the night. He sounded good when we talked at midnight. Said his cold weather gear had kept him from getting hypothermia during his four hours in the water - had a bit but not too bad. And his SPOT worked wonderfully (from my perspective) in sending out a non urgent message and allowing us to track his position and travel back to shore. I haven't heard from him yet this morning but the plan at midnight was to get some rest and then check his gear this morning. I believe his charts are gone and the ama is gone, the rest unknown. He is hoping to regroup and continue on if at all possible, most likely without the sail rig, and paddle, paddle, paddle. Hope to hear from him soon and will update then.
Screen Capture of Chief's track from Watertribe interactive map: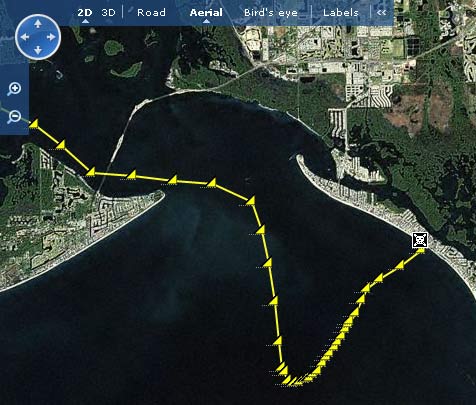 Sunday, March 7
9:32PM - Helen Snell

I heard from someone at the finish and it seems Gary left his phone at CP1. They now have it at the finish line and will send it up to CP3 if anyone goes that way, but more than likely, they will just hold on to it at the finish. Gary is beyond Coxambas, south of Marcos Island, and still going towards CP2. I'm guessing that he'll keep going till he gets there but we'll see where the Spot reports put him. Hopefully someone will be at CP2 with a phone and I'll hear from him.


4:52PM - Jackie Monies

Gary Blankenship (LugNut) looks good at third place heading toward CP2. The first place boat Bill Fite/JarHead seems to be resting, as she isn't moving. The Coresound 20 seems to have his SPOT turned off.
Wizard/Matt Layden seems to have dropped behind Gary.
Mike and Andrew in the Laguna are through the bridge at Sanibel and moving along slowly at about 3.5 knots. Tom Pamperin called to say that StJohn has finally made it to CP1 and was within sight. Not sure if he sailed or paddled in rest of way. Tom will carry him where he wants to go now.


3:09PM - Helen Snell

I haven't heard from Gary at all today. I think something may have happened to his phone. I know via SPOT reports that he is just north of Marco Island, but not much else. I hope I'll hear from him when he reaches a check point to find out whats going on.

2:46PM - Tom Pamperin

I'm still at CP1 waiting for John Wright; I just saw him row under the bridges and make the turn up the channel, so he will be here soon. Also just heard from Andrew and Mike--they plan to keep sailing through the night as of right now. They were just past Ft. Meyers doing 4 knots.
And can you please put a correction in my last update? My first paragraph calls CP "Grande Adventures" but it should be "Grande Tours" instead. They've been great hosts, so I'd hate to have their name wrong on Duckworks. Thanks,


1:47PM - Jackie Monies

Chuck, this is the link to Dawn Stewarts blog, SandyBottom, the kayaker. she has good reports on everyone there, not just her.
https://sandybottomkayaker.blogspot.com


12:30AM - Tom Pamperin

Nick Hall (aka Pelican) arrived in his trimaran. Nick's the guy who rescued two racers off the capsized Wayfarer last night. In the process of climbing aboard Nick's boat, one of the Wayfarer's crew broke an ama off Nick's rig. He had to call his wife in Tampa, who delievered the needed parts for the fix.
Since Nick was late because of a rescue, he's not out of the race. He's looking to fill up some water and get back out there to make up lost time. He'll be the last official racer through CP 1--everyone who still has a shot is gone.


11:42AM - Jackie Monies

Just heard from John Wright and he was 12 miles from CP1 with only 30 minutes left before noon deadline. Winds were light, boat at about 4 knots and he said it was apparent he could not make it. He took ICW this morning, rather than go back out into the Gulf with Grok.

Got a late start with repairs and straigthening out the boat, the light winds in ICW "tunnel" of condos slowed progress.

He asked me to report he would be a DNF and had not decided if he would go on to Key Largo in the truck with Tom or have Tom take him and boat back to Fort Desoto and his van/trailer to return to Texas.

I am just happy he is safe and they are not looking for him and Grok out in the Gulf.

10:35AM - Pictures from CP1 - Tom Pamperin

10:30AM - Tom Pamperin

The Everglades Challenge, Checkpoint One
Sunday morning, checkpoint one at Grande Tours, a kayak outfitter near Placida. The sun's not up yet, but the racers are. It's cold, frosty-breath cold. People are moving, getting ready to head out, packing boats and rearranging gear, cooking breakfast and refilling water. Quite a few racers camped here at the checkpoint; Grande Adventures has been a generous host. Free camping, docks, hot showers. What passes for luxury on the Everglades Challenge.
And luxury is a sorely needed commodity; yesterday was a rough first day. But not for everyone; as I'm typing this, the winners of the 2010 Everglades Challenge have been done for 21 minutes—they arrived in Key Largo at 9:12 a.m. Three hundred miles in twenty-six hours and twelve minutes, an astounding time. Lumpy and Macho Man set a new record. By over nine hours.
And just a moment later, I get word that David Combs's boat (Combs is also known as Dave on Cudjoe) has been found. He capsized last night—a couple of big waves came by and knocked his Sea Pearl 21 down when he tried to round up into the wind. When he tried to climb onto the side to right the boat, his safety tether was zipped inside his life jacket, pulling him up too short to reach. The boat flipped, and stayed upside down. Combs waited for an hour on top his boat, cold and wet before another Challenger (Duncan Vaughn) picked him up in his O'Day Daysailer. Apparently it was an impressive rescue. There was a Coast Guard helicopter on scene (shore contact people called them in when David reported trouble), and conditions were challenging for Nick to bring his boat alongside. He did it, though. "He had a shitty reef in his mainsail, and no jib, but he put it right in there," David said. They showed up at checkpoint one this morning, Nick rowing up the narrow channel with David perched on the bow, just as Mike Monies and Andrew Linn were leaving in Laguna Dos.

And Combs was not the only boat lost last night; the Wayfarer dinghy also capsized and was lost. The crew, Sir Percival (John Naser) and Blackwater Knight (Kenneth Winder), is safe; that's the only word so far. There has been some less dramatic trouble, too. Meade Gougeon has pulled out of the race after Yello Thing broke its rudder. The picnic table I'm writing on has turned into a workbench, with hacksaws and drills and broken rudders from another boat.
In fact, it's been bad enough that I'm already second-guessing my plan to try this next year. Third-guessing it, maybe. If conditions were bad enough to cause trouble for a veretan of Combs's experience, I may have no business out there. At least I'm safe ashore this year.
High winds and surf kept David Bolduc (aka Freebyrd) from getting in last night. Instead of risking the breaking waves, he decided to heave to until things calmed down. "I was seeing five-foot breaking waves all along shore," he said. "One of those things breaks over my boat or rolls me, all my gear is wet." No thanks. Bolduc's strategy worked, though his Enigma was pushed eight miles off shore overnight.
"Did you get any sleep?" I asked him.
"Well, you know," he said. "A little. You lay there, and your eyes are closed." Enigma offers decent shelter, at least, with its high sides and dodger. Bolduc set an alarm to go off every fifteen minutes, and peeked out to look for traffic. There was none—too cold this year for other boats to be out. But even though Bolduc's heaving to strategy worked, he thinks he made one mistake: not cutting inside when Matt Layden (Wizard) did. Yep, that seems to be the consensus; you see Wizard do something, you should do the same.
John Wright (Karank) reported reefing his U14 as far as he could, which still wasn't far enough. He stopped for the night well short of the checkpoint, but is on the move and should arrive by the 12:00 cutoff time if all goes well. Then he'll have to decide whether he'll continue to Key Largo.
Mike Monies and Andrew Linn (Woodcutter and Krunch) came in last night tired and cold. It was a rough ride on the outside route, as Andrew's logbook entry shows: "Came inside at Venice. A good decision." Another racer's log confirms it: "Wish I had gone inside at Venice." It seems significant that both boats that capsized passed up the chance to take the inside route.
There's a steady procession of racers through the evening and into the night. Some hit the checkpoint and sign in, then head back out for more, but as it gets later, more of them decide to camp here. Andrew and Mike agree to take a break for the night. Warming their feet by the checkpoint fire, then getting some warm food, is the priority. After that they'll figure out what to do next. They've already made one revision to their strategy: keeping food for the day in a handy spot. Yesterday the food was packed away in the rear cockpit, out of easy reach. Seems like a small problem, but in cold windy conditions a few extra calories can make all the difference. They spent the day underfueled and cold. By such small decisions expeditions succeed—or fail.
Food is one thing, navigation is another. Andrew asks advice about the route from a few veteran racers, who give him some crap about not knowing where he's going. Andrew, though, gives as good as he gets. "I'm from Oregon," he says. "We have these things called rivers. You only travel one direction, there's no going back or getting lost." But his river comment brings on unfavorable comparisons to Deliverance from the peanut gallery. I can't resist contributing.
"You don't play the banjo, do you?" I ask.
But Andrew is unflappable. "Hell, no," he says. "I can't even manage to play my concertina."
He and Mike discuss the day's route, but Mike doesn't have much advice to offer. "I took this whole expedition and broke it into smaller chunks," he says. "Buy the wood for the boat. Build the boat. Paint the boat. Get the boat to the beach. Get the boat off the beach." He pauses. "I haven't even thought about anything that comes after that." Indeed, the boat looks more than a little disorganized; they haven't figured out the little essential details of packing and organization that keeps small boat cruising sane. After all, the boat—beautiful as it is, and as well as it's been performing—was only a pile of lumber a few short weeks ago. A pile of lumber that hit fourteen knots during yesterday's wild ride.
But despite the mild disorder, Laguna Dos is off early in the morning with Andrew and Mike paddling down the narrow mangrove channel to the Gulf. And racer after racer does the same. It's windy, it's cold, it's scary at times (Gary Blankenship's log entry for Oaracle reads "two hours of light air, two hours of near terror!"), but the race goes on.
Saturday, March 6
10:00PM - Jackie Monies

Tom called to say Mike and Andrew had pulled in and were setting up camp to spend the night, sail out early in morning. They were cold and tired, I think Their time was l5 hours and 11 minutes, finishing behind the two Sea Pearls surviving and the Coresound, a very respectable time.
With all the capsizing, I am in favor of rest and caution!

9:49PM - Mike and Andrew make it to CP1

9:26PM - Helen Snell

At 9:26 Gary's just a couple miles from CP1. The winds have gone light so he's moving pretty slow. He'll need his energy for navigating into CP1 alone and given the wind, its a good bet that he'll be rowing. He anticipates a lot of traffic there as well so right now he intends to go on in but he may decide to anchor and wait until the morning. Either way, he'll continue to track his progress via SPOT and I probably won't hear from him again tonight. He is enjoying the sailing and in good spirits.

7:09PM - Tom Pamperin

A quick update from CP1: Things are getting rough out there; Greybeard (Michael Collins) and Ridgerunner (Doug Cameron) on the Core Sound 20 came in just before 7:00, but had trouble coming over the bar; they broached, had a big wave break sideways over the boat. They only stopped long enough to sign in and then they were off.
Also just before 7:00, David Combs, sailing a Sea Pearl 21, capsized. He was picked up safely 12 miles offshore and is on his way in on a powerboat, but his boat is adrift and lost for now.

5:57PM - Jackie Monies

Just talked to Tom who is waiting to pick up Dave Combs/DaveOnCudjoe at a point where he is supposed to be being brought in. Tom says a power boaters bringing Dave in for him to pick up. They are supposed to try and rescue Maggie, his boat in morning. He had her up for sale, this was last EC he was doing in her!

John Wright is cold and wet, in dry clothes. Very shook up. the boat is not seriously damaged but he lost his GPS from water I think and is really exhausted and scared.

Doug Cameron in Coresound 20 broached coming into CP1 and almost capsized there just now. He came in first, not the Sea Pearl which was second, Mike and Andrew are not in yet, but are in third and the other Sea Pearl is behind them, then everyone else.

I am getting very nervous now.


5:35PM - Jacike Monies

Tom said seas were pretty rough and Andrew called to say they were going in to ICW. They were first to haul in.
Yellow Thing is damaged and Meade is on shore trying to fix it. The windsurfer is damaged and he is paddling in. The Weta is damaged and he made it to CP1, sleeping and trying to fix in morning. KiwiBird (who is in new B and B I think) lost rudder and got it fixed with a ziptie before it fell off, continuing. Some paddlers (?) have dropped out.
John Wrightis still not moving. I can't reach him on cell phone but trying again.


5:15PM - Jackie Monies

Mike and Andrew are well down the ICW enroute to CP1. They are still in 4th place but their hull speed is fastest of all on last checkin on SPOT. They were at 7.22 knots and those in front ofthem were at 6.5 about.
The Sea Pearl 21 is nearing CP1 in first place, the Coresound 20 in second, another Sea Pearl 21 in third and then our guys.
The Wayfarer 16 capsized off shore and the crew was saved by another WaterTriber who passed them apparently. I do not know about the boat.
I talked to Tom Pamperin who is writing for Duckworks in my place and he said Andrew and Mike had gone in at Venice to get into the ICW because it was getting pretty rough out there.
The Wayfarer stayed on the outside route in the Gulf and capsized about that time, so it was a good move. Everyone else came into the ICW also so it must be rough in Gulf. The guys who capsized were very veteran sailors, although this was their first EC/
The guy on the windsurfer has had major damage and is paddling in to CP1 to see if he can repair and continue. The Wayfarer dropped out, so boat may be badly damaged?
There has been other breakage but I have not heard of anything else that made people drop out yet.
JohnHWright got to the entrance of the ICW and his SPOT stopped moving. he may be resting or repairing? Or just stopped.


4:00PM - Helen Snell

Gary says that the winds have picked up again. He was making 3 1/2 knots under the mizzen while double reefing the main sail. After reefing, he's making 6.3 knots. He said that before reefing, he set Oaracle's new flat water record of 8.7 knots, without surfing a wave. The forecast called for the winds to pick up and this time they got it right. He knows he isn't far from CP1 but wasn't able to guess the mileage. Stay tuned...


3:52PM - Jackie Monies

Wayfarer 16 just capsized! Dropping out, everyone is ok, saved by another WT.
Just talked to Tom who is at CP 1 greeting people. Right now Ridgerunner is in second! (SPOT not working before?)
JarHead in SP back in first again, other SP Brogan in 3rd, Laguna is in 4th but really moving at 7.12 in ICW.
Looks like everyone has moved into ICW at Venice. Tom said it got really rough out there and our bunch decided to take the cautious route. Gary B. had been in ICW inside route all the way.

3:05PM - Jackie Monies

Just heard from Mike and Andrew at 3:05 p.m. They just jumped into the ICW at Venice and Andrew said they were in tricky navigation there.

They said day started slowly with light winds but after Sarasota the winds picked up considerably. They averaged 7.2 knots for over two hours. Their highest speeds were recorded at 14.3 knots while they were surfing down a wave.

They are enroute to Checkpoint 1 and are entering the ICW at Venice, Florida.

2:42PM - Helen Snell

The calm is over and he the wind has picked up. He's making about 4-6 knots and he is either in Litte Sarasota Bay or heading towards it. He intends to continue on to CP1.

12:04PM - Helen Snell

Gary is 36.8 miles from CP1, wind has turned light but he's pressing south for CP1.


Photos from the Start from John Bell
10:00AM - Tom Pamperin

The 2010 Everglades Challenge: The Starting Line

Day one begins early for Andrew Linn, Mike Monies, and Gary Blankenship. Still dark. Outside someone walks through the campsite, feet crunching on gravel.
"What time is it?" a voice calls from the next tent.
"Four-thirty."
Four thirty is too damn early, especially for Mike and Andrew, who had to pick me up at the Tampa airport at 11:30 p.m. They didn't get to bed until after one a.m. A perfect start to a grueling race. But now Mike and Andrew are up and moving. "Just a little bit of terror going on right now," Andrew says. I know the feeling. I'm a little terrified and I'm not even racing. I'm just here to drive Mike's truck and trailer to the finish line, which looks like a generous move on my part. But I'm also here to check out the race for myself, just in case the boat slowly coming together in my garage ever gets finished.
At least the weather is calming down. "Yeah, it's been blowing like stink all week," Mike says. Winds over twenty knots, seas seven to fourteen feet. A couple of times during the night the wind kicks up, rushing through the trees with a sound guaranteed to make anyone think twice about taking the outside route down to checkpoint one. But it's a beautiful morning now, warm, with light winds out of the north. Perfect, finally. And just in time.
*****
It's still dark at the beach as the racers start to arrive. A long line of boats, well prepped after yesterday's inspections, but still enough to do that headlamps are bobbing around the boats like fireflies. Loading gear. Adjusting rigs. As the sun starts to edge over the horizon behind the Tampa Bay Bridge, I wander down the beach looking at boats.
Next to Blue Laguna on the right is John Wright's duckbill-shaped U14. At the Texas 200 it sported a roller furling main and mizzen; it's now rigged as a sloop with roller furling jib.
"How do you like your new sloop rig?" I ask him.
"Ask me later," he says, still packing. "At checkpoint one."
On the other side of Blue Laguna is an even stranger boat, if that's possible: Meade Gougeon's Yello Thing. The name is as good a description as I can come up with myself: it's a long flat bright yellow board boat, so shallow draft that you could sneeze on your kitchen table, drop the Yello Thing on top, and sail across dodging salt shakers and gravy boats. Accommodations, though, are Spartan: a fairly comfortable-looking chair rigged up on a thwart so the skipper can slide from side to side and always keep his weight to windward. This is definitely a boat to watch.
Further down toward the bridge: seven kayaks. Sizzor, a high-tech looking trimaran that might have sailed off the set of Waterworld—without Kevin Costner, of course. Eighteen more kayaks clustered together, some with small sailing rigs. A Sea Pearl 21. An Expedition Windsurfer. Yep, a windsurfer. There's a tiny cockpit where the captain can sit down and rest, but it's still basically a windsurfer. Three hundred miles standing up…
Two more kayaks, a couple of catamarans, another Sea Pearl, a couple expedition canoes. And here's Matt Layden's latest boat, which looks familiar. Swamp Thing? Enigma, the boat Matt sailed in the Ultimate Florida Challenge? It has the same chine runners, rudder with end plates, cozy cabin set-up as in Matt's Paradox design, removable wheels for the mandatory forty-mile portage (yes, Matt's doing the Ultimate Florida Challenge again, 1200 miles all the way around Florida). But no, this boat's got "Elusion" painted on the transom, it's new. It's also really small. Nine feet long, maybe. The mast is barely taller than I am.
More Sea Pearls. Gary Blankenship's Oaracle—he's an EC veteran, but he's soloing this year, a first for him. A Core Sound 20, looking lean and fast. And it should; this boat has already won the Everglades Challenge at least once. And then down near the end of the beach, I do a doubletake: there's another Matt Layden boat, a larger version of the one I just saw a minute ago. What's going on here? Has Matt, whose Watertribe name is Wizard, finally pulled off the ultimate bit of wizardry, somehow found a way to sail two boats at once? This one, in fact, is Matt's original Enigma. I'm confused.
Later the mystery is solved when I run into David Bolduc of Little Cruiser fame. David is sailing Enigma, Matt is in Elusion. Enigma is a very small boat. So small that when I go back to look at Elusion, the new boat looks like a toy, or a scale model of itself.
The diversity of boats here is startling: paddlers, monohulls, cats, tris, canoes, kayaks, homebuilts, factory boats. But the people seem the same: laid back, relaxed, in good spirits. The weather looks good, everyone is ready to go. It feels less like the starting line of a race than a backyard bull session. Someone calls for a group photo and the sailors and paddlers gather together like herded cats. The group holds together for a few shots, then people wander off to their boats. The sun is over the horizon, the start is near.
The spectators are more diverse. I catch snatches of conversation. "I have the hull built and epoxied, and one mast blank glued up… I want to try this next year in my O'Day Daysailer… Which way is north? (a windmilling of arms as the speaker tries to point toward the sun with her left hand, but definite uncertainty about where the other hand should point)… When you get a drysuit, make sure it's big enough that you can fit the pee bottle inside the leg…" The spectators wander the beach, glad to have this brief window into the eccentric pursuit of distance sailing or paddling in small boats.
Eventually, without pomp or fanfare, a voice down the beach calls "Ready… go." No starting gun, no announcements. The race is on.
And here is the first filter of the race: every crew has to launch their boats unassisted from the beach. Some do it by pushing hard. Some, like Mike Monies and Andrew Linn, do it by using plastic fenders as rollers. Gary Blankenship sets an anchor and starts to haul Oaracle off the beach, then shifts to pushing from behind. Gary has done this before, and his boat has found its share of fame on Duckworks. As he works Oaracle off the beach, someone in the crowd asks, "What have you learned so far?"
"That it's a lot easier shoving this thing with two people than with one," he says, and keeps pushing.
Matt Layden has no problems moving his tiny boat; before long he's wading through the shallows pulling Elusion. The boat looks more like a toy than ever, bobbing along lightly behind Matt. It barely comes up to his waist. David Bolduc has such an easy time of launching that he has to hold Enigma back so it doesn't slide down too fast out of control. Those Layden boats; it's like they can't wait to hit the water.
Most of the sailors and paddlers are away quickly. Soon there's a long line of kayaks and canoes heading off down the inside route of the ICW, some of them with sails up to catch the northerly breeze. Some of the sailboats head inside, too, but half a dozen or so are headed outside. That's where Laguna Dos is heading, its sails starting with a beautiful wing-on-wing run down the bay before turning west onto the starboard tack. The last view I have of Mike and Andrew is a profile view of the sail plan, way out on the horizon.

Sixty-eight miles to Checkpoint One.


9:15AM - Helen Snell

It took Gary about a half hour to get off the beach but he is now making good progress under full sail. He is taking the inside course for now and he may head outside later depending on the wind. The new rigging he installed to allow him to raise and lower the sail from the cockpit is an is working as planned. He is a bit chilled from having to wade out across the sand bar but aside from that, he is in great spirits.

9:00AM - Jackie Monies

Andrew reports everything going well. They are in light winds, moving along at about 4-4.5 about a couple miles offshore, taking outside passage in Gulf. Gary is in ICW inside. They are in third place right now, behind a Sea Pearl 21 and the Core Sound 20. Another Sea Pearl is moving up on them.

8:00AM - Jackie Monies

Andrew and Mike should be launched and off the beach at Fort Desoto by the time most of you read this. By about 8 a.m. I hope to be able to be tracking them on the SPOT on WaterTribe's tracking page. There was a nice mention of the Laguna Dos and a posting of Andrew's photo essay on Wooden Boat forum yesterday and the EC. It is under EC 2010 thread there. Moving up in world here.
*****