This time we have the following boats:

I guess it's been close to five years since I started talking about an idea for a little beachcruising cat with seating inside the hulls. It's been almost two years since Slider was launched and almost a year and a half since I started offering plans.
Dean Pacetti has finished a nice boat, and he launched Honu a couple of days ago. As far as I know, he's the first to complete this build. I've posted his pictures and remarks on Slider's blog.
Ray
*****
Here are some pics of my Slider Cat named Honu, which is polynesian for turtle. I ordered the plans from Ray Aldridge before he was even finished with them. I got started building in November of 2008 and finished in February of 2010. I got most all my rigging from Duckworks and my sails from Dabbler Sails of Wicomico Church, Va. My boat was launched on Feb.20 in very light winds and really showed that it would ghost along in wind that would not even stir the teltails. On the 21st I went out in it again and had 5 to 10 mph winds and she really moved along pretty good. I had my granddaughter, who had never sailed before, with me and we really had a good time.

Dean Pacetti
Auburndale, Fl.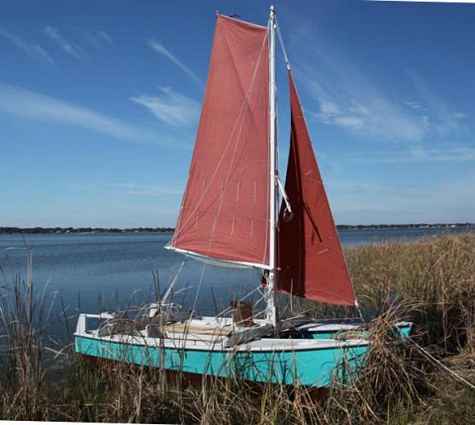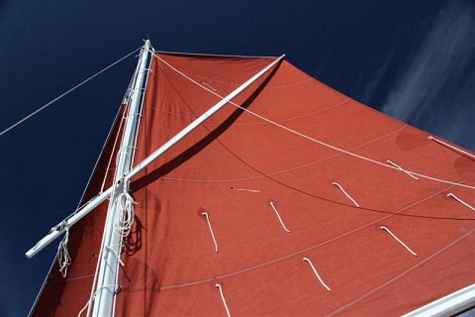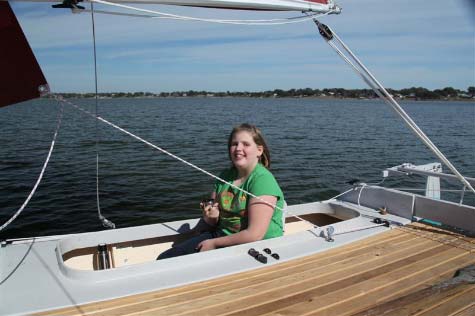 Gary Blankenship and Mike went out in Alligator Point area south of Tallahassee today for an entire day of sailing. Gary was in Oaracle and Mike In Laguna Dos alone.

Mike said she handled really well, winds were about 20-25 knots, sea not high, about foot for waves he said. He says she is really fast, sails very flat, hardly heeled at all. Never had any sails reefed, sailed with both sails up the entire time, unreefed. He says she is very easy to handle and sail the way he has her set up with the tiller extension/steering in bulkhead 11.5.

He says she will float on any amount of water, doesn't think she draws even six inches. He says the free swinging leeboards work wonderfully, just kick up if you hit anything and she goes over what ever you hit!
Gary had his GPS and Oaracle was doing 6.5 to 7 (Mike says she is a fast boat). The Laguna Dos was just walking away from her, even with her sails not properly set yet.

Mike says the foresail is just fine, they have it right. He says she is hard to manage both sails and the steering for just one person, hard to get them right.

He said where they were sailing was extremely shallow, the lee boards would hit, flip up and she just went right over anything and never hit a single shallow spot or reef, sand bars, nothing.

Here are some more photos from Saturday from Gary's friend Oliver in Tallahassee.

There doesn't seem to be much wind but Mike said today was 20-25 all day. I think it will be Tuesday before he gets her out again, although weather forecast is for storms that day right now.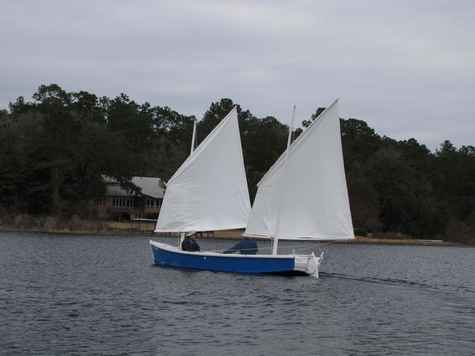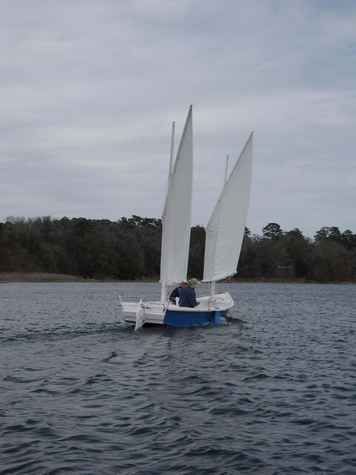 Jackie

Some years ago, whist browsing the net, I came across a preliminary drawing with a few measurements for a small dinghy. I had been looking for a suitable project for my first boat for some time. The design is Steve Lewis' "Elf" as featured in designs of 2002.
As soon as I saw the lines, I fell in love with it and knew I had to build it. After a false start in 2001, I finally got serious in late 2008. I contacted Steve by e-mail and he was extremely helpful and offered support all the way.
My project was interrupted by triple bypass surgery in early November 2008 and this delayed things for a while. I continued to buy supplies and do some very light preliminary work (I commandeered a neighbour to do any lifting for me).
I was not in a hurry and because the supplied information was for the basic hull panels only, I took my time with the build, as once the hull was complete, I entered new territory to design and build the interior and fit it out. I will do a proper article to submit in time complete with more pics.
I would like to publicly thank Steve for all his support and encouragement through out the project and would suggest that anyone looking for a design, certainly check his out. He recently sent some of his new ideas and possible designs, I loved them. I have attached a couple of photos if you can use them.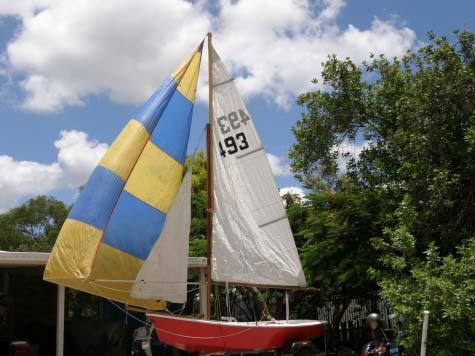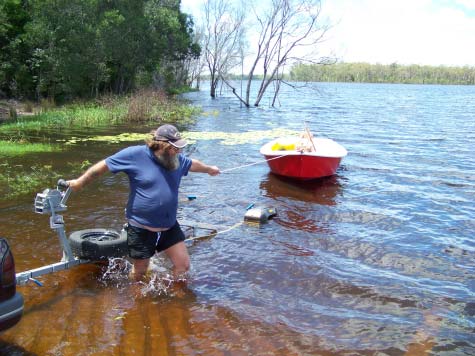 So THANK you STEVE, and THANK you DUCKWORKS for publishing the design for me to find.
Yours
Ron Nordberg
Maryborough
Queensland Australia
Floats like a butterfly, but has not stung like a bee yet (apart from the wallet)
Dry run on rigging, ready to fly on the water.

I designed this little boat for my son but also with the idea of getting Fathers with basic woodworking skills the chance to build a boat at very small cost. It has a very simple hull form derived from the sharpie type hull but with a plumb stem and straight stern .Construction is simple being built from 4 sheets of marine plywood over two permanent frames and a stern with gunwales, chines and keelson set into the frames and stern.
The hull is built upside down. Once it has been turned right way up the mast post, chainplate reinforcing, rudder gudgeon reinforcing and center case are all fitted the interior sealed and the deck just drops on. The next step is to select the paint colour, attach the fitting and basically you have a wee sail boat.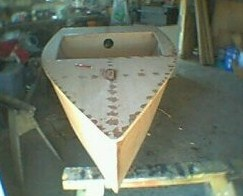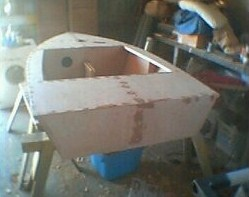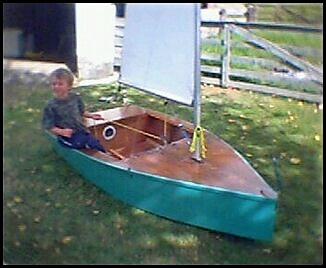 Designed by Allan Roper
allan.roper@vodafone.co.nz

Grania is complete and was launched last weekend for a test row around the bay. Today we sailed her for the first time.
Grania is Arch Davis' Penobscot 14 design. As you can see, we chose the lug rig.

My 16 year old daughter, Amanda, and I built the boat over the past 3 1/2 years. We used Okume ply over Doug Fir stringers. The stem is Red Oak, the keelson and thwarts are Mahogany, the deadwood is Ipe and the rails are capped with Cherry. We made our own blocks and sewed the sail using a kit from SailRite. The oars are a spoon-blade style on a pattern from Ducktrap Boatworks, and a good bit of the hardware came from Duckworks!

She rows beautifully and on the first sail, we experienced winds from very light breezes to 15 knots. Grania ghosts along nicely in the lightest breezes and kicks up her heels when the wind picks up. We're looking forward to lots of fun times in her. Home is Morro Bay, CA.

Grania is named after the 16th century Irish pirate queen. We visited her castle on Clare Island in Clew Bay and brought back a bottle of Clew Bay water which we used for the christening.
She sails beautifully!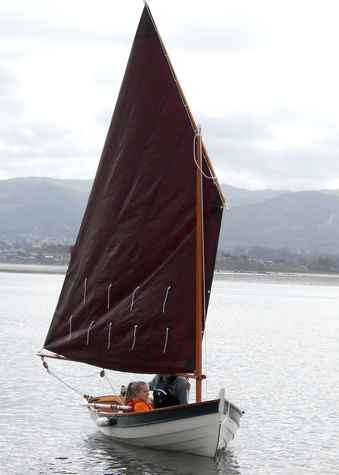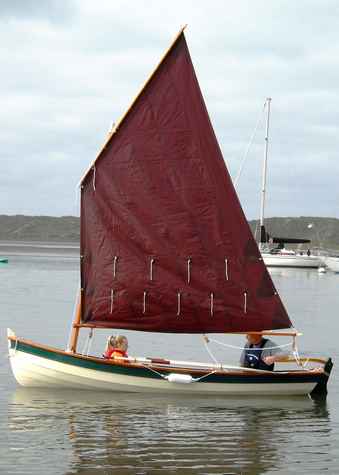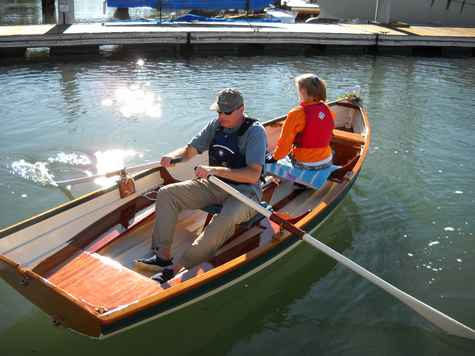 Bill Raver


Here are some pictures of my new Skiff America which was launched last week in Greers Ferry Lake in Arkansas.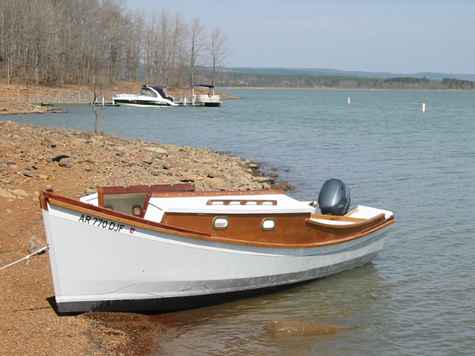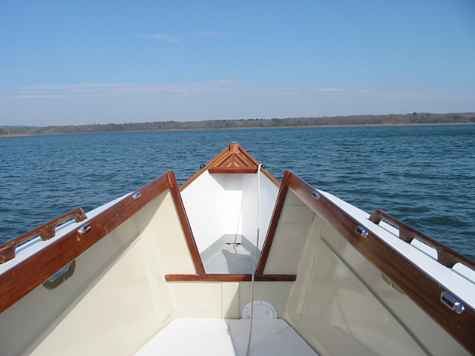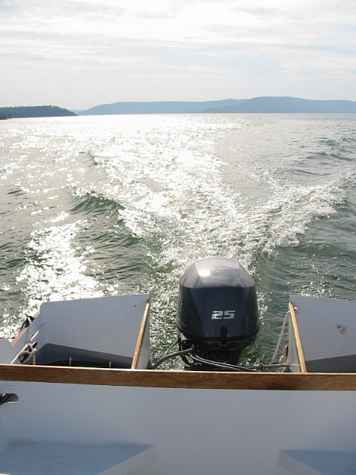 I have been working on the boat for about 5 months and while it is ready to go it is still not finished. I'm beginning to think home made boats may never be completely finished. Several months ago there were extended discussions on the forum about "why build a boat?". I now know why. I plan to be at the Rend Lake Messabout this year. I want to build a sailboat for the 2011 T200 and hope to get a live look at several of the Michalak designs.
Miller Heber Springs, AR