The launch of Meanda - a Welsford Janette
My son launched his new boat yesterday. Meanda, a John Welsford Janette had her maiden voyage at Alton Water resovoir - Life is full of strange coincidences - my previous build, a Welsford Pathfinder was launched on Sunday the 5th of July, the day of the Wimbledon final and yesterday was yes, once again the first Sunday in July and the Wimbledon final! Before anyone asks - no `I have no plans for any more boats' (though truthfully this should not really prevent me from ordering a set!).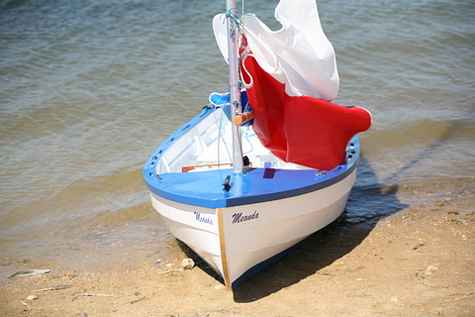 We got to Alton water at 1 o'clock - a bright, warm sunny day - couldn't ask for more really. My son who is 11 had invited 14 of his friends who gathered around for a brief naming ceremony and Meanda was named, the name derived from meander, a bend in the river but in fact code for `me an dad'.
With lots of little hands to help, she was soon off the trolley in the water and looked just perfect with her new paintwork glistening in the sunlight. Not keen on supervising fourteen kids on the water I had arranged an instructor from the sailing club to go out with them - it was a good thing I did, for there was a stiff 18mph breeze. She was off instantly, the large sail bending the mast a fair bit - they returned to shore to reef the sail, after which she sailed very nimbly - my son was delighted and so was the instructor who was thoroughly impressed with the little craft.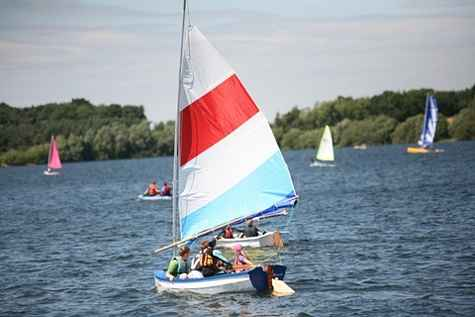 As the day progressed I arranged four Optimists for the children who went out as a little flotilla sailing around Meanda - my son had a day to remember - enjoying his first boat and out with his friends on a spectacularly beautiful day. At the end of the day I took her out for five minutes - the difference between the Janette and the Pathfinder was amazing - a bit like comparing a small sports car to a large 4x4. I prefer my Amazon, my boy prefers his Meanda so all's well in the world....
Before I finish, just a word about the daggerboard - as you know I had too much weight in the daggerboard which weighed 12.4 kg. I made another one with exactly 1.5 kg of lead in it and guess what - this one weighs 10.4 kg! I guess I had 3.5 kg of lead in the original board. Yesterday I used the heavy one and may use the lighter one for light winds.
John, I can't thank you enough for this superb boat. she was an amazingly easy build - 6 months to complete. She is a beautiful craft with elegant lines, agile and responsive and as you can see from the pictures, can take several small children with ease (six at one point). My son is delighted with his boat and I am sure he will have many many days of enjoyable sailing this summer. Thank you for your support and encouragement, I can only hope my experience with this design will encourage many others to build this excellent little boat.
Best wishes
Nishan
PS Lots of pix in a folder named Janette - Meanda.