Another John Welsford 6m Whaler on the water. Sea Nymph has been launched on the 01/01/2010 at 10am. Lots of sails and plenty of wind. She is a fun boat to sail. We had 10-20 Knots of wind and a 1m chop out side the harbour. She handled it well and we managed to sail our way back up the Mapua Channel with the wind behind us against a 7Knot ebb tide with very little fuss. We still have to hook up the electric inboard to its battery bank and get the switch gear sorted. Then she will be ready to do some overnight crusing down the sounds and able Tasman areas.
Peter and Angela Murton

Rick Landreville, a builder in Canada (and also the PDRacer Canadian Champ) put the hull together in a shade over 4 hours ready for the seats to be put in.
The hull panels are held together with duct tape only initially which leaves the interior of the boat for glass taping or filleting. Then the boat is flipped upside down and the duct tape removed so the outside seams can rounded off then glass taped.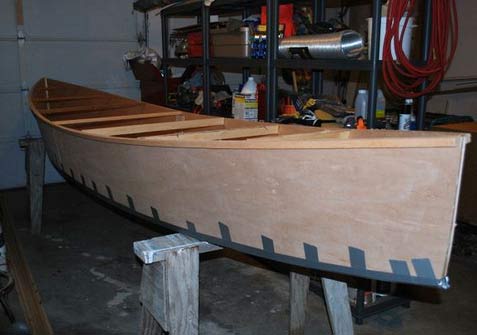 The duct tape will not work for every boat as some require quite a lot of force to assemble. But we knew this one would not require a great deal of force. The timbers across the sheer are temporary.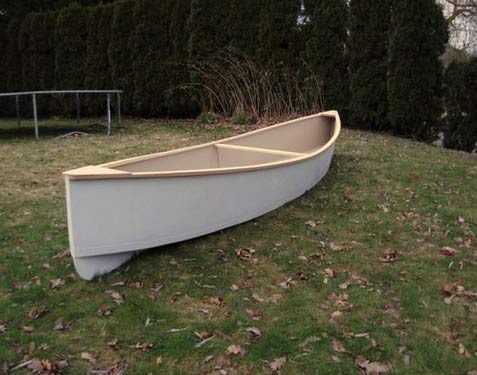 Rick went for a paddle on his local pond on a warmish (30F 1C?) winter day. His daughters then demoed the boat while Rick took pics.
Stability is a big plus, Rick was really pleased with the weight - 48lbs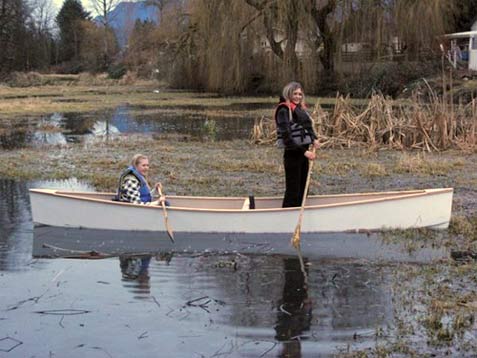 Builder: Rick Landreville
Plans for Michael Storer's Quick Canoe 155 are available
in printed form or instant download at Duckworks - Click HERE
Michael Storer (Designer)