In fact, Cabin Boy was not 100% complete. I didn't have time to seize on the rope rub rail and, more important, Ididn't have time to varnish the interior oak, and mahogany transom.
I could live for awhile without a rub rail, but I didn't want to launch Cabin Boy without some sort of protection for the unpainted wood. Luckily, I'd read about Linseed Oil in a recent edition of Wooden Boat, and thought that would be a good enough substitute for varnish.
So I mixed up a brew of Linseed Oil and Turpentine, and had my son Chris lather it on until the wood didn't absorb any more.
Then it was time to head off to Huntington Harbor for the big test.
I should mention that Huntington Harbor is the ideal place to test an Atkin boat, since William Atkin opened his first boat shop in Huntington, pretty close to where I intended to launch Cabin Boy.
So, on a beautiful spring day, we carried him down to the beach. Poised on the water's edge, he looked ready to head out to sea.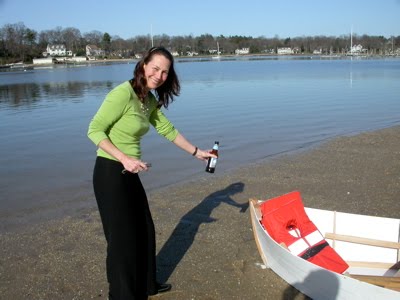 Of course, no launch is complete without a beautiful woman and a bottle of Champagne, or, perhaps more appropriately, in our case, a bottle of Blue Moon.
Success! No leaks, and Cabin Boy rowed beautifully, even burdened down in the stern. Later on, I rowed the boat alone, and the transom perked out of the water, and he rowed even better. Unfortunately, I'd lost my photographer by then, so no pictures!
So Cabin Boy's first outing was a complete success, and he's now nodding sleepily on his painter a few feet off from the Blue Moon, ready to start his Big Adventure.
And so am I!
John
More pictures are at:
https://www.unlikelyboatbuilder.com/2010/04/cabin-boy-launch.html