This time we have the following boats:

AstoriaDave (his handle on Woodenboats) contacted me about building a slightly enlarged version of DinkyDink because he wanted to be able to use it with two adults and needed more carrying capacity. I scaled it for him and did up the offsets for the panels. Dave decided he wanted to try his hand at lofting so he did a scale model of the boat and took offsets off of the model then lofted the boat full sized. He also decided to build it ply on frame rather than Stitch & Glue...and further decided to make it a nester. This pretty much tripled the work needed but he did an excellent job with all of it and the results speak for themselves. Here is a rather complete photo build of the boat from model to finish:
https://www.pbase.com/bartenderdave/tender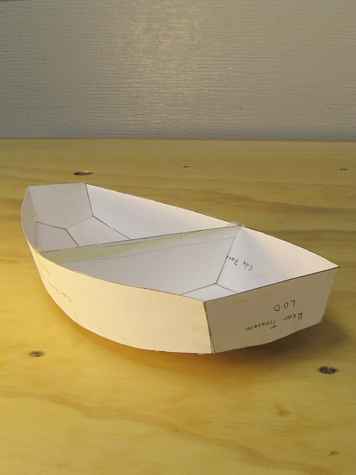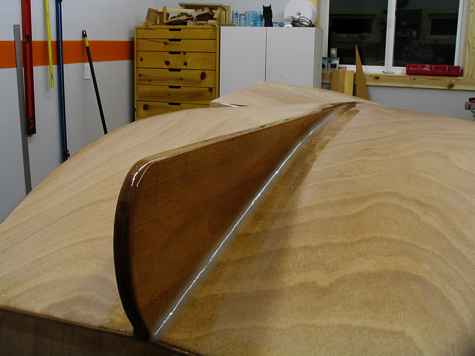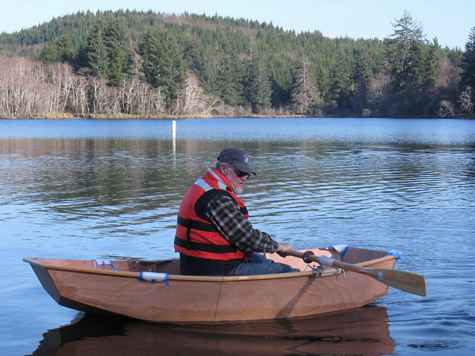 Steve

When I realized the Pathfinder wasn't going to be done soon enough for us to enjoy this spring, I decided that we needed a quickly built canoe to play with on our camping trips.... I built a Michael Storer Quick Canoe 155 over the last few weeks and took it camping last weekend.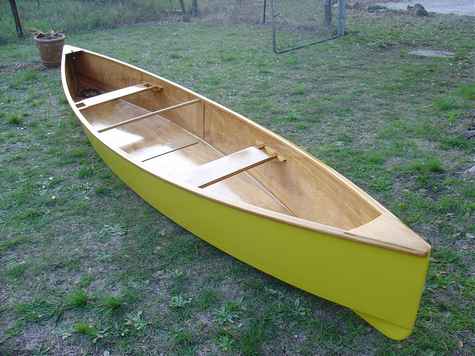 A little crazy to build something in the middle of another build, but the satisfaction of going through the whole building cycle so quickly is refreshing in the middle of such a large project. I'm attaching a few pictures for you. And, don't worry about the pathfinder, I have built a birdsmouth mizzen mast that exceeded my expectations (which were low), glued down the bunk flats, started on other spars, etc, so it will come along in time.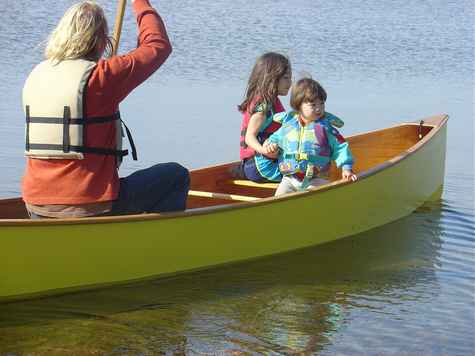 Jon

We took my little cartop catamaran Slipper out for her first sail Thursday. We had a good time, and answered a couple of questions. Slipper is a small boat compared to Slider, but huge compared to most cartop boats. (Disclaimer: I took Slipper down to the ramp on a trailer.)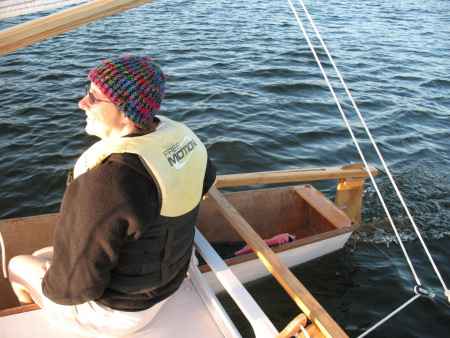 The barndoor rudders worked great-- very responsive, and the helm was quite light. She went to windward fairly well, but tacking took more care than I'd hoped. I have an idea for curing the problem.
Ray

I just launched my "Baby Laguna", a Michalak Mayfly 14 with one of Andrews great sails, Thanks again, heres a pic.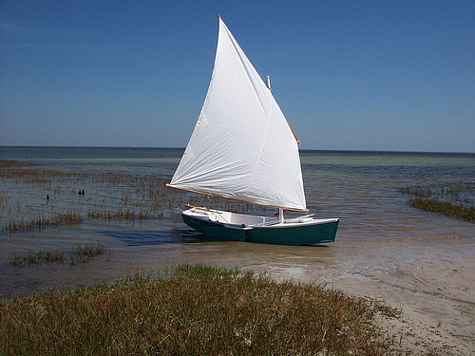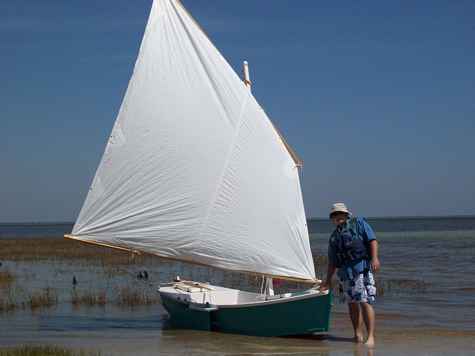 With the help of Gary Blankenship she took her shakedown on March 27 at Lake Hall in Tallahasse, FL. She was officially launched and named "Woosah" the following weekend at beautiful Port St. Joe, FL state park. Woosah carries the Andrew Linn 76 sq ft lug that served he and Mike Monies so well in this years EC. She is stable, responsive and pretty quick for a 14 foot flattie. Thanks for all the great hardware, she carries the duck sticker on her transom proudly!
Scott Gosnell
Grand Ridge, FL

Here is this years PDR for the TX 200. I call it COASTAL BENDER. Get it get it. We are sailing the coastal bend and having a sailing bender at the same time. WOW super witty. Just kidding here is the pic. It was launched last weekend at Canyon Lake.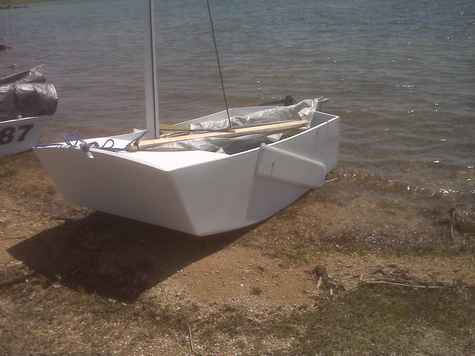 Jason Nabors

Here are pictures of the Christening and launch of my Sherpa.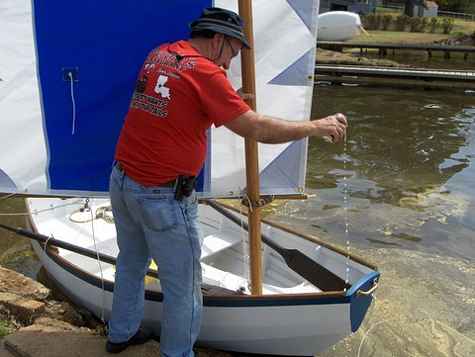 The comments that I would have is that the Sherpa is "much" more stable than I anticipated,,,,, quick to respond to helm...... and with the light winds I had at the moment seems to point quite well.
She is also easy to row.
I converted the "daggerboard" to a "swing keel" and really glad I did so,,,,, I bumped a couple of stumps on the way up the lake and the bungee "hold-down" just let the keel "kick-up", pop back down and kept on going...... no damage, and no delay,,, same with the kick-up rudder..... worked great !!!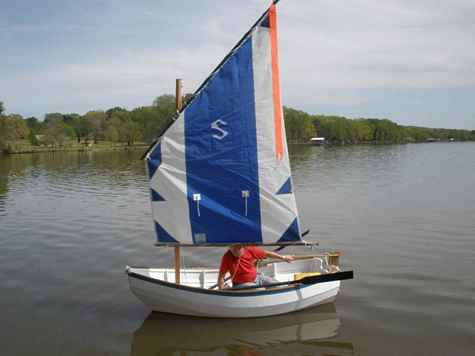 Bill Tosh