The Black Rose, Tippecanoe Schooners,
Toot Sweet, the little racing bottle boat. and the
Great sailing, flying and flapping whatsit?



Imogene Flora's `two footy' Brig
Black Rose in a morning mist (photos by Harry Duncan)
When I had the idea for a two-footy pirate brig based on a `legend' that did not exist, I had no idea that after the article appeared in Marine Modelling International it would attract the interest that it did. Largely designed and the model built by my New Zealand friend, Harry Duncan, the wonderful drawings of his included in the article attributed to the interest of modelmakers in Britain and elsewhere.
If you didn't read the article in the November issue of MMI then a brief intro here might be useful and a bit of fantasy often helps in the painting of a picture of what it was like in pirate days. The Captain and owner of the 8 gun brig Black Rose (legend has it !) one Imogene Flora Rose was a rum-drinking pipe-smoking muscular woman of African ancestry claiming to have blood lines through slave inter-marriage that traced right back to Catherine Hagerty, a notorious pirate who sailed Pacific waters and plundered ships in the early to mid 17th Century. "ARRRGH !" Imogene Flora Rose would probably say, accompanied of course by a verbal barrage of the foul expletives she was known and feared for.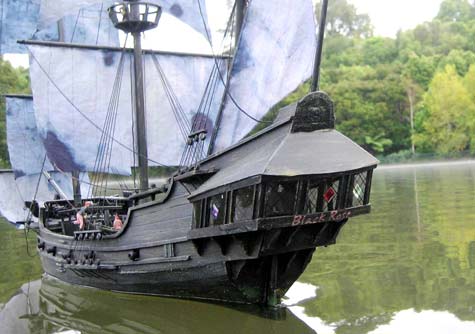 Getting ready to sail
| | |
| --- | --- |
| About to pull the longboat aboard | Builder Harry Duncan and the Black Rose |
| | |
| --- | --- |
| Birds eye view | A deck of activity |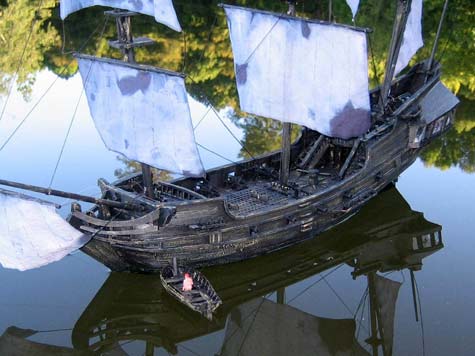 Checking the hull
Following the publication of the BLACK ROSE story in Marine Modelling International's November 2010 issue, there have been so many requests from readers for full-size versions of Harry Duncan's plans, Traplet Customer Services have done just that. Plan MAR 3499 costs 14 British Pounds plus post and packing

Mark
---



A sailing and flying Cup Contender?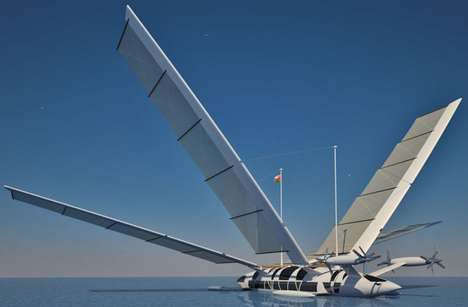 Many who indulge in cruising the internet will have come upon and feasted their eyes on the photograph above seen on at least four different websites accompanied by virtually zilch in the way of information. `Created by a French designer' (it was said on one website) after which I was unable to find the gentleman mentioned by name anywhere and I deduced that it could even be a hoax - a model skillfully made by someone wild on imagination and equally skillfully implanted on a fake photo using Adobe Photoshop or some similiar photo-altering system.
Someone who drew my attention to it is convinced that this great `whatsit' is in fact an alien spaceship with both flying and fast supersonic sailing capabilities. (Hey, don't scoff at that, I've come upon some mighty strange findings while searching Planet Earth for the smallest RC model schooner! And that was just on our planet!!!)
The jury is still out, but my belief is, it is more likely to be one of the main combatants secret boats for the next America's Cup which has become weirder and weirder in boat design and is well on the way towards being stuffed up for ever and ever! The craft will `fly' one leg and then `sail' the other! The third leg? Well, the hull must submerge completely and the `above bits' emulate a duck flapping its wings for propulsion! If it waddles when sitting still on the water and looks like a duck….
It gets curiouser and curiouser!
---


Thoughts on smallest schooners
Well, its all over barring the shouting, the search for the smallest model schooner on Planet Earth, the report in the February issue of Marine Modelling International, the Traplet Publications monthly magazine which came out late January. Then last month I included another report showing a selection of the boats of entrants in this column.
We should always learn from everything we undertake and I certainly learned a few things that I should have taken into consideration when seeking a simple, virtually rule-free contest. Whereas by and large it worked well, I should have explained more clearly a few requirements rather than rules, one to do with ensuring that jpeg photographs of the boat should have been larger (many were very small making media reproduction difficult) and that sailing models (particularly in the freesail division had to be models without a shadow of a doubt, model schooners that clearly resembled such, not clever `curios' a couple of millimeters in size shown in photographs in tea saucers or hand basins with a starboard `lean' and just barely floating. One of them looked to me like an Amazon Jungle swamp beetle that had been squashed by a fallen tree, possibly, a hopeful attempt to win on the basis of just being small.
It was clear that the freesail division would be more popular as there were more entries there than in the radio controlled more important division, but again we have to (I believe) again rely on honesty of entrants. If you build them too small (like 3 or 4 mm) they may just sit on the water and not move at all so does that constitute `sailing… and do hand basin or bathtub or tea saucer `water voyages' qualify?
A suggestion has been made to `set a course' and supply a video as a back up to the claim of completion but I don't agree with that either. Should we rule out freesail altogether and if we did would we end up with just three or four RC boats? Probably. These are just a few observations which may or may not help the person (and it won't be me!) should they be brave enough to organize another similar challenge?
---

Holy Diggledydog! Thanks lad, I didn't know that – you're never too old to stop learning! I always thought ...Oh never mind! Better to quit while I'm winning!
---
Tippecanoe Schooner
on a roll
It seems like just day before yesterday (well, a mere handful of years anyway) since Will Lesh of Tippecanoe and I were discussing a schooner model for his range of kit-built sailing yachts, now I see more and more of his T47 schooners appearing in his website of owners photographs.
The latest to appear is a nice build by Wayne Hoppe of Wisconsin, USA shown here which for a schooner fan such as the writer is wonderful to see. In my humble opinion the schooner (irrespective of how many masts it carries) is one of the prettiest and most graceful types of sailing boats you will ever find. Schooner models when sailed on ponds are `attention grabbers' and it is nice to see a little bit of `deck detail' on Wayne's schooner in Wisconsin. He has nicely customized it and it is a pity that more people don't do so with theirs. A flat and un-adorned deck lacks what I call `the realism factor'.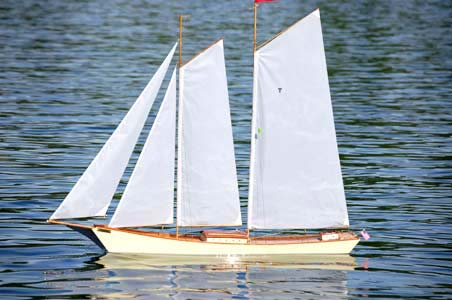 An attractive customized model schooner
| | |
| --- | --- |
| And another look | Getting into deck details |
Meanwhile in Blue Springs, Missouri. Bob Bossert who has built two of the schooners enjoys them to the hilt, the boats seen in the following photos.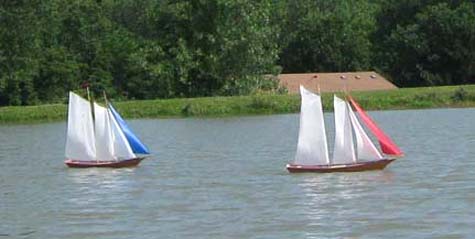 Missouri Twosome
| | |
| --- | --- |
| A good looker | and elsewhere yet another being built |
Cost of the T47 schooner kit is US$425.OO
plus shipping within the US US$19.50
`There is nothing like a schooner,'
Don't get one later, build one sooner!'
---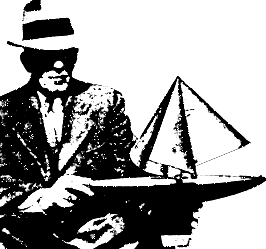 In Popular Science magazine, July 1934 issue an item was included of a new model sailboat with a three-vaned spinning cone in place of sails which the inventor hoped would result in the craft being able to steer always directly into the wind.
On full sized boats the vanes made of lighter wood and fibre construction would reduce the necessity for tacking and his `sails' would give three times as much propelling force as those of canvas.
It seems that the idea was never successful for tacking is still necessary.
---
Aussie Wally's
boats sail on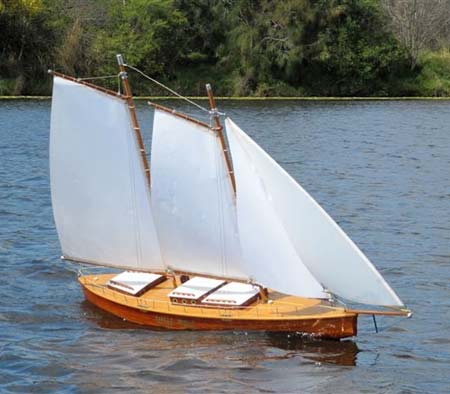 The schooner Single Malt
When prolific shipmodel builder Roy `Wally' Thomson from Australia's Queensland state died, he left in excess of twenty model sailboats for his grandson to take what he fancied and dispose of the rest. Members of clubs in Brisbane and the Sunshine Coast benefitted by being able to purchase several models, some of which are now up and sailing in the hands of new owners, Steve Johnson, Brian Johnson and Gary Powell among others.
I think that it is good when that happens for others then enjoy the boats in the manner for which they were constructed, instead of them ending up as `earth fill' or at an antique auction , or as `cobwebbed clutter' in the family garage requiring dusting.
I hope that my boats will `sail on' after my demise.
| | |
| --- | --- |
| Another pretty schooner | Wild Honey |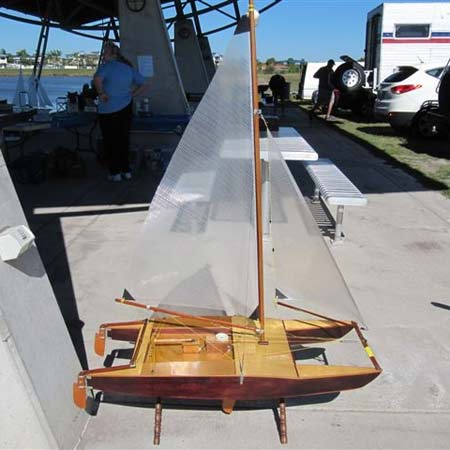 One of his Catamarans
---
First you drink
the contents!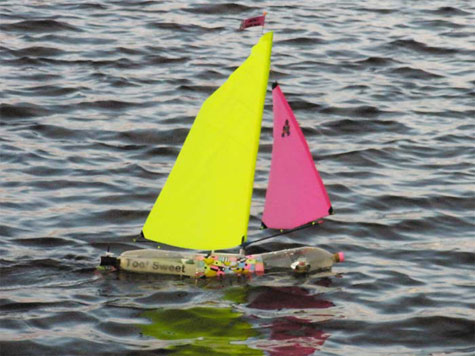 Toot Sweet on the water
| | |
| --- | --- |
| Toot Sweet – out of a bottle! | Down the hatch! New Zealander Ron Rule shows the `hull emptying emptying style! |
There are model sailboat fans who really enjoy building and then sailing bottle boats – that is boats with hulls made of once full now emptied bottles. In the UK they are even raced competitively and many are colourful and have humorous paint jobs and `hull' designs.
Andy Trewin who has built other bottle boats before has sent me a photograph of his latest, Toot Sweet shown above. Whether the performance is also `toot sweet' we will never know. I've been thinking…were bricks able to float…well there would probably be a class for `brick boat' racing!
Seriously, bottle boats generally sail very well and they make up a popular racing class in UK. Read Chris Jackson's article on the 2019 Bottle Boat Championship in the January 2011 issue of Marine Modelling International.'
-30-