Sailors to nowhere, Wim's Drommen and the
unbottled sailboat models of Cecil Tiller
---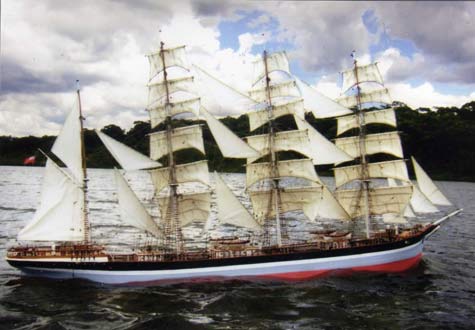 A cruise aboard Sindia
With the search for the Smallest Model Schooners almost just a faded memory I keep getting a few questions from readers like `what is the next challenge?' Well life itself is a challenge really isn't it and it is quite depressing these days what with wars all over the earth, cruelty by man against their fellow men, atrocities against children, earthquakes, floods, cyclones and other natural disasters happening everywhere. I won't go on, in fact we should all get aboard Ian Hunt's utterly magnificent eight foot long Sindia (shown above), sail away in our dream, forget the world for however long the dream lasts – Now that's a Challenge!
Anyway, `the smallest model schooners' winners and Runner Ups have received their awards, and it is nice to be able to show the RC and Free sail winners wearing their award medals (below).

Hans Berger, RC winner


Free sail winner,
Harry Duncan, NZ
---

When each of us are `barrelling into a howling wind, or enjoying a downwind passage' in our daily journey called life aboard our computers, we should always remember the nerds of the world who lurk, often in distant places out in cyberspace, with intent to creep up like sharks and destroy our software with one fell swoop.
If you answer an email from a person or source you don't know, you are running a grave risk of falling prey to a `Gotcha' – one of many virus creators whose only ability in life is to screw up other people's personal computers and those of us that may be dependent on their use.
The suggestion is that you open no email whatsoever from anyone whom you don't know – just hit the X key quickly and get rid of that email. If it is from a Gotcha, well you won't like the message that comes up anyway. Make sense to you? I am sure it does. You can always check with snopes.com anyway but you won't be able even to do that if the Gotcha got you first.
---


A Dozen of us oldies in the early years.
The Ancient Mariners was loosely formed `umpty-dippety' years ago (that means a `long time' and nobody can really remember when it started!). Not a club but a social sailing group with no office bearers apart from a now and again so addressed `Admiral' and a Vice Admiral who says he is into `vice'. They meet at a small lake called Onepoto on Auckland, New Zealand's North Shore, some on Tuesdays, the majority on Thursday mornings to sail model sailboats.
The modus operandi is non-competitive cruising or put another way, `windling', the sailors largely in the advanced age bracket and retired, who `take seriously the art of not taking things too seriously!' – They sail up and down the lake and across from one side to the other totally unstructured and rule-free generally enjoying friendship and quality time. and enjoy chatting with each other and socializing.
The British (Vic Smeed designed) `Starlets' (most of them modified) are seen aplenty and often cruise together in non-serious combat style around the outside of the buoys and there is generally a schooner day held annually with a few fun `races', a shared lunch pondside followed by a bit more of the windling stuff, and another special day in December for a Christmas sail and `nosh up!'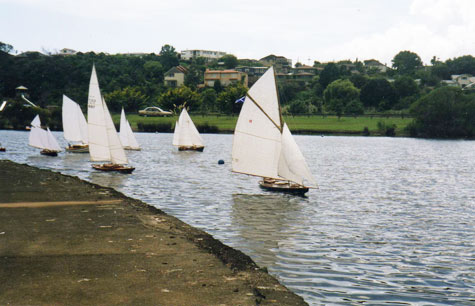 A `play race' windle to the top of the lake.
| | |
| --- | --- |
| Admiral of Vice' Murray and his Spray | Malcolm's Square Rigger |

Starlet Bells & Whistles
powers up the pond.


The Admiral and his mutt
are on the water
Apart from the Starlets there are Classic and ordinary schooners, a few ketches, the odd 12" Footy (not to imply that they are `odd') a square rigger or two, a scow or three. pirate vessels with black sails, the occasional island trader or workboat, a few Seawinds.
| | |
| --- | --- |
| When the Footy was popular | Herreshoff duo. |
---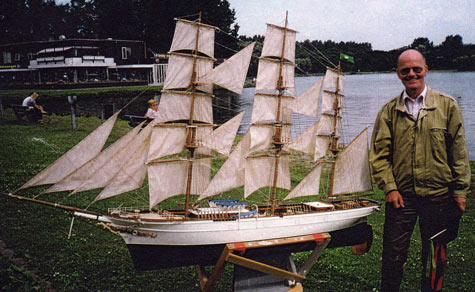 Wim and the Drommen some years back
Wim Moonen of the Netherlands built his Norwegian 3 masted model Clipper the Drommen some years ago and if I were to go back through copies of my publication Windling World, I'd find the story I did then on this impressive model.
Anyway, the purpose of this little item in Duckworks is to introduce to new readers by way of a couple of photos' (the one below being the latest taken by Hans Staal) of what I have always considered to be an absolutely beautiful and impressive model of a classy looking ship.
A real full sized Drommen may have existed and I believe that Wim may have based his model on one called just that, a ship that in earlier days, a couple of sources claim was called Witch of the Wave. In the language of Norway, the word `Drommen' means `Dream' and last year Wim carried out an extensive refit on what I gather is a particular favourite of his. Enjoy feasting with your eyes on the result of Wim Moonen of the Netherlands model shipwright skills.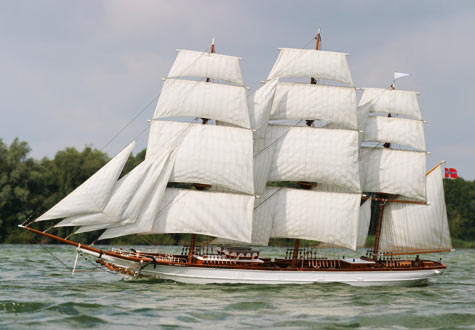 The Drommen captured by Hans Staal after its latest refit
---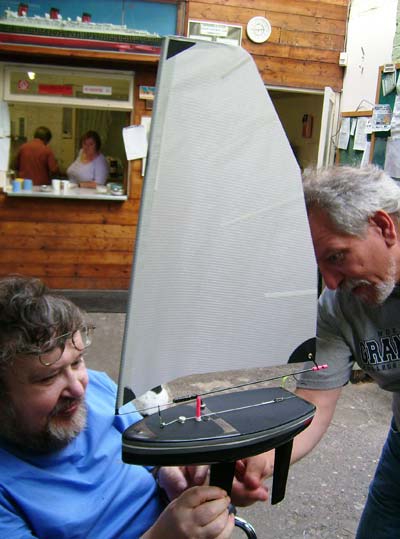 Angus Richardson at left with
American Footy Champion, Bill Hagerup
Angus Richardson, well known to a great many UK & European Footy sailboat modelers died on 6th April in North Wales.
Disabled for some years and wheelchair bound, he had experienced several health problems. Known to some as `Our leader', to others as `The Ogre' he was in no small way credited for getting the Footy yachts in the UK to where it is today
Angus had an extremely strong personality and was both enthusiastic and persuasive, One person who knew him said that an Angus explanation was often an opinion and a lesson as well that was often indicative of a crusade. He described him as a highly intelligent and extremely interesting, large as life character.
One RC Forum member said that he could never understand how such a crotchety old fart (which Angus often described himself as) could at the same time be so endearing. Fascinated with yachts, steam engines and castles among other things, he was a man who scribbled and sketched ideas on paper, had sailed and raced in yachts in earlier years, and had designed and built several Footy models. His untimely passing resulted in much attention.
My friend and his, Flavio Faloci of Italy who took the photo above, said that `the ogre' and himself had shared many cups of tea and pints of beer, as well as exchanging ship plans, books and other gifts after meeting at the Footy Euro Grand Prix in Liverpool, England.
---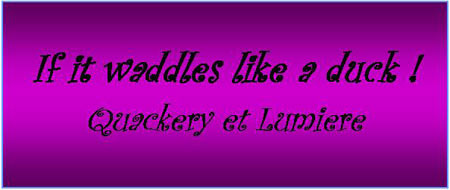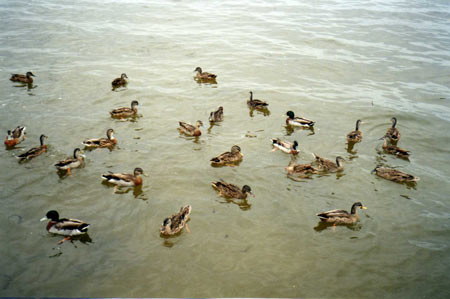 "AND DON"T FORGET TO QUACK!"
Those who read my ramblings regularly must have long realized that `tall tales' or `porkies' are sometimes included – it is important for us all to have a chuckle now and again in order to ease, the tension cords in our lives.
If you haven't heard of the famous ducks of Onepoto , you have now. Authorities in the `Super City' of Auckland have sponsored the troupe to perform a water ballet (a sort of Son et Lumiere called `Its quackery' during our next Summer. I went to great lengths to obtain permission to take the photograph at the rehearsal session while they practiced their `A widdle waddle' routine.'
---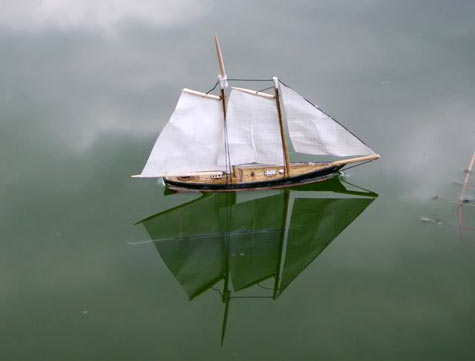 The little free sail model of the yacht America
Without a doubt they are certainly tiny, the intricately hand carved models of sailing ships that Cecil Tiller produces in North Carolina in the United States, little models of a variety of different ships which are set on bases representing the sea and then put inside bottles and finally destined for eternal bottledom.
Ships in Bottles are a popular activity and Cecil doesn't sell his creations to anyone but has a `waiting list'. He makes them for his children, grandchildren, and for himself
I first heard from Cecil when he entered my challenge to build the smallest RC and freesail model schooner on the Planet, and where he produced quite a stunning America backed up my a few really lovely photos of the freesail entry on the water.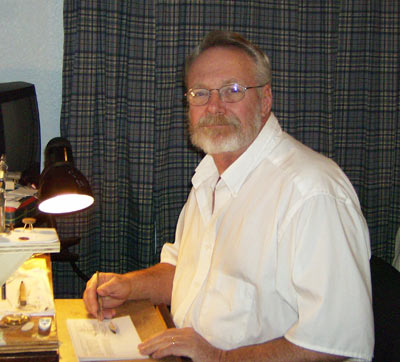 Cecil at work
| | |
| --- | --- |
| A Baltimore Clipper | A Gloucester schooner |
| | |
| --- | --- |
| Into a rough sea | The Mayflower |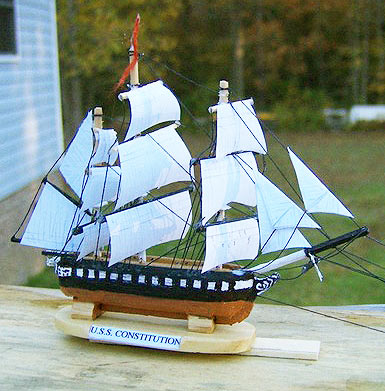 USS Constitution
Ships in bottles don't come out well in photographs – too many shadows and distractions of shafts of light here and there, too many reflections from outside the bottle, so ideally it is better to photograph the models before getting them into the bottles. I know you are dying to ask me how Cecil gets the rigged boats into and through the often narrow-necks of the bottles? Well…quite simply, I don't know and don't want to know either - that is a tradesman's secret, and would an illusionist tell you how he makes an entire Boeing 747 just vanish, as Copperfield does?
Cecil told me when I asked for a brief bio to do this story, that he was rescued from a deserted island after having spent 30 years there all alone, surviving by catching rainwater and eating fish! It took me a while to realize that his tale was a giant `porkie' from left outfield, created by his weird sense of humour (Oops… Humor), a quality that I am particularly fond of. To preserve his sanity (while on this remote island) he had gone on to add that he had collected bottles and built little ships, all the while dreaming of one day being able to sail away from the island on one of them! It would be a great story were it true and it certainly got me going for a day or so!
Not a particularly well man, Cecil who builds his boats from close grain pine, was diagnosed with Acoustic Neuroma after he lost hearing in one ear which is a tumor that exerts pressure on the brain stem that has also given him some balance problems. All credit to him that he can still produce such lovely little models.

-30-