---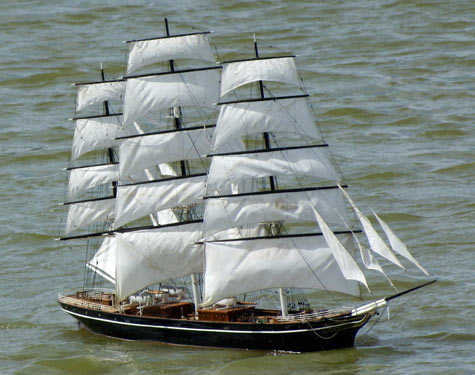 Tea Clipper Thermopylae Peter Taylor Photographs

Bankburn - barque of 1890


Salamis –
sister ship to Thermopylae
I have always thought that there is something very exciting about seeing a working model of a square-rigged ship cruising silently, nay` gracefully' towards you on the still waters of a lake or pond, partly because such models are usually highly detailed and therefore both impressive and extremely realistic, secondly because they are not terribly often sailed, their owners usually requiring conditions ideal to their safe operation. It therefore often becomes `the luck of the draw' and whether you happen to be there on that day to see them when it can be a kind of `magic of discovery!'
David Edwards, an Englishman living in Dorset and a member of the Solent Radio Control Model Boat Club has a love of square-rigged ships. A skilled builder of them with three to his credit he is the mainstay of a square-rigged fleet, his models well acclaimed by the club he sails at, and much admired by those who have had the chance of seeing them on the water.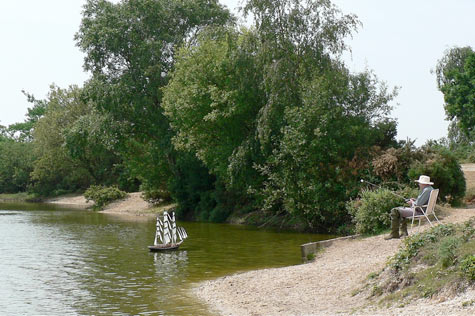 A sailing of the Salamis
David's first square rigger was the famous tea clipper Thermopylae shown in the photograph at the top is an absolute beauty and a favourite of the builder whenever a quiet sail is the order of the day. A comfortable chair to sit on somewhere in the cool, while he sends the ship up and down the pond at Setley in the New Forest area in the County of Hampshire is David's idea of a few hours well spent, and Peter Taylor who took all of the photos of the square-rigged models shown was on hand to get this rather nice image immediately above of him sailing the Salamis.
Thermopylae, built in Aberdeen, Scotland in 1867 as a China tea clipper, later used as a wool carrier from Australia. She was designed by a Londoner, was in later years bought by the Portuguese navy in 1895 as a sail traning vessel and was sunk by them in October 1907.
---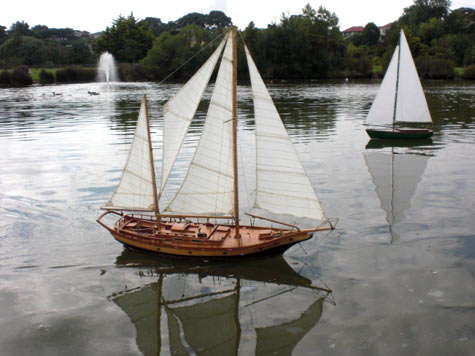 Proud Mary waiting for wind
| | |
| --- | --- |
| Hooray she floats! | Here it comes! |
The Proud Mary is New Zealander Malcolm Wilkinson's latest, a ketch to a design by William Garden and so named by Malcolm in honour of his own wife Mary. Garden was a naval architect born in Canada in 1918 with a string of beautiful boat designs to his credit.
Garden who these days lives and works in British Columbia on his island Toads Landing, called the ketch The Porpoise which was 45'9" length overall with a beam of 13' 4" and a length on deck of 42' 9".
Wilkinson built the model to a scale of seven 7/8" to 1 foot so that he could easily fit it into the back of a car fully rigged and the measurement of his model is a meter long, a further 108mm added for the bowsprit.
It does not carry a hang-down keel and was built almost as Garden's design called for, except that the builder of the model added an extra 1" or25mm to the depth of the keel for obvious reasons. Masts and spars were made of spruce, cabin sides and coamings from wood off their old plum tree, the sheer strakes of New Zealand Kauri.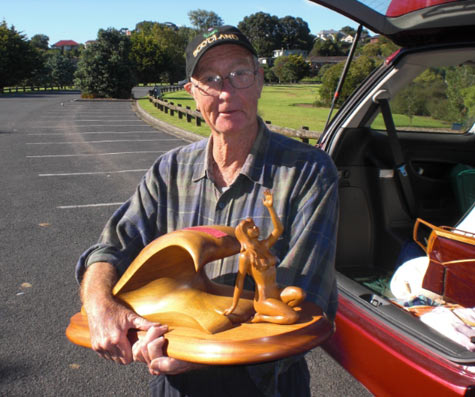 What is this? – It is a simple stand for the Proud Mary!
The remainder of the planking and keel were made from purpleheart, a very hard, bright purple timber, the waterline from an inlaid strip of Kauri. Treenails used for pegging were matched with the woods that they were to hold. The sails are of polyester cotton sheets (made by `proud Mary' herself. Malcolm added a mule sail to the rig and the model uses one large headsail instead forestaysail and jib.
The sails have reefing points and halyards to enable the sail area to be reduced in heavy weather. It is not a rocket ship, instead is a model that can be sailed successfully in a wide range of conditions.

The purpleheart effect.

All photos of the Proud Mary by Richard Gross



---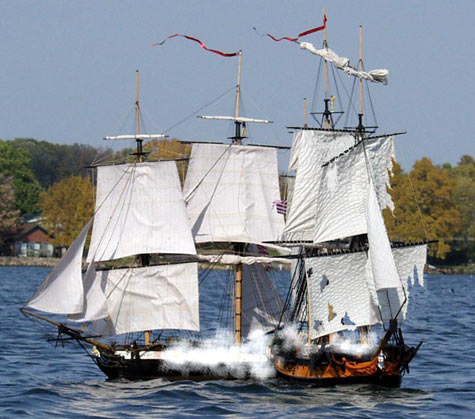 "There – I've shredded your sails Captain Raymbo!"
Model sailboat history may one day record what was once a great sea battle that took place on a place called Ceasar Creek, in Southwestern Ohio, USA, when the US brig Syren under Lieutenant Dan Lewandowski was confronted by the ship Surprise under its Captain and Commander, Ray Grosser.
Lewandowski's report stressed that his ship the Syren had seized upon an opportunistic moment in the battle and had taken the larger heavier gunned vessel by surprise and out-manoevered Commander Grosser. BOOM! BOOM! he (had) fired two cannons skillfully aimed (Naturally!) at the stern sail of the rascal enemy vessel,while with one hand on the wheel (Naturally!) to bring about a broadside, with the other hand he had quickly taken the photo shown above to record the damage to sails on Surprise!
There are always two sides to a story (in this case perhaps two stories both with a measure of `porky' content) and the readers will have to decide who really won the fight for supremacy on Ceasar Lake in May last year after looking at the following video orchestrated by Captain Raymbo of the British frigate HMS SURPRISE.
You will want to view this over and over for it is brilliantly done, both the heavily photoshopped image submitted by `Lootenant' Lewandowski as well as the video by his opponent Captain Raymbo which is truly excellent.
My verdict leans heavily on the side of `neither ship having been victorious and no damage having been inflicted – a huge `battle' of enjoyment and RC sailing fun, with much laughter watched from the banks of the creek by thousands of spectators… well, by several spectators anyway!

---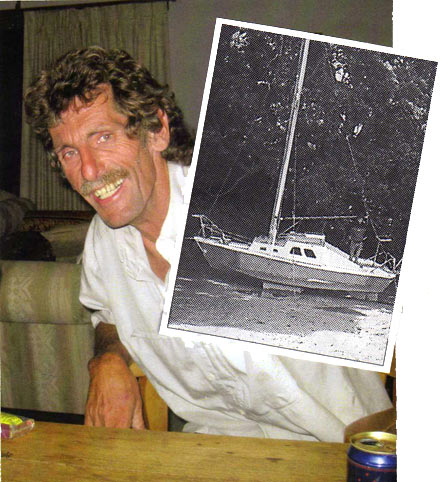 Shane and La Joca (inset)
Brendan Shane Pittams born 1955 in Auckland, was one of our Ancient Mariners, not a frequent model yacht sailor because his real passion was his big boat, a keeler just twenty feet in length which he was away quite often on, sailing the waters of the Pacific. We always knew when he was back in New Zealand from Fiji. Tonga or Vanuatu where he did boat work for various people often on their out-islands, because he would roll up at the pond with a sailboat called Vixen and join us. He was a quiet guy not really a talker but once engaged in conversation I always found a very pleasant man whom I enjoyed talking with.
As a young lad he had sailed and raced P Class yachts and sailing was in Shane's blood. When 21 he and a mate boarded a cargo ship for Australia where he spent maybe five years working in various jobs before travelling through South East Asia to the Phillipines. Six months there he flew to Los Angeles, then back-packed his way across America to New York to see the 1983 America's Cup, then onto Britain for a period and back to New Zealand.
The wanderlust gripped Shane and back in Australia he bought a Honda motorcycle, shipped it to Turkey to attend Anzac Day Commemoration Services followed by a motorcycle trip through Europe and a visit to the Isle of Man where he rode the bike over the famed TT course.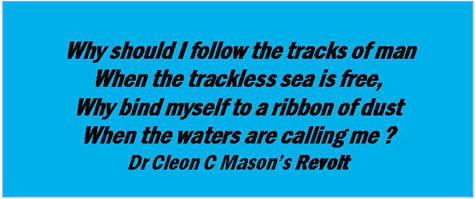 First verse of poem `Revolt'
| | |
| --- | --- |
| La Joca in the brokers yard. | A year later – settling sail for the long voyage to New Zealand. |
Working in Britain Shane re-kindled his flame of enthusiasm, for five hundred pounds bought the wrecked hull of a 20' bilge keeler sloop called La Joca and was to spend the next year restoring it with every intent to sail the boat back to New Zealand. In 1995 he set off from Chichester on the longest voyage to Auckland, New Zealand that would take him four years to complete. He had no charts only some Michelin road maps and an Atlas printed in German oh yes…and a folding bicycle Not prepared to tackle the Atlantic and since he didn't know how to navigate he chose to sail the wrong way around … the long way down the Red Sea to India. He survived one of the biggest storms ever on his way to Crete where in 30' seas the boat was turned completely upside down when over a hundred miles downwind from the nearest land.
La Joca survived even after two further complete roll-overs, each time coming up with the masts intact. As a result he abandoned getting to Crete went via Malta and headed for the nearest Greek island. After major repairs there it was down through the Suez Canal to South East Asia with a stop in Brunei for a year of work enroute. Finally it was a 40 days journey from Micronesia via the Phillipines, Palau, Truk among other islands to Fiji where he arrived with a bag of onions and a packet of rice his total provisions, then back to Auckland via New Hebrides, the Solomons. New Britain and Rabaul.
On the 3rd February this year I attended a Service in Auckland to celebrate Shane's life which had ended on the 1st day of January 2011 in the Phillipines after he had endured and survived a collision with a reef off Rabaul island of New Britain in the Australian territory of New Guinea. He had been heading there, having set out from the island of Vanuatu aboard La Joca in July 2000. Rabaul islanders helped Shane get the yacht inshore and had helped him with repairs.
According to Keren his sister who shared a passage that Shane had written, her brother had always lived with a certain amount of danger and had expressed a personal philosophy that `we should lose the fear of death – (adding that) he would rather die doing something dangerous than not do anything dangerous because of that fear!'
I salute Shane – Bluewater sailor, occasional Ancient Mariner, adventurer and achiever, a son of our sailing friend Des, and Aileen (his mother), a father of a son of his own (also called Des), one of three brothers and a sister and a man with a great love of both the sea and of sailing.
---

That I was once a `Publisher' at the tender age of nine is a fact of my early years, what is not a fact, is that you will find the `publishing house' Pyjama Publishing listed somewhere as an entry on the internet!
Pyjama Publishing was `created' after the young man, when sick with a bad cold and bored at home in the big family house on the corner of Light & Sixth streets, Georgetown, the capital of what was then British Guiana. There he had proceeded to hammer out on a bolt upright Underwood plonker of a typewriter, twelve individual copies of an eight page publication called The Junior Sports Club Review. He did it all while sitting on the side of his bed in his pyjamas over four days. The year was 1943
So it was, that the enthusiasm seed was born, and the desire to write and `publish' (how do you spell publish Dad?... the now older man remembers asking) happened right there and then.
---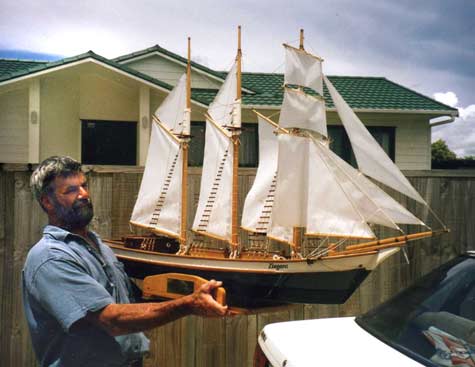 Wayne Pascoe with the model he built of Zingara
Those with a fascination for trading boats, a few perhaps looking for ideas of models to build, one particular `possible' (in the case of New Zealand readers, anyway) would be the scow, while those in England would more likely think of building a Thames Barge.
Wayne Pascoe of Auckland is more into display model building and I remember visiting his home in 2001 where he brought to my notice a rather lovely model of the three-masted topsail scow Zingara. The original, built to a length of one inch over 128 feet she was one of the largest if not the largest scows built in New Zealand.
The only model I have seen of her is Wayne Pascoe's which is a display model rather than a sailing one. When I photographed it I never asked whether there was sufficient room in the hull for radio gear, but if there happened to be, the model would make an imposing sight on the pond with working stained and weathered sails and a keel and weighted bulb added.
The real boat was stranded in 1909 in New Zealand at Tairau and again at Karamea where she sprang a leak. She was finally lost on the Hokitika bar on the West coast of New Zealand's South Island in 1929 with all crew saved.
-30-