A Last Note from Jackie - Mike's Accident
Report from Chuck
Sandra and I got up early today and left before anyone else.
We had a great day of sailing. The wind was cool at about 10 building to 20 in the afternoon. We left about 6AM and arrived at Port Mansfield around 1. It took us about three hours to get out to the jetties because of trouble with the outboard motor. We were the first ones there but shortly, the guys who went outside came along. Here are the pictures I took of them as they arrived:
| | |
| --- | --- |
| | Chris Breaux with his daughter and a nephew in a folding schooner were the first of the "outsiders" to arrive. |
| | |
| --- | --- |
| | Gordo Barcomb with his son, Matthew was second with Jon Kovitz in tow. Jon was sailing a Goose but became sick during the trip. |
| | |
| --- | --- |
| | Kevin Allison sailed the other Goose and made Camp one without incident. |
| | |
| --- | --- |
| | Chris, Cathy and Meredith in the Light Schooner came in next. The only mishap was that Chris fell overboard once during the passage. |
| | |
| --- | --- |
| | John Wright - now called 'the creature from the black lagoon' arrived later having sailed the inside. |
Chuck
Friday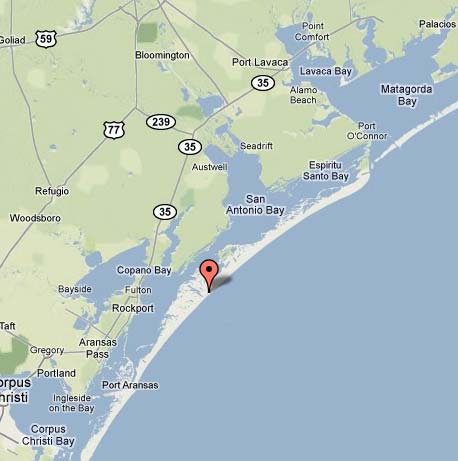 Chuck's Latest Spot
Thursday: Further Adventures on the TX200
Thursday

Chuck's Last Spot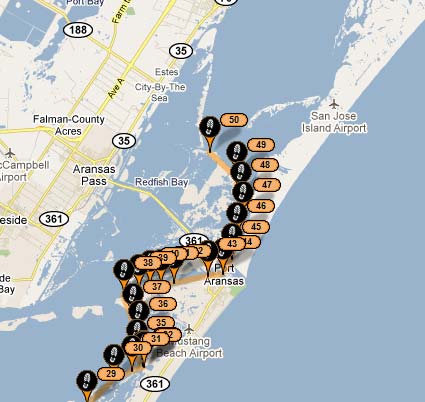 Mike's Last Spot
Post Note to Wednesday Report
Wednesday:
Chuck's Latest Spot Location
Tuesday:
Sunday:
Shuttle day. What can I say - a 4-1/2 hour drive in a car followed by a similar ride in a bus. As we sped south on the freeway, I kept thinking "we have to go all the way back at 5 miles per hour. " Once back at the White Sands Motel, we all filed into the adjacent restaurant to eat. I highly recommend the fish tacos.
Tomorrow we sail. There is still a lot of discussion about sailing out in the gulf as far as the Mansfield cut, but a lot of folks seem to be talking themselves out of it as crunch time nears.
Saturday:
We got up before breakfast and drove to Los Fresnos to eat. We have stopped at Angeles Café before and can't pass it up now. They have the best Migas in South Texas. Then we drove the 20 more miles into Port Isabel to the Sands Motel, our home for a couple of days. We launched the boat and tied it in a slip right away, but could not check into our room until later.
| | |
| --- | --- |
| | Our Caprice secure in a covered slip - Sandra stows gear. |
All day, people kept showing up. One was John Wright. John had an interesting experience - his Laguna's leeboard came untied in transit and dragged on the pavement for a while before he caught on.
| | |
| --- | --- |
| | John and his truncated leeboard. |
All afternoon, we kept thinking of things we had forgot to bring which necessitated several trips to local businesses. Everything was close by but the inbound traffic kept getting heavier and heavier such that a trip of a few blocks took most of an hour. Most late arrivals complained about it.
| | |
| --- | --- |
| | Due to a lane closure on the causeway over to South Padre Island, traffic was backed up all the way through Port Isabel. |
Friday:
| | |
| --- | --- |
| | Michael hops into the shotgun seat full of contempt for anyone who might delay our trip. |
We did the last of the packing and started out about 9AM for Harlingen, Texas where we had a room waiting. We had Subway sandwiches for lunch in Jordanton and made it to our Motel before dinner. Michael Storer, a vegetarian, spotted a Chinese Buffet so we ate dinner there.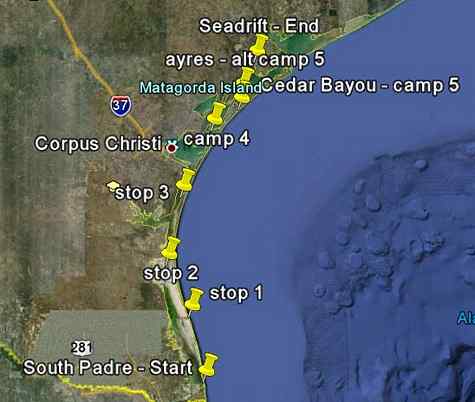 Map of the Course