Launched my self-designed sailing kayak today.
I drew the plans myself looking for the following features:
- Hard chine (for simpler construction, at least for me)
- Light enough to cartop/single person launch
- Narrow enough to be a good paddling hull
- Sail well
- Enough keelson curve/freeboard/covered deck area to take open water
- Some cargo capacity
- So dimensions: 13' loa, 30" beam at sheer, max freeboard 12", weight completed hull alone 52 lbs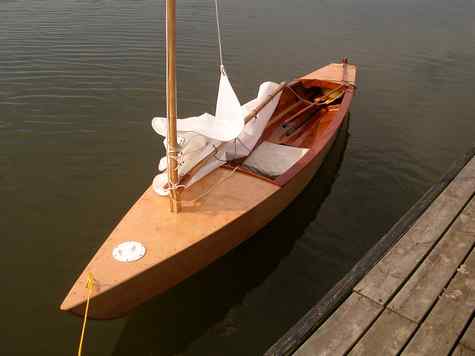 Materials:
- 3/16" birch ply for the hull and deck
- 3/8" marine fir ply for permanent ribs, daggerboard trunk sides, bracing under foredeck where the mast passes through
- ¼" marine fir ply strip for keelson, w/ additional clear white pine strip to thicken the keelson to ½"
- 1" x 1" clear white pine for stringers (strakes?)
- 1" Philippine mahogany for daggerboard, rudder, tiller/extension, cockpit trim, and mast step and bracing
- Initial mast/boom out of construction grade white pine 2x6. eventually I'll need to buy better wood and make a straighter/stronger mast
- West systems epoxy, w/ fiberglass cloth on the outside of the hull, spar urethane over all of that
- Lawnmower wheels, ¼" threaded steel rod, copper sleeve, PVC spacers for removable "trailer"
Final steps: install better flotation (ordered some flotation bags), and complete the pvc sail mounting system
I sail a lot on a couple of reservoirs north of Columbus, Ohio (Hoover, Alum Creek), but also get to the great lakes (Erie especially, and I've already paddled it on Ontario out of the Niagara River)
Made the mast and boom, and although I don't have the pvc attachment system done, loops of rope for the luff worked fine for the first sail this morning. I'm completely delighted with sailing it.
No heavy wind yet, but it went nice and fast and by shifting my butt uphill and keeping an elbow on the high side it was very easy to keep balanced.
Doug