This is a follow-up on an August "Splash" report which featured a smart little kayak/surf ski type fun boat design now know as "Water Rat", that came out of Ross Lillistone's boatshop, and I direct readers to refer to my comments back then, rather than re-hash them here.
Since finishing my Water Rat, circumstances contrived to delay her first launching, but just this week my wife & I test-flew her in the crystal clear waters of beautiful Shoal Bay, Port Stephens, less than an hour's drive north of Newcastle on the east coast of Australia.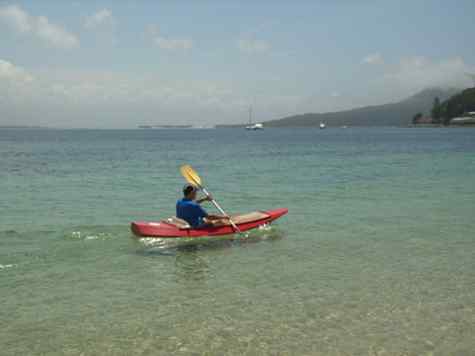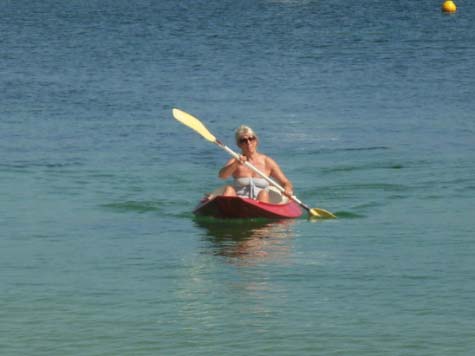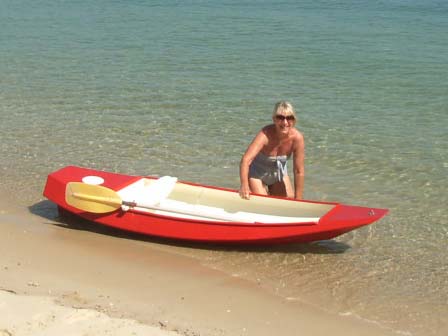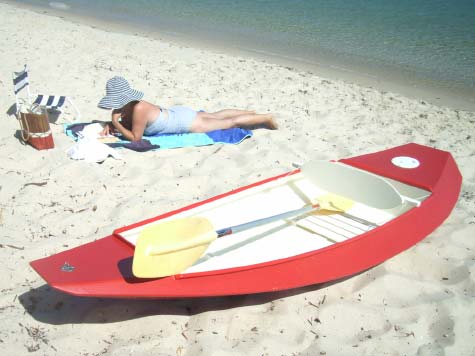 We were surprised at how fast she was given her relatively short length at 9', and found her wide beam made her extremely stable which will suit paddlers of all shapes & sizes & will promote confidence in first-timers. I found also that when I positioned the back rest further forward to suit my wife & tried this position myself, there was no noticeable difference in speed.
Perhaps the highlight was when a small group of passing kayakers in (plastic) craft paddled in to have a better look at that smart little bright red & white boat sitting on the sand next to us and on closer inspection announced what a good looking craft she is! The ladies, particularly, were very taken by her lines.
This is a seriously good design & goes together without any fuss.
Ross has since stretched the design, for a much bigger customer than me, to about 10'9" which the longest you can get out of two sheets of 8' plywood.
I have attached a number of pics for inclusion here & have added a a few more to the "Water Rat" album in "Photos."
Ross' busy design & building schedule has probably not allowed him to produce full plans yet of Water Rat, but I think they are in the pipeline.
Al Burke