Dalliance: Homeport - Tallahassee, FL
Maiden Voyage / Sea Trials - 30 JAN 2011 St. Georges Island State Park Construction began on 20 MAR 2010
LOA: 17.5' BOA: 12' Draft: 5" board up / 23" board down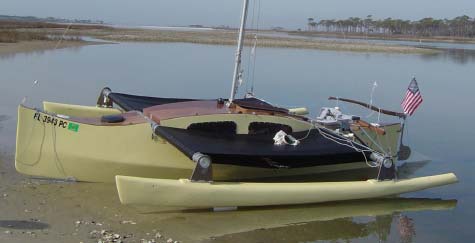 Without anyone onboard, she floats well above her designed waterline. At a displacement of 650 pounds, the waterline is from the turn in her stem to the turn in her transom.
In this photo, She was not pulled ashore, but was just afloat and drifting.
She sports an 85 SF square-top main, and a cutter rig. The genoa is, with the The Genny partially unfurls, while I try to set up the Torqeedo outboard for its first test.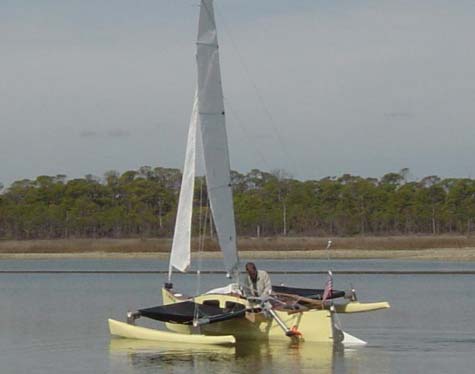 As evidenced by the glass like waters, it was not particularly windy on launch day.
Because she floats so high, it appears I'll be flying a hull regardless of wind conditions.
The tide was low but flooding. The line in the water behind Dalliance is an exposed oyster bar. There is about 10 inches of water here. The rudder could only be partially lowered.
The winds offshore did fill in a little and finally got a reliable 3 to 5 knots.
I've still gat a ways to go in getting the sheet leads right, and fine tuning the homemade Poly Tarp genoa. It is also obvious not only are some cleats not located properly, but some additional jam cleats are needs. But all the same, on this outing the GPS indicated a top speed of 4.8 knots, and she was able to tack through 95 degrees.
Al in all, a very pleasing first outing.
See you on the water!
Duckworks was a major enabler for this project, including: epoxy, pintles & gudgeons, deck hardware, rigging, deck hatches, nifty decal and much, much more!
Ron Falkey