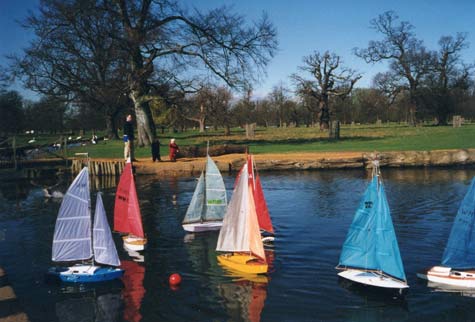 The UK's Whitton Modellers Starlet fleet assembling for a start
This months column is a kind of `bloggy' one which some with myopic outlooks may not enjoy but the truth is that ever since the death of Vic Smeed, and because of the immense pleasure that his Starlet has given so many including the writer, I have felt the need to pay plaudits both to the man who was a legend in his own lifetime and a friend-never-met, and to the little 34" long design that he created. 
We were in Roy Lake's garage cum boatyard in Sunnynook on Auckland's North Shore, just Roy and I, still unable to settle on a name for the Starlet he was building for m on his workshop bench. We were tossing possible names around each one getting more ridiculous and often spawning hearty guffaws.
"She's got to have a name Roy – otherwise I will be forever referring to the boat as `it' or `the boat' (I remember saying) – and it has got to be a good name, none of those names like Woftam the letters of which I remember being told by the owner of a one metre yacht stood for `Waste of f-ing time and money'.
It was way back somewhere in the mid nineties, a couple of Saturday mornings before I retired, back in the days of our Last of the Summer wine model yacht sailing group of five who enjoyed its sailing on a placid private lake in the Hobsonville area outside of Auckland. We were slightly more modern versions of the old jossers of the British Sitcom television series of the same name, Compo Simmonite, Norman Clegg, Foggy Dewhurst and Cyril Blamire and friends.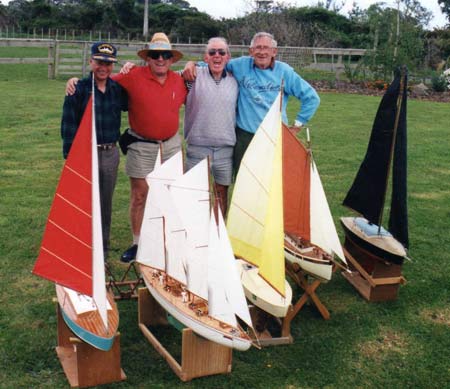 Those joyful days – `Compo' Simmonite and friends (and two non-Starlets)
Photo by `Marina'
Roy had kind of got initial interest going in the Vic Smeed designed Starlet boats in New Zealand and had built one that is still being sailed by Ancient Mariner, Dennis Lake who was also one of the Summer Winers and decided after I had joined the group that I needed a Starlet of my own and that he would build it. He also built several others, two for himself including a larger in size version and on reflection I would say that resulted in many Starlets and Starlet-based boats in the Ancient Mariners.
I remember well also, a private Starlet `race series' (The Hokus Pokus)  that Roy and I competed in on Onepoto lake, one that went on for months with races held `when we both felt like it' on a deserted Onepoto Auckland lake. All in fun, I recall that Bells & Whistles was well down on her quantity of wins overall but then I am not a racing man I make that clear, I am a windler who enjoys his sailing at a relaxed and leisurely pace - if I had wanted to race I would have bought a racehorse !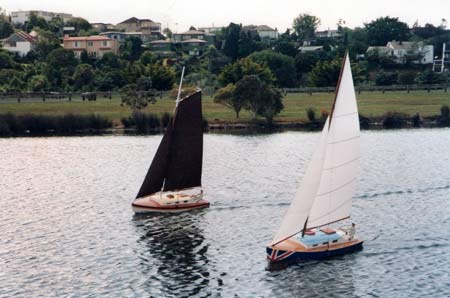 "I think we might win this one !"
| | |
| --- | --- |
| Aucklander Bob Walters' Lengthened cabin Starlet. | Two Starlets built to plan in Sydney, Australia by Ian Hunt |
When my Starlet, still unnamed was complete, Roy presented it to me and added "It's got all the bells and whistles' to which I replied "That's it Roy !  BELLS AND WHISTLES it will be !"  With her tan gaff rig sails of Jeparra cotton she looked resplendent on the day that we officially launched her at Onepoto, and he had carved out of balsa and beautifully painted an Ancient Mariner helmsman with the name of Charlie Breeze which he insisted "even looks like you !" 
The first  Smeed designed Starlet first appeared in Model Boats in December 1966 which according to my mathematics makes it 46 years old. Vic designed it principally as a freesailer but one that was adaptable to radio control. It's length was 34" and should not be confused with another so-called `Starlet' 36" in length. Easy to build (says this geezer who is not skilled at model boatbuilding !) as a building project the Starlet became extremely popular first in areas of Britain where Smeed was a trusted journalist and a household name in both model boats and model aircraft.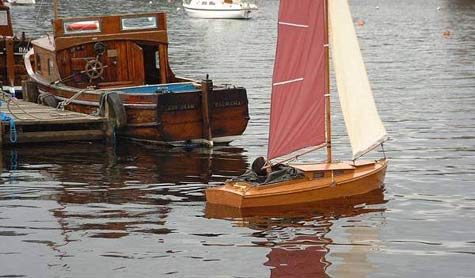 McGarrity's one-off giant among Starlets
Interesting is that Andy McGarrity in Britain chose to build a sail-aboard replica 88" in length while my friend Ron (Innovator) Rule of the Auckland Ancient Mariners developed an enthusiasm to effect change in the design and the result was that many Starlets that were not quite true Starlets to the original plans started to appear. Well, some might argue that Vic's design was never stated to be a `one design'. I corresponded with Vic for several years and gave him a complimentary subscription yearly to my magazine Windling World which he said he always enjoyed and read from cover to cover. It was he who sent me the photograph of himself  with the original Starlet which he had retained.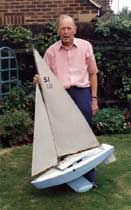 The man who gave us the Starlet, Vic Smeed with the very first one which he retained
I own several sailing boats all of which I have a passion for various reasons, but because of the pleasures I have derived for so many years, I still tend to sail Bells & Whistles, the only gaff rigged Starlet that I know of , week after week with our group. Easy to sail, ultra-responsive perhaps because of her slightly deeper spade rudder, small enough to transport to and from the lake in the car, easy to lift and launch and then retrieve (unless `Charlie Breeze' getting on like me, loses control and runs her into the far side reeds !!!  I never do that and I have him to blame !)  I can honestly say that given the years that the design has been around, the Starlet in my humble opinion is 'the best little model sailboat of the period it has been around in..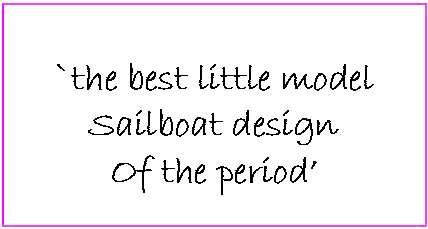 In New Zealand (that I am aware of) there are some 50 to 60 Starlets scattered around, and the Ancient Mariners sailing and cruising groups tally of members Starlets regularly seen (in March 2011) is conservatively numbered at thirty-six of those.  Prolific Ron Rule has built so many Starlets and Starlet-based `Starlets' that I tend to refer to some of them as `mod squaders' and anyone wanting to buy one off him could probably have a choice of maybe half a dozen all pretty well sound performers. We have a very competitive Starlet schooner sailing with us built by Lawrie Pittams who owns two other Starlet sloops and there is a lovely ketch version somewhere in West Auckland.  Another member has two Starlets, one of them being the marginally smaller `Starbaby' Starlet put out by Vic in year 2010, the only one that I have seen.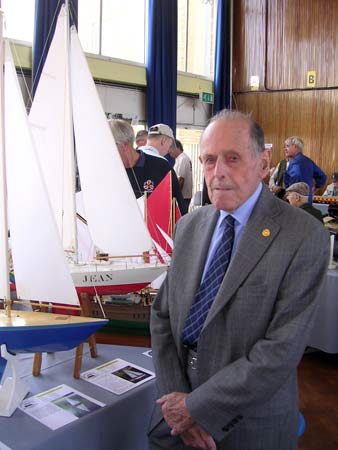 The late Vic Smeed – one of the last photos taken of him
December 2016 will bring up 50 years since Vic (who died 4th January 2011) brought the Starlet into the world and I would like to think that something special will perhaps then take place to mark the fact that this wonderful little boat (by then half a century in age) is still with those of us who have enjoyed owning and sailing it. Maybe someone will build a `Starlet Fifty' for no other reason than to mark the occasion, maybe there will be a kind of special day of sailing. – there are lots of possibilities and ideas. I might not be around of course and since generally people take so much for granted while easily forgetting those like designers who made it possible, as well as both length of span of years and origins, time will tell whether it ever happens.
The Starlet represents an easy to handle, predictable, attractive to look at little boat designed perhaps as an early intro into low-cost model yachting as a free-sailer which would also easily adapt into the world of radio control and the Auckland Ancient Mariners group each year stage Starlet Day events, indeed the boat forms the backbone of it's fleet.



A bakers dozen Starlets at Onepoto, New Zealand
---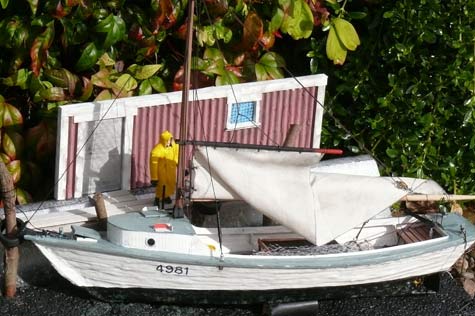 A wee period back I ran a challenge to find the smallest model schooner on Planet Earth which some followers of this colum, as well as readers of Marine Modelling International  might just remember.
I have been asked a few months ago to run another challenge on an aspect of ship modeling, and a couple of visits to Auckland, New Zealand dock areas and wharves convinced me that perhaps those who model ships might like to show off their skills at the aspect of modeling involving `weathering' of vessels, perhaps close to being abandoned by rust, others with their hulls damaged and in need of attention to wooden areas and so on. It is a challenging skill often applied to model railway engines, but having looked at an old tug in a stream and almost sinking in the shallows, it had such a look of having been abandoned that applied to ship models, sail or powered the effect could make for both appeal as well as admiration of skill that went into achieving the realistic effect.
I got my friend Harry Duncan here in New Zealand to produce for me that lovely little dory, the Dora Starr for an article in Marine Modelling International that appeared in my story in the November issue, and followers of my column here online on Duckworks may possibly remember it there also. That showed lots of the skills applied by Harry to the small model barely 16" long made out of balsa, various bits of card and pretty well everything from his odds and ends or bits and bobs box at hardly any cost whatsoever.
Every modeller keeps one of those with items `that might just possibly come in useful one day !'  So those of you up to the challenge in your Northern hemisphere Winter months, if the idea of creating a used, tired, rusty and timber scarred sailboat or powered boat, possibly a `tired' tugboat because there are classes for both, you could win one of three complimentary year-long subscriptions to Marine Modelling International magazine.
Model size is limited in each class (Class A for sailboats and Class B for powered craft) to between 12" and 18" in length and must be display models but be able to sit on the water to be photographed nice and close to enable the detail on board and the extent of weathering achieved to be clearly seen by the judges. Modellers without access to the internet may enter and must submit images ashard copies posted with the entry form to MMI Weathering Challenge, P.O.Box 4239, Shepton Mallet, BA4  9AQ
Inited Kingdom.
There is also a class for Juniors 16 years or below.
Those entering online must sent hi res digital jpeg photos by email to  weathering2012@comcast.net by the closing date of 30th September 2012.  No correspondence will be entered into and the winners and a selection of others will be featured in the November issue of Marine Modelling International. (Those on the internet can email for entry details using the same email.)
When entering specify Modellers  name, which class, length on deck of model, your mail address.
-30-