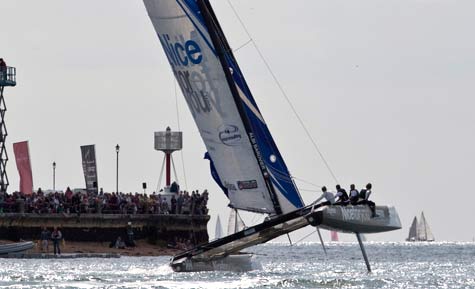 A leak before we leave. Nice for you heads out for racing at  Cowes on Day 4
(Photo by Giordana Pipornetti)
It seems from all I read that not exactly `everyone' is wildly in raptures and dancing Irish jigs over the impending switch from monohulls to multihulls for the America's Cup tilt being planned. Makes some ask `is it the absolute end of the monohulls?' Well, this non-authoritative but opiniated voice says "I don't think so!"
When the novelty factor pales into insignificance, that of boats being robbed of victory by inability to remain sailing and flipping over while peeing dog- style thus making it a lottery, the two controlling money-no-object syndicates may well see the error of their ways. Then, court battles could well again eventuate and monohulls may return, after which  a classic racing  schooner event may ultimately take prominence or be an exciting  supporting act. Full circle… for that is how this event pretty well started.!
---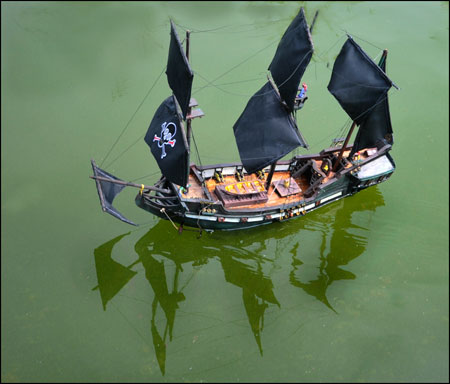 Looking down on the black brig as she sets sail
Larry Whetton, a modeller I am in touch with in England sails with a club at Clevedon. A retired construction manager he started making models a year after retirement in order to keep active and chose to build the brig Black Rose from the plans by Harry Duncan that appeared in my article in Marine Modelling International last year.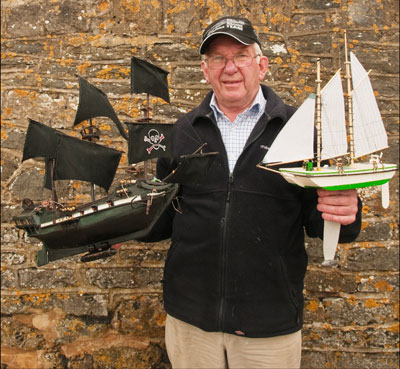 Larry with both arms full, his brig and his Footy scow
The boat is now radio controlled and from the photos I have seen which are shown above, he has made a tremendously good job. He builds mainly from plans in Marine Modelling International  and also built the Footy scow Alma (the US version) from an earlier MMI article.
---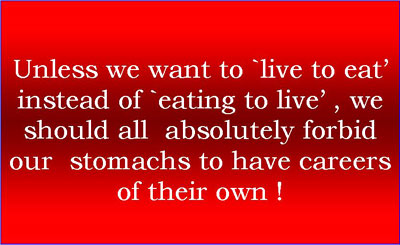 ---

A kind soul with the name of Kena contacted Duckworks, then emailed me and not being a model yacht sailor got in touch on my behalf with Michel Fedisch, a member of a model boat Forum www.boote-forum.de with about 20 active users on the German North Sea Coast. The sailing group though relatively small is quite active and have already held two meetings (sort of regattas).
Michel, a skipper and boatbuilder and I have been in correspondence for a couple of months by email and the resulting item here, and several photos of their model boatbuilding and RC sailing group bears testimony to the efforts of Michel. He himself started with a design of a coastal sharpie ketch he called No Regret at a scale of 1:10 which is shown below: Well maybe just one regret, that she is a bit small, and he hints he would like to further build a larger model someday.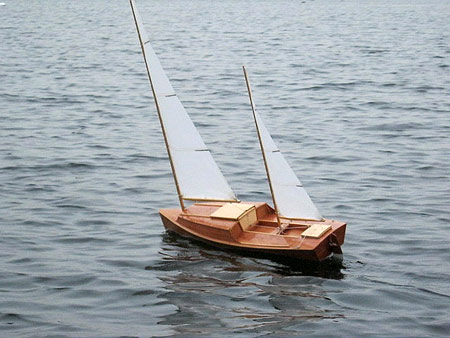 Michel's coastal sharpie ketch No Regret
| | |
| --- | --- |
| Michel with the coastal ketch | |
Michel says that the most spectacular boat (recently completed (and shown  above) is the Aero II a model of a very famous German racing dinghy (Z-Jolie) of Manfred Curry in the 1930's, the model developed as a joint venture of 3 or 4 members of the group who have three boats being currently built.  The first model is shown in the large image above and was completed and first sailed in late November.
Another member, Lothar Mentz of Bremen lost his heart to Skerry Cruisers and  Sonja 1.68m,  Svea 1.80m  and Malin 2m long shown below are all built to 1.5 scale and were designed by him and they are very pretty boats indeed.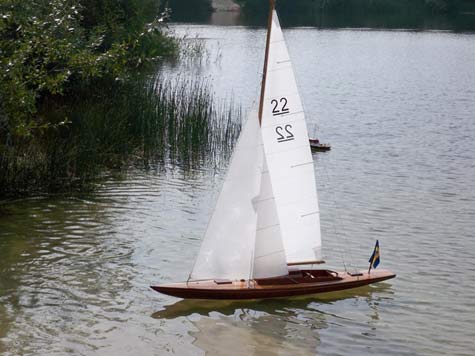 The Skerry Cruiser Malin coming in
| | |
| --- | --- |
| The three sizes of Skerry Cruisers | |
---

I promised to tell readers about the Second Challenge that follows several months behind the wake of the first one to come up with the smallest schooner model on Planet Earth some while ago.  Here are some details about a new contest for ship modellers which some will have seen in Marine Modelling International one of the sponsors in their January issue.
I believe in the KISS (or keep it simple stupid) guideline so the challenge calls for modellers to build a model, sail or power of fairly short length overall then to muss it up or `weather' it, making sure it will sit upright on water long enough to be realistically photographed. The limitations on size offer two options and it does not have to `sail' or `power itself' anywhere as it is limited to being a display model but one that can float.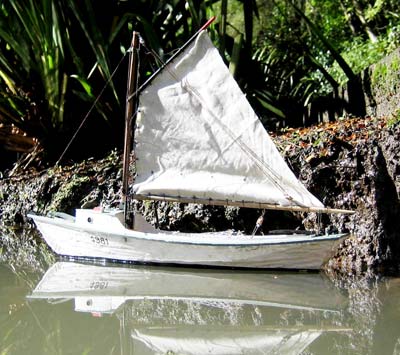 The dory Dora Starr  - almost beaten but a survivor
In the November issue of Marine Modelling International some may remember seeing my one page article on the fishing dory Dora Starr which was beautifully built and presented in weathered condition by New Zealand ship modeler, Harry Duncan. Here it is again in the photograph just above, simply an example of what can be achieved with imagination, bits and bobs of material, application of skill and very little money.
Think back to when some of us were very young, how we would search for odds and ends of pieces of this and that and `create' a model perhaps of some basic crudity of appearance but a model that we were proud of. Remember the `Odds and sods box into which threw unneeded for the moment items – every modeller has such an item somewhere today and it is a good place to start looking after the decision on what kind of boat you intend to build.

---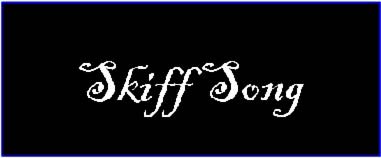 An American woman and a 1939 Aussie skiff called Fury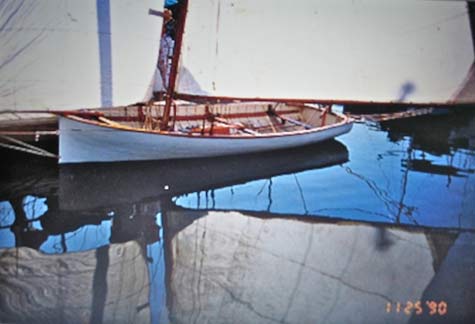 Long before the boat's given name was known, Annie brought FURY to San Diego. With help from someone else on the dock to keep the boat from rolling over, Annie got this shot of the over-powered skiff. With sails up and no one in the boat, these skiffs would simply capsize. They needed human ballast!
| | |
| --- | --- |
| 1992 - Cruising Helmsman editor Robert Keeley at the helm, and crewed by Annie on the rail as Sheet Hand with two Ancient Mariner members as jib and ballast, took FURY around Mission Bay in San Diego.  Keeley's article "Sweet Sixteen" started the Australian interest in finding the boat's history. | |
| | |
| --- | --- |
| This is Jack Hamilton (at the helm) and some local ex-skiffies sailing FURY for the Sydney magazine, Cruising Helmsman, in the Brisbane river.  Over a five year period, Jack and the "wood boat mob" at the Queensland Maritime Museum, restored FURY to "like new" condition.  She sits on a cradle at the museum, alongside a 100-year old Waterman skiff. | |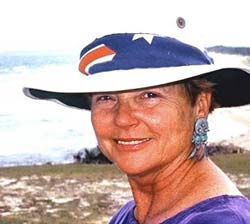 Annie Holmes, author
Annie Holmes said that her book Skiff Song was just a memoir plain and simple, a true story written as a novel about an unbelievable adventure with a racing skiff in the US and Australia. I found it so much more and the more I read, the more I wanted to read, and the less prepared I was to put it down.
Led by a mysterious voice, Annie went to Australia after corresponding for several years with some older Australian skiff racers. I am not going to spoil the story by telling you where Annie's Australian adventure was to lead her, suffice to say that I found it quite a powerful adventure as well as love story that all started with a precarious old 1939 racing skiff given to her by a sailor in Oregon over the phone.
Here in Auckland, New Zealand I had never heard of this avid sailor. Poet and author before I read briefly about both her and her award-winning book from Dave Lucas who thanks to another friend of past years had  put me on his regular mailing list sent to those best described as `Boat Nuts'.  One thing was to lead to another in a lengthy exchange of emails between Annie and I, leading to my offering to do a book review in this column.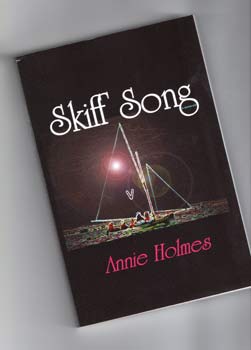 A wonderfully interesting read
Annie is not a woman afraid to express her views and Skiff Song is indeed a book that should find a place on the bookshelves of sailboat enthusiasts pretty well anywhere in the English-speaking world. Annie Holmes is both a multi-talented and interesting lady who owns and sails several boats. She is a person of immense generosity who donated her skiff Fury to the Queensland Maritime Museum in Brisbane, Australia. I really would like to see this book enjoyed by many others as I would be surprised if most of you did not enjoy reading it and clear a space on the bookshelf for it.
I generally stay away from reviews of books because I don't really enjoy `reviewing', but this one quickly wormed its way on a journey of its own and scored with me (as the Americans might say) `Big Time'.
Annie will autograph Skiff Song for you and drop it in the mail to purchasers for US$25 in the US, a bit more if going out of the US. You can reach her at annieholmes@mac.com    (Tell her that Mark Steele sent you)    
---

Take life with a grain of salt, but what is nice is to add a slice of lemon and a dash of tequila!
---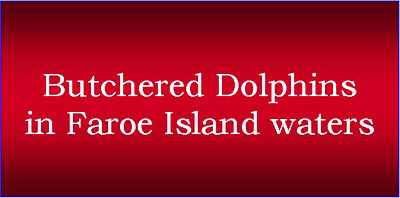 I usually like ending each column on a happy and positive, oft humorous note, but thanks to the nation of Denmark and their Faroe Island Society (of Wildlife Murderers! some might add) since what happens there annually concerns the sea and the wild Calderon dolphin population, I am sorry but I have to draw your attention to their act of barbaric cruelty.
I am not even prepared to show you actual photograph of just a few of the hundreds of dead adult dolphins in a bay of blood. From the land of Hans Christian Anderson adored by folk of all ages, it seems that this mass-murdering of precious friendly dolphins with butchering clubs and long  knives  is akin to a `stadium sport' where (and I have seen the pictures!) crowds including children watch from the bay shore and have their photographs taken sitting on the carcasses afterwards.
Is it any wonder why this planet is in the mess that it is in, I have to ask you?  Shame on the Danish Government for turning a blind eye on something so deplorable, cruel and  downright ugly.  The photo was sent to me by a Danish friend (Jon) in London who was apparently  very ill and has now joined the dolphins and passed on perhaps in shame and sadness.  I choose not to show the photograph for it is sufficiently disgusting and anyway, those with no compassion for wild creatures,  those wishing to get really angry at the cruelty of man, and others who wish to view scenes that may just induce a good puke, can see it on the internet.

-30-