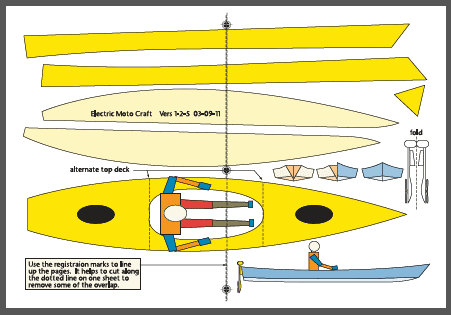 PDF Model to print, cut and build - (FREE Download)
This new design has been floating around in my head for several years now. I really didn't want to do any kayak or canoe designs, as there are already enough of them out there in the world, and one more wasn't really needed. So here's another one.
I only decided to do this after trying out my friend Joe's high-tech Electric Paddle® at www.electricpaddle.com made by PropEle Electric Boat Motor Inc, on my 10ft Nuthatch Pram and my double ended 12ft O&P Pod. He had told be that he was making a "short shaft" model for kayaks, and that set off the gears in my head spinning around. I had used a prototype Electric Paddle® to power my 10ft Nuthatch Pram around a local lake at 3.3mph for almost 2.5 hours. It's not a big boat, but it has some volume to it, but I wondered what a smaller hull would do with the basic battery pack.
So I decided to make a boat that will use the Electric Paddle®, as it's primary means of propulsion, and Joe is working on a remote speed control/safety switch for the EMC, and maybe an "extended range" battery pack as well. The extended range battery and the light weight of the hull, should let the EMC buzz around at full speed for several hours. I hope the EMC will be a favorite for bird watchers, fishermen, scuba divers, and older folks like me, that want to get out on the water, but hours of paddling may not be what they want to do anymore. The hi-tech battery pack charges up again in around three hours, so you can go out everyday if you want.
The EMC with the Electric Paddle® will be controlled by regular, movable kayak rudder peddles; and will also be designed to accept a standard rudder setup if you want to paddle the hull instead. Build two of the hulls, and you can go sailing, or build a low sided outrigger, and take the dog along too.
I started playing around with the bottom panels off the 12ft Granville Bay, and stretched it out for a longer hull. I then took a set of the upper side panels off another hull and mated them to the longer bottom panels. I had the basic hull in the first version, but the volumes were wrong, but I did like the looks of that hull. I fooled around with a few more versions (1.1.X's) until I came to the final Vs-1.2.5 build hull. I had already finished the take offs for the lofting page I was going to first use to make the prototype hull, and had finished some of the drawings for the plan and profile views of the hull, and for the down loadable PDF files for the model you can make at home; when I got to thinking about the hull some more.
As I was working on the early materials list of how much plywood I would need, I saw that I was just a hair over on half the width of a regular sheet of 4x8 plywood with the hulls panel sets. Hmm, how much would I have to change the hull panel widths to get both of them laid out on half a sheet. Not much as I found out, and I couldn't tell from one model to the next; other than the new one was two inches narrower. I have again changed the model to a Vs-1.2.6 with a modification to the shearline, and it actually makes the hull easier to build.
I have a new series of videos uploaded to my channel at www.youtube.com/redbarnboats on building this new design from the very start of construction to launching the finish hull in my local lake and motoring around with the new prototype Electric Paddle® "Mini".
Enjoy making your PDF model included here and in the build and study packages, and the model is in full color this time and I hope you like the bright yellow.
Plans for the EMC are available in the Duckworks store.
Warren Messer
Red Barn Boats