Cost to build less than $100 to get in the water.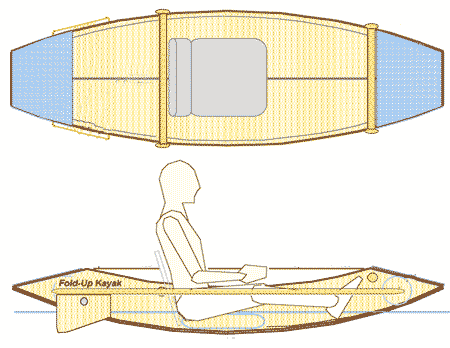 This concept is in response to many requests for a collapsible Kayak design. In order to find simplicity, I have developed a folding hull design that does not utilize complicated seals and joints. The end result is a compromise between a sleek looking hull form, and an easy to build and assemble shape that is sturdy and stable. Look at the developed views, and text, to see if you agree. Made from only one sheet of 5 MM plywood, the Fold-Up Kayak should be easy to paddle, and at eight feet in length, can accommodate a six foot, 200 pound individual, and some gear. It must be stated that this is a casual design, and is NOT to be used in turbulent or rough waters. Because it is so low in cost to build, less than one hundred dollars, a fleet of them can easily be constructed for an entire family. Options can be the fiberglassing of the outside of the panels, providing even greater durability. Also, oar locks can be affixed, for those that wish to row. For safety, inflatable air-bags should be placed fore and aft for pilot security. But, as always, practice safe boating, and wear a PFD.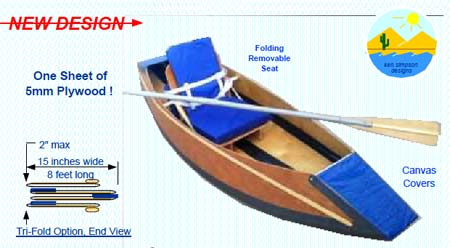 SPECIFICATIONS:
Length = 8 feet
Width = 29 inches
Depth of hull = 10 inches
Finished weight = 30 pounds
Draft (200 pound load) = 5 inches
FOLDED for TRANSPORT:
Length = 8 feet
Width = 15 Inches
Height = less than 2 inches
Can be easily Cartopped, or fit in Truck, SUV or Van, and it is stackable!
This is where it all starts.
Read the plans from the first page to the last. Then, start the layout of the panels. You will note that there are basically only 2 lines that need be developed. The first is the 10 foot radius, laid out as a coordinate measurement (shown below), and the second is the straight line, from curve to bow and stern. As the plans show, the curved edge of a base panel becomes the curved edge of a side panel. Only one cut!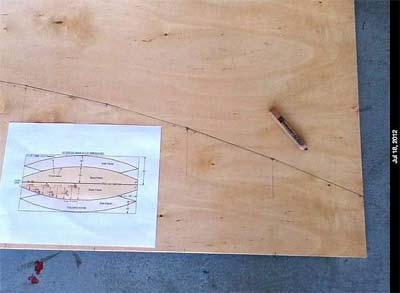 After studying the plans, and then cutting the panels to size, it seems just right to pre-assemble the hull to see what it will look like. In this case, I have attached the 4 panels together with short strips of duct tape, and a spreader bar, to give it form. Looks pretty good!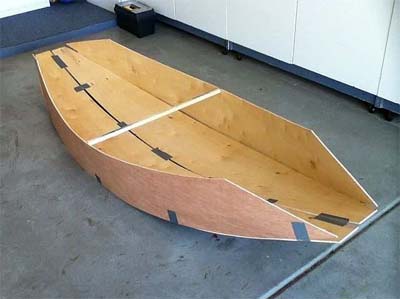 Now the real work begins. Remember, this hull is held together with Duct Tape, so the application requires clean surfaces and attention to detail. The primary seam tape is a PVC Pipe Tape, because it is durable and abrasion resistant. It does lack adhesive qualities however, hence the need for some Tough Duct Tape to hold it all together. Stainless Staples are applied every 4 inches to hold the PVC Tape in place on the base panels. A builders option is to use a double layer of Tough Tape in place of the PVC Tape, if the boat is to be used in non-rocky waters.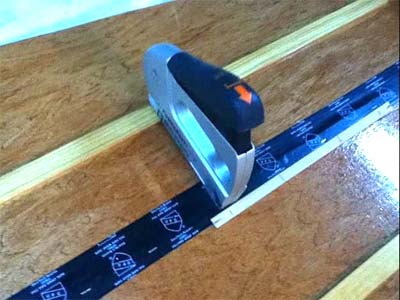 Once the application of PVC Tape is complete, it is necessary to overlap it with the stronger adhesive Tough Duct Tape. This is the process for all external seams. The internal seams use only the Tough Duct Tape, as shown below. Here, a center layer is applied, and then 2 overlapping layers will be added for strength.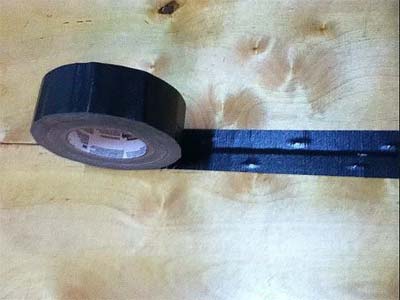 Finally, this is what the completed tapping process will look like. You will note there are still some wrinkles at the edges of the taped seams. These will be flattened, and a clear adhesive will be applied, to make them waterproof.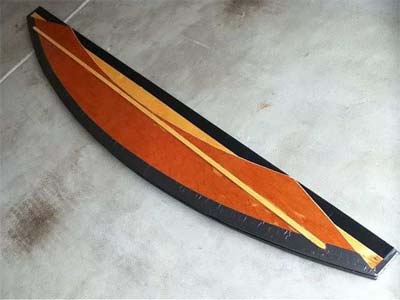 Obviously the open ends of the bow and stern need to be enclosed. I used blue tarp material, taped to the sides and end of the hull panels. To keep the form of the hull, and to add rigidity, one inch diameter cross bars are bolted, from the outside, to each side panel, fore and aft.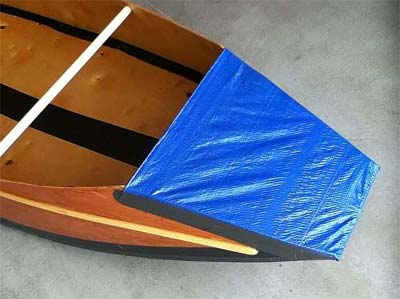 This is a completed view of the finished hull. There is room for a 6 footer in here, and the seating is comfortable. The seat shown is the free-to-download folding seat from my website. As you can see, I use a flotation cushion for the sitting surface, and my PFD for the backrest. The paddle shown is also from the website.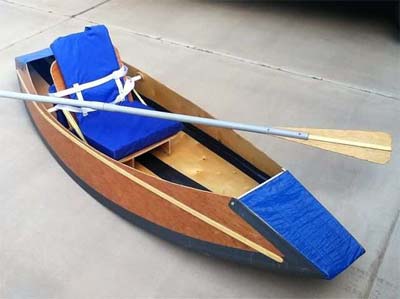 Finally, at the water. It's always a thrill, and a concern, when you first put a new boat in the water, but this one just seemed right from the very beginning. It turned out to be easy to paddle, and maintained a stright course, thanks to the small keels in the aft of the hull. So far, the tape has held up well, with only minor scratches. Remember, this is a pleasure craft, not intended for rough water, or handling abuse.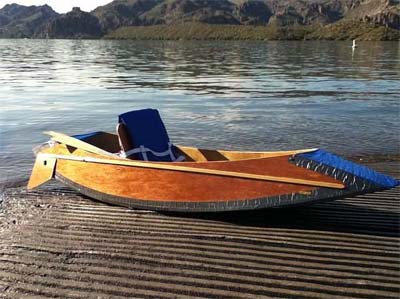 Of course, the proof of any boat design is always in the water, and here you can see that the waterline is at a very nice level, with plenty of freeboard evident, and the boat is floating nearly level in the water. As a guide, I am 5'10" and weigh about 160 pounds. You can extrapolate where the boat would sit with your measurements. It's design maximum is for a 200 pound individual, with some light gear stored behind.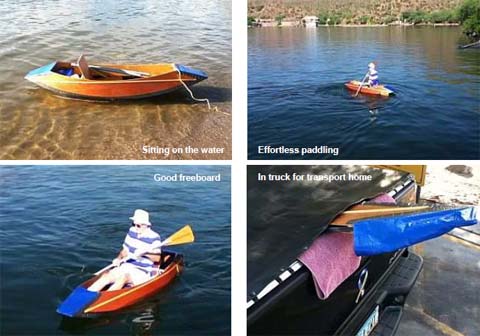 FEATURES:
* Folds flat for transport and storage
* Easy to portage and launch
* Lightweight - 30 pounds
* Low cost - less than $100
* Capacity - 200 pounds Max
* Easy to Launch and Paddle
* Make from 1 sheet of plywood
* Set-up at water in only 2 minutes !
* Air-Bag buoyancy (75 pounds)
Remember, people float, gear doesn't.
don't forget to visit www.PortableBoatPlans.Com for new designs and updates.
Happy Boating!
Ken Simpson, Designer