I just got back from sailing in the Small Reach Regatta off the coast of Maine, out of Lamoine State Park. It was one of the best experiences of my life. The weather was beautiful, except for Friday when there was "light air" for an hour or more at a time. There were 49 boats in the fleet, made up of varying sized vessels, wood and hand-crafted. There were some exquisite boats! I sailed with Mike Wick, my neighbor, as crew. He was a very patient teacher to a neophyte like me. He was the Skipper of the boat he built: "Moggie". As a Melonseed, she is shallow drafting, fairly temperamental, and extremely quick to react to weight displacement. On the other hand, she was incredibly fast and nimble. It was also fun to meet, sail, and socialize with many new people who have impressive credentials in the sailing world. Many of these folks have been sailing and racing for 40+ years. Many have turned their passion into the energy to build the traditional boat(s) of their dreams.
While the Regatta was certainly a boat event, it also turned out to be a most amazing people event. Lots of friendships were struck during these several days in which people shared a common passion and a willingness to share in a common goal. Helping each other was a predominant theme, whether on the water or sharing tips on land. This experience gave me a chance to witness a camaraderie that was somewhat unique. (Sailors can be very humble, recognizing that they all make mistakes, learn from their mistakes, yet find the determination to try again the next day. As they say: Either you admit you have made the same mistake, or everyone knows you are lying.)
| | |
| --- | --- |
| | |
| | |
| --- | --- |
| | |
| | |
| --- | --- |
| | |
| | |
| --- | --- |
| | |
| | |
| --- | --- |
| | |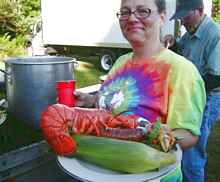 Thursday began with getting all 49 of the boats launched, which was accomplished in a little over an hour! We then set sail for Thomas Island, about 5 miles away. The wind started out at about 5 knots, but continued to build throughout the day to 10-15. We all experienced a lot of spray and occasional water over the rail. As crew, I tried to shield the skipper from the spray, ending up quite soaked, but smiling as we clipped along under a full blue sky. We took a break on Thomas Island for lunch and then headed back to Lamoine with most boats choosing to reef.
Friday started out with a good wind from the NW, but that died late morning and we all had to resort to oars. We made Stave Island for lunch and as we finished a nice sea breeze began to pick up at about 5-10. Heading back towards Lamoine across Frenchman's Bay, the wind died just as we began to fight the incoming tide. We picked up a welcome tow from a chase boat for a mile or so, and then the wind again picked up. We dropped the tow and hoisted sail. The wind took us most of the way back to Lamoine, when it again went still. We finished our way into Lamoine under oar power. Along the way, I saw several small crabs hitching a ride on floating Kelp and seaweed. Life in the ocean looked very vibrant and strangely similar to their sailing human counterparts.
Saturday, the forecast was for modest winds, but as soon as we were in the water, the winds began to pick up. We sailed to Bean Island, had lunch and made plans to explore Young's Bay on the way back. However, the wind continued to build to 15+ knots and each Skipper decided to keep heading for Lamoine, with most under full sail. It was a spectacular run! What a way to end three days of sailing! Lobster dinner was awaiting us upon our return. After we arrived at Lamoine, most boats that came in were beached to await trailering. After about two hours, most of the boats that were not moored for the night had been pulled out of the water on their trailer and set in the trailer yard for pick-up. It was a marvelous choreography to watch and in which to participate (I took several turns cranking the winch). Afterwards, the lobsters were definitely calling us.