---
On Target
Chuck:
I read the latest Welsford article, very right on target. But he said the pleasure of boating is proportional to the size of the boat, evidently meaning the smaller the boat the smaller the pleasure. Maybe big boat owners feel that way but I think the pleasure is in inverse proportion to the size of the boat--the smaller the boat, the easier it is to go sailing, so the pleasure is greater as the boat is smaller and handier. At least that's my philosophy. Maybe he meant that but in a reverse way.
I think the ideal boat is twice your heigth and half your weight. The sail area should be the same as your IQ (just kidding).
Anyway, I still maintain most designs 'for amateur boatbuilders' are complicated and expensive. The WB Nutshell is $75; for the same amount I could get plans for a 25 foot Atkin schooner and cross the ocean. I'd be more interested in a boat as simple to build as PD racer, only shaped with less wetted surface. But still I like what Welsford said about getting involved with others and learning the skills of a sailing boat.
I wish I had the skill that Welsford has, but I don't, so I keep reading on.
Paul Austin
---
---
New Trimarans
Chuck:
I was interested to see that you added two new trimaran plans (Trickey Five and Trillo) from designers Paolo Lodigiani and Matteo Costa. As a coincidence, I found their website a few months back (an English version of the site is available by clicking on the English version button in the left menu bar) and am building their Moth dinghy design shown HERE and HERE.
The Moth has very similar construction/structure to their Scheggia design, and the Scheggia construction/design is shown in picture sequence HERE.
I picked the Moth design and bought the plans as this was exactly what I was contemplating for hull shape, cockpit design, and interior structure for a dinghy project. I have exchanged email correspondence with Mr. Costa, who is very helpful.
David B. Kagan
---
Found on Schoonerman
Chuck: I found this on Schooner Man.  It may have been contributed before, but here it is.
Paul
AFTER THE SEA-SHIP
Walt Whitman (1819–1892).
After the Sea-Ship-after the whistling winds;  
After the white-gray sails, taut to their spars and ropes,       
Below, a myriad, myriad waves, hastening, lifting up their necks,    
Tending in ceaseless flow toward the track of the ship:         
Waves of the ocean, bubbling and gurgling, blithely prying,   
Waves, undulating waves-liquid, uneven, emulous waves,  
Toward that whirling current, laughing and buoyant, with curves,     
Where the great Vessel, sailing and tacking, displaced the surface;
Larger and smaller waves, in the spread of the ocean, yearnfully flowing;  
The wake of the Sea-Ship, after she passes-flashing and frolicsome, under the sun,
A motley procession, with many a fleck of foam, and many fragments,     
Following the stately and rapid Ship-in the wake following..
---
Video Lost... and Found!
Rene Vidmer's vimeo account is suspended, which I learned when I tried to watch the video on today's July Webwatch.
Steve
_______________________________
Chuck, It said his account was suspended or something. Can you tell us about the video? What it was about? Thanks. Love your website (Duckworks magazine)
Warren
_______________________________
Hope you are doing well. I could not get the Rene Vidmer "video" link in todays Webwatch to work.

Stan Kowalski
_______________________________
Hi guys,
The link that Rene' gave you shows a suspended account but here is an embed code you can use. Of course one can just go to https://player.vimeo.com/video/20701587 and watch.

Jeff
Olympia, WA
---
Rocky Mountain High
Chuck,
I hope all went well for the Texas200. While you were all off sailing the coast of Texas I was sailing my puddle duck at Vallecito Lake, Colorado. I had a blast and it's an incredible place. I'm going to put together a video and an article for you later, but for now here is a photo. That little tiny thing across the lake is me.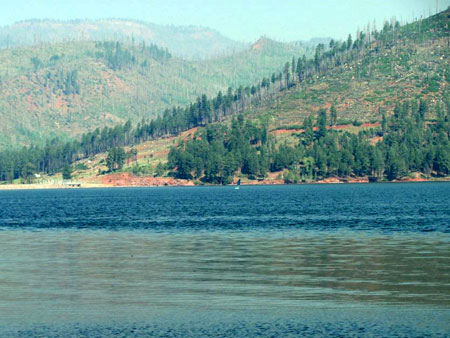 The only thing I can't figure out is why there weren't a ton of people there. Maybe it's a secret and I'm not supposed to tell.
Paul
---
Having been up and running stumbling for about 3 months now, I am ready to draw duckworks readers' attention to my blog (www.woodislandssailing.com/). It is focused on boat modifications and day sailing around Prince Edward Island in Atlantic Canada. The boat  is a 26' Norman Cross designed trimaran built in 1986 out of plywood/epoxy with a fiberglass outer sheathing. I have had it for almost a decade now and modified it considerably beyond recognition. Eventually I have in view a book about my experiences, tentatively titled, "Never the Same Mistake Twice: Boating on Prince Edward Island", but any final release is dependent on first making an around-the-island sail which would take a week or two and a bit more resolution than I have yet acquired.
Tom Schultz
---
Thanks
hey Chuck:
I like the way you laid out the article with the relevant text next to the photos. Here 's a photo of the whaler underway.
Craig
I'd like to take credit, Craig, but the layout was done by my first mate, Mike John. - Chuck
---