Portable and Adjustable Sawhorses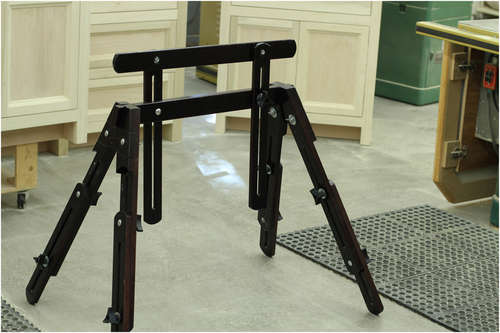 https://www.instructables.com/id/Portable-and-Adjustable-Sawhorses-1/
Hajo
---
---
Howard's New Motor and Another Crazy Aussie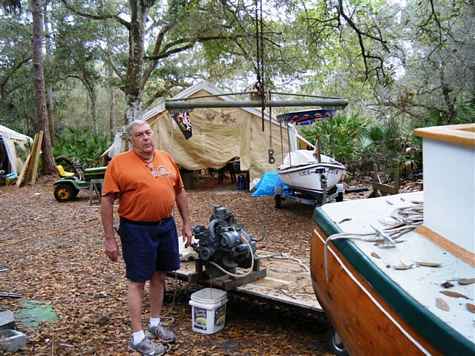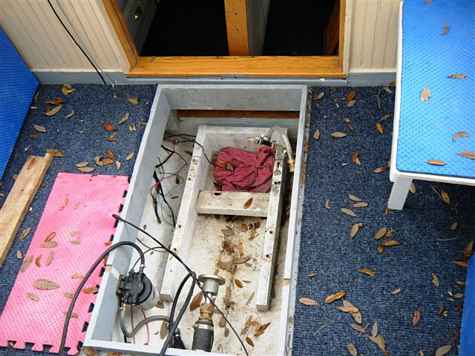 If you or I owned a boat that had an inboard diesel engine and discovered that it had developed an internal water leak that went into the oil what would we do? I know exactly what we'd do. We'd scream "son of a bitch", jump up and down, hang our heads and resolve to being out of commission for a year or more while we figured out how to get it fixed or replaced. If you were Howard what would you do? This happened to him yesterday morning. I went in at noon to take a rest cause I work so hard and need my beauty sleep, when I came back out at two he had already pulled that bad engine out of the boat and replaced it with another one he had rebuilt last year.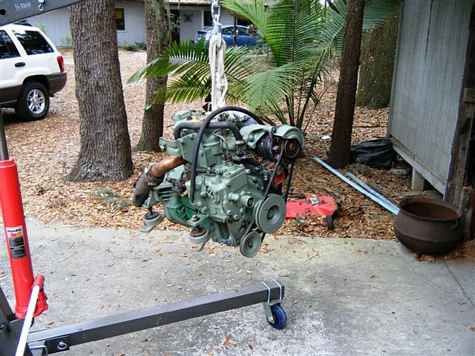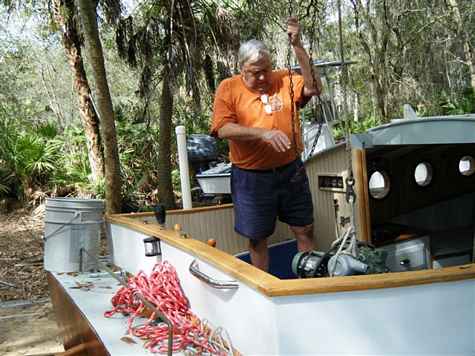 This new engine had been crated up to wait for it's turn to go in a boat. Turns out that this big catboat needed a bigger engine anyway. The single cylinder 8 hp Yanmar didn't quite do it. The new engine is a two cylinder 16 hp Yanmar that is exactly the same physical size, fits right in with very little adjustment. It'll be running like a sewing machine in a day or so. And guess what? In a moment of rum induced clarity, he said that he might even go up to Cedar Key in company with me to the big festival the first weekend in May. Give a man more power and there's no telling what he may do. For those of you who can get off for only a week to come to Florida in the spring, this is the one I recommend. Cedar Key in May is paradise. It has everything you could want in a boating getaway. That's why all the big names are there.
David Lucas
https://dory-man.blogspot.com.au/
https://www.cbc.ca/landandsea/2011/12/schooners.html
https://www.islander.org/2012/02/will-cortez-museum-audit-challenge-cooperative-spirit/
---
Sharen Kaye ll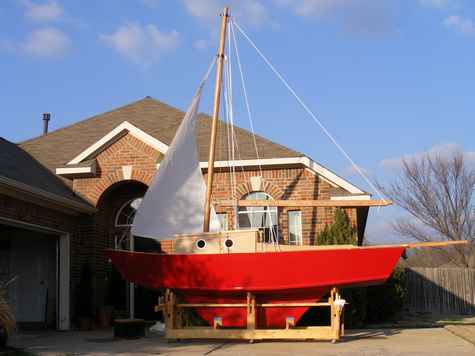 Here is a pic of the Sharen Kaye ll, the boat I am building.

Match
---
DUO 480C Jigsaw
Here a new design from my drawing board. The DUO 480C Jigsaw.
This design was costing me more time to design as I thought it would. But the result is precise what I wanted. Easy to trailer catamaran without demounting the boat. On the sailing ground the boat is put in the water. Beach of ramp does not matter, because of the low weight of the boat. The light windsurf masts with there extensions are set and of you go. Fast sailor which can handle a lot of wind through the low center of pressure of the parallel (biplane) rig. The sail is wound around the masts for easy handling. The sail rollers can be handled from the cockpit. A small cabin for gears and a toilet. With some provisions that two persons can sleep on the boat.
Big cockpit for exciting or lacy days on the water. Best of all, you would not be broke at launch day.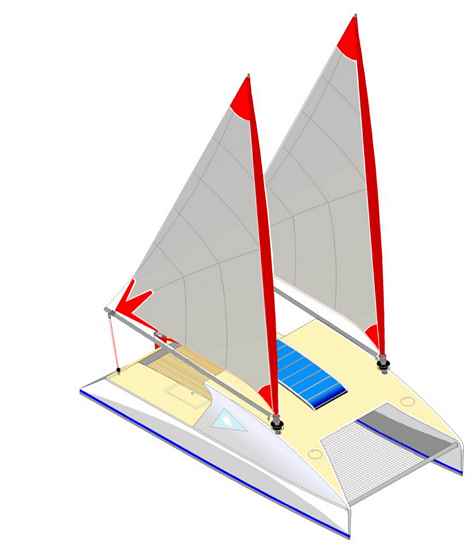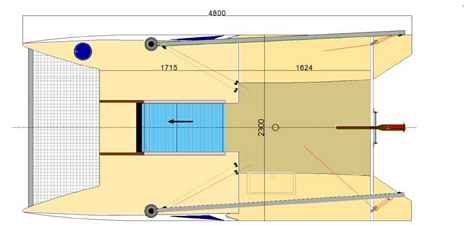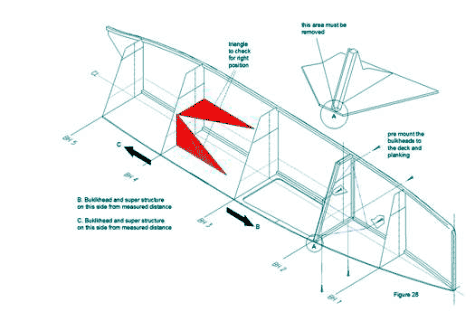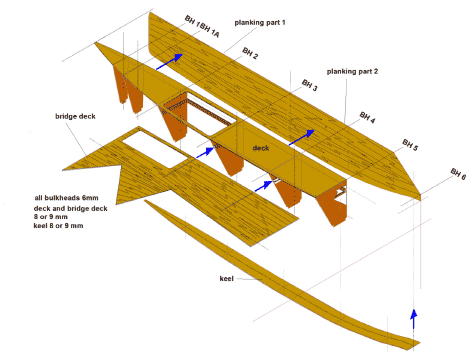 https://www.ikarus342000.com/DUO480Cpage.htm
The boat is easy to build. The boat can be build by a beginner 300 hours. An extensive construction description will aid to make sure to understand the building steps. We use the time proven matched hole technique adapted from aluminum aircraft construction. No strong back is needed to build the boat. The a-symmetrical hulls are self aligning.
Like my other designs the boat is build in the plywood/ glass/Epoxy system. Hardware like sail rollers, booms, gudgeons are expensive to buy. I give drawings and instructions how you can make them out of standard material.
The plans consists of 33 drawings and a 26 page description how to build the boat. The boat is unsinkable. Air chambers between the bulkheads. Can be filled with empty plastic bottles. Better as foam which has extra weight and is hygroscopic (condensation). Central rudder with rudder automatic. The cabin can be closed with a slatted shutter.
Specifications 
L.o.a.                   4.80 m
Beam                     2.30 m
Beam c/c                 2.06 m
Empty weight            180 kg
Weight max. CWL         450 kg
Sails                 2 x 8 m²
L/B ratio hulls       1 : 13,55
Construction  plywood/glass/epoxy composite
Hulls a-symmetrical
Rudder automatic 
Quick building system
Construction time about 300 hours
Bernd Kohler
K-designs
The Netherlands
---
Back from EC with Photos
Here is a shot (taken at the start of the Everglades Challenge) which just became my favorite photo I've ever taken.

Frank Smoot
---
Everglades 2012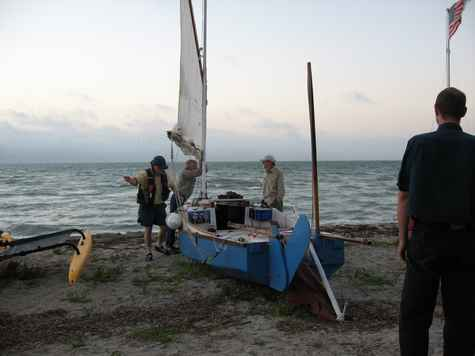 Thought you might recognize these guys.  That John Wright looks younger and stronger every time I see him.  Must be that Texas water. Look at that flag in the wind, it  really made for a tough launch. 
John Vacha
---
Dragon Boat Racing comes to Montana's Flathead Lake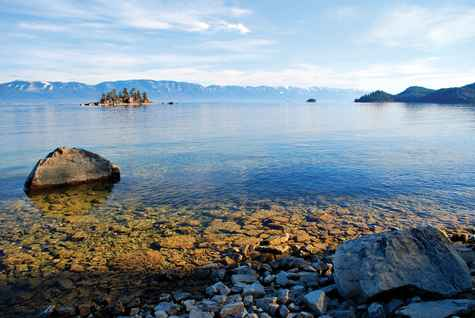 CELEBRATE THE YEAR OF THE DRAGON WITH THE MONTANA DRAGON BOAT FESTIVAL
Corporate Registration Fosters Employee Health and Team Building on Stunning Flathead Lake
March 1, 2012 - Kalispell, Mont. - In the Year of the Water Dragon, the dragons are making their first visit to scenic Flathead Lake on Saturday, September 8, 2012, for the Montana Dragon Boat Festival near Kalispell, Mont. The festival is an opportunity for the public to participate in the eighth fastest-growing sport in the world in the largest freshwater body of water west of the Mississippi. Registration is open at
https://www.montanadragonboat.com.
"In Chinese astrology, 2012 is the Year of the Water Dragon - a year to celebrate strength and good fortune," said Rob Brisendine, Kalispell Convention and Visitors Bureau (CVB) group sales manager. "To celebrate our own community against the backdrop of the beautiful Flathead Valley and Glacier National Park, the Kalispell Convention and Visitors Bureau is pleased to host the first dragon boat race in Montana. We hope the event becomes an annual festival that is enjoyed by locals and visitors alike."
In early September, the Hong Kong-style, 46-foot dragon boats will make their Montana debut in the picturesque waters of Flathead Lake at the Flathead Lake Lodge. Each boat holds a team of 20 paddlers, a drummer and a steerer. All ages, abilities and physiques are welcome, which makes the competition hinge upon teamwork and paddling style rather than brute strength.
To help organize the event the Kalispell CVB has partnered with Dynamic Dragon Boat Racing LLC, which produces dragon boat festivals throughout the country. The company supplies the boats and gear, leads the safety and training sessions, and manages the races.
"We're very excited to help the Kalispell CVB introduce dragon boat racing to Montana," said Penny Behling, owner of Dynamic Dragon Boat Racing, "and Flathead Lake is one of the most breathtaking settings you could think of for a dragon boat race."
In addition to providing a unique recreation opportunity, the Kalispell CVB is encouraging local and regional businesses and organization to register as a team-building exercise.
"The event dovetails nicely with wellness programs and can be part of a summer-long commitment to employee exercise," added Brisendine. "Teams can also rally behind our chosen charity, Save A Sister."
Proceeds from the festival will benefit the Save A Sister initiative, a collaboration among Northwest Healthcare, North Valley Hospital and the Flathead City-County Health Department to promote breast cancer awareness throughout northwestern Montana.
Coinciding with the dragon boat race, the festival will also include a "Made-in-Montana" food and artisanal showcase at the Flathead Lake Lodge and an evening awards ceremony, concert and party at the Red Lion Hotel in Kalispell. Participants will also have an opportunity to practice in the boats the two days prior to the September 8 event.
Teams can take advantage of current early registration discounts online. Registration and full details about the Montana Dragon Boat Festival, the history of dragon boat racing and more information about the Save A Sister initiative can be found at https://www.montanadragonboat.com.
Kalispell, Mont., is the gateway to Glacier National Park, Flathead Lake, Whitefish and all of the recreation, art, shopping and adventure that northwestern Montana has to offer. Plopped in the center of the Flathead Valley, it's an easy drive to the park entrance, the art galleries of Bigfork or the water-sports mecca of Flathead Lake.
https://www.discoverkalispell.com
---
Nordic Marine To Distribute Caframo Marine Fans In the Netherlands

Nordic Marine now distributes Caframo marine fans in the Netherlands and its inventory includes three of the company's top-selling models.
Left to right: the Sirocco, the Bora and the Ultimate High Airflow.
ONTARIO, CANADA – Caframo of Ontario, Canada, a leading manufacturer of marine fans, cabin heaters and accessories since 1955, has appointed Nordic Marine to distribute its product line in the Netherlands.
Rugged, quiet and efficient, Caframo 12 and 24-volt fans are designed, built and tested for marine use. Caframo Marine fans boast industry leading features such as multiple speed options, patented FingerSafe™ blades, auto shut-off, ultra-low power draw, IP55 rating and UV resistant materials.
Caframo products are original equipment on leading boat brands and available at marine retailers worldwide. For more information about the Caframo product line, visit www.caframo.com/marine or call 1+519.534.1080.
Nordic Marine is a leading supplier of marine products to recreational and commercial accounts throughout the Netherlands. Dealers and distributors in the Netherlands interested in Caframo products should visit the Nordic Marine web site, www.nordicmarine.nl
---
Jim Michalak's Pole Punt Build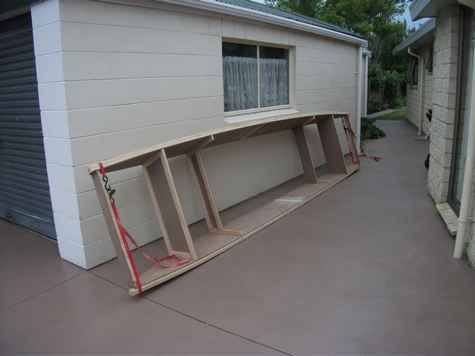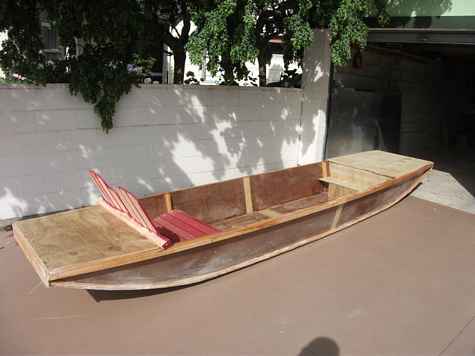 I have been building this pole punt from Jim Michalak's plans.
My uncle is Rob Kellock who has built a Philsboat from the same designer and has his video linked on the plans page of the Philsboat. He came round today to see my pole punt which is the first time we realised we were building the same designers boats.
The second photo shows my pole punt with removable cape cod style seats and a removable extended rear deck to stand on while punting using a pole.
I have just about finished painting my boat and will send more photos/video link when its completed
Graeme Fraser
---
New Book: "A SAIL OF TWO IDIOTS"
A SAIL OF TWO IDIOTS: 100 Hard-Won Lessons from a Non-Sailor (and Her Husband) Who Quit the Rat Race and Sailed Safely to a New Life in the Caribbean 
"We'd just buy a boat and then take lessons on it.  How hard could that be?" 
Have you ever dreamed of dropping out of the rat race and dropping anchor, instead?  Quitting your job and moving to the Caribbean?   Michael and Renee Petrillo took those reveries to the next step. They had a big plan where they'd sell the house, buy a boat, and sail down to warmer climes where they could spend the rest of their lives living under blue skies. 
There was only one problem: Neither of them could sail. 
That didn't stop these nitwits from giving it a go, anyway.  Their adventure is now famously known as A SAIL OF TWO IDIOTS: 100+ Lessons and Laughs from a Non-Sailor Who Quit the Rat Race, Took the Helm, and Sailed to a New Life in the Caribbean (International Marine; April 2012; Hardcover, $22.00).  Here is the voyage of two adventurous people who fulfilled their dream – the hard way.  Despite having no experience they managed to sail from Miami to Grenada ("without drowning!" exclaims the author), eventually dropping anchor at the island of their dreams. Determined to save future sailors from themselves, they're passing their unique story and scrappy wisdom onto you.  
"What drives a person to even consider buying and living on a boat? Two Words: Midlife Crisis."   At 40, the Petrillos were already fed up with the work-a-day grind and longing for a change of scenery; they were also young enough to be strong, courageous, and seaworthy. Their youthful exuberance got the better of them. Their first lesson came with the purchase of the boat, and the lessons kept on coming - from anchoring, upkeep of a multi-hull and technology to local etiquette, money issues, and dealing with strong personalities in close quarters.   
The Petrillos figured their way around the crucial lessons of living aboard and the life lessons of working through stressful situations with your marriage, your sanity, and your boat intact.  What results is a funny tale for armchair travelers – and for seasoned sailors, a gobsmacking moment of idiocy on every page. 
About the Author:
Renee D. Petrillo's professional career began as a technical writer, entertaining clients with telecommunication-engineering fetes and water pollution summaries for 15 years before awakening from her slumber and deciding to head for the high seas. She has been published in Caribbean Compass, and writes a monthly blog (https://islandbabble.blogspot.com) with more than 4,000 visitors per month. 
Want to learn more? Watch "A Sail of Two Idiots" Trailer! 
A SAIL OF TWO IDIOTS at Amazon
April, 2012; Paperback, $22.00
0071779841; 9780071779845
---
Mystery Boat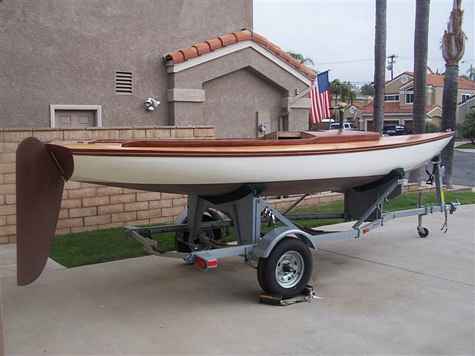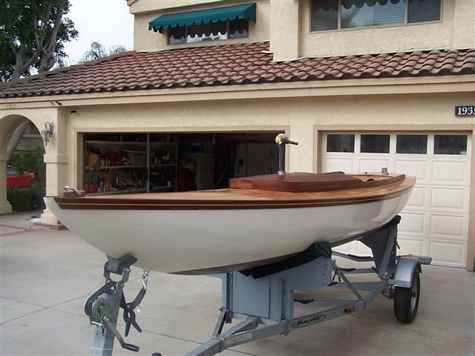 Here's a new boat for our 'Bums. I don't know what this design is, do you?
Annie Holmes, Author SKIFF SONG"
---
Check out the Cover of SA Today

Jray's cool i550 fishy bulb made the cover of Sailing Anarchy. What a talented artist! Congrats to Jon.
S & T
---
Puddle Duck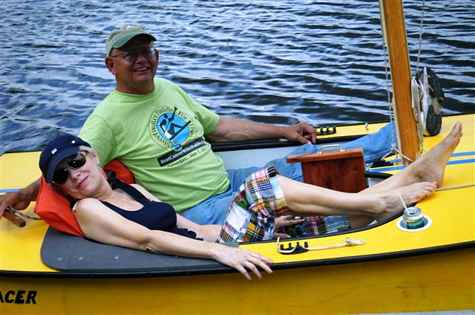 What are Puddle Duck good for? Looks like Stan got the girl with his. Barbara loves relaxing in this little boat.
Dave Lucas