Shanty Boat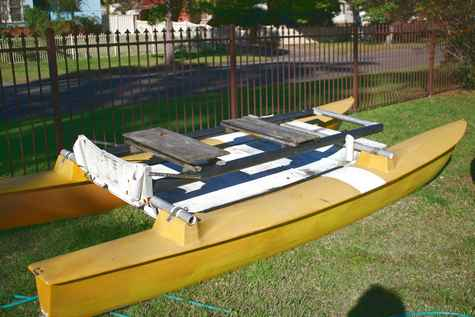 Saturday night at 9.00pm I got a phone call out of the blue to come and pick up a boat from St. Georges Basin but it had to be picked up at 10am on Sunday. The fellow that had it was so wrapt in the boat he was cleaning the boat the whole time I was looking at it. Then I was taken for a ride on it out across the basin and the whole time he was cleaning the thing with soft affection and a smile of content on his face. The stories came thick and fast. His wife even loved the thing and would paddle it out and sit for hours fishing, I think to get away from life even, she even expounded the qualities of the boat and how much fun she had going out fishing with her husband. I got the pontoon boat after negotiating a good price. I think if I had tried harder he might have even paid me to take it. We loaded it on the box trailer and the wife said goodbyes to the boat I think I even detected a tear in Johns eyes as I was pulling away. This boat is the most stable boat I have been on for some time. Turns out John was my tech teacher in Panel beating at Wollongong years ago. He knew I wanted one as he was at the tip when I bought two hulls identical to his. Turns out that these hulls were the ones he rejected when he built this boat.
Note the seats slide, only a small engine either petrol or electric is used. To sleep aboard a small tent is erected and one sleeps between the rails. It can be handled by one person. Two people can stand on the one hull and the boat holds the weight.
Stewart
---
---
Jaunty Hits the Lake for a Test Launch
Here checking the waterline, trim and balance with 250 lbs lead pigs and moveable neighbor ballast.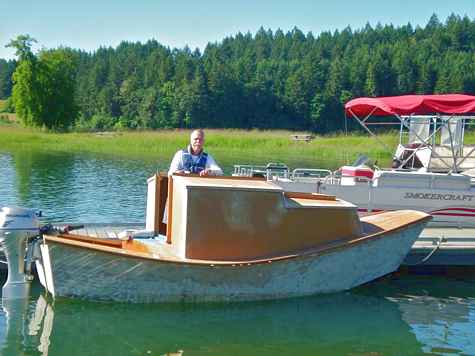 Rich
---
New Museum Pinellas County Florida
I am a part of a group of volunteers that are working with Pinellas County to preserve the maritime history of our area. The Pinellas County Historical Society is working to raise funds to build the McKay Creek Boat Shop at the county's living history museum - Heritage Village - to house vintage boats and other materials related to the county's rich coastal history. The structure will provide a place to tell the story of the county's early boat builders and to store, preserve and exhibit other materials that are presently in the museum collection as well as to provide for growth in this collection in the future. The boats we have to start our collection are two built by Clark Mills. The Mills designed and built Sun Cat donated by Joe Hill, and Francis Seavy's championship Snipe "Honey". The Optimist Pram and Windmill will of course be featured.
Pinellas County maritime history starts with the dugout canoes of the Weeden Island Culture, the Fishing Ranchos of the Spanish/Cuban traders, The Greek sponge and fishing boats of Tarpon Springs, and John Hanna "the sage of Dunedin." Yacht building and racing include the famed St Petersburg to Havana races and Charlie Morgan's America's Cup Challenger "HERITAGE."
To help Heritage Village meet its goal contact the Pinellas County Historical Society office at Heritage Village visit: www.pinellascounty.org/heritage
Michael Jones
---
Mystery Sailboat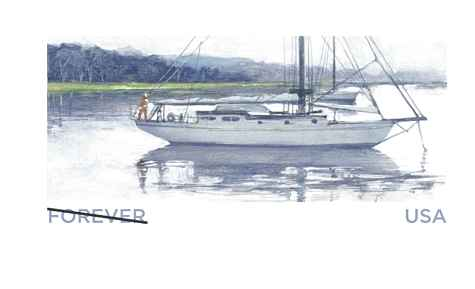 Mystery Sailboat beats the odds to appear on U. S. Postal Service Forever Stamp (Sailboat image in email) Maybe your readers know the owner.
I'm with the Postal Service's press office and wanted to give you a heads up that the image of the sailboat on this Forever stamped postcard is based on a 1967 Memorial Day Weekend photo of an unidentified sailboat taken off of Long Island Sound by artist Burton Silverman. Maybe you could poll your readers to see if they know anything about it. The Postal Service receives about 40,000 suggestions for stamp ideas each year, yet only about 20 topics make the cut -so this sailboat clearly beat the odds.
Burton doesn't know the name of the sailboat or the owner. He's not a sailor, but has a great story about taking sailing lessons from a 13-year-old-boy and later renting a small sailboat that ended up ramming a yacht. Needless to saw the owner had a few choice words. You could also visit his website: www.burtonsilverman.com
Silverman been painting and exhibiting as a painter for 60 years. He has had had 33 solo shows across the country including venues in New York, Boston, Philadelphia ,Washington, D. C,., San Francisco, Maine and Nashville TN He has appeared in numerous national and international exhibitions including the National Portrait Gallery, the National Academy Annuals, the Mexico City Museum of Art, the Royal Academy of Art in London and the Butler Midyear Annuals. He has won 37 major prizes and awards from several of these annual exhibitions and the National Academy Museum has honored him with 9 awards including the Ranger Purchase Awards in 1983 and 1965. His paintings are represented in more than two dozen public collections including the Arkansas Art Institute, the Brooklyn Museum, the Philadelphia Museum of Art, the New Britain Museum, the Denver Art Museum, the National Museum of American Art, the Columbus Museum and the National Portrait Gallery. His work is included in numerous private collections both in the U. S. and Europe. Since 1993 he has lectured in museums and university graduate programs on the nature of 21st Century Realism. and written articles extensively on the same subject matter.
---
Little Swan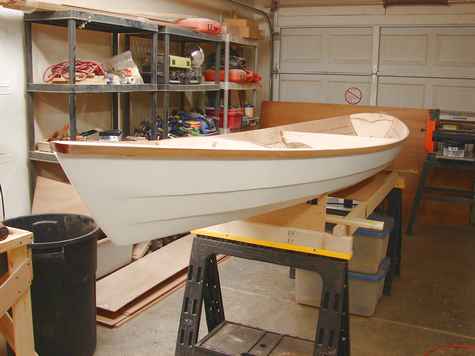 Here's is a shot of the Little Swan canoe I have been working on.
Bill
William Bates Small Craft Design
---
"Arlo & Janice"
The "Arlo & Janice" cartoon strip has had Arlo daydreaming about getting a boat for years. He now has it, courtesy of his son's future father-in-law. This was too good to pass up.
John
---
Pete's Spaceship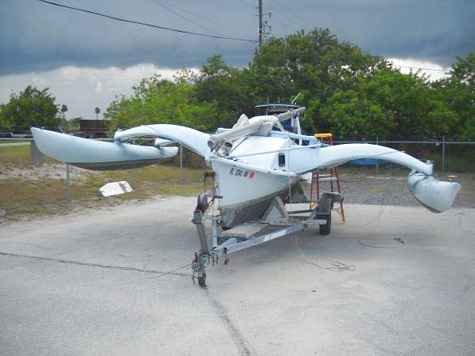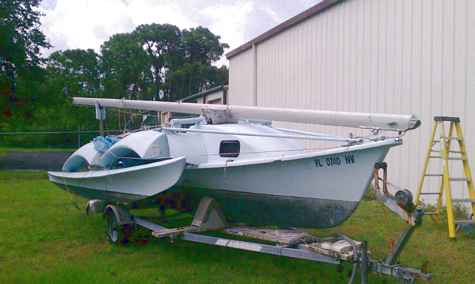 Peter the plumber has never seen a high performance sailboat he could pass up. Here's his latest acquisition, a Klingon bird of Prey or something like that. He's making an effort to convince his wife that this rocket ship is a conservative family boat, that's a conversation I'd love to hear. Not really, Gretchen's a good sport, either that or having a plumber in the house is too good to pass up.
David Lucas
Lucas Boatworks and Happy Hour Club
---
Canoe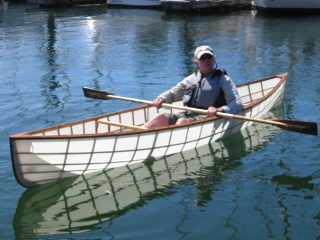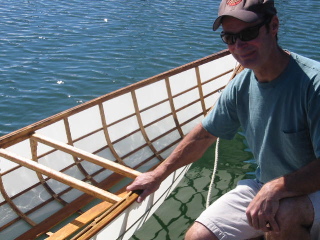 A recent launch pic of a reskinned Airolite canoe.
Steve Chambers
P.S For Sale https://sfbay.craigslist.org/scz/boa/3149878623.html
---
KD 860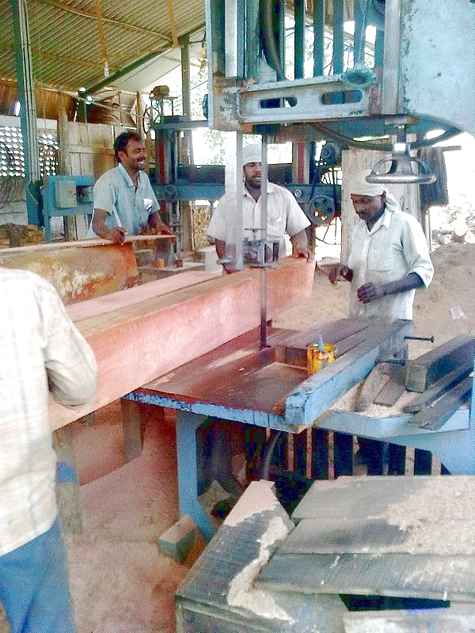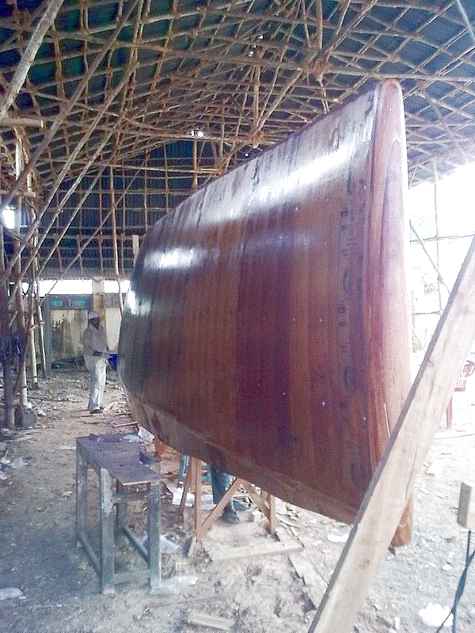 Here are two pictures from a KD 860 under construction in India. The customer ordered the plans on the 7th of June (this year) and the last picture he was sending me at 06/29/2012).
Bernd Kohler
---
Buildboats.com Retired
Buildboats.com has been retired. Thanks to all who have contributed and visited for the past 17 years. As a one man volunteer effort the ongoing cost and time required to maintain the site are the main reasons, along with so many other resources available today such as the yahoo groups and Duckworksmagazine.com
Email to buildboats at yahoo dot com will remain active but tom at buildboats dot com will not. Over the next few months I will be selling some of my boatbuiling books, plans and equipmet under the ebay seller name buildboats (none that were provided by designers will be sold).
Cheers Tom
PS After several emails - I've been convinced to post the historical content and I have found a free site to do so:
So I am currently uploading content to the free site listed below, I am sure there will be some linking issues within the site that I will have to address over time.
https://buildboats.freezoy.com
Tom
---
Register for 2012 Puddle Duck Worlds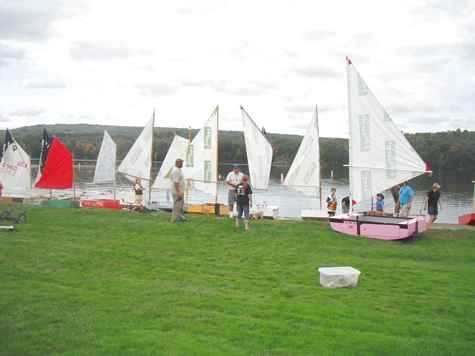 This event runs Aug. 3-5 at Lake Arthur, Moraine State Park in PA near Pittsburgh. Registration is at here. Sign up soon if you are coming. I know there are plenty of Ducks and Duckers out there that I'd like to sail with.
Polysail Dave
---
First Boat
Here is a build with no plans... So far? Im moving right along ....
16 foot jon boat type build. This is my first attempt to build a boat. Heres some pics.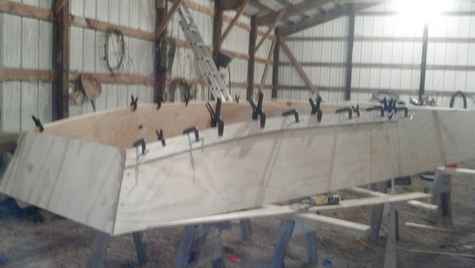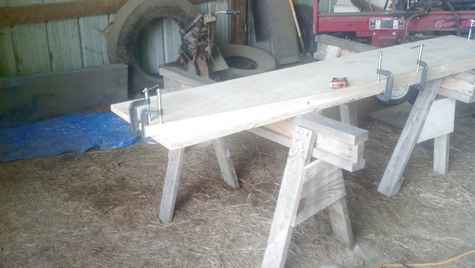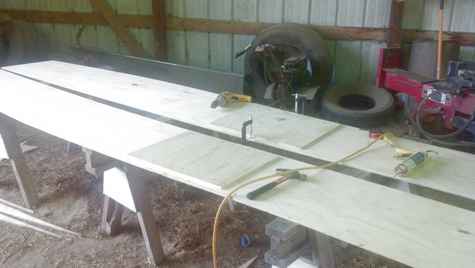 Tim
---
Powick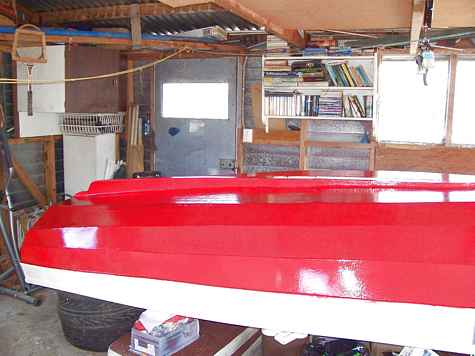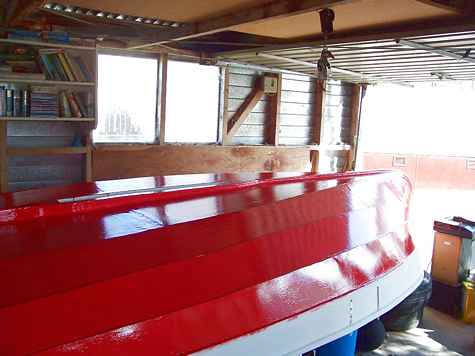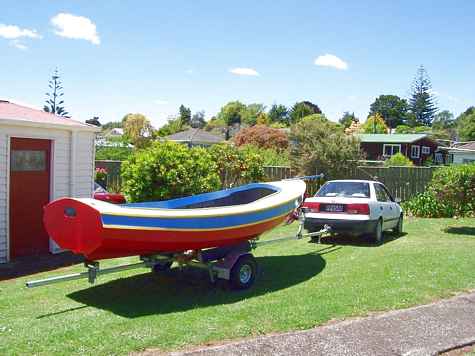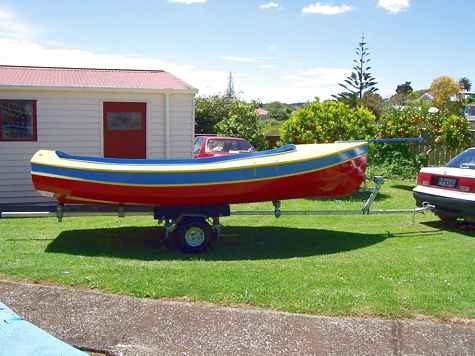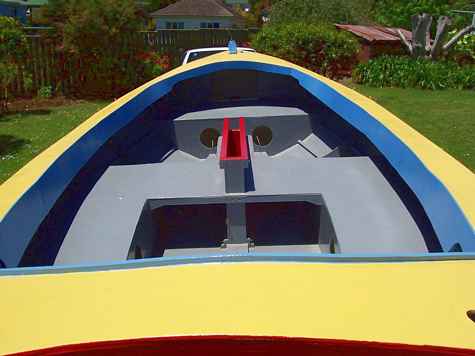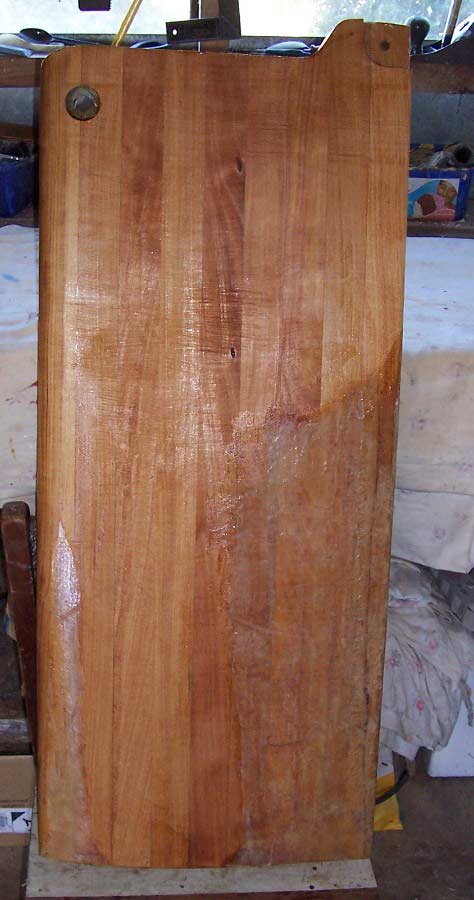 It's been a while so I thought that I should send an update to show that progress is still being made. With regard to the centre board photos, the centre board weighed 11 kilos then a 20mm wide x 250mm long x 250mm deep slot was drilled/cut into the bottom and 7.5 kilos of lead melted and poured inside. A wooden cap was then glued on to cover the exposed lead before being painted. I am hoping to have her in the water this Summer - got to go fishing.
Robbie Powick
---
Dates are set for the 2013 Columbia 150-ish
The event starts on Monday, Aug 5 and ends on Friday, Aug 9. Route, stops, exact times, etc. will all be worked out shortly.
We are starting on a Monday and ending on a Friday to give out-of-towners a chance to participate. Most of the stops will be at/near boat launches, so a person could decide to just come for a day or 2.
Major announcements will be done over the Duckworks forum. There will be a web page for static info like route, times, recommendations, etc. There will be a FaceBook group for the usual blatherings and natterings.
Get yer affairs in order, boys, 'cuz we're all gonna die!
Andrew
---
Sea Tow App Proves to be Great Tool for Boaters
More than 63,000 downloads reported in first three months 
Southold, N.Y. – July 17, 2012 – Sea Tow Services International Inc., the nation's leading on-water assistance provider, released its mobile application for iPhone and Android smartphone users across the U.S. on April 12, 2012. The free Sea Tow App received instant acclaim from boaters who appreciated its utility as a convenient, multifunction navigation and boating safety tool. The Sea Tow App, which is available for download free of charge atwww.seatow.com/app, has won a Mobile of the Day (MOTD) Award from Favourite Website Awards (FWA), and is 100-percent 5-star rated at the Apple iTunes store. In just three months, the Sea Tow App has been downloaded by smartphone users more than 63,000 times to date. 
In addition to providing smartphone users with fingertip access to current marine weather forecasts, alerts and radar; tide tables and graphs; GPS location, speed and heading, the Sea Tow App also gives them an instant link to on-water assistance. Simply swiping a finger on the slide bar at the bottom of every screen connects them to Sea Tow's 24-Hour National Dispatch Center. More than 120 boaters have already called Sea Tow for assistance using the new Sea Tow App. 
"In Central Florida, we have a lot of lakes and rivers, and it's rare that boaters have a GPS or even a marine radio on board," said Capt. Kerry Kline, of Sea Tow Central Florida Lakes. "We often receive calls from people who don't know their exact location. We will ask them to download the App and use its GPS function to get their exact latitude and longitude." 
The Sea Tow App is not exclusive to Sea Tow members; anyone with a smartphone can download it free of charge. "Twice I was called by non-members to assist them, and both calls were due to them having the App," said Capt. Kevin Scott of Sea Tow Rhode Island. 
"We are pleased with the overwhelmingly positive response we've received to our Sea Tow App," said Sea Tow Chief Administrative Officer, Kristen Frohnhoefer. "We made a major investment in ensuring the App is multifunctional, easy to use and elegant in design. If it helps boaters plan their itineraries, avoid hassles, and ultimately contributes to their safety on the water, then that investment has more than paid off." 
About Sea Tow
Sea Tow Services International Inc. is the nation's leading on-water assistance provider. Established in 1983 by Founder & CEO Capt. Joe Frohnhoefer, Sea Tow now serves members in more than 100 locations throughout the United States, Europe, Australia, U.S. Virgin Islands and Puerto Rico. For a full list of membership benefits, how to become a Sea Tow member, or to inquire about becoming a Sea Tow franchise owner, please visit seatow.com.