Walkabout Leeboard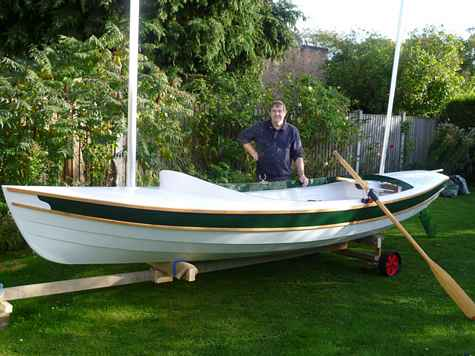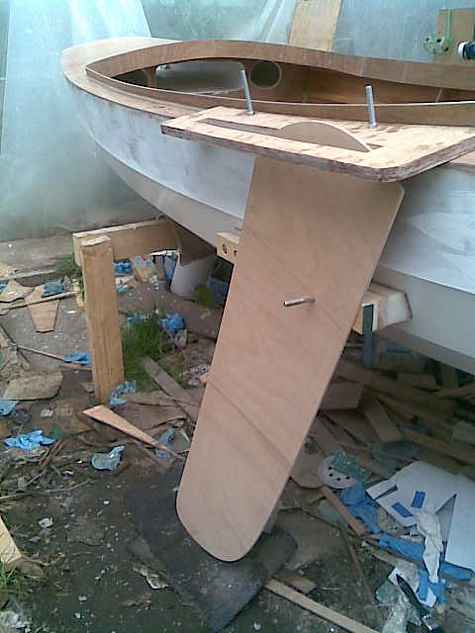 I am still finishing the boat (at rigging stage), and have just started shaping the leeboard. It is a Welsford Walkabout and the overall boat is looking good so far.
I have copied Jim Michalak's system for leeboards, but for a boat which has a curved hull. The other attached picture shows the main assembly completed with a template leeboard. One feature of this is that the lower pivot point is detachable and modifiable, so I plan to try out different positions.
The reason for the leeboard is simply because I anticipate that the main daggerboard will cause problems where I sail . This is the North Norfolk coast and there are a number of shoals. It is also very tidal and where I launch from, the water goes out a looong way, leaving a shallow channel. Normally, sailing is restricted to a couple of hours either side of high tide - I hope to be able to extend this significantly.
Martyn Long
---
---
Wes Farmer Cherub
Walter is building a Wes Farmer Cherub - quite an undertaking. Chuck
Right now I am building the cabin top, companionway, and forward hatch cover, so work on the interior can continue this winter. Here are a couple of photos.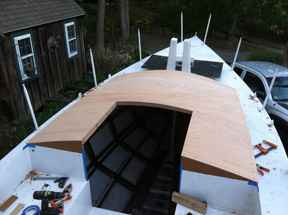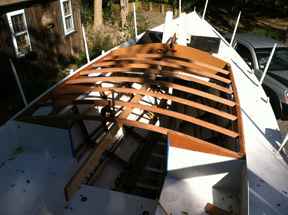 Walter Baron
Old Wharf Dory Co
www.oldwharf.com
---
Win this Boat!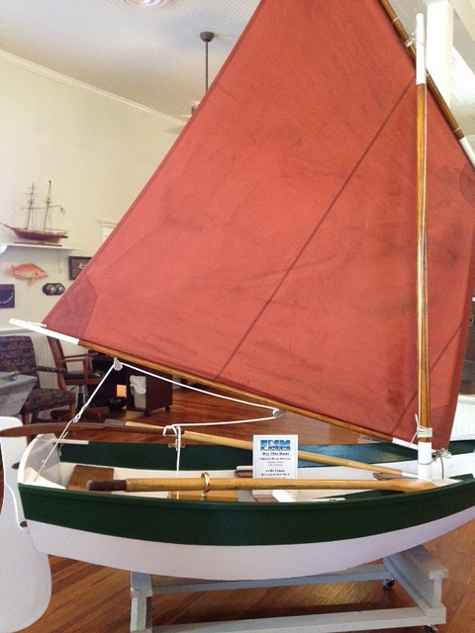 She was a pretty little thing to start with, but we repainted her. And that looked so good we varnished her parts. Then we had to buy her fancy new oarlocks, and line. This Joel White designed, 7 ft 7 inch Nutshell Pram will go to the winning raffle ticket holder on February 18th, and the money raised will benefit the boatbuilding programs at the Florida Maritime Museum. Raffle tickets are $6 each or two for $10. You could send us a check and we will send you the tickets, or you could come in person buy the tickets and check out what we have going on here. We have new programs, exhibits, and lots of people who are crazy about boats. (Come to think of it, I think I will just keep this boat for myself.)
Karen Riley-Love
Supervisor, Florida Maritime Museum
Karen, we might be able to help sell a few tickets - folks, if you are interested in helping out a good cause please take a look here: duckworksbbs.com/raffle.htm
---
13.5ft Rowboat 
I built a new 13.5ft rowboat to my own design.
Overall it goes pretty well, but in retrospect I probably should have built a boat from plans and saved time. I wanted a boat that I could car-top, that was easy to build, was pretty seaworthy, and nice easy and fast to row. Ideal was to carry one person, but could carry 1 or 2 passengers if required.
I wanted a narrow transom, so I could add a small outboard and use it as a motor boat at certain times (as opposed to a double ended boat).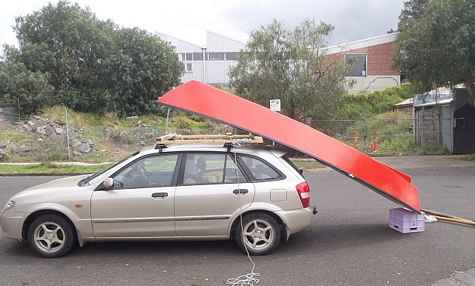 The car-topping system works well. I also added wheels (20 dollar low quality wheels) that allow me to move the boat around on the ground easily single handed. Overall the boat goes pretty good.
Sometimes when I go rowing people take photos, I keep thinking, don't they have anything better to do, like take over the rowing for awhile, whilst I sit in the back drinking beer.
Either way, the new rowboat.
Aside, I have listed ten similar rowboats, and tried to compare my rowboat to those. I can now see what I 'need' is a light low slung rowboat for the river, plus a separate heavier and more robust rowboat for Port Phillip Bay and the open ocean.
Anyone with such boats surplus can donate then to me, Peter Evans, care of the Melbourne non-runners club.
Peter Evans
---
Mar Vista Nov 2012
Barry Long has a topsail for his little 13 foot melonseeds but this is the best he can do showing them to us. I want to know how he gets them up and how they work. He claims that he's so fast that no one can keep up with him to take a picture.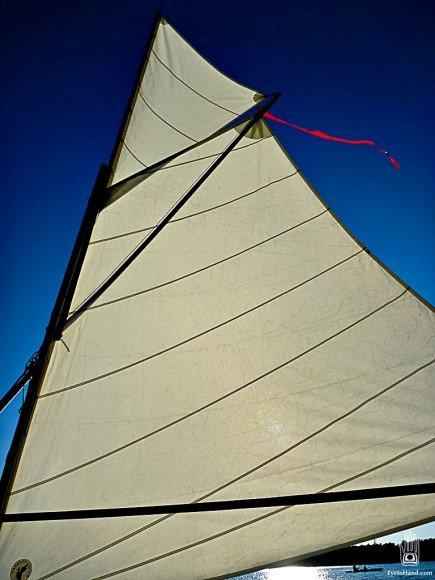 David Lucas
Lucas Boatworks and Happy Hour Club
---
Furrion To Launch Marine HD TV's at METS 2012
See at stand 2.214, Amsterdam RAI, November 13-15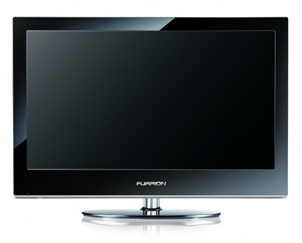 WATERBURY, CONNECTICUT (USA) – Marine electrical products manufacturer Furrion will launch a range of 12-volt marine HD televisions for the UK and European markets at the Marine Equipment Trade Show (METS) in Amsterdam, November 13-15 (stand 2.214 in the Amsterdam RAI).
Available in 16", 19", 22" and 24" models with an additional 55" model for the UK market, the new Furrion HD TV's have been designed specifically for vibration resistance in extreme climates. The energy-efficient units offer a sharp, 720p high definition onboard viewing experience with SRS surround sound audio technology.
LED TV's - The ultimate experience of high definition viewing in an ultra slim LED television with enhanced audio features and a wide range of connectivity options for all console or DVD needs.
LCD TV's - The ultimate experience of HD viewing with enhanced audio features and a wide range of connectivity options for all console or DVD needs.
3D LED TV's - Full HD LED 3D passive cinema technology. The ultimate experience of HD viewing in an ultra slim 3D LED television with enhanced audio features and a wide range of connectivity options.
Led TV/DVD Combo - Next generation LED HDTV with built-in DVD player. The all-in-one LED/DVD combo offers HD viewing experience with enhanced audio features. Combining technology, connectivity and style, the LED/DVD TV offers total entertainment.
For more information about the new Furrion HD TV's and other Furrion marine electrical products, visit stand 2.214 at METS 2012 or www.furrion.com
---
What type of boat do I have?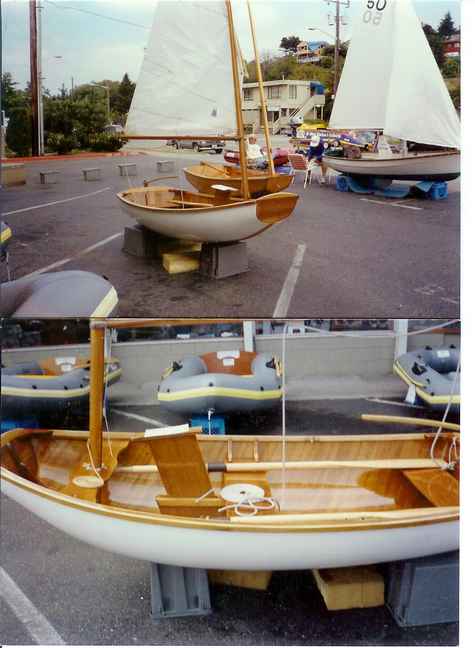 Built by hand about 30 years ago. I've owned it for the past 20 years. 8-1/2' length. As you can see, the interior wood runs vertically. It's very light weight so I'm thinking the exterior is painted.
The bottom is rounder than it should be for best stability, though it's still a dandy little, sailer/rower. Been garaged, covered, and rests on a special little two wheeled sailing dolly that supports the boat in a sling type fashion. Passing it on to son and his family as they have moved close to a Lake. There are two pictures together/top to bottom.
Jaimie Jones
Puyallup, WA
If you can help identify this boat please let us know.
---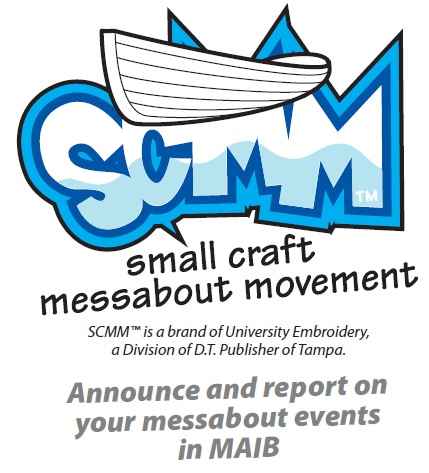 What is SCMMT All About? SKIMM, SCAMM or most likely SCUMM was conceived to foster the watery get-togethers we have come to know as "messabouts," ... with no charter, no dues, no membership, no rules, no treasury, no web presence, no organization, no central contact list, no periodical, no board, no ocers, no local chapters. Yes - No hierarchy or structure at all. Consider how well the annual messabout at Cedar Key and a few other gatherings around the country work. For the day, weekend or week, crews assemble, support each other, benet from the buddy system, enjoy themselves and then dissolve. SCMM is motivated too, by the prot incentive, as is the American Way, in that boaty garments are available for purchase.
So, the idea was to create a bonding element for the community of enthusiasts who just want to get together, eat outside, imbibe, swat bugs, spit, swear, compare boats, share ideas and get on the water with oars, paddles, pedals, poles, and sails. Even small and quiet motors would be welcome. In other words, SCMM is a brand, but one with a motive of fomenting and promoting small boating activity, without restriction, and to supply sturdy, good quality stuff for your comfort and protection. SCMM products are selected for their high value, and customized with embroidery, silk screen or transfer printing as is most appropriate to their fabric and long life. Visit: www.StitchNinjas.com/scmm to see what's available right now, for yourself or for gifts.
---
Clark Fork Drifter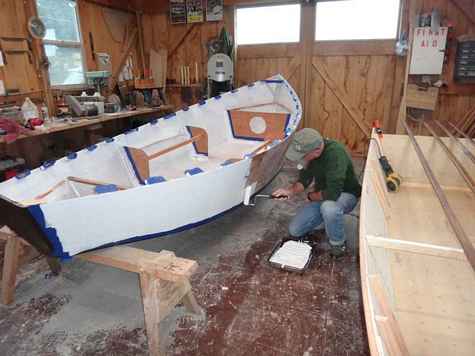 Got the first layer of paint on her. Aiming to be done by Christmas.
Andrew Linn

---
Do Cellular Amps Burn Out?
We were early adopters of long range cellular amplification for internet connectivity. We've written a variety of articles over the years (that need updating) describing various aspects of using mobile phones on boats. Cellular amplification is a big part of the solution:
https://activecaptain.com/articles/mobilePhones/intro.php
See the Boost Your Signal article especially.
Starting a few months ago we started getting a variety of email questions about amplifiers that were no longer working. It was very odd and very consistent. Over the summer we upgraded our MiFi to a Verizon Jetpack 4620L and Karen got an iPhone 4 (mainly because Jeff got an iPhone 4S). For what it's worth, Karen is about to get an iPhone 4S as soon as we get to Charleston and Jeff unwraps a new iPhone 5. She's very excited about it according to Siri.
Anyway, the odd thing is that our own amplifier stopped providing any detectable increase almost all the time. We've used the exact same amp since 2005 - perhaps it burned out? We actually swapped it out with a spare amp that we kept for just this type of thing. It had never been used before and it wasn't working now either.
Let the investigation begin.
It's easy to forget that cellular technology is radio technology. Transmission happens over very defined frequency bands and amplifiers are designed to amplify only the transmission in those bands. This was the secret to uncovering the problem.
2G, 3G, now 4G. Each G is better, right? Well, yeah - we're getting much better speeds on our MiFi and iPhone 4S. It all is working for us (make sure you have the latest Jetpack firmware - we've had no problems with it). But here's the thing. Each G uses a different frequency band and, you guessed it, the older cellular amplifiers don't work with the new 4G/LTE bands. They're doing nothing to enhance the signal and are probably making things worse.
Right now there are only two 4G/LTE amps on the market - for Verizon:
https://www.wilsonelectronics.com/store/display/210/43/sleek-4g-v
For AT&T:
https://www.wilsonelectronics.com/store/display/222/0/sleek-4g-a
The new amps need some different connectors to connect to existing antennas. Both amps will fully amplify the 2G and 3G bands also. Happily they are less than 1/2 the price of previous cellular amps.
It's likely that other 4G amps will start appearing from other manufacturers although we can't find any others today. It's a sure bet that as soon as there are many available, we'll all be upgrading to 5G cellular equipment.
www.activecaptain.com
The Interactive Cruising Guidebook

www.captainrated.com
Real reviews from Active Captains