Since we have to, Don't Mess With Texas!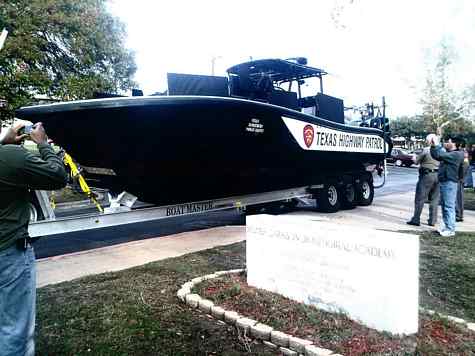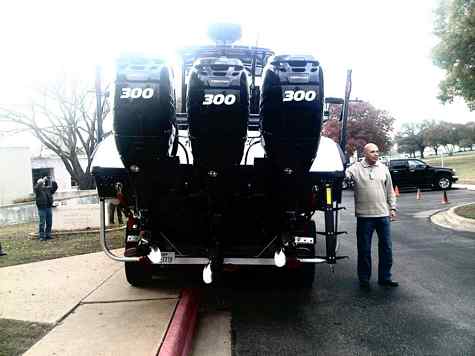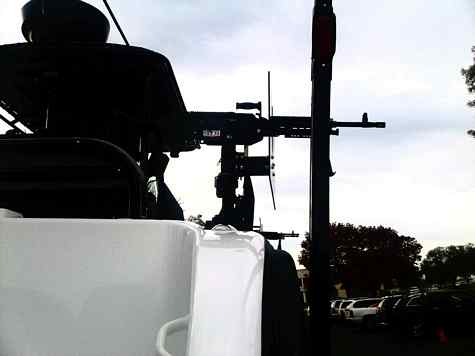 ---
Pirate Ship
If you could pass this on to anyone you think might be able to help, I would appreciate it very much.
Hi: My name is Tom Stover (aka) Captain Hightide McKnotts (Pirates of Sacramento Member).
To make a long story short, I have been working on a 37 foot Pirate ship playhouse for the past 4-1/2 years during the Spring/Summers and was to have the ship completed this last Summer 2011. Well my work vehicle was rear ended last March 2011 (10 months ago) with me in it and it looks like I may not be Physically able to complete it myself with 80%-90% already completed.
I would like to find someone or a group of people who would be interested in helping me complete the main deck, railings, and windows etc. and when the ship is completed, get a percentage of the sale of the ship. (for example - Completed Pirate ship asking price = $25,000.00 - Your profit share would be $5,000 - $6,000 or more?) (the actual value of the Pirate Ship Playhouse could be more!) need to have it appraised when finished.
Another possibility is to find someone who would want to purchase the ship as-is and finish it themselves for a business venue such as Haunted house, Birthday parties, raffle? and/or visual attraction.
If anyone has any other ideas I would like to hear from you.
Current status of Pirate Ship Playhouse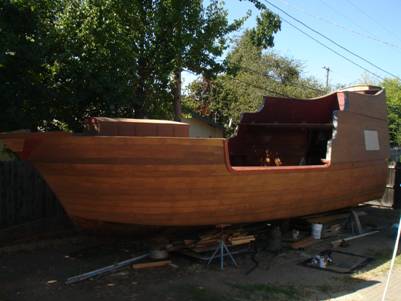 The hull is all Mahogany wood!
Upper Deck where railings and Ships wheel will be mounted with Netting around side walls for safety.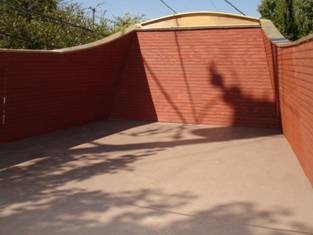 Hidden treasure spot under Safety glass in floor in Captains Quarters.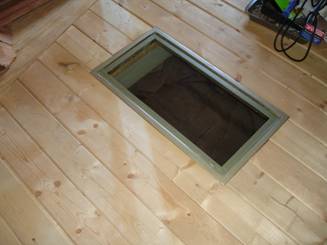 This is what it will look like when completed.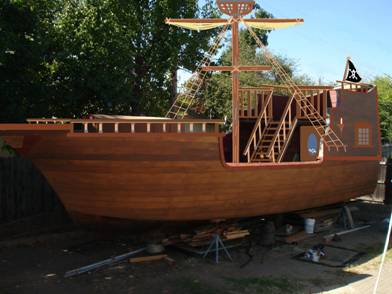 If interested or have any questions, please Email me. tstoverc@wavecable.com -Granite Bay, CA.
Thank you and Happy New Year! Tom Stover / Captain HighTide McKnott's.
I have a lot of Material ready and also a simulated pier that needs stairs and rails completed for use to enter the ship.
(The post are 2 feet longer on bottom for planting into the ground when ship is placed at another location).
---
AABB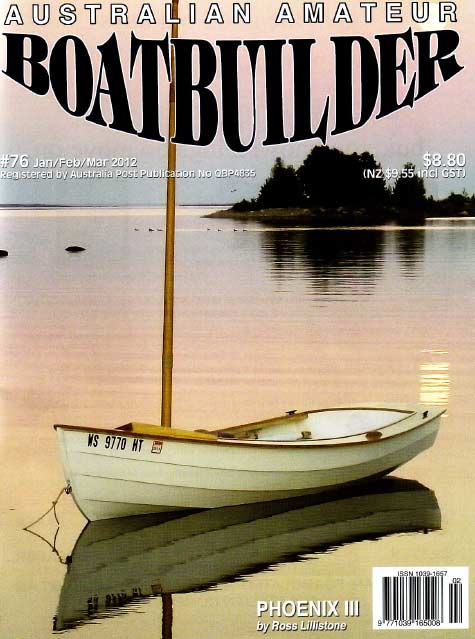 Ross Lillistone has supported this beautiful little magazine with his articles for some time & it would appear that the publisher has returned favour. The Phoenix 3 featured on the cover was photographed "close to midnight in the far north latitudes. Photo Courtesy Tom Pamperin-Wisconsin".
 
Cheers & best wishes for 2012.
 
Al Burke.
---
Venture Minimalist Blog
Sarah, my daughter-in-law, is writing a blog about their life of moving from the Army to the cruising life aboard an old Cheoy Lee 36' sloop.  Sarah and AJ are now in Stuart, Florida making preparations and upgrades to the old boat.  There are posts and pictures of them making a Michalak VOLE last summer, the latest of our Christmas visit with our boat, and other exciting adventures.  Sarah writes some good stuff regularly and it is very interesting boat stuff I am sure your readers will enjoy!
For information about the boats see:
Description of our open boat at:
And if you want a fun picture of AJ, here is one. There are others you might like on their blog site.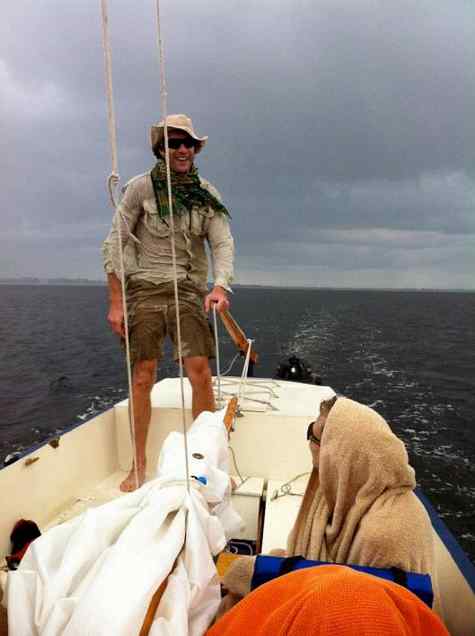 Phillip Lea
---
Plywood and Lumber Index
Duckworks has just started a plywood and lumber index to help new boatbuilders find materials. It's early days but you can see the index here:
https://www.duckworksmagazine.com/r/wood.htm
As you can see it is a work in progress.
Please write to Mike John mikeduckboatman@gmail.com and help us fill in the gaps.
Mike John
---
Tolman Jumbo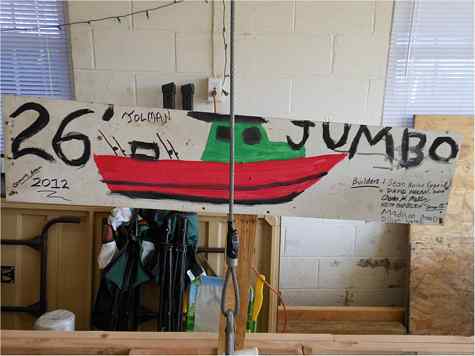 I just started my new Tolman 26 Foot Jumbo. We've used the Widebody for 11 years from inshore to way offshore for everything that swims in the Atlantic.
The new boat is being built in Northeast Md. If any of your readers are interested they are free to contact me. DavidNolan598@yahoo.com
Here area few pics of the start. Its not much, yet.
Salt water workshop is CNC cutting my marine ply, and I'm using progressive epoxy and the boat will get a shiny new Honda 150 HP early summer 2012.
Dave
---
A Boat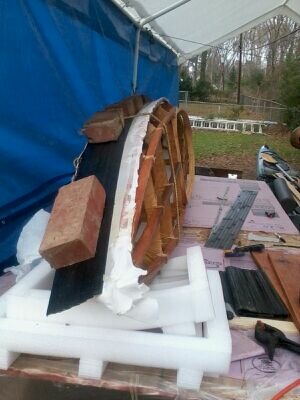 Heat shrink Dacron with bamboo. Hull - black bamboo (dyed), Deck-carmalized bamboo veneer. 12' x 23".
---
Peter's Swim
Peter the Plumber use to be a normal kind of sailor guy (except he likes high performance boats) till he happened across a little half finished boat. With very little encouragement from me he worked on it and then another and so on. Now see where it's gotten him, ship wreaked out in Sarasota Bay when his newest creation self destructed in high winds. He took a 20ft Shark cat hull and a 16ft Nacra cat hull, added some pipes to connect them like a Polynesian outrigger thingy and stuck on a giant sail, what could go wrong? Pete wasn't really rescued, he's a giant of a man who could probably swim the Atlantic Ocean. He was paddling to shore when the Marine Patrol showed up to give him a tow the rest of the way in.
Dave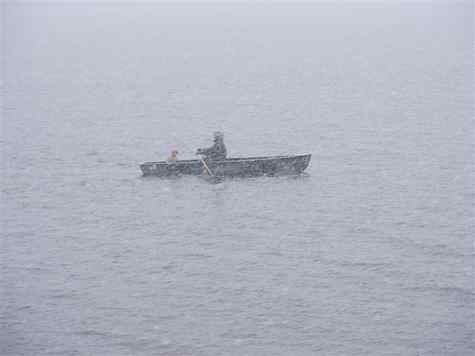 Sandy sent this one from his summer place in the mountains of upper NY. This is his neighbor out in the snow in minus 12 degrees just before the lake iced over. This guy, whoever he is would fit in nicely here at the hut.
Dave
David Lucas
Lucas Boatworks and Happy Hour Club
---
Skin Kayak 'Toon
Ross
---
Progress Photo
Your epoxy worked perfectly - thanks for a good product. My Kokeemo is progressing nicely for someone who is not using any blueprints - none. I finished the bottom, chimes and corners last week. We had two weeks of 80 degree weather in SW Florida- I guess that was perfect for a slowpoke like me to do his first epoxy/fiberglass layup. I have used 2 sheets of 1/4" plywood and three sheets of 1/2" plywood. I will need to buy only one more sheet of plywood to finish. The hull is hard to explain - 2 -29" x 96" pieces long ways with a keelson board down the middle to join it, and a 30" wide piece crossways at the cockpit end. I have a three way joint right at the rear cabin wall. I have a slight vee bottom 3/4" from center to sides and it tapers to a flat bottom at the rear of the cockpit. I don't know If anyone has ever done this before. A flat sheet of material has less strength than one that is bent or angled. This should eliminate a lot of bottom flexing - I still have to epoxy some bottom runners on later. Here are the update pictures. I am using some black tape to better show the joints on the plywood.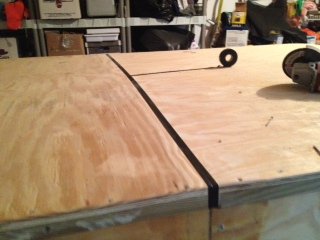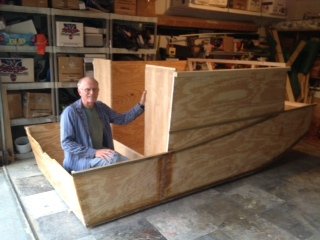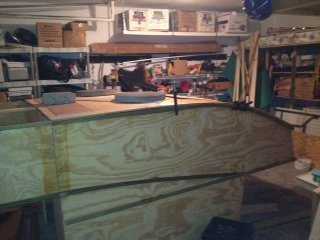 Flipped over today for some topside work.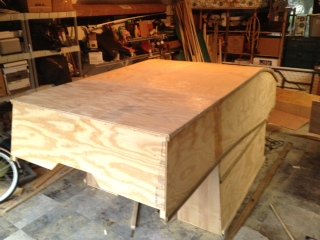 You can see the 1x4" down the center.
Mark
---
Polar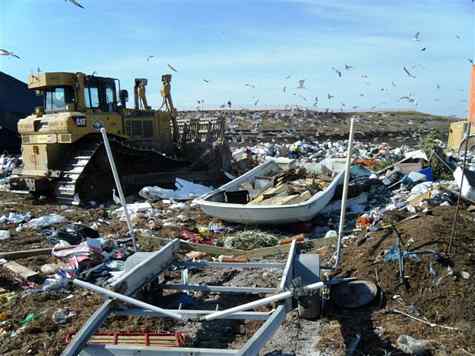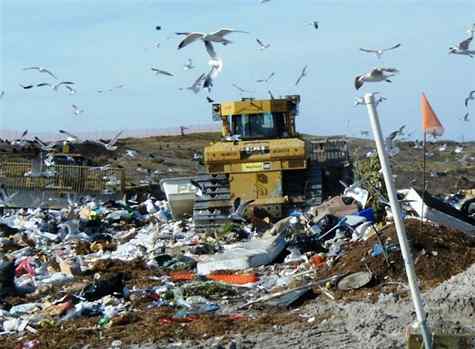 We got this Polar for free and were going to strip it to the bare hull and make a party barge except it never got any lighter even after ripping most everything out of it, still weighted 1400 pounds so here's it's final resting place.
David Lucas
---
Impressionistic image of moored sailboat to appear on 2012 stamped post card
The Postal Service highlights America's scenic beauty with this stamped card. Whether racing along the coast or simply bobbing in harbors, sailboats add to the allure of any water view.
This impressionistic image of a moored sailboat was created by Burton Silverman of New York City, who painted the scene in oil on a gesso surface board. The sailboat, a one-masted sloop, rests with its sails furled while a single sailor stands on deck. Silverman based the painting on a photograph he took during a summer sailing trip to Long Island Sound.
The landscape is a departure for Silverman, a well-known portraitist whose work appears on a dozen stamps previously issued by the U.S. Postal Service, including Igor Stravinsky (1981), Raoul Wallenberg (1997), and Arthur Fiedler(1998). Rock music fans may know Silverman best for his painting of an old man featured on the cover of Jethro Tull's Aqualung album. The card was designed by art director Derry Noyes.
Visit this link to see the stamp image:
Customers may preview the stamps on Facebook at facebook.com/USPSStamps, through Twitter @USPSstamps or on the website Beyond the Perf at beyondtheperf.com/2012-preview. Beyond the Perf is the Postal Service's online site for the back story on upcoming stamp subjects, first-day-of-issue events and other philatelic news.
The issuance date of the Sailboat Stamped Card will be announced at a later date.