Canoe Build
A few months ago I came to the forum for advice and received said. I was building a 15' square chine flat bottom canoe. Well I have completed it and it's not the most masterful build partially because I used some recycled materials but I think she'll do well.
See the stills on my blog https://timetales.wordpress.com
Thanks for the help.
Walow
---
---
The Boat is Done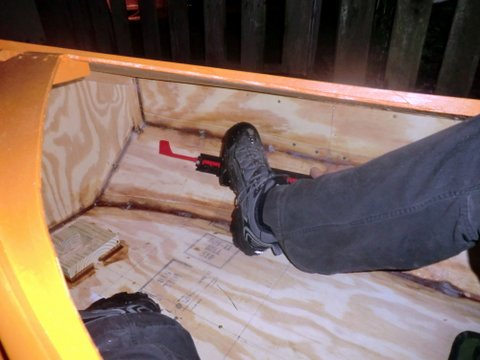 Turns out I work fast. The boat is done. Final rigging to be completed and a test sail set up for the eastern messabout June 1-3. Expect a sailing report shortly there after. Any input welcome.
Thanks Paul Moffitt.
PS Bill has been posting on the Darcy Bryn build again.
https://paulsboats.wordpress.com

https://moffitt1.wordpress.com
---
Wanna be Boatbuilders
You guys see these pictures and think you can be boat builders like me. No way, I'm a one of a kind builder, my style is unique, you'll see a perfect example here later. Now Ernie is an exception, he didn't think he could build anything but took the old piece of junk boat we bought just to get the trailer and fixed it up. He did it because it's so strange and it turned out to be really cool and he just retired and needed something to get his mind off work. It took me a year to get use to not having to get up on Monday morning.
David Lucas
Lucas Boatworks and Happy Hour Club
---
SOF Board/Kayak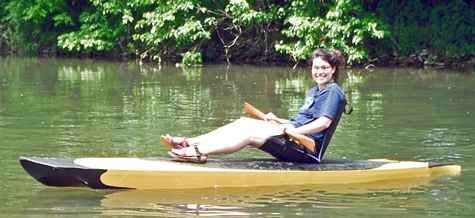 I thought I'd show you my latest design - the combination sit-on-top kayak and stand-up-paddleboard. So far, trials have gone well and I am pretty pleased with her. A prototype of a longer version is already being built, too.
Dave
https://gentrycustomboats.com/Boardyak%20page.html
---
Montana Dragon Boat Festival - Early Registration Closes July 2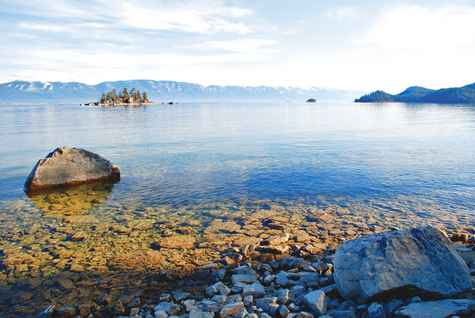 Photo of Flathead Lake courtesy of the Kalispell CVB.
The first Montana Dragon Boat Festival, organized by veteran dragon boat race producer Dynamic Dragon Boat Racing, will be held Saturday, September 8, on stunning Flathead Lake.
Montana Dragon Boat Festival early registration open for team sign up through July 2.
May 30, 2012 - Kalispell, Mont. - Flathead Lake, the largest freshwater lake west of the Mississippi in the lower 48 states, will host its first dragon boat race on Saturday, September 8, 2012. The Montana Dragon Boat Festival will introduce visitors to the scenic lake, which features 160 miles of shoreline at the base of the Mission and Salish Mountains.
"Flathead Lake is one of the most stunning lakes in the world and known around the country as a recreation mecca for sailing and power boating," said Rob Brisendine, Kalispell Convention and Visitors Bureau group sales manager. "We're very excited to introduce dragon boat racers to the lake. I think everyone will be blown away by our spectacular scenery and Western hospitality."
While it may be the first dragon boat race on Flathead Lake, the Kalispell Convention and Visitors Bureau has partnered with veteran dragon boat race producer, Dynamic Dragon Boat Racing LLC, to organize the event. The company hosted the 2010 U. S. Dragon Boat Club National Championships and is a member of the U. S. Dragon Boat Federation.
"We're very excited to help the Kalispell CVB introduce dragon boat racing to Montana," said Penny Behling, owner of Dynamic Dragon Boat Racing, "and Flathead Lake is one of the most breathtaking settings you could think of for a dragon boat race."
The event has already attracted national and international attention with teams signing up from Washington, Texas, Nevada, Montana and Alberta, Canada. Registration is open at:
 https://www.montanadragonboat.com.
Early registration ends July 2, 2012.
The race will be held at the Flathead Lake Lodge on the east shore of Flathead Lake, a short drive from the many lodging and dining options in Kalispell, Mont. - the beautiful small city in the heart of the Flathead Valley. Coinciding with the dragon boat race, the festival will also include a "Made-in-Montana" food and artisan showcase and an evening awards ceremony, concert and party at the Red Lion Hotel in Kalispell. The entrance to world-renowned Glacier National Park is also only 40 miles from the race location.
Race teams are required to participate in an hour-long training session on Thursday, September 6 or Friday, September 7. All boats and safety gear will be provided.
More information about the Montana Dragon Boat Festival, lodging packages and registration can be found at:
https://www.montanadragonboat.com.
Kalispell, Mont., is the gateway to Glacier National Park, Flathead Lake, Whitefish and all of the recreation, art, shopping and adventure that northwestern Montana has to offer. Plopped in the center of the Flathead Valley, it's an easy drive to the park entrance, the art galleries of Bigfork or the water-sports mecca of Flathead Lake.
https://www.discoverkalispell.com
---
Summer is Here and It's Hot as Hell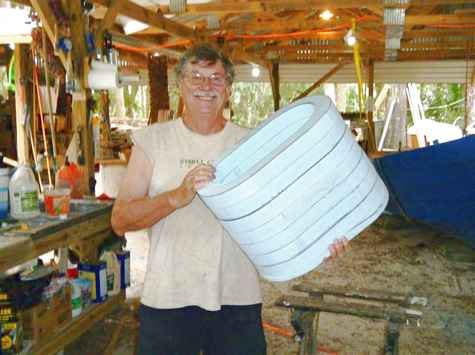 Dave and the Some Stack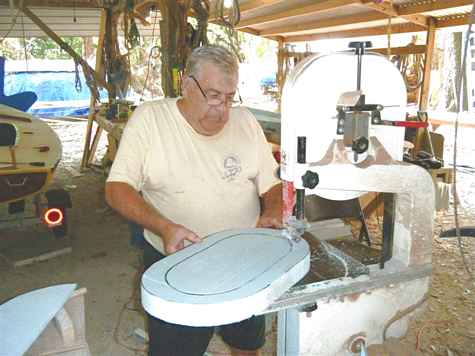 Howard and the Smoke Stack
You can see from the pictures that we've switched to our summer uniforms here at the shop. First is me holding my smoke stack, Yep a smoke stack. You know that I'm putting everything including the kitchen sink in Helen Marie. Howard came down to the hut yesterday all excited because he'd thought of something I was missing that was absolutely essential. The longer we sat around discussing the merits of a stack the better it sounded. Some of the uses could be; a water tank to warm up shower water or a small garden plot or a place to put my family crest but the best was to put a smoke machine inside and even better a bubble machine like Lawrence Welk. I'll glass it all up and stick it on once we're out of the shop. Neat huh?
David Lucas Lucas Boatworks and Happy Hour Club
---
Bolger Microtrawler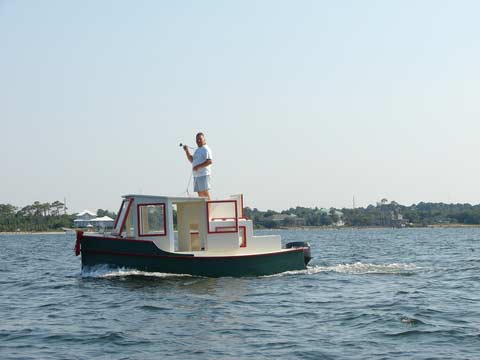 Here's a picture of me showboating & tooting my own horn (bicycle horn). I had tied a line to the steering wheel and then routed it over the top of the boat and back to the steering wheel. I then stood on the top and took pictures of the boats in the Florida-120 as I overtook them.
I have an article coming soon.
Pat Johnson
---
Saturday on the River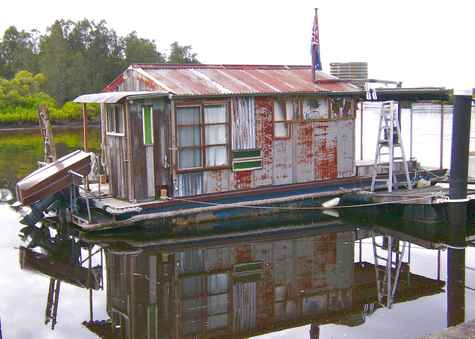 Chuck, thought this might be of interest. This little beauty is newly arrived at the Tea Gardens marina. You know, the one that has the 'NO WOODEN BOATS' sign. She wouldn't let me buy it! Can't think why? It's got a toilet which was the objection to the Bolger folding schooner. Oh well.
---
Albin Trawler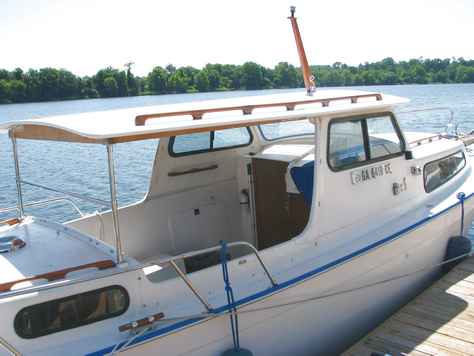 Here is a photo of the top I built for my Albin trawler. I finally elected to use 3M 5200 to stick it down, plus bolts and screws through the railings. Thanks for your great advice through the process and for your excellent products.
John
---
Kayak
Moved to Cicinnati! Got the Kayak sailor and love it.
Steve Willard
---