EC PDR
I put the name on the EC PDRacer using waterproof inkjet labels. I also put the names of my sponsors and have attached photos.
Scott Widmier
---
---
The Texas200 and the American Cancer Society
Please forgive the off-topic nature of this post, but I know that some of you guys have participated in the Texas200, so I wanted to give you a heads up on this.
I recently got permission from Chuck and the other board members to set up this year's Texas200 as an American Cancer Society fundraising event. The idea is that Tx200 participants who feel moved to do so can join the team and work with us to raise money for ACS as a part of the Texas200.
This works like the Relay for Life where you solicit donations from friends and family using the event as a focal point, then participate in the event to "earn" what they have donated. The web page is easy to use for online donations and there is a form to use for cash donations that are mailed in. You don't have to finish (really, you don't have to even show up), but we are encouraging team members to do at least part of the 200.
The Texas200 is a life-changing event for some of us. This year, we hope to help change the lives of others. Because many of us have been touched by cancer in some way, we've decided to show our support and make a difference by forming a team to support the American Cancer Society's lifesaving work in research, education, advocacy, and patient services. Clicking on the link below will take you to the Texas200 Team page, where you can join our Team or donate if you are so inclined. We appreciate your support, and hope you will join us!
Chuck P
Here's the link!
---
Jonboat
| | |
| --- | --- |
| | Making progress true 1660 jonboat - will send pics when complete. |
Keith
---
Helen Marie
Helen Marie is really starting to look like she may get finished after all. With a little help from my friends things get done fast. Rub rails going on, hand rail for up top getting pre bent, all the bright work getting a finish, a coat of primer on the cabin (the hull will also be white ) Another month or so and we see if we can drag her out of the shop.
https://dory-man.blogspot.com.au
Dave Lucas
---
Sydney Opera House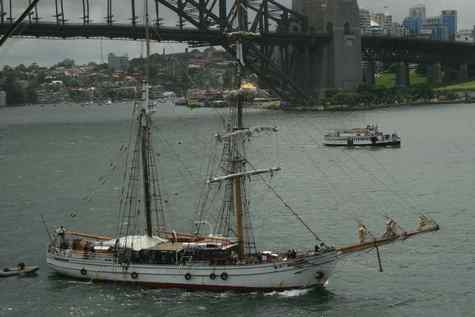 Taken in Sydney (from the opera House) on a fine day.
Stewart
---
Tolman 26' 8"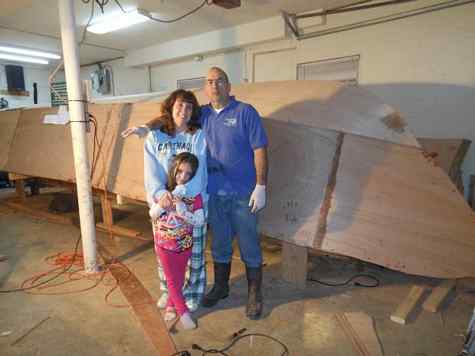 I'm 27 days into picking up my kit from Salt Water Workshop in Maine.
I'm in the (town) North East Md (Maryland) if any builders are interested.
After all was said and done, and I cut off the excess parts I had, the boat will be 26' 8 inches.
Im putting on a Honda BF 150 HP engine.
Dave
---
Tsunami Barely A Ripple, Compared to Soliton
Terrorists generate monster killer waves in new Roger Marshall thriller
JAMESTOWN, RHODE ISLAND (USA) – There are giant waves lurking at sea, they just don't come ashore very often, according to a report by the European Space Agency. A high tide comes ashore in a Maine port, raising boats and then disappearing.
Then a giant wave, known as a Soliton, washes ashore and destroys part of a fleet of sailing yachts racing to Bermuda, killing Kate James' husband of four months along with thousands of other people. Kate sets out to find out what caused the waves and why a single giant wave could cause so much damage.
What Kate James finds in Soliton, the new thriller from nautical author Roger Marshall, is a sinister plot aimed at eliminating a large part of the world's population and putting its resources under the control of a small cabal. Kate travels to England, the Caribbean and back to the US tracking giant killer waves - and the entity behind them. In a shattering climax, Kate and an old beau escape capture by the terrorists and set out to gain control of the largest of a fleet of wave-creating terror ships - just as the cabal are about to unleash a devastating string of solitons on an unsuspecting world.
Soliton has been published as an e-book (ISBN 978-0-9849713-0-5). Price: US $3.99. The Kindle edition is available from Amazon.com.
Download chapter 1 of Soliton: www.homeportmarine.com/news/rogermarshall/chapter1.pdf
---
Sea Tow Foundation Life Jacket Grant Program Reports Third Successful Year
More Than 11,000 Boaters Participated in the Nonprofit Boating Safety Program in 2011
Southold, NY - January 27, 2012 - The Sea Tow Foundation, a 501 [c] [3] nonprofit organization, announced it has finalized the grant report for its successful Life Jacket Program for 2011, its third consecutive year of funding through the Sport Fish Restoration and the Boating Trust Fund, as administered by the U. S. Coast Guard. The funding allowed for 2,901 life jackets to be purchased from Revere Supply Company in the fall of 2010 and distributed to Sea Tow Captains in 36 locations in 14 states across the U. S. in preparation for the 2011 boating season. As in previous years, boaters were encouraged to borrow these "loaner" life jackets at no cost and to return them at the end of the day, so that they would be available for others to use.
The Sea Tow Captains who participated in the program reported that at least 11,066 boaters were able to use the life jackets in 2011. This means each life jacket was used by at least three people, and many of these PFDs are still in use today.
"While it is impossible to know for certain how many lives are saved by boaters wearing life jackets each year, just knowing that more than 11,000 boaters who needed a life jacket were able to borrow one from the Sea Tow Foundation Program last year makes all the hard work and planning worth it," said Gail Kulp, Sea Tow Foundation's Executive Director. "Each year, the program has built on the efforts we've made in the previous year, and we are happy that in just three years, we've been able to increase life jacket wear by a significant number of "at-risk" boaters."
The Sea Tow Foundation Life Jacket Grant Program targets boaters deemed to be at a higher risk of accidental drowning based on a number of characteristics, including their age and the type of activity they are engaged in, such as boating at night or in bad weather. Boaters can access the Sea Tow Foundation Program jackets in a variety of different ways. In many waterfront communities, life jacket loaner stands have been placed in convenient locations such as marinas and boat ramps. Sea Tow Captains keep them on their boats, available for use during their towing and marine assistance duties when they encounter boaters without the required number of life jackets onboard. Many Sea Tow Captains also provide the life jackets to their local marine law enforcement officers for use in emergency situations. In addition, Sea Tow Foundation life jackets have been used for demonstration purposes at boat shows and other special events, and on the water by summer boating camps, school groups, boat parades, fishing tournaments, and water clean-up events.
Boaters give a variety of reasons for choosing not to use life jackets on or near the water. Some say they find it difficult to find the correct sizes, especially for their children, due to growth spurts. Another common reason is that boaters often have unexpected guests on board and don't have enough life jackets to accommodate them.
"Regardless of the reason boaters need them, Sea Tow Foundation Life Jackets will continue to be available for boaters and other water-sports enthusiasts to borrow in the 2012 boating season," said Kulp. "The Sea Tow Foundation is already hard at work on our fourth year of grant funding for the program. We look forward to continuing our efforts to spread the word about the importance of life jacket use, and offering the life jackets themselves to back it up."
About the Sea Tow Foundation
In 2007, Sea Tow Founder & CEO Capt. Joe Frohnhoefer created the Sea Tow Foundation – a 501(c)(3) nonprofit organization – to promote safe boating practices. The Foundation's goal is to reduce accidents, fatalities and property damage related to recreational boating. For more information, visit boatingsafety.com.
About Sea Tow:
Sea Tow Services International Inc. is the nation's leading marine assistance provider. Founded in 1983 by Founder & CEO Capt. Joe Frohnhoefer, Sea Tow now serves over 160,000 members in more than 106 locations throughout the United States, Europe, Australia, U.S. Virgin Islands and Puerto Rico. For a full list of membership benefits, or to inquire about becoming a Sea Tow franchise owner, please visit seatow.com.
---
Product of the Week: Space-Saving Aquatic AV Speakers
Share this product news | Find on Facebook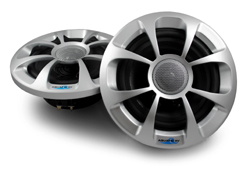 New 7.5-inch speakers from marine audio systems manufacturer Aquatic AV need just 65mm mounting depth, but will deliver the same crystal-clear sound as speakers needing much more space on board. The fully waterproof, UV and salt-resistant two-way speakers (model number AQ-SPK7.5) are rated at 100-watt maximum power output (50-watt RMS) with a frequency response of 80Hz-20kHz, which will clearly reproduce all types of music at the lowest and highest volume levels. Available with a classic white grill or silver sport style grill (shown). Stainless steel mounting hardware included. MSRP US $119.99 (white) and $149.99 (silver).
More info: www.aquaticav.com
---
Kannad Marine SafeLink R10 SRS Named
Overall Winner of 2012 Pittman Innovation Awards
See Now at SAIL Magazine's Innovation Station - Strictly Sail Chicago
McMurdo Ltd, a company of the Orolia Group (NYSE Alternext Paris – FR0010501015 – ALORO) today announced that its Kannad Marine SafeLink R10 SRS (Survivor Recovery System) has been selected as the Overall Winner of the 2012 Pittman Innovation Awards. The Pittman Innovation Awards are named in honor of Freeman K. Pittman, SAIL magazine's technical editor for 14 years, who died in 1996 from ALS (also known as Lou Gehrig's Disease).
This is the first year an Overall Winner of the Pittman Awards has been selected by the judges. The judging panel recognized that the SafeLink R10 was "the perfect man-overboard product" and commented on how the integration of AIS and GPS in to a personal distress beacon is a significant innovation in sailing safety. On this basis the panel agreed that the R10 topped a strong field of contenders.
The R10 SRS can be seen this weekend at SAIL Magazine's Innovation Station at Strictly Sail Chicago.
The SafeLink R10 is worn on a lifejacket and activated by sliding off the safety tab and lifting an arming cap to deploy the antenna. The compact, lightweight unit sends alert messages, GPS position and a special identity code directly to AIS receivers within approximately a four mile radius. A unique, built-in, high precision GPS receiver - which updates every 60 seconds – assures accuracy of the transmitted data. With precise location, distance and bearing data, fellow crew members (and nearby AIS-enabled receivers) receive all the information they need to locate the position of the person in difficulty and to enable a speedy recovery.
The R10 SRS can also be fitted to a lifejacket and a flashing LED light aids location at night. The R10 SRS will transmit continuously for up to 24 hours and has a seven year battery storage life. It is made of ultra durable ABS and is waterproof to five meters.
For more information about the SafeLink R10 SRS and other Kannad Marine emergency location products, visitwww.kannadmarine.com.
This device has not been authorized as required by the rules of the Federal Communications Commission. This device is not and may not be offered for sale or lease, or sold or leased until authorization is obtained.
---
SeaSense® by Unified Marine Announces
Spring Launch of National Product Pricing Program
Featuring an Unprecedented Combination of Value and Quality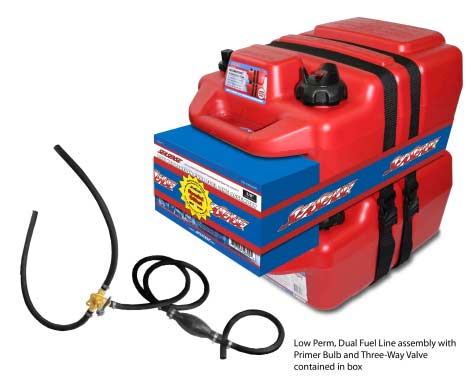 BONITA SPRINGS, FL—February 14, 2012—Leading marine accessories manufacturer SeaSense® by Unified Marine announces plans for a special National Product Pricing Program timed to launch in April – the start of the boating season in much of the country. The promotion, which will run four times during 2012, will feature groupings of specially priced, Value Packaged SeaSense products.
"These are innovative, new patented or patent-pending items; most of which have been developed over the last two years by our dedicated research and development team," said David Nirenberg, president and CEO of Unified Marine, makers of the SeaSense brand. "They are a testament to our ongoing commitment to develop new and exciting boating products, as was evidenced by the opening last year of our new Bonita Springs, Florida, R&D facility."
Each product grouping will be offered for 30 days and be available nationally through select marine retail, online and sporting goods outlets. Boaters also will receive a 10-percent rebate coupon good on their next SeaSense product purchase.
Sea Tow Trial Membership
A free 60-day Sea Tow membership also will be offered with each SeaSense product warranty registration.
"We are excited to include a Sea Tow membership in this unique program offering discounts and benefits to boaters," said Nirenberg. "With our Lifetime Limited Warranty*, combined with the market-leading on-water assistance available to boaters through a Sea Tow membership, this program will provide boaters with more confidence and peace of mind while on the water. It also will make SeaSense's high-quality products available to them at a lower price than ever before."
Opportunity for retailers
The SeaSense National Product Pricing Program represents a unique opportunity for retailers looking to drive more traffic into their showrooms this spring and during peak boating periods.
 "We know boaters will be excited about these product offerings, which will be available at special prices to help drive sales to participating retail outlets," Nirenberg said. "This will be an unprecedented promotion with national reach and scope."
Value Packaged items will include:
Patent-Pending LED Rod Holder Rings with Two Stainless Steel Rod Holders
Patent-Pending LED Cup Holder Rings with Two Stainless Steel Cup Holders
Patented LoadMate® Trailer Kit
Patent-Pending Electronic Bilge Pump Switch with 800-GPH Bilge Pump
Two Patented SecureStack® 6-gallon Plastic O/B Gas Tanks, Low Perm, EPA-Approved with Connector, Hose Kit and Straps
For more information, or to offer this special program at your retail facility, contact Dave Thomas, SeaSense Vice President of Sales & Marketing, at: 919-781-7529; dthomas@seasense.com, or visit www.seasense.com.
About the SeaSense Limited Lifetime Warranty
SeaSense's Limited Lifetime Warranty has set a new industry standard. The first limited lifetime warranty in the marine industry to cover a manufacturer's entire product line*, it bears the tagline: "No Hassles, No Dealer Receipts, and No Worries". It proves once again that SeaSense is an innovation leader who stands behind every product it sells.
About Unified Marine/SeaSense
Unified Marine, Inc. has been developing quality marine and trailer products since 1984, spending more than a quarter of a century bringing innovative award-winning products to market while also rigorously testing and improving its entire line. The end result is that Unified Marine offers the boating industry's best products, prices and warranties. For more information regarding our products visit www.seasense.com, or call 800-282-8725 begin_of_the_skype_highlighting.
*Excludes Boat Covers & Boat Seats. The limited warranty for each product lasts for the stated number of years listed with each which is the lifespan of the specific product, starting from the date of your purchase. Please visit our website for full disclosure.
About Sea Tow
Sea Tow Services International Inc. is the nation's leading on-water assistance provider. Established in 1983 by Founder & CEO Capt. Joe Frohnhoefer, Sea Tow now serves members in more than 100 locations throughout the United States, Europe, Australia, U.S. Virgin Islands and Puerto Rico. For a full list of membership benefits, or to inquire about becoming a Sea Tow franchise owner, please visit seatow.com.
---
The Latest News From Purgatory Cove Fish Dock & Marina – Life in a slow marina!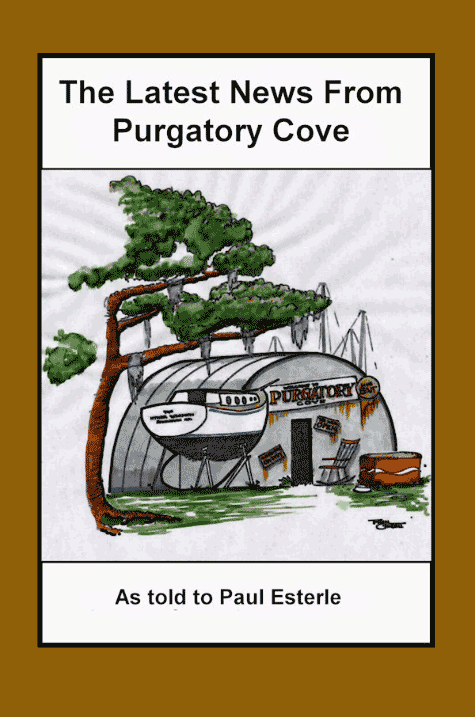 "The Latest News From Purgatory Cove" by Paul Esterle gives a humorous look at life in a (fictional, mostly) down-to-earth (some say down at the heels) backwater marina.
NEWARK, DELAWARE February 20, 2012 – Paul Esterle recounts life in a less-than-perfect marina. Distilled from years of his habituating all kinds of marinas and boat docks, it pokes fun at all types of boaters, sailors and power boaters, as well as the proprietors of Purgatory Cove Fish Dock & Marina.
As the book's introduction puts it:
"Somewhere on the east coast lies the town of Paradise Cove. It's an old timey kind of place with the feel of a waterman's town, although fishing and crabbing are no longer much of a livelihood around these parts. Folks around here do still have that independent spirit and a dislike for new things (and people).
Now the town has only two main industries, if you care to call them that; the Apex Fertilizer Company and Purgatory Cove Fish Dock & Marina. Of the two, Purgatory Cove can claim to have been here the longest. Originally founded by Sam's dad before the Second World War, it is currently run by Sam, Lefty and Wade.
Purgatory Cove staggers along from year to year. They sell some gas, sell some bait, fix some boats and run the marina as they see fit. This is to say, not very energetically or profitably. Sam comes up with a wild scheme to make money from time to time but they don't usually amount to much.
They do have an almost legendary, or at least infamous, cadre of customers who keep coming back year after year to suffer abuse from Sam and bungling ineptitude from Lefty and Wade. They're not mean-spirited, just not your highly driven, type A personalities. In fact, Sam calls them type Z personalities, if you get my drift."
"The Latest News From Purgatory Cove" is available online at https://www.lulu.com/spotlight/captnpauley in both hard copy ($15.95) and downloadable ($8.95) formats. It is illustrated with pen-and-ink sketches by Eileen Slifer and will soon join other books by Mr. Esterle on iTunes.
About the Author
Paul Esterle is Technical Editor of Small Craft Advisor and a prolific freelance writer covering boating "How-to" and "Do It Yourself" articles for many major boating magazines. He boats on the upper Chesapeake Bay where he maintains his motley fleet of classic fiberglass boats.
Paul Esterle
Email: pesterle@comcast.net
Websites: https://www.captnpauley.com                        https://www.thevirtualboatyard.com
---
New McMurdo Smartfind S10 AIS Beacon
at 2012 Miami International Boat Show 
See at booth O 65, Miami Beach Convention Center, February 16-20
Les Ulis 07 02 12 – Orolia (NYSE Alternext Paris – FR0010501015 – ALORO)
announces today via its subsidiary MCMURDO:
Leading brand of emergency location beacons McMurdo will be exhibiting the Smartfind S10 Automatic Identification System (AIS) Beacon at the 2012 Miami International Boat Show, February 16-20 at the Miami Beach Convention Center (booth O 65).
When manually activated, the Smartfind S10 uses AIS and GPS technology to give precise location information to aid the recovery of people in difficulty at sea.
Waterproof to 60 meters, buoyant and compact, this unique device can make all the difference in a localized search situation. The chances of being rescued are greatly increased thanks to its ability to transmit both AIS and GPS data to the vessel the individual has come from and to other AIS equipped vessels within a four mile radius.
The Smartfind S10 AIS Beacon features a built-in GPS receiver and transmits target survivor information, including structured alert messages, GPS position information and a unique identity number. Bearing and distance information is accurately transmitted and displayed on the AIS receiver or plotter screen, giving potential rescuers all the information they require to carry out swift retrieval of an individual.
The Smartfind S10 AIS Beacon will transmit continuously for a minimum of 24 hours, regularly update position information, and has a five year battery storage life. The beacon also features a flashing LED light to assist with visual fixing and night-time location. With a simple two-stage manual activation, the beacon is easy to activate even when wearing gloves.
For more information about the Smartfind S10 AIS and other McMurdo products, visit booth O 65 at the 2012 Miami International Boat Show or www.mcmurdo.co.uk.