Caprice Progress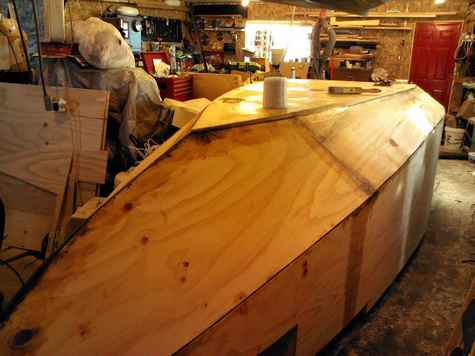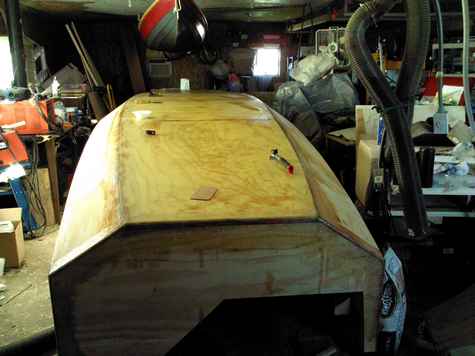 Here are a couple of pics of my Caprice progress. I'm hoping to be ready to flip sometime in April. Thanks to Max's book I'll be powering it with a classic 10 hp '58 Evinrude, and the sails from a Polysails kit. The cabin is a little taller (3" if I remember right) than the plans specify because I couldn't bring myself to cut off the excess plywood. So I'll see how much some extra headroom costs me in windage.
Lucas Suthers
Monroe, WI
---
---
Izzy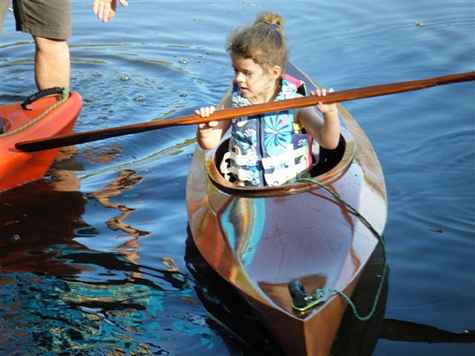 Cathy and Lance brought Izzy over on Sunday to try out her new kayak. She's four years old and took right to it like a pro. She started moving her arms around and soon discovered what made the boat go. You can see from the shine on the boat what a crappie job Lance did building it. This is the one he finished in the guest bedroom. Anything for a granddaughter.
*****
Stan made another sail for his Puddle Duck and this may to last. It's huge and makes the little boat fly. There was a police boat in the river Sunday and here he is after Stan for speeding in a no wake zone. I'm including two web sites for you to click on to see more of Stan and some of the other activities from last weekend. Lenna did these for us. I wondered why she was standing right next to me while I was talking about Stan. When you're looking at her site you can click on the colored words to go to the links about them.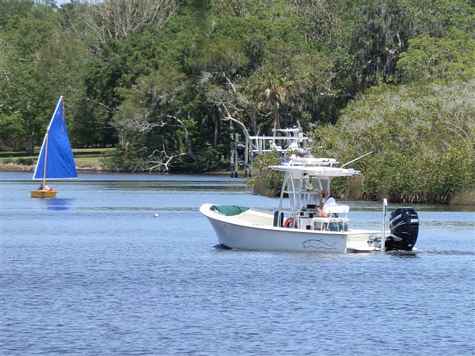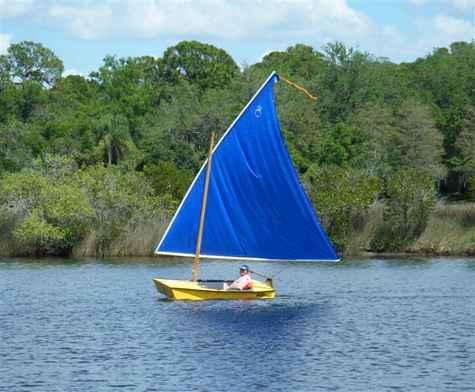 Shortcut to Lenna's video of Stan's PDR:  
Dave Lucas
---
POCKET YACHT PALOOZA-- MAY 19 IN PORT TOWNSEND, WA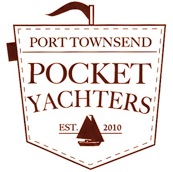 The Puget Sound area has a number of successful, long-running boat shows focused on traditional watercraft, but all of them - including the Port Townsend Wooden Boat Festival and Lake Union Wooden Boat Festival in Seattle - are somewhat focused on larger yachts and sailboats. While owners of smaller boats love participating in the big festivals, members of the Port Townsend Pocket Yachters group, and attendees registered for the town's first Small Craft Skills Academy will gather together on Saturday, May 21, for the first-ever Pocket Yacht Palooza, a one-day celebration of traditional small rowing and sailing craft to be held at the Northwest Maritime Center in Port Townsend. This will be the first time, at least in the Northwest, where a boat show will focus exclusively on smaller watercraft.
The show, co-sponsored by the PT Pocket Yachters and Small Craft Skills Academy, will run from 10 a. m. to 4 p. m., with some boats displayed on trailers at the NWMC and others viewed on the beach in from the of Maritime Center. Following the Pocket Yacht Palooza, Howard Rice will offer an illustrated talk on his adventurous sailing-Klepper expedition around Cape Horn - both directions. (The talk will take place at Northwest Maritime Center at 7 p. m. on May 19th and is open to the public).
The following day, May 20, the four-day Small Craft Skills Academy will begin at NWMC, with an optional three-day small-craft cruise scheduled for May 24-26.
If you would like to display your small rowing or sailing craft at the Pocket Yacht Palooza, please check the Port Townsend Pocket Yachters website for details: www.pocketyachters.com More details on check-in times, parking of tow vehicles, and the festive Port Townsend Rhododendron Parade that will also take place on May 19, are available by contacting event coordinator Marty Loken by e-mail: Marty@islandboatshop.com
Howard Rice
Facilitator Small Craft Skills Academy
---
 Pitcairn Island as a Port of Call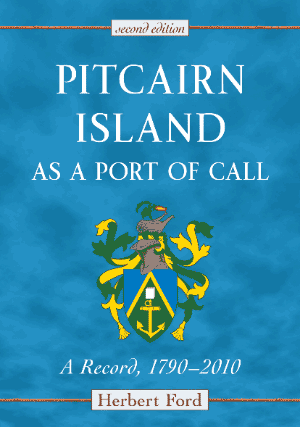 A Record, 1790–2010, 2d ed.
371 pages $75 softcover (7 × 10) ISBN 978-0-7864-6604-7 2012
38 photos, bibliography, index Ebook ISBN 978-0-7864-8822-3
"The most used reference book in my library. It is full of interesting facts, stories and recollections"-David Ransom, Editor, The UK Log; "Previous editions of this work have been an invaluable tool. ... It has been especially useful for philatelists, as it is the only source available to verify the veracity of postal history."-Steve Pendleton, editor, Pitcairn Log; "Indispensable for anyone interested in the social and economic history of Pitcairn Island, the mutiny on H. M. S. Bounty, or maritime history in general. ... valuable not only for serious research, but as a source of delight for the armchair traveler."-Donald A. Maxton, author of The Mutiny on H. M. S. Bounty: A Guide to Nonfiction, Fiction, Poetry, Films, Articles, and Music.
Pitcairn Island is arguably the most isolated inhabited spot on Earth. Yet despite tricky ocean currents, oft-times lethal surf, and sudden gales off its coast, the island's standing as the home of the descendants of Fletcher Christian and his mutineer cohorts from H. M. S. Bounty has drawn thousands of ships to its shores. This maritime history of the island chronicles every ship that has called at Pitcairn from the time of the arrival of the mutineers in 1790 to December 2010. The ship's log format lists the date of each call, the ship's name and particulars, and brief reports of activities during the call, which often include matters of love, murder, survival, intrigue, shipwreck, romance, and much more. Since Pitcairn remains totally dependent on ships for its survival, this work represents the most thorough history of the island and its people. Herbert Ford, founder and director of the Pitcairn Islands Study Center at Pacific Union College in California, is the author of 11 books and more than 100 magazine articles.
The book is available at Amazon.
Herbert Ford
---
Keuka Whaler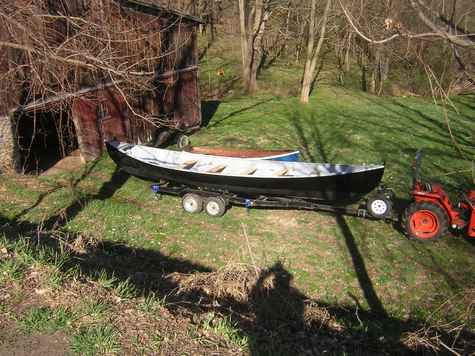 The Keuka Whaler will launch at the NYS Keuka Park boat launch on 6/16 noon. Any interested potential whalers are invited to attend.
Craig Hohm
---
Sampan
I understand some of the constraints of time & money on museums: back in the late 70's I tried to give my Bangladesh sampan (two photos attached of it on my Chesapeake tributary, in the 70's) to the Maritime Museum in Norfolk, Va but they had to decline - they already had a somewhat similar (chunkier, less graceful, heavier scantlings) Bangladesh boat which I took to be a cargo lighter, and mine to be a passenger boat. They just didn't have room.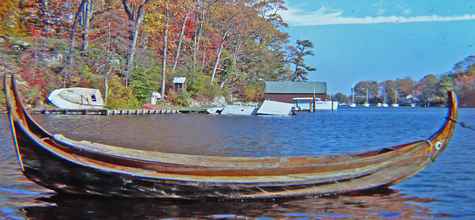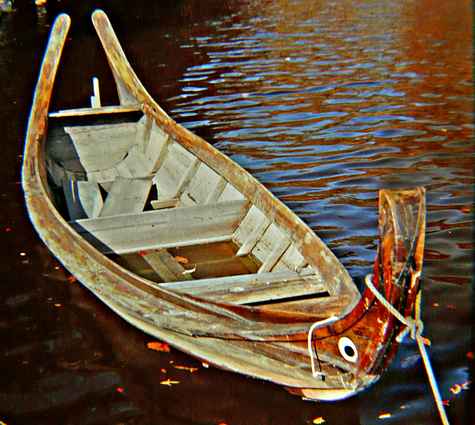 Sadly, it's in a lot poorer shape now in my little barn here in CA.
Erik
---
New Boat Build Blog
Working on something new. A skin on frame recreational rowing boat.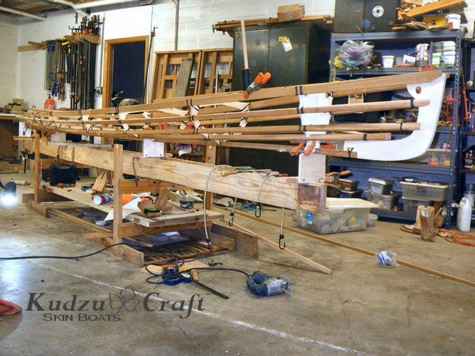 I took one of my previous designs and made it more like a scull. Added a deck with coamings instead of an open boat. Lowered the profile while trying to keep some traditional styling in the boat. Since this is for exercise and recreation, I wanted to have some stability so you want to stop and drink some water or grab a snack you could. Length long enough to take advantage of the sliding seat. It's for use on protected water and but I kept the bow tall enough that it can deal with some chop too. I crown the decks to divert water off to the sides just in case. 

I am also working on a design for a simple to build wooden drop in rowing unit. I am expecting rigged and ready to go well under 50 lbs and material costs well $350-450.
---
Helen Marie
My Helen Marie is finally starting to look like a boat at last. These colors came out perfect for a boat of this vintage. When she gets all the windows and trim installed she'll really look great. I did use acrylic latex paint and it does shine. Actually this particular paint is called a marine coating and not paint. It's from Sherwin Williams and is pretty pricy, $100 a gallon. To get it to shine and have it come out really smooth I sprayed it on in several thin coats. Yes you can spray latex paint. In fact Harbor Freight sells a cheapo paint sprayer that's especially for latex, costs about twenty bucks, uses 50 psi max and does a good job once you figure it out. If you do this make sure you practice using water first and turn all of the adjustments to see what happens. Or you can just go straight to the real paint and get ready to do a lot of wiping off running paint. And clean up is easy, just rinse out the jar and fill it up with water, spray and shake the hell out of it and that's about it.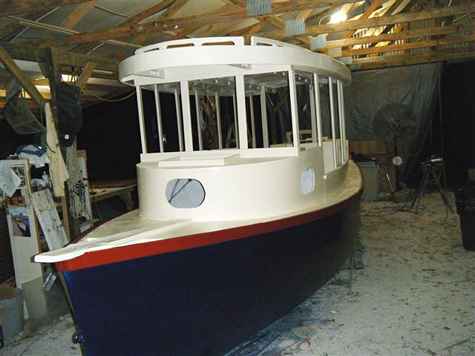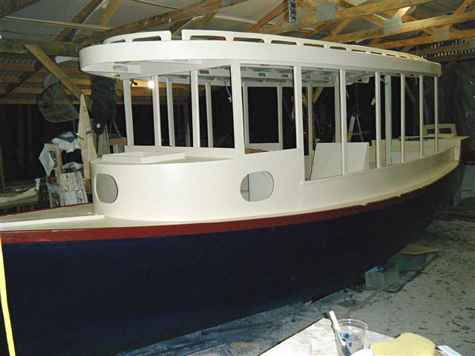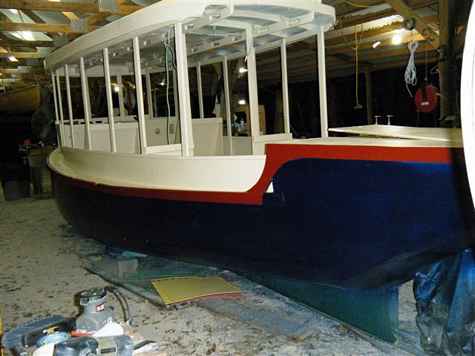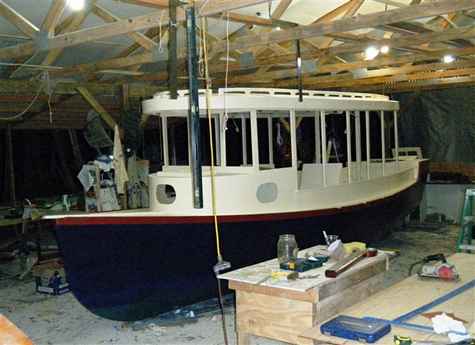 https://www.breenboats.com/boat_tolka.html#nogo
Dave Lucas
Lucas Boatworks and Happy Hour Club
---
TROJAN BATTERY LAUNCHES VIDEO TUTORIAL SERIES TO EXPAND UNDERSTANDING OF DEEP-CYCLE BATTERY TECHNOLOGIES, MAINTENANCE AND SAFETY
Santa Fe Springs, Calif., April 11, 2012 - Trojan Battery Company, the world's leading manufacturer of deep-cycle batteries, today launched "Trojan Tips," its video tutorial series created to provide in-depth information focusing on a variety of battery topics such as deep-cycle battery technologies, maintenance practices, charging procedures and safety when handling batteries. "Trojan Tips" is designed to expand awareness of deep-cycle battery technology.
The first "Trojan Tips" video tutorial can be viewed at https://www.trojanbattery.com
A new "Trojan Tips" video tutorial will premiere each month throughout 2012 on the Trojan Battery corporate Web site. The first "Trojan Tips" video, which debuts today, reviews the various battery technologies available on the market today, and what to consider when selecting a battery for a particular application. The public, as well as Trojan distributors, dealers and customers can log onto the Trojan Web site to view the video tutorials and learn more about a variety of deep-cycle battery topics.
"One of the most important features of electrically powered equipment, and probably one of the most ignored, is the battery," said Vicki Hall, Trojan's director of quality and technical services, and host of the "Trojan Tips" educational series. "The battery is the heart of any piece of electric equipment that relies on batteries for power. When a battery fails in a golf car, scissor lift or floor cleaning machine for example, it can make or break a day on the course or impact profitability on the job site. Proper understanding of this technology and maintenance practices are key to getting the most out of a battery investment."
Trojan developed the "Trojan Tips" series to educate the public on a variety of important battery-related subjects that can positively impact the performance and longevity of deep-cycle batteries used to power electrical equipment. Topics such as selecting the right battery, maintenance techniques and appropriate charging and equalization guidelines are just a few of the issues that will be addressed during the video tutorial series.
---
2 Sheet Pirogue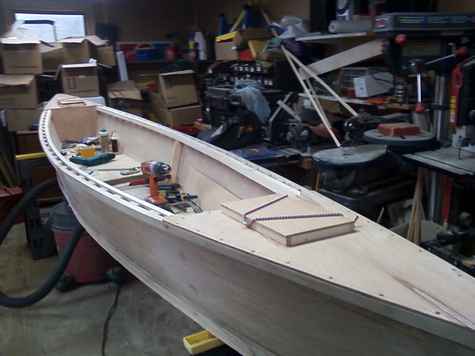 I have built a Pirogue using Robs dimensions and layout in his article in Duckworks. I made some changes to suit. However, his dimensions are right on. Of course he knows what he is doing.
Robert Whitaker
---
Sourcing Materials for a Skin on Frame Canoe
I recently sourced materials for a Skin on Frame Canoe by Jeff Horton called Tangerine and I thought I would share my research.
George Dyson seems the best for 8 oz polyester Dacron fabric 70 or 76" wide by one foot longer than the boat - Dyson, Baidarka & Co GDyson@gmail.com He does not have a website but just email him. I did find this old supply list online but he will send you a fresh one.
I could not find braided polyester sewing twine so I bought white spectra braid fishing line 60lb. I got mine from https://www.premiumfishing.com.au
Sinew for lashing is easy to find here: https://www.primitiveoriginals.com/70pounrolcol.html
Parafin Wax - Most grocery stores have this.
Hand Needles - Sailrite for the US/International and I went for ebay in Australia.
Stainless Steel or Monel staples. I got mine from Just Tools. Duckworks has these too but I don't have a compressor for air tools. I went for an electric staple gun also from Just Tools.
Hot knife - do an ebay search on 130W HEAVY DUTY HOT KNIFE or (USA Harbour Freight). This is a 120 volt knife.
1/2" Plywood. Awful hard to find at a good price. I went for Boatcraft Pacific near Brisbane, Australia as they deliver just about anywhere. Mister Plywood has Fijian Cedar exterior and hoop pine maine I think and they may deliver. Sharps in Brisbane has Lightweight Kokoda plywood but you have to arrange delivery yourself, at least for long distances, which is not easy. Bruynzeel have marine but they only local Sydney deliver so you have to arrange delivery yourself.
Paulownia Timber (Lightweight) - Whitewood (TYALGUM NSW 2484). John White. Grower and supplier. Arranges delivery. whitewood@ezweb.com.au. Nice helpful supplier. I bougth 75 x 50 and 140 x 40 to rip the stringers and gunnels myself.
Exterior Oil Paint - still looking for a cheaper source in Australia.
Maybe someone in the US or elsewhere will send me their research.
Mike John
I have just ordered these materials and have not received or tried them.
Thanks to Andrew Linn - his links got me started on this list.
---
David Grimm
You might be interested in this. A friend of mine, David Grimm, who was diagnosed with Stage 4 oral cancer a couple of years ago, has recovered enough from the treatment to go cruising. You may remember David as the guy who took some great pics of TX200 boats going past Port O'Connor on the final day of the 2009 event. He and his wife are blogging about the trip.
https://starwind22.blogspot.com
Before his cancer diagnosis, he was diagnosed with lupus. Here is his blog on that.
https://sailingwithlupus.blogspot.com
David is an inspiration to everyone who knows him. Both of these blogs are well worth the time spent.
Chuck P
---
Paddle
Steve continues to make his paddles more and more fancy. This one is his star field picture. It's really impressive in real life.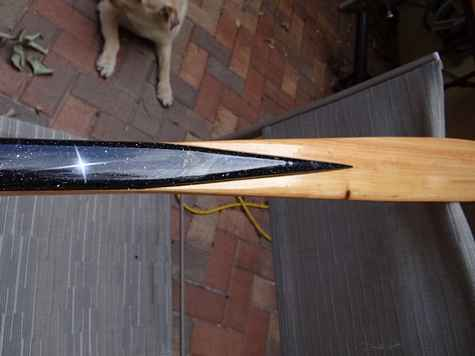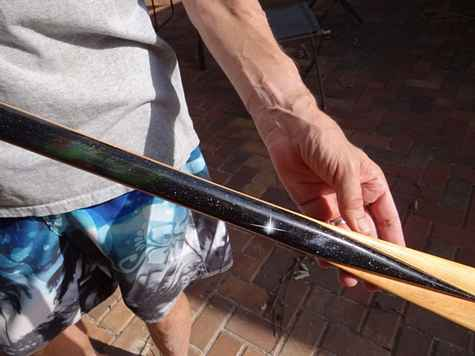 David Lucas
Lucas Boatworks and Happy Hour Club
---
Chris Tomsett and Stretched Sherpa
A couple of YouTube videos Chris's Sherpa sailing in very light air and him rowing it in no to little wind. We rowed together for a while and the speed of this capable boat is very good. After I took the rowing video, I handed him the oars to my Goat Island Skiff which where a little longer. He was able to increase his overall speed just a little with them.
JDG
---
Cruise Report
I just came back from a fantastic week in the Core Sound of the North Carolina outer banks with my wife in our AF3, Cream Cheese. In preparation, I did a number of upgrades that worked out really well; cuddy floorboards, cockpit thwarts, new mainsheet arrangement. outboard motor mount (reluctantly) and spar rails for storing oars, mast and boom on the cabin top. We had some great weather but also some thunderstorms, strong winds and even had to shoo off late night raccoons from the cockpit. One day, we slogged upwind for four hours in 20 to 30 mph winds (double reefed) and Cream Cheese surprised me with how well she handled it.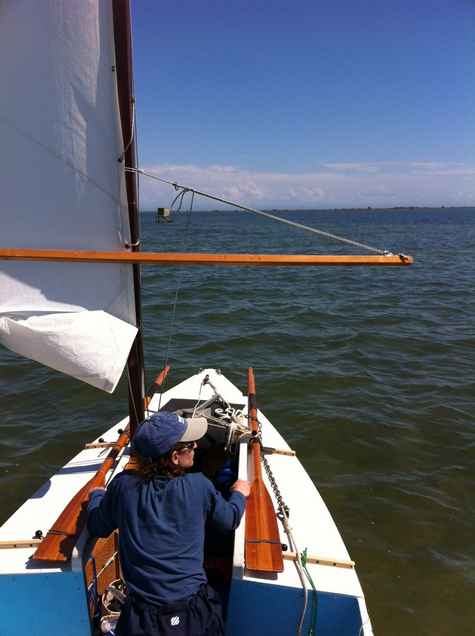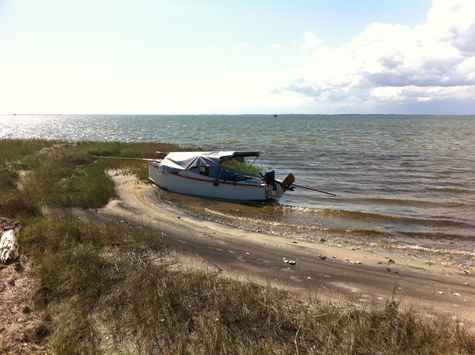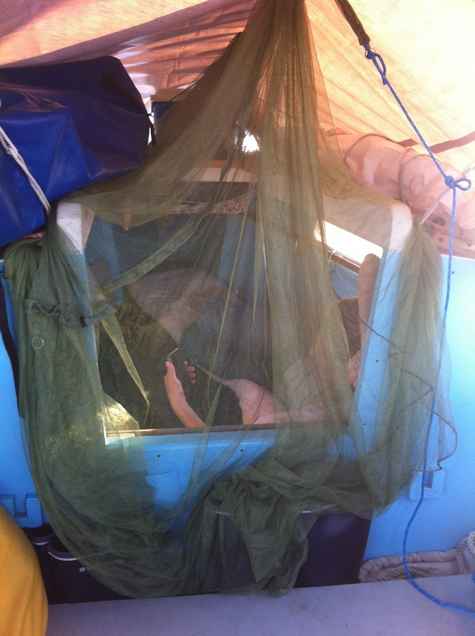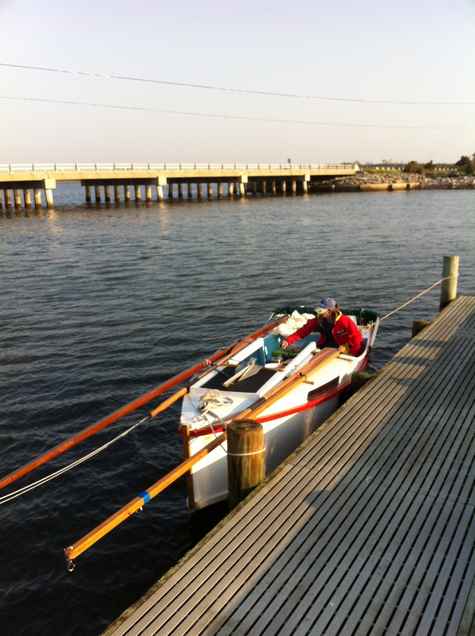 It was a great time! On our way back, we stopped by B&B Yacht Designs and had a very informative and fun chat with Graham Byrnes. I'm thinking about building the new cuddy version of his Core Sound 20 for my next project.
Frank
https://www.fsanmiguel.com/boat/
---
It's a Boat, No it's a car, It's?
Now there's something you don't see every day.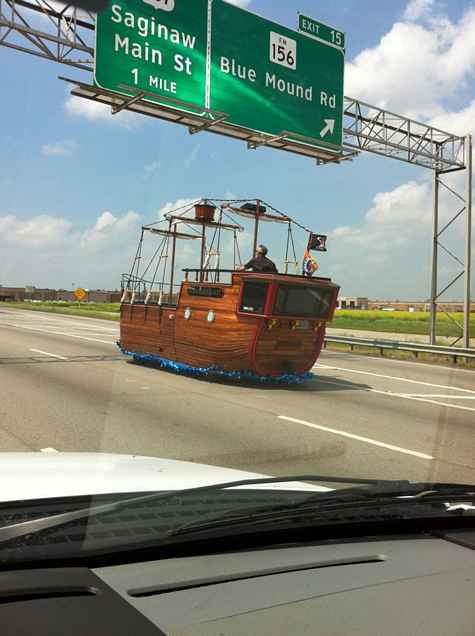 Andrew Linn
---
Lots Ait Open Day Invitation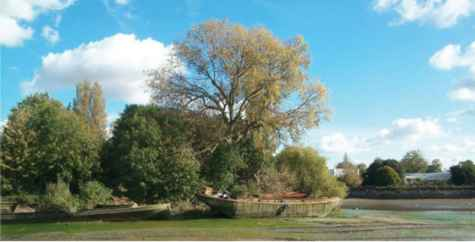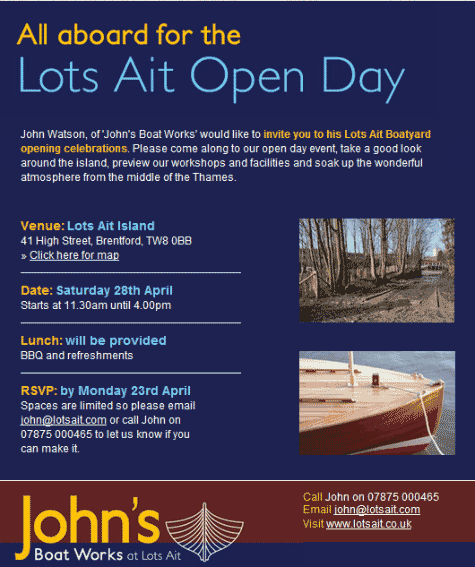 email john@lotsait.com
---
GOST™ EZ Tracker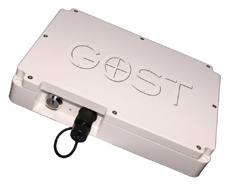 The new EZ Tracker 2.0 from GOST™ (Global Ocean Security Technologies – formerly Paradox Marine) provides global tracking and monitoring of recreational and commercial vessels and features an integral, long life rechargeable battery that will allow the unit to operate up to 180 days between charges.
Designed for continuous use where there is no external power source, the compact, portable terminal measures just 10in by 7in by 2in (247mm x 178mm x 48mm). When the sensor or panic button is activated the unit will generate an 'in alarm' message with the vessel name, latitude, longitude, speed & heading for four hours. The terminal incorporates magnetic feet in addition to fixed mounting points to provide greater flexibility to monitor transitory or fixed assets.
More info: www.gostglobal.com
---
PDRacer Hatch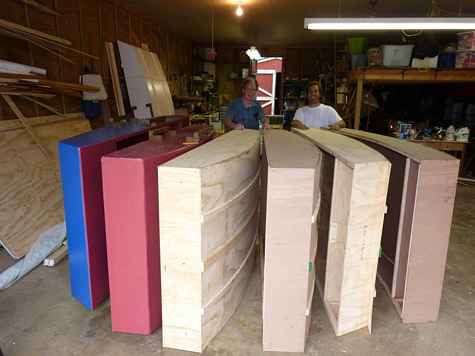 Here are the six newest hulls out of Indiana PA. The two finished ones are Ean Villemain's Eagle Scout project. Two of the others are a sailing club project at the local university. We launched six PDRs in Indiana last year. All told, John Bridges (in photo with G Smith, owner of the "boat shop") has helped get at least 40 or more built.
Ken Sherwood
---
New Online Tool to Make Exploring the Northwest's Maritime History Easy 
PORT TOWNSEND, WA  – A new Northwest maritime history web search tool makes it easy to find out where explorers first landed, where native canoes came ashore, where maritime artifacts are stored and where the region's nationally registered historic vessels are homeported. 
Sound Experience, the Northwest School of Wooden Boatbuilding, the Northwest Maritime Center and Wooden Boat Foundation, along with other members of the Pacific Northwest Maritime Heritage Council and the maritime news website Three Sheets Northwest, have jointly launched the Northwest Maritime Heritage site. The online resource allows users to quickly find all of the region's historic ships, lighthouses, maritime museums and events to help them explore the region's nautical past. 
"The new site at https://www.threesheetsnw.com/maritimeheritage will make it easier for patrons here at the NWMC to discover all the other amazing maritime heritage sites in our region, and learn more about our own organization," said Jake Beattie, Executive Director of the NWMC.  "This new effort, created with our fellow maritime museums, historic ships and other maritime sites, is designed to help better inform and educate the public about the Northwest's maritime history and at the same time use technology to help increase regional tourism."
---
Tolman Jumbo Skiff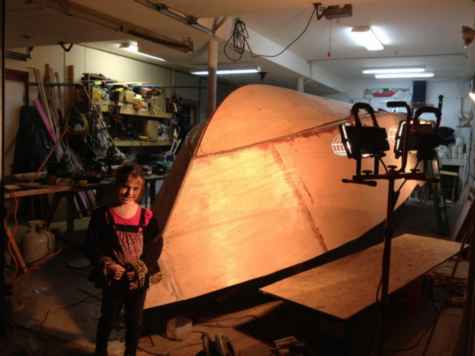 Here is an update for your readers. Based on some emails I got, duckworks is famous!!!
Hey we are glassing the Tolman Jumbo skiff now. She is 27 ft, 1 inch. We stretched it. It's the biggest Tolman Jumbo ever made. Hull flipping is in about two weeks, (40-50 more hours).
Dave Nolan, North East Md
---
Kevlar On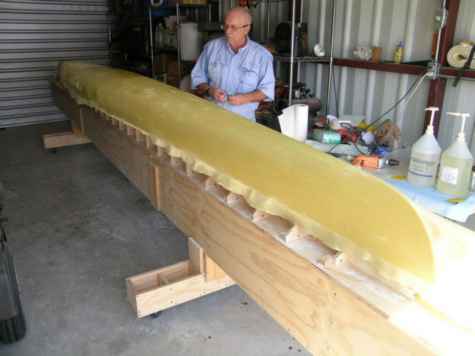 Here is a pic from this weekend with the Guru himself. Skip Johnson was nice enough to help me. This pic is with the Kevlar on. We later had fiberglass and peelply on it. Do you see the epoxy from Duckworks in the background?
I'll be working on making 5 cradle stations in the next couple of days so that I can pull the boat off and flip over. Then work on the inside begins.
Jeff