Tolman Jumbo Skiff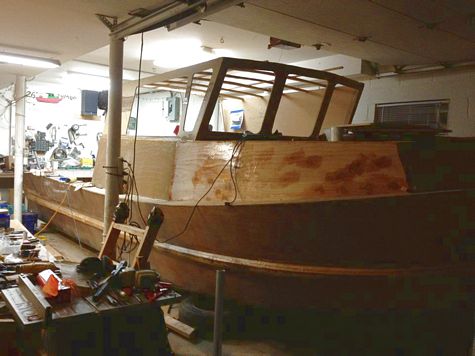 Here is the status of the Tolman Jumbo Skiff, now measured at 26'11". I went with forward leaning west coast style, as we don't see many of these out here on the East Coast.
I'm about 2/3 of the way done now. I'm building to a workboat standard, not the awl grip finish.
Dave Nolan, Northeast Md
---
---
Orange Beach, Alabama - Sailing Program
Our community Sailing Program, for which I am the Coordinator, is called Sail Camp and is our youth summer sailing program.
We have been doing Sail Camp since 2004. The program is for kids ages 9 - 14. We are currently raising funds to build a facility to house our program so that we can begin to expand on what we offer and when. Once the building is constructed, hopefully this fall, we'll begin to offer sailing instruction more than just in the summer and to more than just kids. We already have a person that is doing Adult classes on the weekends and we hope to expand more on that soon.
Jeanne Fitzgibbons, Office Manager & Sail Camp Coordinator
Orange Beach Parks & Recreation
---
Cardboard Boats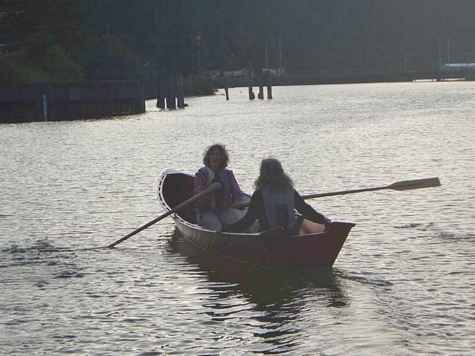 As most of you know, I manage the operations of a Community Boathouse in Toledo, Oregon. Toledo was a timber town and now has one mill, which makes container board - what we commonly call cardboard. They are sponsoring a Cardboard Boat Contest at the Toledo Wooden Boat Show this August 18-19 and we of the Boathouse are entering something as well.
There a bit of a scheduling conflict, so I won't be able to spend as much time on this as I'd need to do a something really cool, so we opted for the design from the Cardboard Boat Book.
We made the boats last Friday and Saturday, and now they just need 
painted. That's our whole plan for waterproofing: Lots and lots of paint.

You can see pics and commentary.
Andrew Linn
---
The Missing Link
This shows an unusual canoe boat probably the only one of its type. It is the evolution from boat to canoe or canoe to boat. The missing link if you like.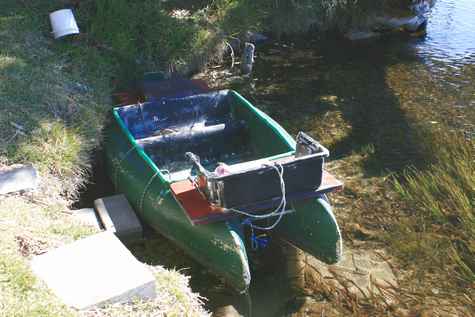 This is the new way canoeing is going in Australia. It has a whopping big 25hp engine and could have up to forty hp engine. It has ocean going capabilities as it is used to go wale watching up to four miles offshore from Sussex inlet.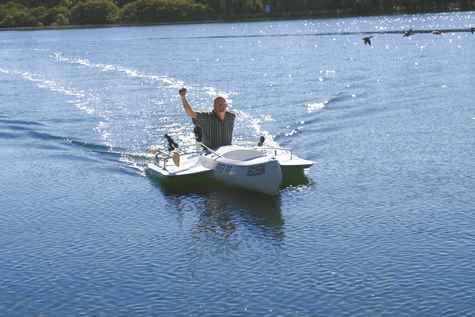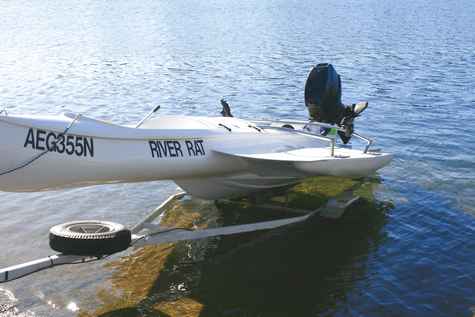 Stewart Strik
---
Crystal River Scow Hull Flip
They had all kinds of cables and ropes and winches and poles rigged up and they managed to turn this thing over with no damage and no injuries. When the 3000 pound hull was all the way up and past the tipping point it refused to go on over without a little help. After you look at the pictures click on this youtube link to see it in action. It wasn't suppose to be a nine minute video but you'll see why. It was a fun day in spite of the heat, not something you'll see very often.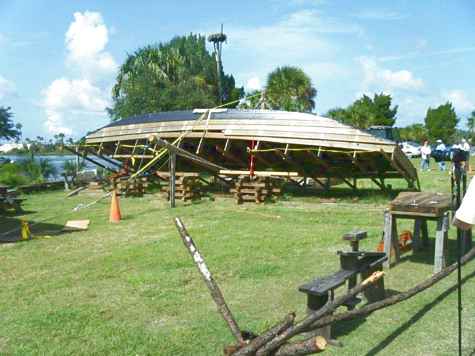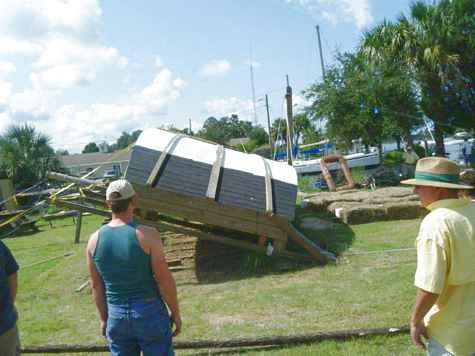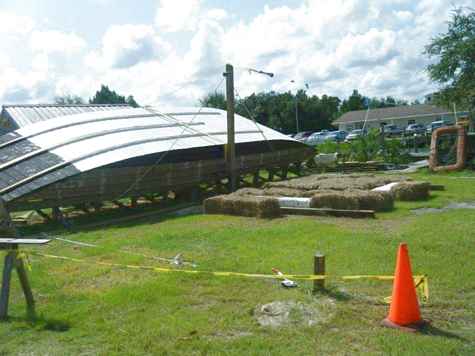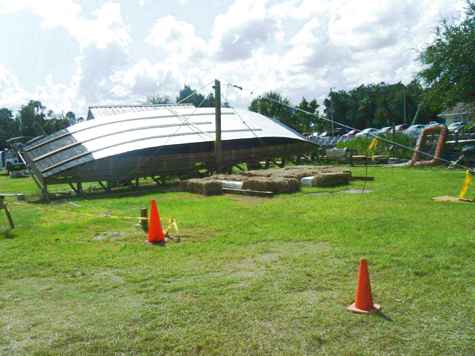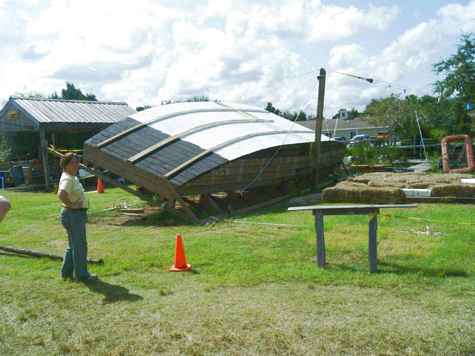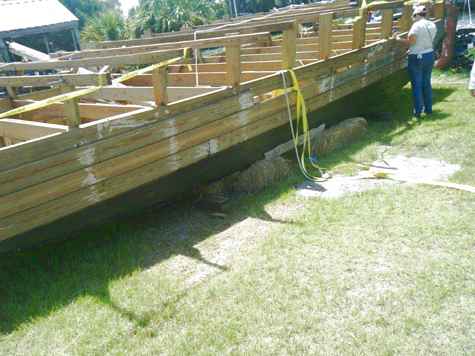 For more details about the boat, here's the link to their site; https://www.tsca.net/CRBB/
David Lucas
Lucas Boatworks and Happy Hour Club
---
Canoes
I doodled around and came up with the first of three canoe designs I will produce for sale to raise funds for the Yaquina Community Boathouse. This is the smallest of the three: A 12' solo canoes named after the river that flows past the Boathouse, the Yaquina.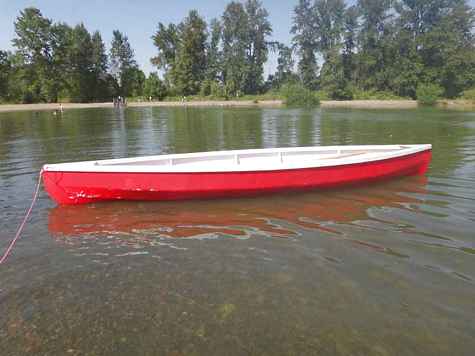 I really liked how easy this boat was to build and how nicely it paddled. To quote Delores (one of the test pilots) "It's like paddling air."
https://andrewlinn.com/2012/120812_yaquina/index.htm
Andrew Linn
---
Frank's Foam
Here is the sad tale of another fine builder who was drawn over to the dark side by something he say here at the shop. You should never forget the second half of our name, "and Happy Hour Club". Most of our best ideas and crazy ones are hatched in this half of the place. Well, Trimaran Frank saw my fan tail and roof made from two inch Styrofoam. After he beat it with a hammer and jumped on it decided to give it a try. This is the main hull of his new 22 foot tri. Notice the beautiful shape of the bottom. He's a true convert, after a couple layers of glass this stuff is super strong, light and fun to work with.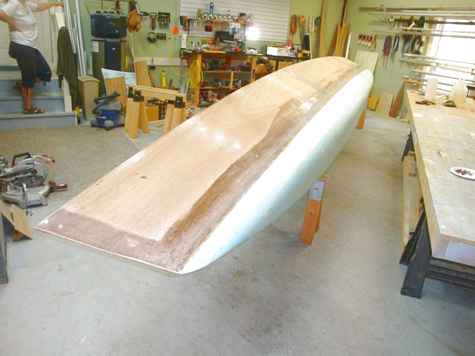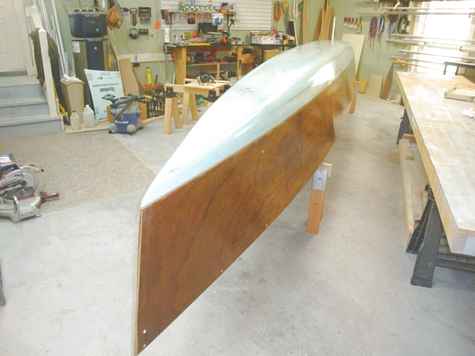 Dave Lucas
Lucas Boatworks and Happy Hour Club
---
New Design by Ken
I finished the folding kayak design. I have water tested it and I like the performance. It is not for turbulent or rough waters, but it is comfortable and stable, and paddles effortlessly.
Ken Simpson
Plans with be available in the Duckworks Store soon.
---
The Art of Craft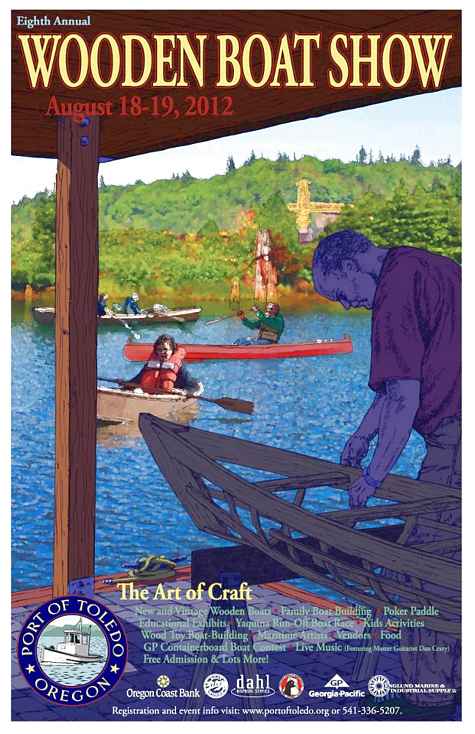 THE ART OF CRAFT is this year's Port of Toledo (Oregon) Wooden Boat Show theme. Held August 18 and 19, this year's show "celebrates the craftsmanship involved in the building of small wooden boats." The poster honors Andrew Linn, the show's Volunteer of the Year.
Poster created by Travis Leonard.
---
Crazy Steve
Crazy Steve puts us all to shame, if that's the right word for this category. See this tiny little sailboat out in the middle of the St Lawrence river with all the big boats? It's our Steve in his Wee Lassie schooner. For you who aren't familiar with this boat, here's me holding one with two fingers. Jam in a couple of broom sticks and you have a schooner, if you're not big and fat like most of us and are indeed crazy you could sail this thing, in a swimming pool! Here's an e mail from Steve of where he went in this toy.
Hey,
Two days ago it was blowing 15 knots or better all day and I was bored so I shortened sail on the canoe (mizzen stepped in foremast partners and leave the big sail on shore). I was able to easily stay upright and had some fun but it wasn't what you would call a fast ride. Yesterday was about the same conditions, maybe slightly less wind but blowing pretty good from the SSW white caps and chop, big waves up the channel near the lake. I was feeling like a wimp from my chickeny performance of the day before so I setup the canoe with the full normal rig and headed out with the intention of sailing up to Horseshoe Island (2 miles up channel, right at Lake Ontario), where my friends the Corrigans all live. Anyway, I finally figured out how to keep the canoe balanced in any real wind. I hunker down as low as possible with my body on the windward side and my windward arm over the gunnel (gunnel snugged into my armpit). Looward leg up as close to the CB trunk as possible and stay sheeted in using my head and windward arm to "hike". I can keep her pretty flat and level that way even in gusts and she goes fast! I didn't have a GPS and I'm low to the water so it's hard to tell but I'll wager I was doing 6 knots or better on a reach and even 7 running. Close reaching up near the lake was sort of a problem because the lee rail sometimes dips under going over big waves and there's no way to bail under way. Also, spray and sometimes more comes in over the windward rail so it was a wet ride. Too wet to make it all the way to Corrigan's sailing so I went to shore near their island, struck the sails, then paddled the rest of the way, which was a mistake because it was blowing at least as hard if not harder than when we were coming back at Bishops Harbor. I was exhausted when I got to Horseshoe. I should have just dumped water and sailed the rest of the way, doing short boards. I hung around with some Corrigans for an hour and a half drinking beer (Canadians are excellent hosts - they have a beer in their hand for you as they are walking up to greet you). Headed back home at 6:00pm, all downwind and it was like a Nantucket Sleigh ride! I was back at the dock at 6:20 and Lenna was down there with lots of my cousins all drinking beer, so MORE BEER, YEAH!! I'm having a good time here and it's great seeing family but I'm already looking forward to coming back home! CS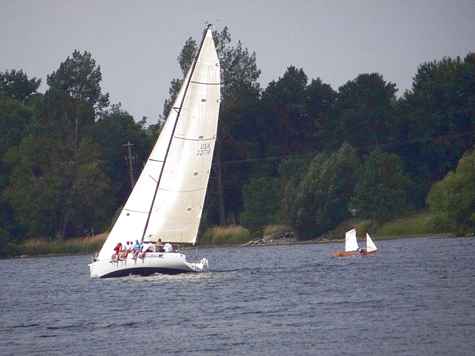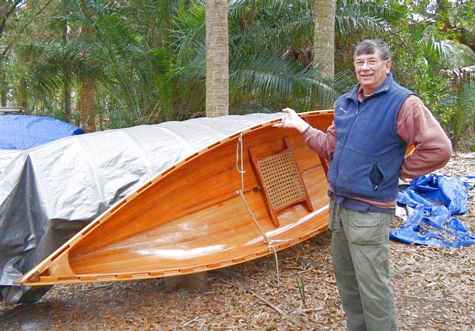 What do you think? After reading this and seeing the boat, is he "Crazy" or what? I suppose that I should add that Steve is a world class white water kayaker so he can deal with whatever the water can throw at him.
David Lucas
Lucas Boatworks and Happy Hour Club
---
Wooden Boat Show
Guys, we are having a hell of a time at the Toledo (Oregon) wooden boat show. I was able to grab four teenagers off the dock and enlist them as crew for our two kayak-ish cardboard boats for the Cardboard Boat Race hosted by the local pulp mill - we got 2nd and 4th - it turns out endurance is important.
We were grabbing people off the docks, forcing PFDs on them and putting htem in the Mollyhawks and other boats they would say "Well, I hadn't pLANNED on rowing, but OK" and when they'd come back, theyd say how great is was.
Rowboats and SOF canoes and cardboard boats, it's a hell of a day at sea, sir!
BTW: I put a page up on Facebook.
https://toledocommunityboathouse.com/2012/120819_tbs/index.htm
Andrew Linn
---
NMMA Distributes E15 Warning Labels to Manufacturers for use on Boats
Effort highlights the potential dangers, helps educate boaters, as E15 clears final regulatory hurdle
WASHINGTON, D. C., July 24, 2012 - Beginning this week, the National Marine Manufacturers Association is distributing 100,000 E15 warning labels to NMMA member boat manufacturers across the country to place on their boats in hopes of alerting boaters to the potential dangers of fuel with a high volume of ethanol. The labels will help educate boaters that E15 should not be used in their boat.
Contrary to numerous studies that have shown ethanol to be hazardous to marine engines, the Environmental Protection Agency recently approved a plan submitted by the ethanol industry that effectively completes the last step in the regulatory process and allows E15 to enter the marketplace.
There are serious and well-documented human safety, environmental, and technological concerns associated with ethanol blends over 10 percent in recreational boat fuel tanks and engines. That means that anything above E10 can pose serious problems, including performance issues like stalling, corrosion leading to oil or fuel leaks, increased emissions and damaged valves, rubber fuel lines and gaskets.
Three years ago the ethanol industry filed a waiver with EPA to expand the amount of ethanol allowed in gasoline from 10 percent to 15 percent. Since then, EPA has approved two partial waivers that allow the fuel to be sold in cars from model years 2001 and newer and taken a series of steps to bring the fuel closer to the marketplace. NMMA along with the oil industry, food groups and other stakeholders have continued to oppose the introduction of E15.
It is important for consumers to stay aware at their local gas pumps, checking for any high ethanol fuels and to use only E10 or lower in their vessels. NMMA President Thom Dammrich says, "We encourage manufacturers to take action to help educate boaters by placing these E15 warning labels on their boats to warn about the dangers posed by E15 and help prevent costly and dangerous long term engine damage."
---
Shanty Boat
New "Sea Saber" Line Cutter Clears Fouled Marine Propellers

Sidney, British Columbia, July 16, 2012 - Thermoboat Ltd. has introduced Sea Saber, a new line of protective propeller shaft devices, to the recreational and commercial marine markets. Made in Canada from 316 grade marine stainless steel and precision machined to exacting tolerances, Sea Saber cutters provide an efficient and cost effective method to clear entangled rope, netting, and kelp before it does damage to the propeller shaft and drive train. Sea Saber kits feature one-piece construction to allow for easy installation at a fraction of the cost of competing products.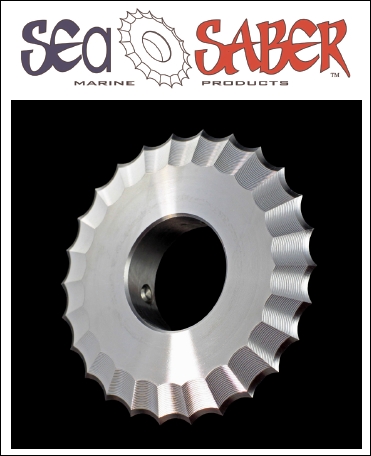 "There's no simpler way to provide peace of mind when boating in waters filled with nets, crabs, and lobster traps, and other line that can ruin your day on the water," says Hugh Carroll, President of Thermoboat. "This simple but effective cutter stays sharp for years and uses only the finest grade of marine stainless steel."
Sea Saber cutters include all necessary hardware for installation and are available to fit most standard propeller shaft diameters from .75" - 4.5" in SAE sizes and 20mm-70mm metric sizing.
The entire Sea Saber product line is a value oriented product with one of the most competitive price structures within the market category. Sales are available online and distributor inquiries are welcome.
Thermoboat, LTD is located in Sidney, British Columbia and is responsible for North American sales and distribution of many popular marine products including Powertrain propeller shaft couplers and Polyflex engine mounts. For more information and to download hi-res images, visit www.seasaber.com or contact Thermoboat at info@thermoboat.com
---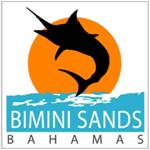 2nd Annual Lionfish Bash at Bimini Sands Resort & Marina
Helps to Combat Invading Marine Species by Taking 345 Lionfish
Raises $25,000 to Benefit Spinal Injury Patients 
South Bimini, Bahamas – July 18, 2012 – Bimini Sands Resort & Marina on South Bimini in the Bahamas (www.biminisands.com) is proud to announce that the 2nd Annual Lionfish Bash, held on July 13-15, 2012, was an outstanding success. A total of 345 lionfish were caught during this fun family event, which was created in 2011 to raise awareness about lionfish, an invader species in the Bahamas/South Florida ocean ecosystem. The 2012 Lionfish Bash also helped to raise approximately $25,000 for The Woody Foundation, a Miami-based 501 (c)(3) nonprofit organization created to aid spinal injury patients. The event was co-organized by David Mills and his mother, Bimini Sands condo owner Mary Mills. Title sponsors included Bimini Sands Resort & Marina, Brown & Brown of Florida, Inc. Marine Insurance Division, The Burlington Family, and Dade Medical College.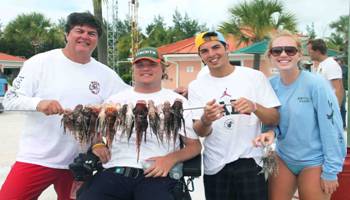 Participating in the Lionfish Bash for the second year in a row was James "Woody" Beckham, 23 (pictured second from left), who grew up fishing and diving in the vibrant blue waters off Bimini. In January 2011, he sustained a spinal cord injury in a college rugby match that rendered him paralyzed from the chest down. Soon after, Woody and his family created The Woody Foundation (www.woodyfoundation.org), a nonprofit organization created to raise funds for the recovery of spinal cord-injured persons. 
"The Lionfish Bash is a unique, family-oriented event that everyone seems to enjoy, while falling in love with the beauty of Bimini," Woody Beckham said. "I was glad to get back over there to have another amazing Bimini adventure." 
The approximately $25,000 raised by this year's Lionfish Bash and its "Send-Off Party", held on July 12thin Miami, Florida, will be used to benefit Jackson Rehabilitation Hospital in Miami and Shake-a-Leg Miami, he announced. 
A City of Miami Salute to The Woody Foundation, signed by Mayor Thomàs Regalado, was read at the Lionfish Bash Send-Off Party. Florida Senator Gwen Margolis also sent an official Proclamation honoring The Woody Foundation's resolve and charitable efforts to the event. 
Participants in this year's Lionfish Bash at Bimini Sands enjoyed a welcome party/Captain's Meeting, a day of free-diving spearfishing for lionfish off Bimini, and a festive Awards Banquet at the resort's upscale Bimini Twist Restaurant. The 2012 Lionfish Bash winners included:
1st Place for Most Lionfish (143): The Alvarez family team on boat G&R.
2nd Place for Most Lionfish (64): The team from the SharkLab on South Bimini.
Biggest Lionfish (35.65 oz.): David Mills, whose team chartered Bimini Sands One for the event.
Biggest Lionfish/Junior Division (30.60 oz.): Gabriela Alvarez, age 10, from Team G&R.
Smallest Lionfish (0.05 oz.): Emily Marcus from Team SharkLab.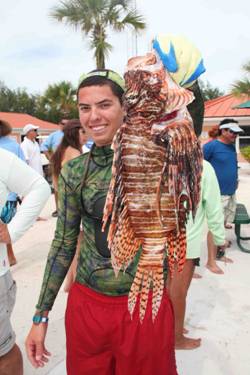 A total of $1,000 in cash prizes was awarded to the winners. Each place also received a beautiful 2012 Lionfish Bash trophy, a custom spear handcrafted by David Mills, a $50 gift certificate from Hopkins Carter Marine Supply, and other valuable prizes. The winning Junior Angler also received an NPX protective bodywear shirt donated by Adventure Sports of Miami. 
The inaugural Lionfish Bash, held at Bimini Sands in July 2011, raised $20,000 on behalf of The Woody Foundation, which donated the full amount to Jackson Rehabilitation Hospital. The donation was earmarked to purchase new therapeutic equipment for the hospital and to help fund its innovative recreational therapy program, which helps spinal cord injury patients re-enter the world outside. Woody Beckham brought a hand-cycle exercise therapy machine purchased with The Woody Foundation's 2011 donation to the 2012 Lionfish Bash in Bimini. 
"We were delighted by the turnout for the 2012 Lionfish Bash, the enthusiasm the participants brought to the event, and the great fun they had here all weekend," said Bimini Sands President and CEO Frank Cooney. "Most of all, we were glad to see Woody back here, enjoying the resort where he grew up spending his vacations. We're very happy to help him raise funds to aid spinal injury patients with their own recovery process." 
Cooney added, "In addition to the other Title Sponsors, we'd like to thank 2012 Lionfish Bash Committee Members David Mills, Mary Mills, Lucy and Otto Foerster, Elizabeth Martinez, Ernesto Perez, and our Bimini Sands Activities Directors Katie Grudecki and Grant Johnson for organizing this outstanding event." 
About Bimini Sands
Located just 50 miles from Miami on the Bahamas gateway island of South Bimini, this year-round resort features a hotel with fully furnished one-, two- and three-bedroom villas with beach or marina views; a full-service marina accommodating boats up to 100 feet; three freshwater swimming pools (including an infinity pool as of August 2012); gastronomic dining, featuring chef-styled island specialties and the island's only sushi bar, and a full suite of eco-tourism water-sports activities. Minutes from Bimini International Airport with service to the U.S. East Coast and Nassau, Bimini Sands offers spectacular views of Bimini's luminous blue waters, sunsets over the Gulf Stream, coral reefs and a secluded ocean beach just steps from your door. Family-owned and operated for more than 15 years, Bimini Sands Resort & Marina is one of the Bahamas' top-rated family vacation destinations. For more information, visit www.biminisands.com. 
PHOTOS BY JILLIAN MORRIS