Shenandoah Whitehall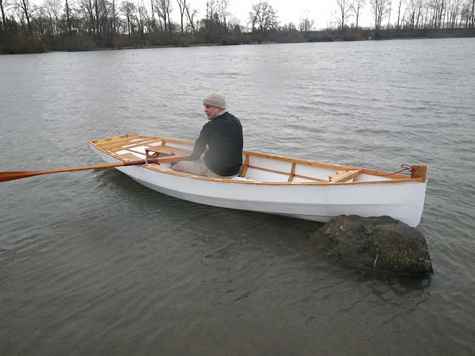 Feb 29 - An auspicious day for a boat launch. So auspicious that I had to splash my Dave Gentry designed Shenandoah Whitehall today, even though she wasn't finished. You can see the pics here.
Andrew Linn
---
---
AF4 Patience
I had been itching to build a boat for shallow water cruising, and for rafting up on summer weekends with friends, and after a little deliberation over wants and needs versus available time and skills, I chose Jim Michalak's AF4. Plans, epoxy and fiberglass were purchased through Duckworks, together with a few hardware items. I should have heeded his advice in his book to build a simple dinghy first and make my mistakes on it, but I'm headstrong. I also elected to make a design change (with Jim's prior concurrence), increasing the overall length by 9", all of that in the cockpit. Does this small change make it an AF4plus?
After a few large and many minor mistakes, and nearly 400 hours over sixteen months, Patience was launched in August 2011, and christened in the presence of several friends on September 19th, on Priest Lake near Nashville. At that time, the Honda 15 I'd bought off Craigslist still wasn't in running condition, so I clamped a trolling motor on the stern, which was sufficient for puttering around the cove. She should have her bimini and slot cover fitted this month, in plenty of time for the start of boating season this Spring.
Tom Hudson
Nashville, Tennessee
Photo courtesy of Mike Majka
---
April Love
A sneak peek. I decided to remove the seat, make a removable seat which will fit side to side. I've still got some painting to do. I've made the sails, masts and spars, so next will be the board.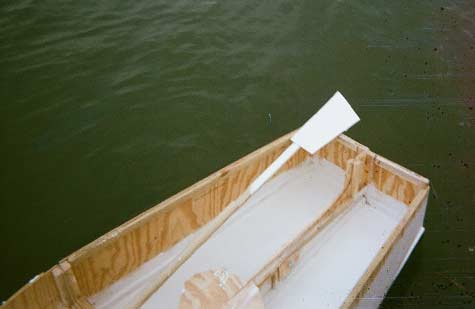 Design by Ken Simpson. More info on the design upcoming in my Column.
Paul Austin
---
Beach Pea
To entertain myself after a knee replacement, I built a Beach Pea peapod (Doug Hylan design; plans available through WoodenBoat) using meranti plywood, mahogany, and ash. It took a lot longer than I thought it might, due in part to short, sporadic work sessions. It is also proof that the length of time necessary to build a boat varies directly with the number of pieces required (Beach Pea has a lot of pieces). Eventually, boats get finished and launched.
I think the boat is pretty and it is very pleasant to row at my usual, modest pace.
John Trussell