---
Bateau Semi Dory 11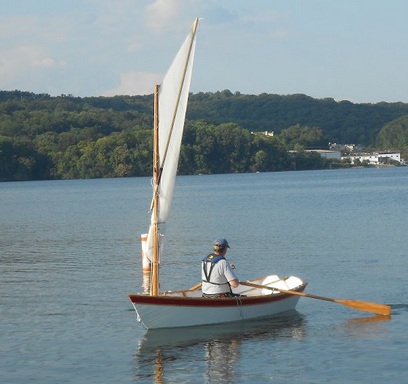 I launched my Bateau Semi Dory 11 a couple weeks ago. It took about a year to build (not including an 18 month break in the middle). The interior is modified somewhat from the plans. It is, of course, a stitch and glue build. I built my own sail from a Sailrite kit. Hardware and lines were purchased from Duckworks. I had originally ordered plans for John Welsford's Daniel's Boat from you but there were a couple glitches which Sandra worked with me on. Wound up going with the SD 11.
Here are links to two albums which chronicle the build and launch in case you want to see some more pics. She really is a beautiful little craft if I do say so myself.
Dale
---
---
Dina Sailboat
Awhile back, someone at Duckworks mentioned my blog as I did a post about my boat.  I build mostly Windsor Chairs, well, she (the boat) is finally done and I wanted to see if you could post it.  There may be some people who would want to see her done.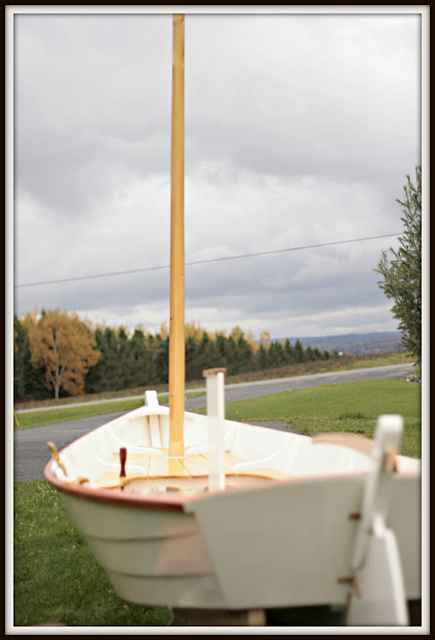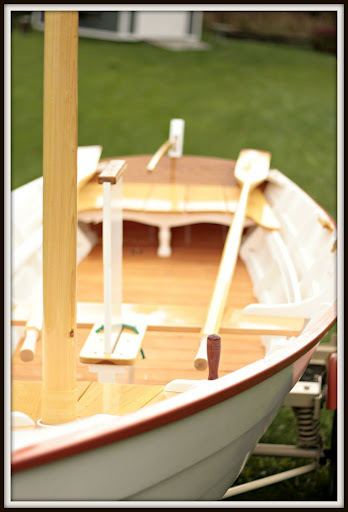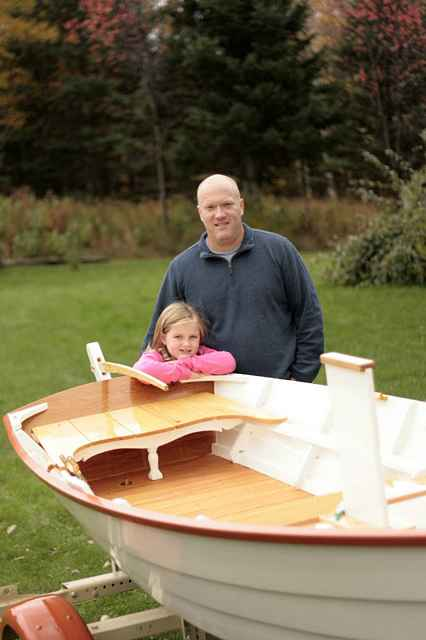 More photos at: https://tkellyfurniture.blogspot.com
Terry Kelly
Mapleton, ME
My Web site 
My Etsy shop
---
Quick Canoe
Here are some photos of Michael Storer's quick canoe taken by my son Jayden. My father christened 'Agnes' named after my dads mom with a bottle of Aussie bubbles. I got carried away, forgot it was a quick canoe and had lots of fun. The plans were great just need to get some spare time to build another project.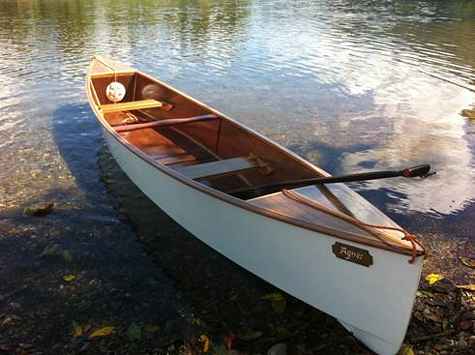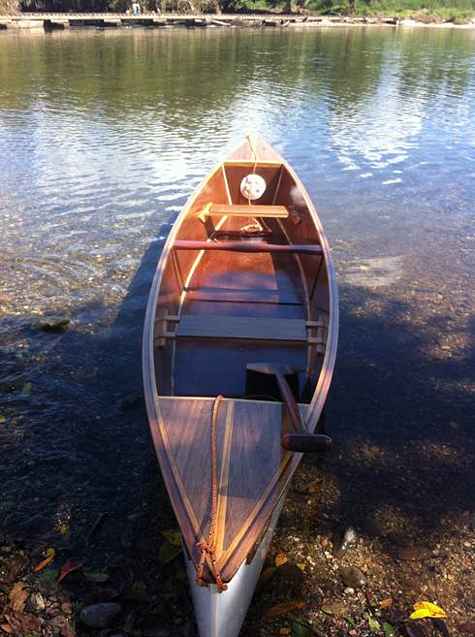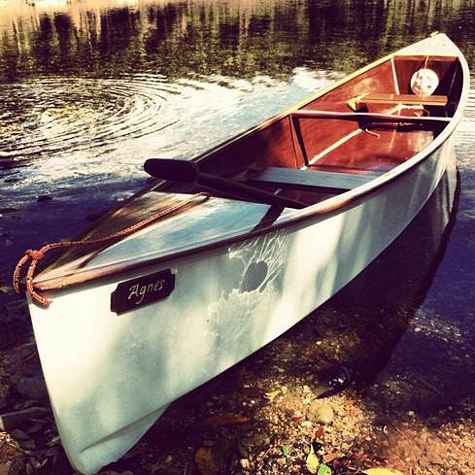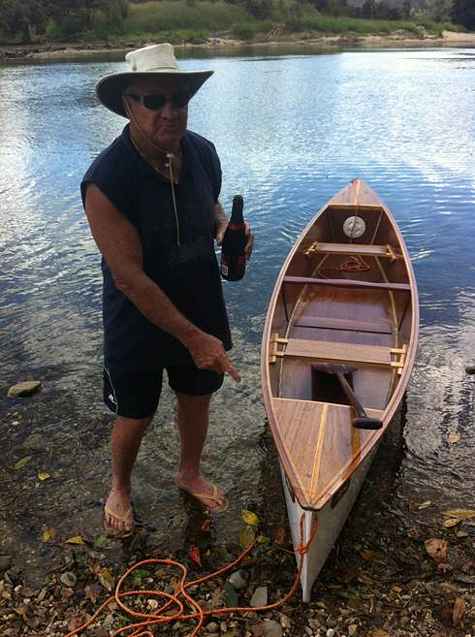 Chris Williams
---
Launching Quick Canoe Electric
Here are the pics from the father and son in Dillingham, Alaska that I sold the QCE kit to.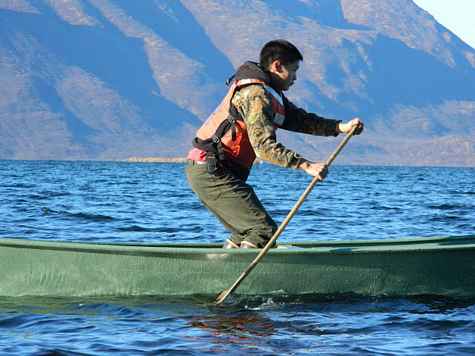 Michael storer's Quick Canoe Electric.
---
Helen Marie
I've been saying that she'll come in under 3000 pounds and she did, 2750 with most of her equipment installed. This rig I have is a pleasure to pull on the road. I have my son's big Chevy, the trailer has brakes and the boat is narrow enough to see around easily. And I got 11 miles per gallon, we'll have to save for long road trips.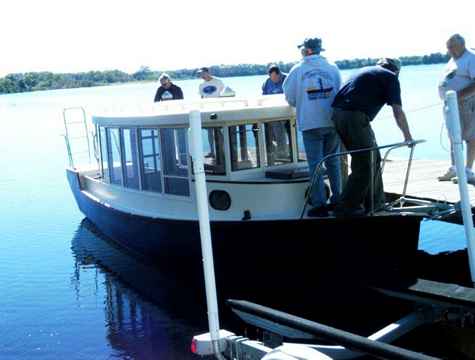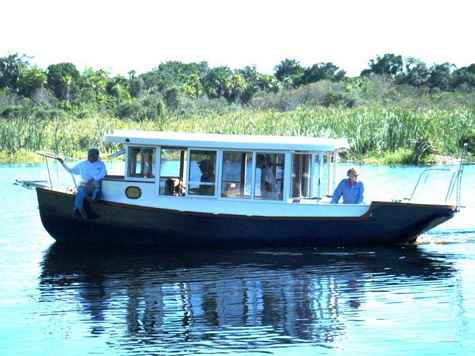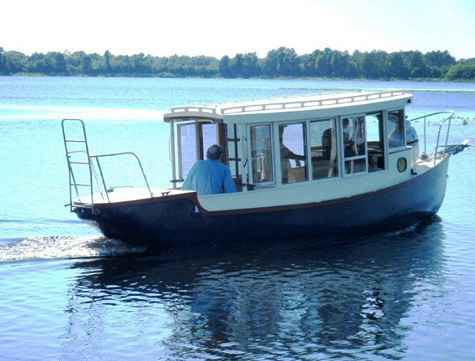 We gathered up all the shop guys and put her in the lake to check out. All went well, better than I could hope for. She's a little high in the bow because of a ballast tank venting problem and she didn't turn over. I don't know how many of you arm chair designers said she's too high and will roll over. Let's analyze that shall we. Her two inch thick roof is made from Styrofoam that I lifted up by myself, the upper four feet of space inside is mostly air, all of her installed equipment is located low down and she has 800 pounds of water ballast in the bottom that comes in and goes out when she's launched and pulled. Now look at the picture of the shallow draft, gaff rigged centerboard sailboat with the huge white sail way up in the air. This is Tricia Marie and she has the same hull as Helen Marie, they came off the same mold. All I did was add 16 inches to the sides and stick a fantail on the back. She has no ballast and managed to stay upright in a blow. There's still a lot of work to finish but she'll be ready to show off soon.
Dave Lucas