Rio Grande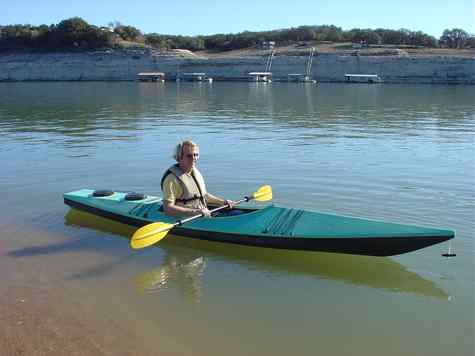 I finished up a Rio Grande in November and finally got to take it to the water today. I thought you might be interested to see a few photos. We like it a lot. I was surprised to find that it still works well with a kid sitting up in the front of the cockpit.
I even put my wife in it to see how it does overloaded with about 285 lbs total.... remarkably, it was still quite stable and moved along nicely in the calm water we had. With all that weight too far forward the bow does dig in a little, but still controllable and I never expected put even close to that much weight in it anyway.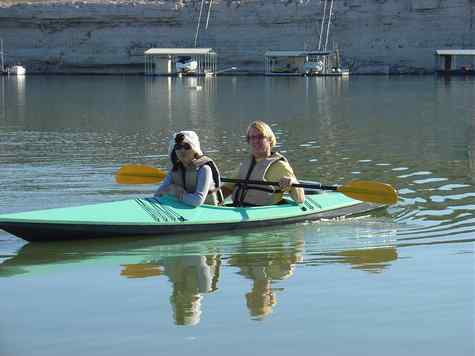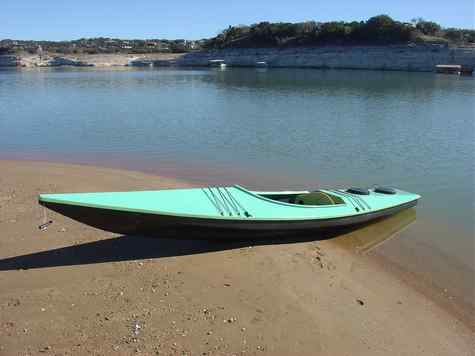 On another subject, I have decided to build John's Penguin so I'll let you know how that goes over the next couple of years. We love the Pathfinder, but apparently we need a boat every occasion!
Jon
---
Windmill



Crazy Steve may a little strange but he sure can put a finish on a boat. He and his father in law, Dale Andrews, found a ratty old Windmill and fixed it up. It would've been way easier to make a new one but that wouldn't have been the same. The first time we saw this hull was at the Cortez Small craft festival and we had no idea that it wasn't a factory fiberglass boat. You can stand next to it right now and it still looks that way. Just when I think I'm good at something someone like Steve comes along. I spent a half hour today trying to find a run somewhere, couldn't. Maybe you should start calling me "Crazy Dave".
David Lucas
Lucas Boatworks and Happy Hour Club
---
Finally, launch day at my local lake. It took a while, but the boat is finished, and the plans are up for sale at Duckworks: 
https://www.duckworksbbs.com/plans/messer/electromoto/index.htm 
The video: 
Warren Messer
https://www.youtube.com/user/redbarnboats
---
Cachivache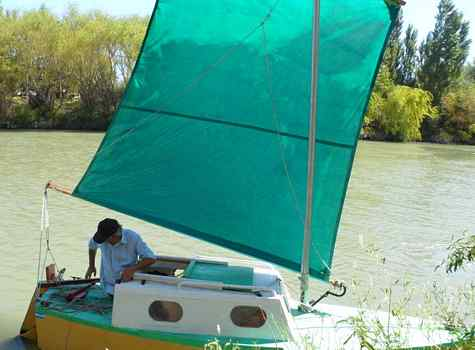 On Monday, January 2, taking advantage of the holiday, we decided it was time for the ship to know the sea.
They were more than seven hours of sailing, we returned tired but very happy with the boat built with hard work and deprivation. Now if the "Cachivache" is a reality.
After having passed all inspections and tests of the maritime authority in Argentina, the "Cachivache" got its Registration, becoming the most southern Paradox and first in the country authorized to navigate. Thanks to all friends of the group that helped make today the "Cachivache" a reality
Alberto
---
Quacker Box, PDracer #598
We launched the Quacker Box, PDracer #598 at Canyon Lake on January 21, 2012 after out Texas Boatcrafters and Messers Meeting. The boat is built with 3/16" Ultra Ply XL. It has a Jim Michalak rudder and adjustable dagger board from his PDracer plans. The rig came from a Sunfish-like sailboat. Sail is from a 59 square foot Polysail International kit. The wind was very light but, we were satisfied with the way she performed.
Frank