---
Atkins P.M.
This boat is an Atkins P.M. which has built and named "Sandpiper".
Henry Neels
---
---
Maine-Iac Mouse
Finally got to launch my third mouse build (for those of you keeping track I finished my fourth mouse and launched it before this one). It is a Romana, the square sided version of the flats rat, built with internal chine logs and PLpremium, the outer joints were all epoxied and taped with 2" glass tape from Duckworks. You may notice the hole in the forward air tank bulkhead, I cut it for a screw in deck plate, but don't have it in yet, I just finished the paint the night before and had to prop it in the sun to get it dry enough to splash. May 26th was the long planned launch day, of course it floated even though it needs a second coat of paint on the topsides and cockpit. After forcing the kids (in their mice of course) to make one circuit of plug pond (lake Saltonstall on maps) we headed to the beach to let them swim.
Immediately I had a guy (the guy in one shot wearing my life jacket) and his kids (he is also way out in the lake behind one of his kids who just launched in one shot) come up and want to know "where to get a boat like that" so I let him take a spin in my boat, and let his kids try out my kids boats. He took down the website name on his cell so I expect to see him on the water soon. I also had a fisherman ask me about the boat, and another guy ask if I could build some for him. I also tried paddling my boat standing up as it is the same width as the SUP I am building, it was nice and stable, only the SUP will be faster. Other than a broken paddle (what did I expect for $5) it was a great day.
Josh
---
Dave's New Design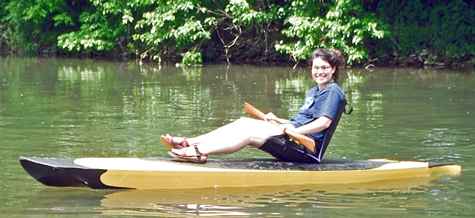 I thought I'd show you my latest design - the combination sit-on-top kayak and stand-up-paddleboard. So far, trials have gone well and I am pretty pleased with her. A prototype of a longer version is already being built, too.
Dave
https://gentrycustomboats.com/Boardyak%20page.html
---
Unofficial Whaleboat Launch
I always like to pre-launch. Went very well, people pulling in synch after only 30 minutes of practice. Moves along at an easy 6 with no significant effort on the part of the rowers.
Craig
---
Kuai Le
Launched Kuai Le yesterday and it went well. The subsequent trip to the mooring not so well. Lessons learned:
1. An old trolling motor will push Kuai Le in anything below force 2 but not a chance in force 4 unless going down wind.
2. Don't try to start sailing when you are 50m upwind of the breakwater and the daggerboard won't go all the way down (sub lesson - expanding foam will bulge 5mm ply).
3. You find new friends in all sorts of places and at the best possible times.
I've set up a website https://kmndesigns.weebly.com and the plans for Kuai Le are available there.
Kevin McNeill
---
Gone Walkabout
I gave my camera to Cathy Wright and she took the pictures. Chris Tomsett sailed with me. Overall I was very pleased with the boat. Chris and I could both sit on one side, lean back, and barely get the top plank wet, never mind the gunwale and coaming. We had wind gusting 15-18 and with no reefs we never felt anxious. Even with that little wind, we saw 8.2 mph on the GPS!
Chuck 'the duck'.
---
OozeGooze 1 was Launched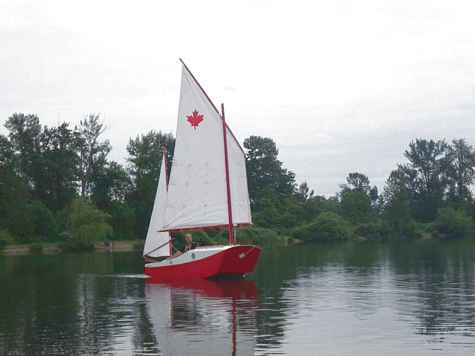 and it was glorious.
Andrew Linn
More pics, including the ceremony:
https://andrewlinn.com/2012/120603_launch/index.htm
---
'Feisty Sue'
Here is the moment of launch of my Navigator 'Feisty Sue'..... A word of thanks to you Sandra for all your help and patience... You both run a great business, long may you succeed.
Richard
---
Paulsboat
Wow, just got done sailing one of the most interesting boats I have ever sailed. Truly an able craft. The first day of the Easter Messabout we had high winds 15-20 mph with a lot of gusts up to 30 mph. It was too much for me in a proto-type. But I did finish the rigging and bending of sails.
The next day we had 10-15 mph with a few gusts at 20. That seemed like what I was going to get. I christened the boat "Schadenfreude" and set sail. Besides the picture attached you will find links to videos which will show how it sailed. Very fast. With 1' chop it cruised along at 5-6 mph. It got up to 8 several times. 5 times I reset my gps high speed on my gps after it started registering speeds of over 10 mph. But 98% of the time it just cruised on all points of sail at 5-6 mph.
The second day there were light winds 0-8mph with gust of 12 mph. Whenever I hit a calm spot in the water I just paddled directly through the calm and when the wind hit me again I continued sailing steering with my feet. The steering worked well but I did move the attachment points on the horn in 5.5" . This gave me a lot more rudder action and meant I could control the rudder with my ankles rather then whole leg movements. I grabbed the lines a few times with my hands and steered that way too. I found that I only had to keep tension on one line because the pressure on the rudder kept me honest. I only did this when I could sheet off and that was only in little wind.
Several large displacement motor boats did drive byes at high speeds. I turned into them and easily rode them up with some mighty splashes. Most of the water didn't make it into the cockpit. I am glad I had the deck coaming on the outside of the upper mast step.
Stability was never an issue. The one time when I got hit with a real big gust with full sail up and accidentally turned down wind instead of up wind and the boat heeled 30 degrees but I was still able to keep it up right easily. I turned the boat over and filled it with water. I found that the only way to re-board the boat was lower the sail, right the boat, bail out, then use an improvised rope ladder to get on over the bow. I found it a lot easier then getting in over the stern.
Three people told me they can't wait to buy plans. Everyone thought it was a gorgeous design. Everyone stopped and commented on both it and my piccup.
Paul Moffitt
---
Water Rat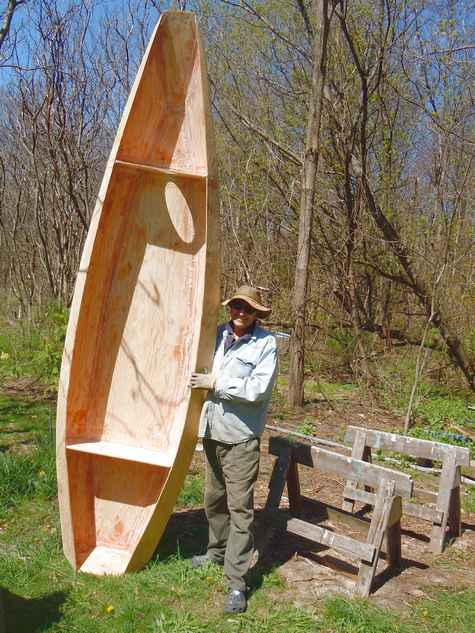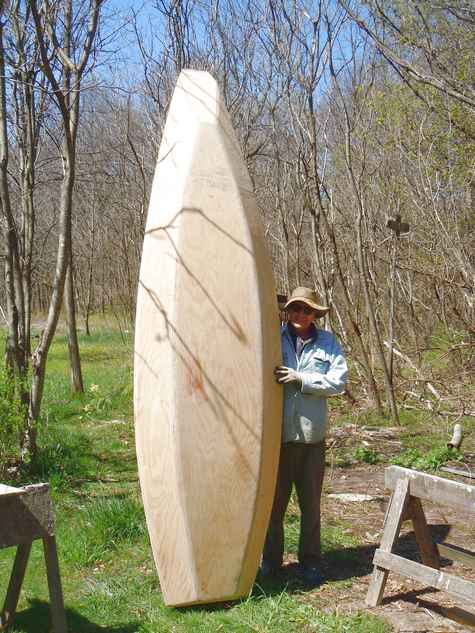 It's a cute boat very stable but the test launch without the twin skegs showed she really needs them. I just installed them last weekend and hope to try ratty again this weekend.
I was looking for a kayak I can swim from and re-enter easily.
John Bartlett
---
TOON2
Sailing vid is Sean Moffitt's TOON2 (Michalak) adapted for longer cruises. Sail is Polytarp made by Paul, his brother. This was the first sail as we made our way to Lookout Bight in the Outer Banks of N. C. We launched at Calico Jack's on Harker's Island, June 9,2012.
The beach pan video is inside Lookout bight next to the light house. Great way to start one's 65th year!!
Bill Moffitt
---
I AM NOT THE MAQUIS DE SADE
Yes I find pleasure in inflicting pain on plywood.
My sadistic personality disorder is limited to plywood, no- planks, people, or puppies.
It all started with twisting a sheet of luan until it cracked. Then it was split down the middle and tortured into a pleasurable form. This was the basis for TORTURING PLYWOOD, the creation of the beloved pond skiff Chinch BUG.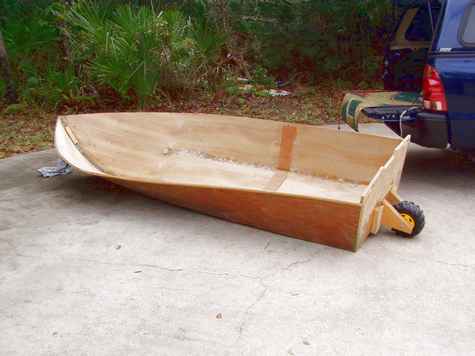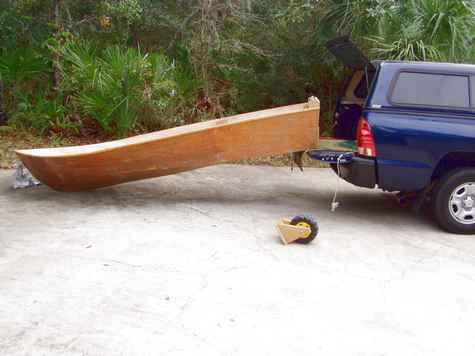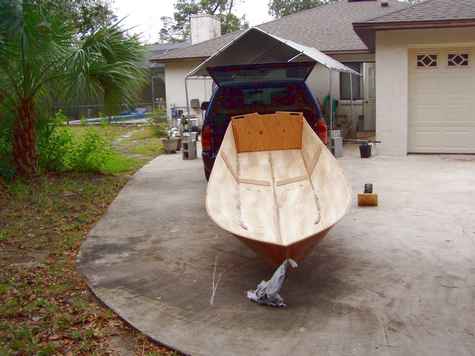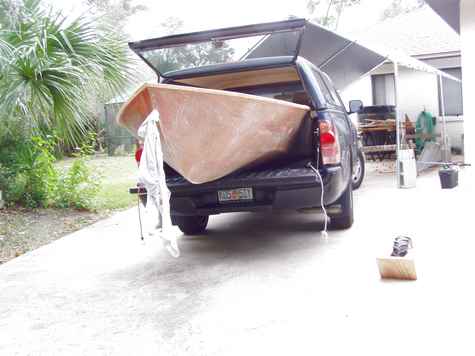 As this small boat gave much pleasure then a larger experiment should be even more pleasurable. While the Chinch BUG was from a single sheet of plywood, if one increased the dimensions by 1/3 and instead of twisting a
4x8 sheet twisted a 6x12 sheet the pleasure factor should be huge.
And so it started with two sheets of luan, split, sectioned, glued and bent.
There was some pain, some tears, twisting, drilling, binding up and a liberal application of chemicals. But the pleasure was supreme, it worked, it fit and most of all - It floated.
Fred
---
QT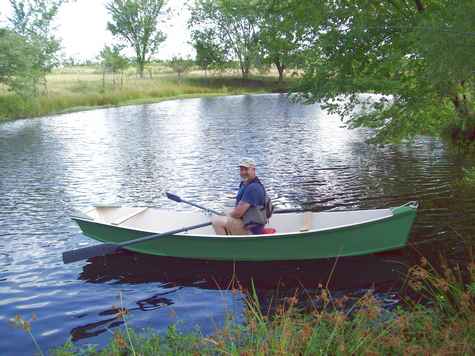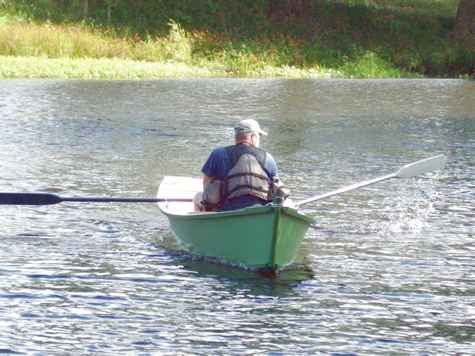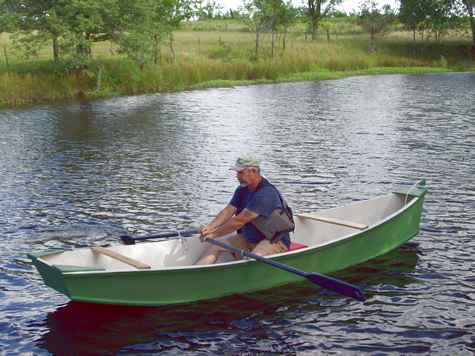 This is Jim Michalak's QT rowing skiff right out of his book "Boat Building For Beginners and Beyond". I built it as shown in the book with no modifications. I have only had it in the pond so far but plan on a trip to the lake soon. I am not much of a rower yet but by the end of the summer maybe I will have burnt off a few pounds and sharpened my rowing skills a little!
Gene
---
Rowing Canoe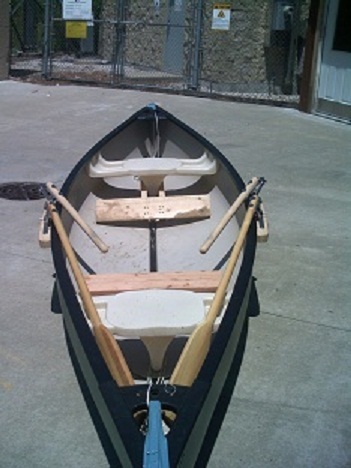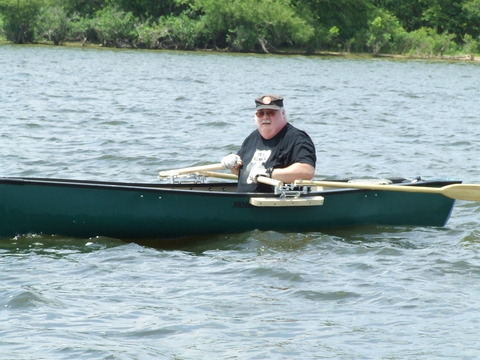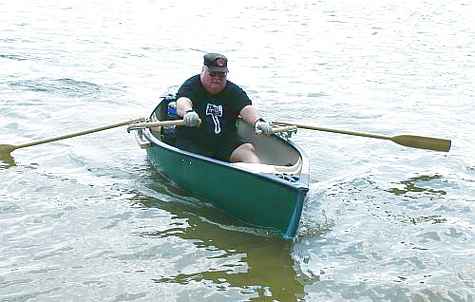 Last year, I found myself in the situation where I regularly had to choose between sailing and walking for exercise, and sailing consistently lost. "Ah," I thought, "If I only had a rowboat, I could exercise AND be on the water." So this spring I bought a cheap polyethylene canoe, rigged it with a set of articulated oars from Gig Harbor Boat Works, built mounting wings, a seat, and a footrest (which amounts to about two years worth of carpentry for me), and brought the thing to the Rend Lake Messabout. I have a LOT of tweaking in front of me yet, but it has been a lot of fun so far.
Paul Haynie