Triplaner Launched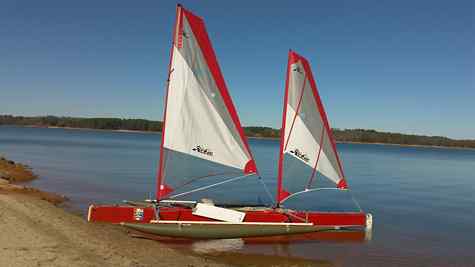 XRT Canoe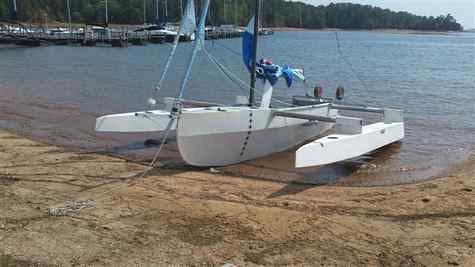 Triplaner
The Triplaner was launched mid 2011 and the XRT in Jan 2012. Equipped by Duckworks.  Folks can see details at my watertribe Blog if interested. These are my personal boats so no offering of plans since they are fairly specialized boats built for a specific goal. Never less they are interesting just the same.
https://watertribe.org/jollyroger
Roger
---
Bolger Microtrawler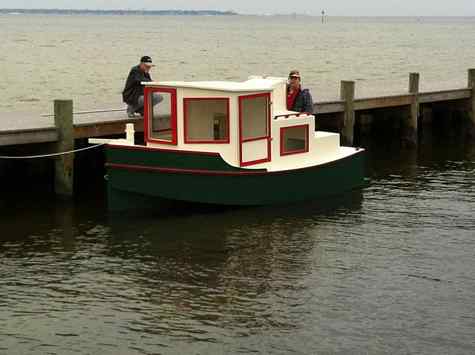 She floats and doesn't sink! Now for the motor installation and then sea trials! 
Pat
---
Rustion IGO
We finally got some pictures of one of the Rushton IGOs in the water. 

You can see more here:
https://andrewlinn.com/2011/1112familybuild/aftermath/silwone/index.htm
Andrew Linn
---
Sharpie
Photos of my completed (10 year project).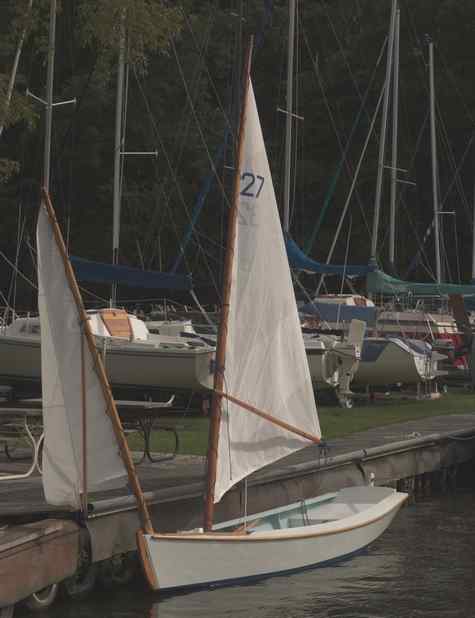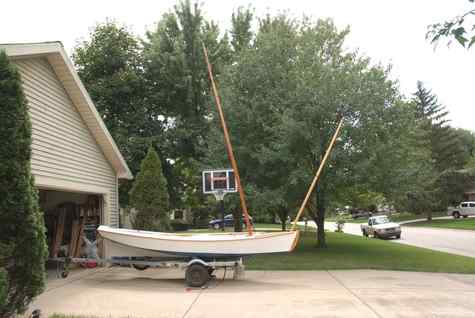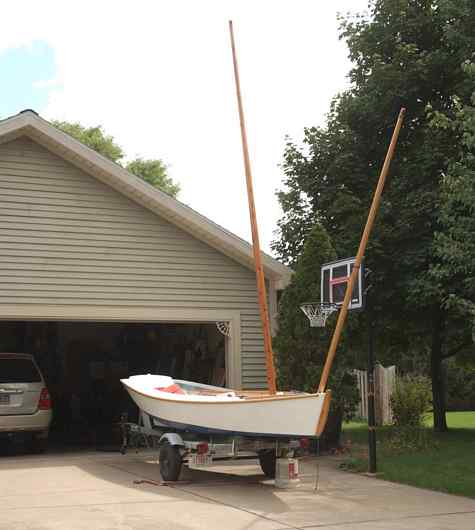 Ruel Parker design/Sharpie from the "Sharpie Book" was completed about 3 years ago and wears YOUR SAILS. It's the 16" "Stick up" Sharpie from the book.
I call it "Diamond Girl" after my wife or "Blood Sweat and Years".
(One trip to the Emergency room for stitches, many band-aids, and hot summers in intermittent construction-hampered by 9-11, restoration of a 160 year old building where I run a photo-studio, and being a good dad.)
Those are hand hewn spars. Main Mast is 18" tapered redwood, main boom is about 10" of fir. Forward mast is 12' Fir and a 7" fir spar.
Nice hand shaped maple tiller!
Yes I launch/trailer it "backwards". It fits on the trailer much better that way.
Anyway, I have plied Lake Michigan, the Wabash River, Lake Freeman (Indiana) and Waveland Lake (Indiana) to name a few.
---
Chugger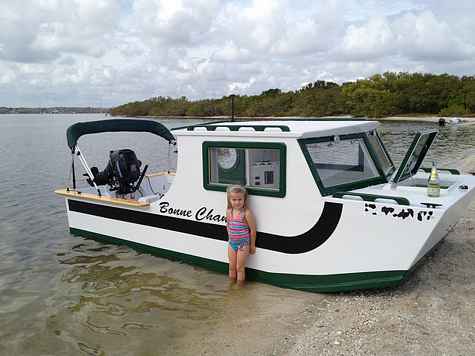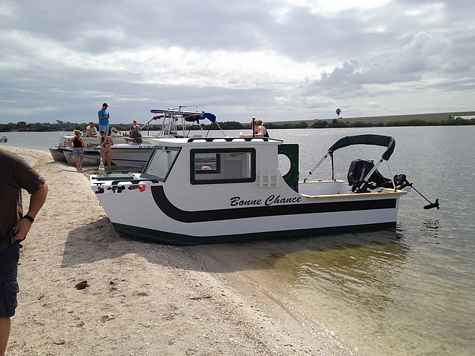 I have launched my enlarged Chugger (hull #10) on the ICW. Below is a link to the photo albums ... 192 pics, all with captions.
We christened her the Bonne Chance.
Neptune had to be pleased because the intracoastal waterway was just perfect for the maiden voyage! While no speed demon, she was comfortable, very well mannered, and just a joy to cruise in. Everyone who saw her had really great things to say, and we had a lot of great conversations with many new people.
Let me tell you - when you are 2 weeks away, and set a launch date, it is ALL you want to do to put the finishing touches on the vessel and get her ready!
The final chapter of the build, the first page in the adventure!
https://www.flickr.com/photos/sidshare/collections/72157629210859469/
Sid
---
SOF Kayak - 100% Recycled Materials
Sea Tour 17 EXP
Splashed Susquehanna River, Washington Boro, PA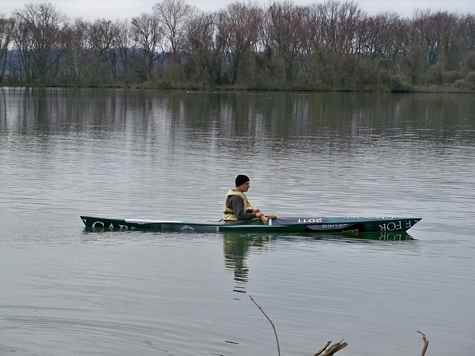 This is my first skin-on-frame (SOF) kayak. I used free plans from yostwerks.com. I made a commitment at the beginning of the project to build with 100% recycled, reused or re-purposed materials. Plywood came from a neighbors trash and a friends old home made checker board. Wood for the stringers came from a pile of treated lumber that I bought on clearance at Lowes to build a framework for rolling my sharpie egret. I saved the pieces. I ripped 3/4" by 3/4" pcs and scarfed them to get long knot free stringers. I did buy on tube of PL Premium for glue. The skin is 13oz vinyl scrim donated by Conestoga DPI. They generously gave me approx. 5' x 40' of excess material from their shop. I had a partial bottle of contact cement and a friend gave me the last bit in the bottom of a can he had. I painted the wood frame before stretching the skin over it with a two part water based epoxy paint complements of Lancaster Creative Reuse. They were delighted when I took nearly 25 gals of various paints off their hands! Varnish on the coaming comes from a can given me by my brother-in-law. The Greenland style paddle is redwood that I pulled from a construction site dumpster. I got two 4' 2x6s and scarfed them together to get the needed length. Thank you to all my friends for making this possible and to my family for letting me use half the garage this winter.
My website. This has all the construction pics: 
https://lancasterboatbuilder.weebly.com/sea-tour-17-exp.html
I used plans from https://www.qajaqusa.org/QK/makegreen2.pdf for my "greenland" style paddle. These free plans are excellent, clear and easy to follow.
Jonathan Bornman