Bamboo Yak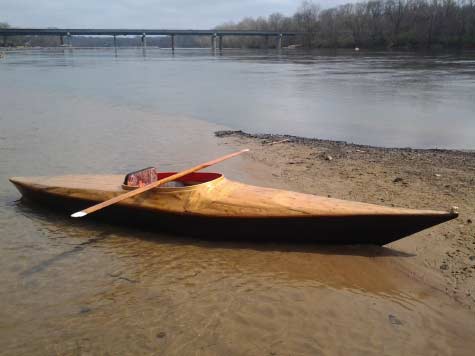 This is my interpretation of a Bamboo yak. Western Red Cedar frame skinned with heat shrink Dacron then Bamboo veneer panels for sides and hull. Bamboo veneer (thin and solid) for the deck. Bamboo slats - scrap from rudder bows, red wood rubrails, yellow pine for coaming. Haven't put the lip on yet. That will be redwood as well. Turned out to be 12'3". Used stations like the Egret that I built last year. I think this thin bamboo veneer would work well with a Baidarka. Also five coats of west system clear (207) hardener. Still need to put on varnish, using Epiphen.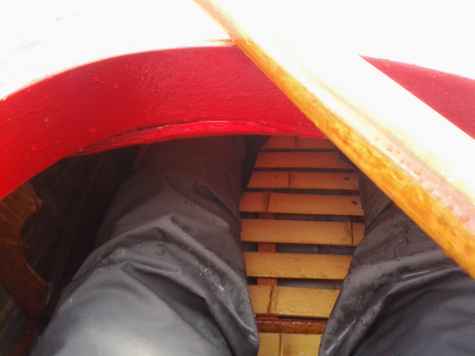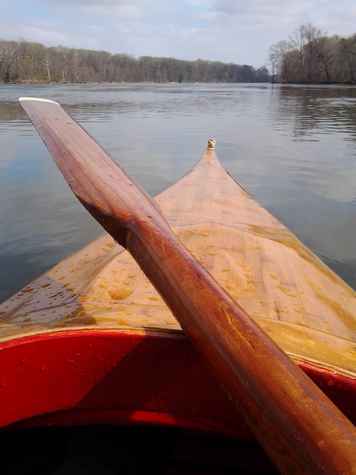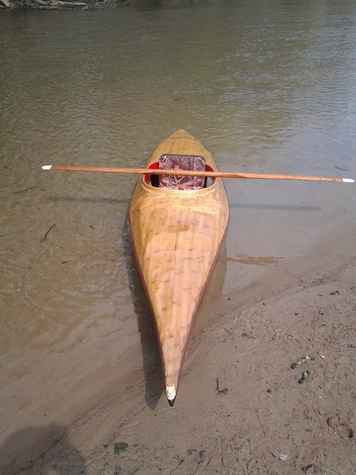 Bamboo Revolution - https://www.bamboorevolution.com/ - have three thicknesses and will send free samples. My deck is about the thickness of three sheets of paper. The hull and sides was from another company. Would not use that again because it was panel, thicker, heavier, backed with cotton fabric/harder for me to shape/press to Dacron. Bamboo is beautiful and has much potential in kayak construction. Save Okume and Saple trees!
Steve Willard
---
Fleet
You may be interested in the launching photos of my latest design. Her design name is Fleet and she is a planing hull version of Flint. Many people have asked me about doing this sort of design, and this is the very first one - built by her owner, Will Shrapnel. Construction is simple stitch-and-glue from pre-computed panel shapes.
We are at the very early stages of testing, but she planes cleanly with two heavy men aboard while being pushed by a brand-new (and therefore, tight) Suzuki 6hp four-stroke. She also seems to plane cleanly with three large men aboard, but until we get speed figures we won't know whether she is in the planing or the semi-planing mode.
The aim with the design was to produce a light, lean outboard powerboat which would give spirited performance with a motor of around 4hp. With that in mind, we are going to test 2.5hp, 4hp, 6hp, 9.8hp and oars. Plans won't be released until testing has been completed and any modifications incorporated. Here in Queensland, Australia, we can operate with up to 4hp without having to register the boat - at least that was the case last time I looked at the rules.
Ross
Ross Lillistone www.baysidewoodenboats.com.au
https://www.duckworksbbs.com/plans/lillistone/index.htm
---
Launching of a Reconditioned Boat
This boat was launched on the weekend at Wollamina boat ramp.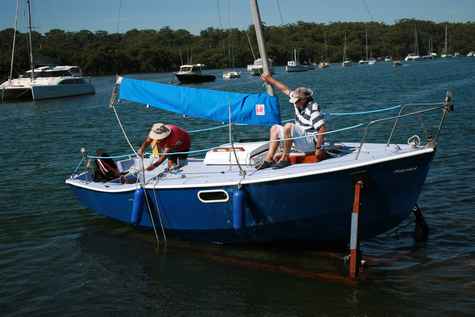 Stewart Strik
---
Launch Update for Rob Rhode-Szudy Pirogue
Launched the two sheet Pirogue based on Rob Rude-Szudy's design today. The launch site was at Crater Park in Elkin, NC. This is an excellent site with disabled access on the Yadkin River Trail. I'm attaching a couple of pics of the launch and the Twins Alex and Alexis and myself paddling it around. A nice group at the launch site were overwhelmingly supportive and also took pics for themselves. I have named it Weeble, as in weebels wooble, but they don't fall down. (I know I'm not the only one old enough to remember that phrase.) I was a little shaky and nervous and its a little tipsy till you get the feel of her. I weigh 285 lbs and haven't been in a canoe in 30 yrs. Even let one of the kayakers give it a whirl and he really put it through its maneuvers. Of course, I let everyone know about Duckworks Magazine and was even giving contact info of a local builder. The group we met today said they had a wonderful day on the river but the highlight was to see us today and be part of the launch. They just don't have a clue how much they made our day.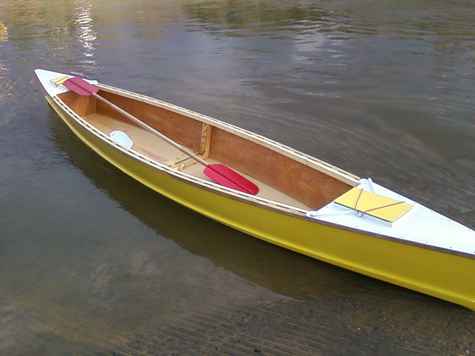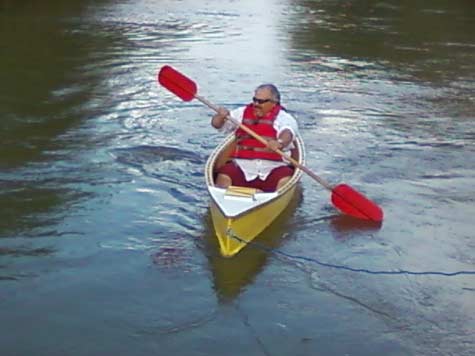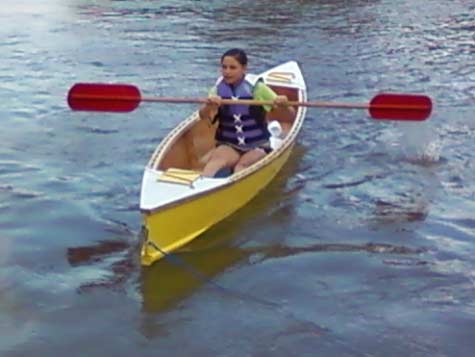 Robert Whitaker
---
Mollyhawk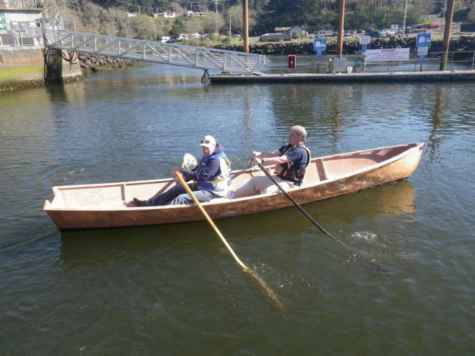 I wanted to give a quick report on the splashing of a John Welsford Mollyhawk today.
As many of you know, I manage the operation sat the Toledo Community Boathouse (https://toledocommunityboathouse.com) and we have decided to start a rowing club.
In considering a design, we decided to only look at designs capable of having two or more rowers - because anyone can splash around and pretend they are rowing, but team rowing takes training, concentration, and teamwork - plus you always have someone to yell at besides yourself.
You would not believe how few two-or-more rowboat designs there are out there.
Another criteria was that the boat must be able to be easily and competently rowed by just one rower. The dream is to have so many people interested in rowing that we have teams and leagues and classes and divisions. The reality is it'll probably just be a couple of guys racing against each other. Again, this proved to be a HUGE filter as most rowboats capable of being rowed by two people are designed to be rowed by two people.
Other criteria was it had to be fairly inexpensive to build, fairly simple to build, not be too big, not be too heavy, etc. etc. As you can see, we were in the arena of finding Frog Fur and Hen's Teeth by now.
I know John Welsford is a rower, so I asked him if he had any designs. He said his Seagull, stretched 15% into a Mollyhawk, would fit the bill nicely.
Let me tell you this: It does.
Rick Laudervale (2010 PDR World Champion and repeated Canadian PDR Champion) came down from British Columbia to attend the Depoe Bay Boat Show. I put him to work immediately. Together, plus a few friends and some strangers I pulled in off the street, we did the finishing on one of the Mollyhawks: Installing seats, inwales, the keel, etc. At 5pm, we tossed her in the water and took her for a spin.
The 17'6" boat weighs about 100lbs (my guesstimate.) Two people were easily able to carry her down the gangway and onto the docks.
What a GREAT boat. Both Rick and I weigh over 200 lbs, and with both of us in her, the stern and transom just come close to kissing the water. She rows like a rocket, easily tracking and more surprisingly, easily turning (more later.) Satisfied, we put her away for the evening.
Thins morning, we tried her again. This time, Rick and I rowed her out to the harbor and around the buoy 1/2 mile out into the ocean. The sea was calm with large swells - perfect rowing conditions.
Back at the dock, we tried loading her with 4 full-sized adults, roughly
700lbs. Again: She was rock steady and very easy to maneuver. No, we didn't go to sea with four of us.
The next test was a 2hp outboard: She performed STUNNINGLY. Two passengers, one on the stern seat one on bow seat to trim her out. The pootled about for a bit, then started playing with the motor - the had the boat turning in its own length! They'd just go round and round, then slam the outboard over to the other tack, and go round and round that way.
https://toledocommunityboathouse.com/2012/120422_bs/index.htm