Propeller Guard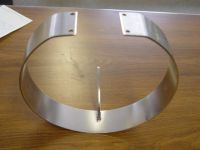 This propeller guard is great for keeping a sailboat's rudder from being chewed up and scarred by the outboard's propeller.
It also protects the propeller from damage from the rudder, rocks and other underwater objects, like a swimmer's leg!
The cheapest place I have found to buy the Propeller guards are International Marine Inc, the manufacturer of the West Wight Potter Sailboats. The guards cost $100.00 from IM, and elsewhere from $130.00 to $154.00.
Costly to be sure, but repairing a rudder or LEG can also be troublesome!
Bill Nolen
---
---
"Mast Fly"
Someone sent this to me.  You may find it interesting that a vehicle can travel faster downwind than the wind itself.  The last video finally got my head around it.  

I took my rigid wing to the Midwest Messabout. Other than attracting the crowd, it was a dud on the water.  Too little wind to even get pushed downwind. 
I did get some positive responses on my homemade mast fly.  It uses fiberglass kite sticks, piano wire, plastic from a butter tub for the vane, and a plastic spoon anemometer (super glued to a 1/2" dowel).  It just survived a gale force storm on top of my wife's Buccaneer.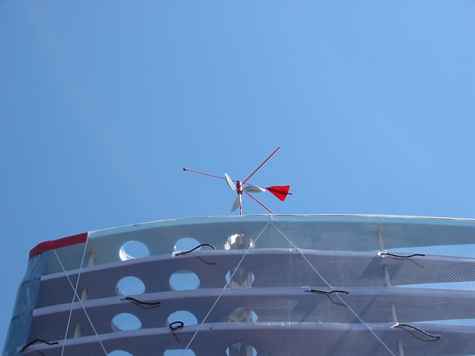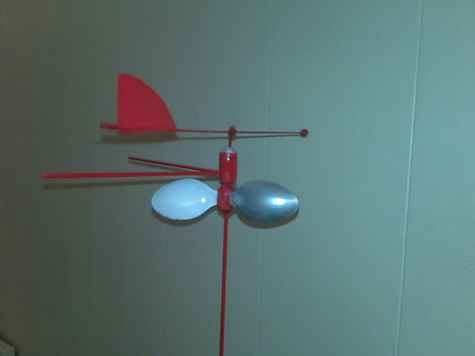 Phil
---
Retractable Pontoons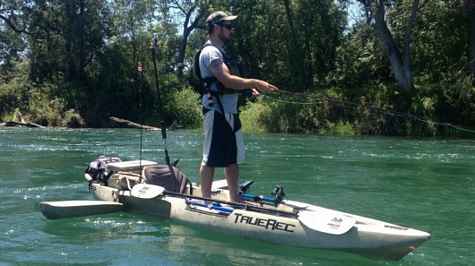 [For kayak stability.]
John
---
Mayfly 14 "Scrimp" Carbon Fiber Mast
Here are some photos of the carbon fiber my dad and brother Dave performed on our Mayfly 14 "Scrimp" mast.
We were out one day last summer on Shabbona lake in northern Illinois having a great day. We made a turn off a broad reach going into a tack. Winds blowing 10-15, gusting to 20. I don't recall if we had reefed the sail or not. We'd just gotten onto the tack when "CRACK". We looked, and there, sure enough, was a nice hairline crack around the mast. After spotting the nicely written "Oaracle Gets a Carbon Fiber Mast" by Gary Blankenship & Helen Snell, we were inspired to repair the mast using carbon fiber sleeving from Sollar composite. We invested in enough sleeve to do two layers about 5 feet up the mast. I believe it was the 2.75" diameter; since the sleeve will contract when stretched you should get a larger diameter than the mast.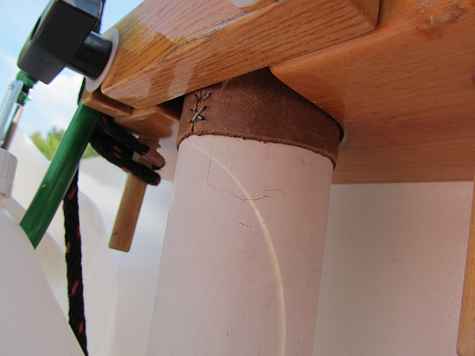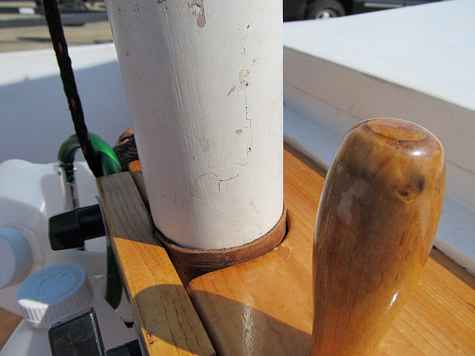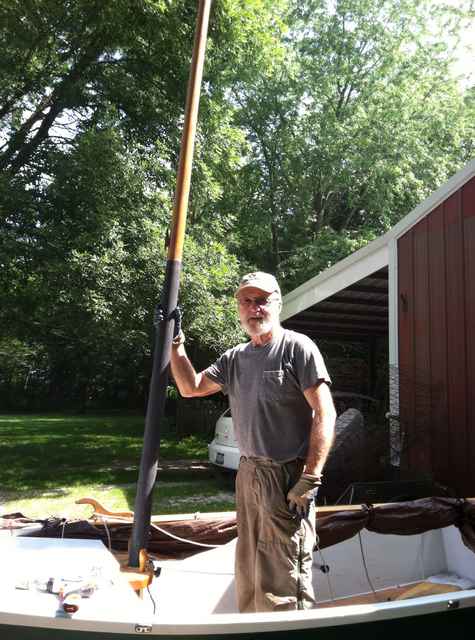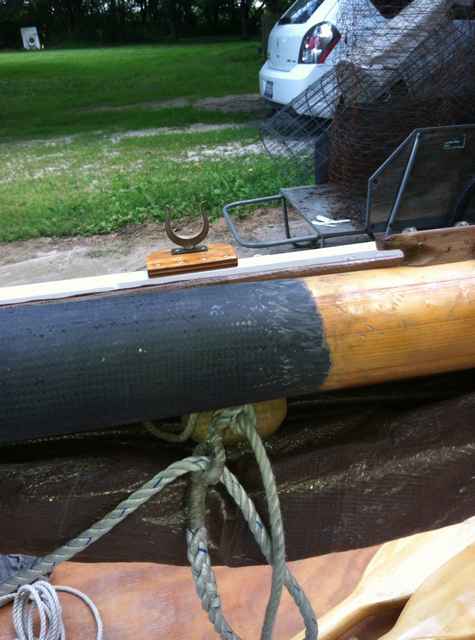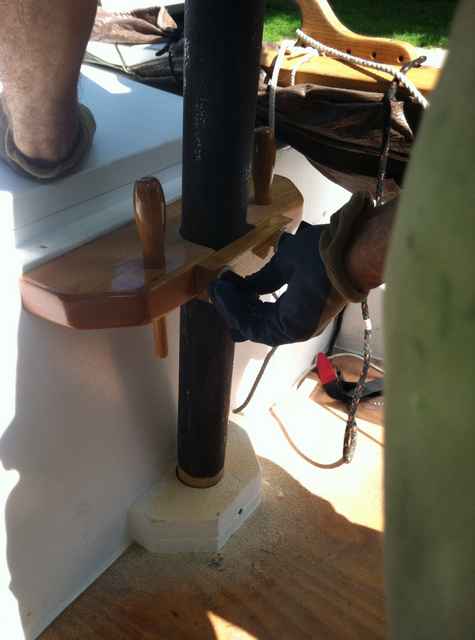 Dad (Don) and Dave did a test run with the sleeving and epoxy on some pvc pipe before proceeding to the actual repair. Dave became a rubber glove epoxy squeegee expert, this being his favorite method of wetting out the epoxy. One layer, dry and sand, then the next layer, dry and sand, and feather the end into the mast. They left enough exposed at the bottom to go into the existing mast step. The mast partner had to be sanded out slightly, as the new mast-with-carbon-fiber-layers is actually a little thicker than the previous mast-plus-leather arrangement.
We haven't sailed with the repair yet, but we're hopeful and fairly confident that we have a stronger mast than before.
Tom