Coroplast Hull Material & Plywood Decking
Equals Low Weight & Low Maintenance!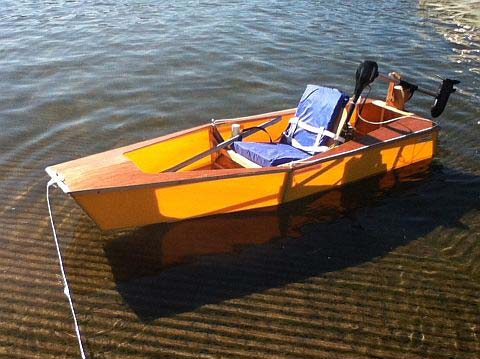 FEATURES:
Ultra Lightweight (less than 30 pounds)
Seats 1 (or 2 with additional center module)
Unsinkable with air-cell construction
Paddle, Row or Trolling Motor powered
Fits in most vehicles for transport
CoroPlast hull material requires little or no maintenance (Polypropylene co-polymer resin)
Easy to build, and easy to assemble
Only handyman tools required
NOT intended for rough water use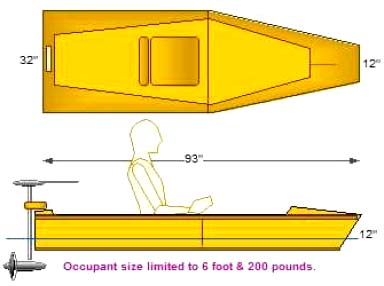 Because of it's ultra-light weight, this boat can be used by anyone, of any age. It paddles effortlessly, is stable, and is easily transported in almost any vehicle. And, the cost to build is about $80. Add a center module
and it seats two in tandem!
Specifications:
Assembled:
OAL = 7' 9"
OAW = 33"
OAH = 12"
Nested:
OAL = 49"
OAW = 33"
OAH = 15"
Total Weight about 30 Pounds
Capacity = 250 pounds max. (Including motor & battery)
Draft = 5" max, fully loaded
Hull Speed = 4 mph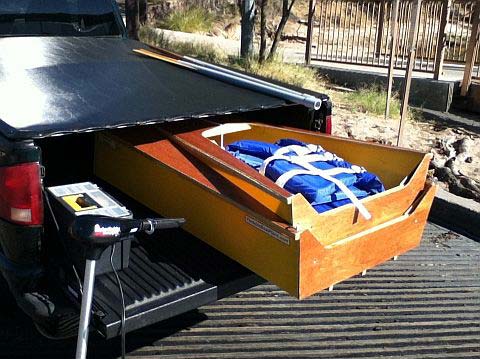 As you can see from the specifications above, the Composite Cruiser (CC) is nearly 8 feet long and nests to a 4' x 2-3/4' x 15" package for transport. As a result, it will fit in all trucks, SUV's, RV's and some cars too. But, the most significant aspect of the design is it weight, less than 30 pounds empty ! It's pretty easy to build, and requires only handyman tools. The "CC" name comes from the mix of construction materials used to build this little gem; Coroplast for the hull and thin Plywood for the bulkheads, floor and decking. and it is all bonded together using Waterproof Construction Adhesive and stainless steel staples.
Look at the photos below, and decide if a "CC" is in your plans.
| | |
| --- | --- |
| Coroplast being cut... | ...folded... |
| ...and formed. | simple bulkhead assembly |
| coroplast hull to bulkhead detail | assembly of rubrails |
| skids glued to bottom | full speed with trolling motor |
This is just a sample of the photos in the plans, in fact, much of the assembly is described using these kind of pictures. It is very important to note that the "CC" is not for use in turbulent waters, although it is unsinkable. Also, a 30 inch center module can be constructed to accommodate a second occupant, making the "CC" a great little family boat. As with all small boats, care should be taken in it's build, use and maintenance, to insure personal safety. Always wear a Personal Flotation Device.
don't forget to visit www.PortableBoatPlans.Com for new designs and updates.
Happy Boating!
Ken Simpson, Designer
See all of Ken's designs at DuckworksBBS