Note: these plans include full size templates which you can print on your computer's printer. If you live in the USA you will want to order the plans in letter format - if you live anywhere else, you will want to order the A4 version.
| | | |
| --- | --- | --- |
| Length | - | 4250mm (13´11",1/4") |
| Beam | - | 620 (24-1/2") |
| Weight | - | ca. 18 kg (40 lbs) depending on materials |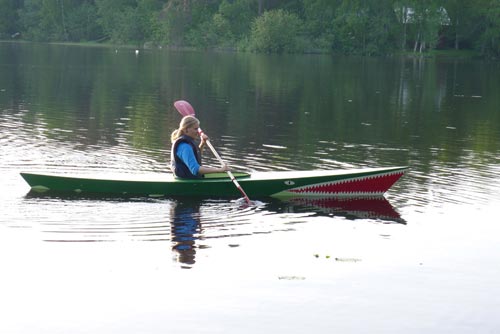 The idea of an easily and quickly build kayak has fascinated me for a while. A boat which can be made with minimal building effort - so, if I crash it onto rocks etc, I don´t have to loose any sleep. Still it should be good to paddle both: on shallow rivers and on lakes. Crocodude is designed for that purpose.
The ply panel shapes are simple to draw and cut. The sides are made using only straight lines and the number of framing parts are kept minimal.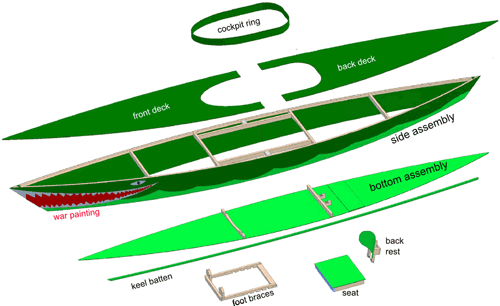 Watertight buoyancy tanks can be easily added using existing frames on deck.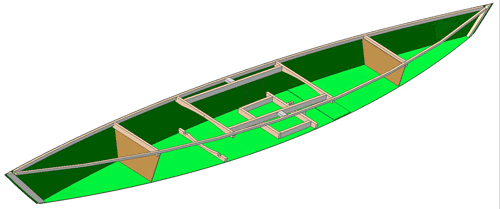 Assembly is fast: the sides are screwed together with couple of frames. Then the bottom is taped to the sides with duct tape while the inside seams are glassed.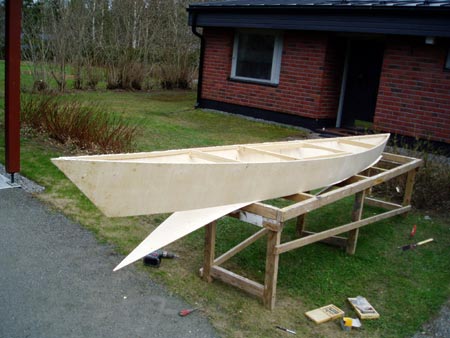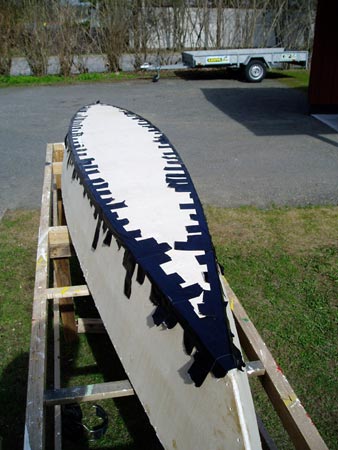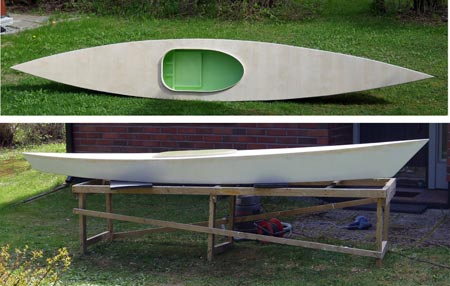 Crocodude can be build even more simply: the cockpit and seat rest can be made really simply and foot braces are not necessity if you are just building fast, but I think they are worth extra effort.
You can also use commercial made back rest and foot braces.
This boat is light and fun to paddle. If you are not used to kayaks, it may first feel a bit tippy, but for only for a while and all who tested it, got familiar with it and enjoyed paddling.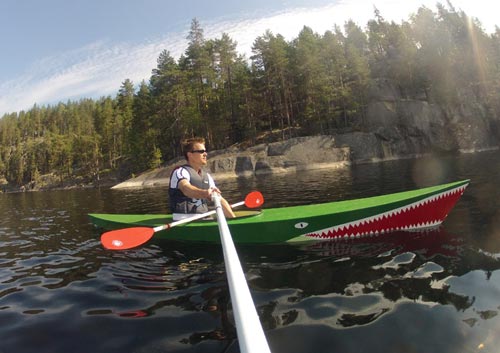 Even though it has no skeg, it is easy to paddle straight. Adding a skeg makes it point really well, but makes paddling difficult on small rivers. The plans contains drawings for a removable skeg.
The backrest is fastened to the boat with wingnuts, so it can be removed when loading gear inside or adjusting its position.
Here are a couple of videos from trips I made - one on a river:
and one on a lake :
Yep I like it - even it is simple flat bottom kayak it is capable on paddling trips - and more.
Requires 3 sheets of 4mm plywood.
It´s been tested with paddlers weighing 60-90 kg (132-198 lbs). On an overnight trip I tested it with about a 95kg (210 lbs) load and it handled it beautifully. I felt that it could easily take some more load, but still it´s quite a small boat and if you are a big fellow and just – I mean just a bit heavy this might be too small boat for you.
Plans are available in both A4 and letter format. Be sure that you select right file to match your paper size. At the end of plans there are printable 1:1 patterns. Check your printing options, that you have set print scale 1:1 or scale = none when printing these patterns on pages 34-39!
Print template pages on the thickest paper you have and check after printing that dimensions on the templates are correct!!
Also download the 3d pdf file. The 3d model works only in Adobe Acrobat reader! (any other pdf reader would not be able to rotate the boat.) If you feel unsure how some parts are assembled, you can open the model - hide parts and find the part you are looking for.
| | |
| --- | --- |
| Click HERE for a 3-D PDF file that will let you rotate, pan, zoom and otherwise manipulate this boat. | |
Plans available from Duckworks - Click HERE