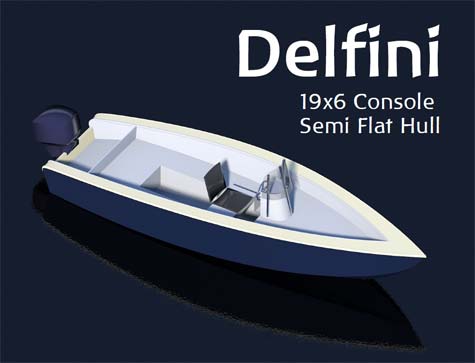 Back in August 2012, I'd started designing a rough water capable boat which, at that stage had the working name of 'V Boat' and was about 20' long with a beam of 7'. I'd had an idea to offer it as a kit, made from CNC cut panels.

After exchanging a few emails with Chuck Leinweber on the subject it emerged that Chuck was interested in building a fairly fast runabout suitable for choppy bays, to be powered by his 25hp 4 stroke outboard. A few more emails crossed between us and the preliminary 'V Boat' design became 'Delfini'.
The length became 19 feet with a beam of 6 feet, the deck was replaced with Chuck's preference for a console arrangement and the bottom included a flat portion - still capable of handling a chop yet beachable too.

Delfini is intended for long shaft outboard engines in the range of 25hp to 50hp. If lightly loaded she should manage on 15hp. I've designed her with a transom that will accommodate a twin engine set up, I personally have in mind a pair of 15hp 2 strokes - used ones are available for very reasonable prices and a twin engine set up provides a back up should one of the engines fail.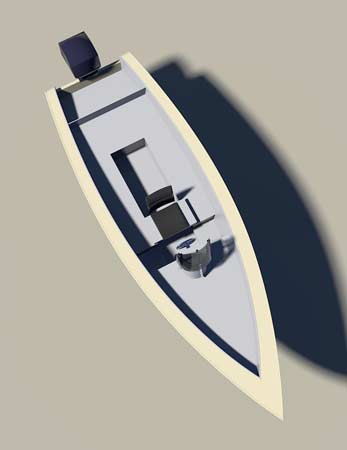 The plans package is in 2 parts as follows:
The construction manual.
The dimensioned scale plans in letter size format.
The full size template drawings of all major components are also available separately.
Anyone with a basic knowledge of woodworking should be able to make this boat. Whilst the manual sets out the construction sequence in detail, the builder should have a basic knowledge of and ability in working with wood and polyester or epoxy resins and glass fiber.
Delfini Specifications
| | | |
| --- | --- | --- |
| Length | - | 19' |
| Beam | - | 6' 0" |
| Empty Hull Weight | - | 520 lbs |
| Suggested Horsepower | - | 25 - 50 |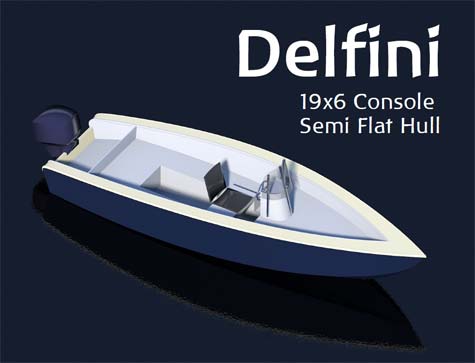 List of Materials
Marine Plywood:
1/2"x4'x8' (12mmx1220mmx2440mm)
5 sheets
3/8"x4'x8' (12mmx1220mmx2440mm)
8 sheets
1/4"x4'x8' (12mmx1220mmx2440mm)
10 sheets
1/8"x4'x4' (12mmx1220mmx1220mm)
1 sheet
Timber
1-1/2" square timber for the temporary supports about 12' (4m)
3/4" square timber for batten fixings
about 350'
Note: less will be required if all joints are taped and epoxy resin jointed

Resin and Glass
50 yard roll (45m) of 3" (75mm) glass tape
17 yards of glass cloth to cover the bottom of the hull
Three gallons (14 liters) of epoxy resin
About 5 pounds (2 kg) of resin thickening powder
For Consol Screen
1 sheet 1/4" perspex
36" x 20"
For Consol Screen Supports
1 1/4" dia stainless steel tube
about 7' 6"
3/4" dia stainless steel tube
about 2' 0"

Misc
4 sheets of 8'x4'x2" (1220mmx2440mmx51mm) Styrofoam for the flotation
Here is a video showing the building sequience:
Delfini plans are available at Duckworks Boat Builder's Supply.
See Andrew Walters' other boat designs too.