| | |
| --- | --- |
| | Mini Camper Cruiser in boat mode |
SPECIFICATIONS :
BOAT

OAL = 12 feet
OAW = 4 feet
OAH = 34 inches (top of cabin)
Occupants = 4 max
Capacity = 750 pounds max.
Power = Row or 3 HP motor max.

CAMPER

OAL = 7 feet
OAW = 4 feet
OAH = 4.5 feet
Occupants = 2 max (sitting or sleeping)
Finished Weight = 125 pounds, no load
FEATURES:
The primary feature is it's multi-functionallity!
Shallow draft, about 4" at full load of 750 lbs.
Ability to sleep 2 adults in comfort, and seat 4.
Hull speed of about 6 mph with a small motor.
Easily trailerable, and fits in larger pickups.
Stable and roomy, great for fishermen.
Converts from camper to boat very quickly.
Cuddy cabin cover for inclement weather.
Easy to build by anyone with common tools.
Hi Chuck,
After weeks of design time, drawing and editing, a new project is ready for release. This one is unusual, to say the least, and should generate much interest. We all want things that serve multiple purposes, and the new MINI CAMPER CRUISER is an outdoorsman's dream. The original concept is by Craig Titmus of Australia, and over the past few weeks he and I have been trading emails regarding the design details. While I drew up the plans, he built scale models as proof of concept. Compromise and creativeness have been the key words in our collaboration, and the end result is a gem, if I say so myself.
| | |
| --- | --- |
| | Mini Camper Cruiser in camper mode |
The whole idea was to produce a Boat that has generous capacity for it's size, and then convert it into a land Camper at the end of the day, where two occupants can spend the overnight and sleep in comfort. On water, the Mini Camper Cruiser can seat 4, for casual lake cruising. Fishermen and hunters will have plenty of room for gear, and at 4 feet wide and 12 feet long, it is stable and comfortable. Yes, it has a flat bottom hull, but that means it also draws very little water, about 4 inches loaded, so traveling up the shallow waterways should pose no problem. With a hull speed of about 6 mph, getting to distant locations is within reach. Propulsion can be provided by a small gas outboard, electric trolling motor, or just stand up and paddle around. Optional oar locks can be affixed to allow sit down rowing also.
| | |
| --- | --- |
| | Mini Camper Cruiser loaded on it's trailer |
Then, when the sun is going down, head to shore, pull onto flat dry land and start the conversion process. First, place the rear seats and motor into the camper module, and any gear as well. Most everything should store beneath the seats. Unscrew the safety bolts, and gently lift the rear boat module onto the top of the camper module. It actually pivots up, so the weight is minimal. Next secure the top with 4 small bolts, and prepare for a comfortable evening sitting in the camper. There is no stand up headroom, but plenty for sitting. The whole process should take less than 10 minutes! An option is to load the camper onto it's transport vehicle for even more security.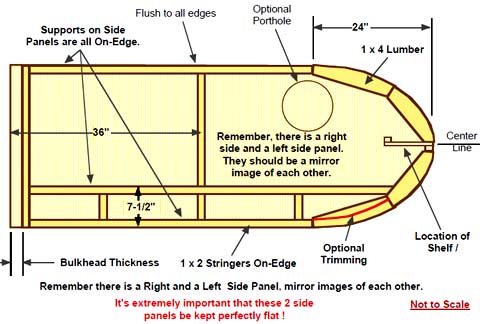 sample drawing from the plans
There are many options available to the builder to turn this into even a greater vessel, such as a canvas canopy over the Hull modules, so sleeping on the boat is possible. Or an attached fold up exterior camper tent for use on rainy days. There is even thoughts of adding a folding mast and rudder, to take advantage of prevailing winds. The options are only as varied as the end users needs. Because the basic geometry of the hull is simple, adding functional components should pose no problem to ambitious builders, such as pivoting dolly wheels, to ease getting the boat to water, and out again. These are but a few of the ideas already proposed, and I am sure there are many others to follow.
So, I have attached the plans for The MINI CAMPER CRUISER for your insertion into my plans list on the Duckworks BBS Website. As always, I am grateful to Duckworks for all you do in promoting the small boat building community, and for inspiring the next generation of boat builders. Who knows what lies ahead?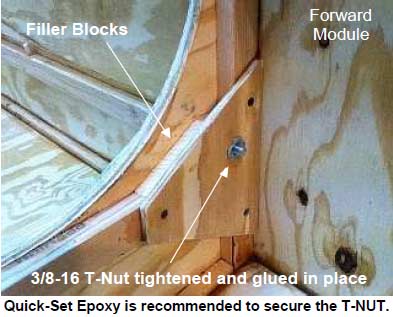 Best regards,
Ken Simpson
*****
Download free PDF Study Plan - Click HERE
Full Plans for Mini Camper Cruiser are available at Duckworks