Part 4: Days 4 & 5
part 1 - part 2 - part 3 - part 5
Daylight. The bedroll was pulled over my head to keep in the warmth. But I could hear voices, including Chuck's. Time to get up. As I began stirring, Toby Nipper, the Checkpoint 2 captain, in his distinctive drawl commented about the emerging of cocoon people. And upon finally hatching from the bedroll, there was Warren Richey, an experienced Watertriber who is making a deocumentary of this year's EC, grinning broadly with his camera. Oh, well (which was not my comment at the time). There at least was no rush as we still had a few hours before high tide.
We tended to a few details and headed to a nearby restaurant for breakfast with friends Pat Johnson (of Pensacola) and Pat Johnson (of Wellington), who were following the race on land. For Chuck (who is from the dry side of Texas), it had been a case of a dew sleep in; he spread his dew-dampened bedroll on Wellington Pat's Fatcat sailboat, parked nearby on a trailer. The restaurant was stuffed with Watertribers enjoying a real meal. I managed a quick shower in Toby's motel room, and we packed up and got ready to leave. Around 9:40 a. m., we shoved off along with kayakers Macatawa and his father, John Algera (Passaic Paddler). Scott Widmier, who performed so well in 2012 in his EC Puddleduck, was zooming around in a Super Mouse design, checking out the passes for a planned 2014 EC campaign.
I had heard about the Cuban Restaurant at Chokoloskee for years. The breakfasts there are legendary in Watertribe lore. I swear I would have eaten there even if it had meant missing the tide (although I am sure that Gary would disagree – good thing it did not come to a showdown). I forget exactly what I had but it had eggs; it had sausage; it had potatoes; and it had coffee – all the basic food groups – and it was cooked and seasoned to perfection. I am not a foodie but I do appreciate a good meal and this breakfast was spectacular. Of course my judgment might be somewhat affected by the fact that I had been eating nothing but kippered herring and grainola bars for several days.
We got to the south side of Chokoloskee Island and faced one of my personal nemeses. There's an open bay between the island and the start of the mangroves, and it always demands from me a toll of groundings, near groundings, and sudden course changes. This year was no exception (or maybe it was payback for beating the tide the previous night). The wind was from the east, and prevented following the "safe" track in the GPS. We felt our way across, realized at one point we were headed for the start to Chokoloskee Pass instead of Rabbit Key Pass, grounded on an oyster encrusted sandbar, bumped and dodged a couple other shoals, and finally made it to the mangroves. A combination of rowing and sailing got us through the pass and to the Gulf, about 90 minutes after we left.
Chuck had called his wife, Sandra, who gave us the weather forecast for the day: light to moderate south easterlies (headwinds on this part of the course) shifting to southwest in the afternoon and then westerly sometime at night. We found the light south easterlies as we hit the Gulf, but they quickly went very light and fluky. We tried to tack south, but mostly bounced around for about 45 minutes, and then a southwesterly filled it and we began to make steady progress, although there was a moderate chop. A couple dollops came aboard but overall the dryness of the Walkabout was impressive. We didn't bother to put up the dodger for extra protection. Pavilion Key was soon past and Chuck used his GPS to calculate we could make it almost to Northwest Cape Sable before we would have to tack. I came to think of this part of the trip as "thump, splash, repeat" as we worked through the chop. It wasn't lonely. Coastie and ClamCounter on their Hobie went by, and Will and Amber Nye (ZeroTheHero and Green Mountain Girl) provided a spectacular view as they went by in the afternoon on their Vanguard Nomad 17 sloop, both pointing higher and footing faster. (Yes, I love unstayed rigs, but going to windward a properly tuned, stayed rig is almost always better.) And most of the day we could see Stan Hanson (Etchemin) and Bob Bradford (NiteNavigator) behind us in their Sea Pearl tri. This would also be one of the rare days in an EC when no reef was needed.
I should note here that the Sea Pearl Tri did not catch us that evening, as they should have, and we later learned why: they had broken one of the aluminum castings in the folding mechanism of their port side aka and technically, that was the handicap equivalent of a broken leg.
| | |
| --- | --- |
| | Chuck resting: Chuck taking his turn getting some rest for what would prove a long night running down the Everglades Coast. This turned out to be the only day in the challenge where we didn't need to reef. A rare day indeed on an Everglades Challenge. |
The speed was about 3.5 to 4 knots as we passed Pavilion, then it picked up to 4.5 and occasionally 5 knots, which made for an optimistic ETA at East Cape Sable, where we would turn for the 10 mile run to Flamingo and Checkpoint 3. Interestingly, this offshore jaunt down the Everglades Coast is almost the same distance (it's a mile or so longer) than the distance between Pine Island Sound to Cape Romano. About halfway down the coast, the wind began to ease. The boat speed dropped to 3.5 knots, then 3. In compensation the chop decreased. But the ETA function on Chuck's GPS (which I came to loath), had moved well past the wrong side of midnight for Cape Sable. Later that night, in apparently disgust at our increasingly slow progress, his GPS quit altogether.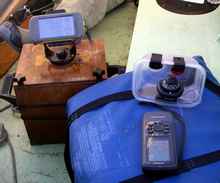 Navigation: Somewhat over navigated as we head down the Everglades coast on a crystal clear, sunny day followed by a clear, star-filled night. At the upper left is Chuck's new GPS mounted on a special box he built that held a 7 AH AGM battery. A truly neat set up. Except the GPS didn't seem to like it, proving somewhat tempermental and finally quit altogether (through no fault of this installation) a few hours after this picture was taken. The other GPS is Gary's veteran Garmin which saw its first EC in 2007 and has a pile of EC waypoints and routes. The compass was our answer to a need for something that was compact, portable and adequately lit. The compass was serviceable but a bit small for Gary's bad eyes. (This was his fault - he had a larger compass we were going to use but he didn't find it until after the EC.) The small waterproof lights over the compass were great - no external wiring and plenty of endurance for an EC. These were purchased at a kayak shop.
It didn't help when my half of a wit reasserted itself. To clear the cockpit coamings, the Walkabout's oarlock sockets are mounted in raised wooden blocks. The oars were carried in the oarlocks, with the blades shock corded to cleats on the stern deck; the oars become sort of a low rail, a couple inches above the coaming. Anyway, at one point I stretched and unthinkingly leaned back against the oar near the block, and the block snapped in two. It wasn't a critical breakage as we had paddles and the Walkabout paddles almost as well as it rows. But I felt like an idiot. (Chuck did a quick repair when we finally reached Flamingo with a longer screw for the sockets to fasten the broken parts together and some quick setting epoxy. But an hour out of Flamingo, I did the exact same thing and broke it again . . . . Fortunately we didn't need the oars again.)
While I still blame Gary for the first break, the second one was not his fault – it seems the 5 minute epoxy I had been carrying for years was either past its use-by date or I did not mix it properly. It never did set up and the screws were the only thing holding it. It was not going to hold for rowing even if Gary had not leaned that second time. (But don't tell him, I want to milk this for all it's worth.)
| | |
| --- | --- |
| | Gary resting: Gary naps as Chuck steers down the Everglades Coast. Getting enough rest is critical to an Everglades Challenge. |
About an hour before sunset as we were nearing Ponce De Leon Bay, the wind played a further trick. It eased again and headed us. That necessitated a tack offshore and the Walkabout's speed eased to about 2.5 knots, and continued down. After a while we tried an onshore tack with the frustrating result the boat wallowed, barely making a knot. I figured it was a bit of a head sea, left over from the earlier wind, but Chuck adjusted the boom downhaul, moving it forward and that improved the performance. But we were still heading shoreward too quickly, so we tacked back offshore with its slow, but steady progress. Other than the frustration of that slow progress, it was a peaceful evening. The boat, gear, and crew were dry. We were taking hour turns at the helm, and I managed two separate solid one-hour naps (the dodger was up now to shelter the off-watch crew) to add to some shorter naps earlier in the day. The stars came out, and we watched Orion head toward the western horizon as Scorpio rose in the southeast. And at least there were always stars to steer by. Around 10 pm, we had a temporary slight increase in the breeze. Around 10:40, we tacked for land again; by Chuck's reckoning (verified afterwards), we were about eight miles offshore. "If it were daylight and I realized we couldn't see land, I might be nervous," he said with a smile.
I can not remember ever being on a small boat out of sight of land before – so here was my first time and I couldn't even appreciate it as there was not enough light to see that we could not see land.
The slight improvement in the wind proved short lived and it continued to slowly decrease as we approached shore and the green flashing light at the entrance to Little Shark River came into sight off the port bow. Finally, around 1 a. m. as I took the helm, it quit completely, the taunting green flasher emphasizing that we were knotless, so to speak. Chuck laid down and I grabbed a paddle and spent a satisfactory half hour moving a mile in the right direction so the pesky light was no longer in front of us. We agreed that with no wind there was no reason to try to sail the boat and we both might as well try to get some rest. But I wasn't particularly tired because of my naps, so Chuck got under the dodger again while I puttered around, ate a snack, stargazed, and admired the reflection of the brighter stars in the calm water.
It was a magical night! With almost no observable light pollution - only a slight loom from Miami – the stars were truly like "diamonds in the sky". Later that morning, I got a chance to steer by the stars. All you have to do is watch the ugly compass a bit until you get the course established, then look up and see which stars are right next to the mast and then keep them there.  The result is the most relaxing sailing you can imagine – no fretting with the GPS or consulting a compass with a glaring flashlignt – just you and the stars and the tiller in your hand. For me, this was the high point of the whole EC.
| | |
| --- | --- |
| | Night shot: A picture of our dodger, lit by flashlight, on Tuesday night as the wind eased then died. We appreciated having a covered spot where the off watch could stretch out and sleep. We got enough rest this night that once the wind picked up, we were able to finish without having to take any more breaks for sleep. |
Around 2:30 a. m., the slightest breeze sprang up, just enough to ripple the water - and it was from the southwest. Hard on the wind, we were on course to just clear Northwest Cape Sable. The boat speed was only a knot or so, but it was at least in the right direction. Around 3, the wind picked up further and soon the speed was around 3 knots. From his regular breathing, I could tell Chuck was sound asleep, so I didn't disturb him. In truth, it was joyous sailing. The waning moon was rising in the still cloudless sky and while the temperatures were still cool, it was the mildest night so far. The sea was calm and the Walkabout slipped along on a magic ride. The impatience at not moving dissolved in the wake.
The wind continued to build so that by 5 a. m. we were scraping by Northwest Cape, just making it without a tack, and doing better than 5 knots. Less than two hours later, as the sun was preparing to poke above the eastern horizon, Chuck helmed us past East Cape Sable and into a rarity that is the dream of every sailing Everglades Challenge participant - entering Florida Bay with a moderate following wind. The red sun rose to yellow in the sky and the dark water turned green/blue on the royal ride to Flamingo. Channing Boswell (Dances With Mullet), in his wonderful not-quite-finished self-designed trimaran (he got it built, but not painted, in time for the EC) was departing in the Flamingo channel as we were entering. Shortly before 9 a. m., we entered the boat basin and tied up at dock.
| | |
| --- | --- |
| | Dances with Mullet: As we head in to the third checkpoint, Channing Boswell leaves Falmingo in his cool self-designed and built trimaran. Love that small pilothouse! |
Next time: The Final Run