Thoughts
Gentlemen
I have had the great pleasure of exchanging emails with Mark Gumprecht and I felt I should pass along my thoughts. The emails were simple, really, nothing earthshattering or even extraordinary. What made them so outstanding was Marks ever so fast responses and thoughtful suggestions. You are fortunate, indeed, as I am, to be able to deal with such an individual. Complaints are easy, compliments not so much.
Ralph Balch
---
---
Back from the Boat Palace
Hi Chuck,

I just got back home today from Mike Monies place. Ispent 4 days helping Mike get some work done on the Sweet Pea. I learned a lot of building tricks but the best ones were on epoxy work and how to minimize waste. I have been wasting a lot of epoxy with the way i was doing it. So the bad news is now I wont have to buy as much from you. : )   we talked about you a lot in case your ears were burning the last couple days, but it was all good stuff! Jackie fed me way too well and now i have to order Weight Watchers. see you later.
Gene
---
Crystal River Boat Bash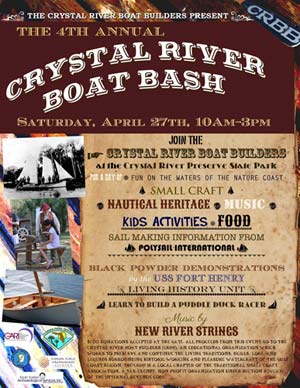 click image above to enlarge
---
Everglades Challenge
Hi Chuck,
I just wanted to wish you and the other participants of the EC a safe journey, fair winds, and a fun adventure on your voyage. I hope everyone has a great time. I look forward to reading about it and seeing the pictures and video.
Paul Cook
---
Hard Work
Keep-up the good work, there are a lot of us out there that really enjoy all your hard work to bring something that no-one else does these days!!! Also, with the price of gas going up so much, I seem to think, that sailboats should be making a come-back soon! A few years ago, the electric company here, had a project, They had me help with, that got some of the schools involved building solar boats. We had a local company make about 20 fiberglass hulls. I still have one of them today. At the time, it seemed like a lot of people got interested, But the price of gas went down, and people forgot, and went back to big motors?
Captain Tony
---
Thanks
I am a great believer that one should tell people they love them or thank them as often as possible.  We don't know what the next day holds of course.
It is fairly often that people thank me for putting Sail OK together and holding it that way.
But what I tell them is it was you and Duckworks and the TX 200 made me do it.  I saw how much it meant to hold events that people could participate in.  But more than that, meet builders, sailors, designers, talk to each other and interact.
It was your Best Little Boat Show in Texas that inspired Sail Oklahoma.  Not because it is a real boat show but because it is a half serious, half hippy conclave of the best I can find coupled with everyone from rank beginners to the most veteran, all in a big mish mash of fun, frivolity and education.
But you more than anyone inspired and guided me.  It is your designers that have mostly provided the education and inspiration, along with a lot of the fun, your builders and readers are the basis of our Sail OK group.
Another belief I hold in my heart is the ripple effect, that when you throw a pebble in the water you don't know where the waves wash up or how large they may grow to be.
When I get letters telling me that someone was inspired to start a group or copy ideas we use in Sail OK it is so gratifying.  To know that my belief in boot strap local groups that are springing up all over the country can help restore small boats as a hobby may come true.
But it is you and Duckworks that I believe deserve most of the credit.  The rest of us are just following in your wake.
---
Shocked, I tell you
Chuck
I don't know if you are from the Everglades Challenge, or not, but I was shocked to see the Mini Camper Cruiser as the cover story on the Duckworks Magazine this AM!  It is obvious you have given it preference, and I appreciate that very much. 
Construction has begun in Australia and all is going well, photo attached.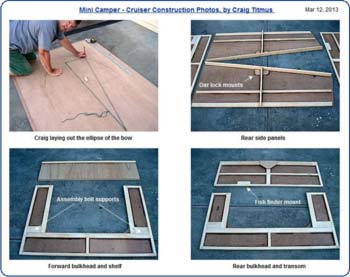 Again, thanks for all you do.
Best regards,
Ken Simpson
---
Wooden Boat Festival Down Under
Chuck
I just wanted to let your readers know about the wooden boat festival that we are running for the third time on 14th of April at the Mordialloc Sailing Club, Melbourne, Australia. Each year this little festival is getting better and better. This year we will have two heavy weight Sharpies, the Gold Medal Finn from the '56 Olympics, Mirror dinghies, a Penobscot 14, a MacGregor Sailing Canoe, a Heron, a Firebug and many more.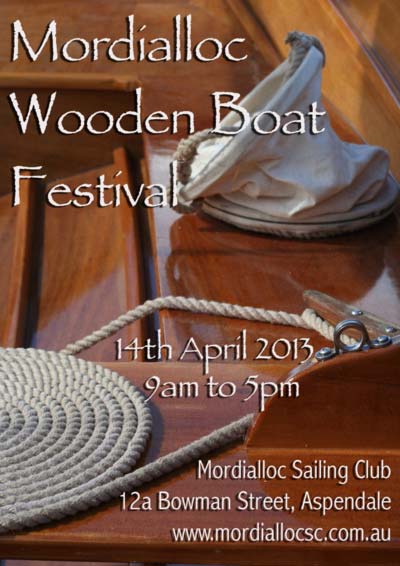 Last year we had great fun with Pancakes for breakfast, a BBQ lunch and some fine sailing in the afternoon. We are planning for the same again this year.
Online registration and events details are on our website.
Regards
Richard Lozell
Rear Commodore
Mordialloc Sailing Club
---
Rowing
i liked today's article about rowing and especially the link of building the whaleboat; that shows the perfectly enormous gunter rig of the originals. Here is another video of a whaleboat build: https://www.youtube.com/watch?v=M5D_h5lF3rM
Craig
---
Wharram Rendezvous
WHARRAM SAILING CATAMARAN
2013 SPRING RENDEZVOUS (HUI WHARRAM)
ALREADY SCHEDULED!
We will be holding the Spring Wharram Rendezvous (a Hui Wharram) May 17-18-19, 2013 in Islamorada, FL (Florida Keys) at the world famous Lorelei Cabana Bar.
A "Hui Wharram" or "Hui-o-waa-Kaulua-Wharram" (Hawaiian) is a group or gathering of Wharram boats.
There is no easier way to fulfill your sailing dreams – from sailing the trade winds or the local shores – than with a Wharram Sailing Catamaran. Wharrams range from 16' to 63' and are mostly home built of plywood. Stable, rugged, fast, FUN, comfortable, inexpensive to build, operate and repair!
Come, see and enjoy the boats. Just have fun. We talk about Wharrams and nearly any other boat. We tell sailing stories…some may even be true. We compare notes. We share pictures. We look at plans. We take pictures of each other's boats and get some really good (and a few bad) ideas. We eat and drink and just have fun. Bring a boat if you have one but everyone is welcome … no boat needed! FREE! No registration, no costs, no plan (a perfect Keys event!)! Join us for a Dutch-treat dinner on Saturday night at the Lorelei…lots of door prizes!
For details send an email to floridawharramrendezvous@hotmail.com.
---
Saturday Evening "Talk-about"
Hi Chuck,

I'm hoping this isn't too late for you or Mike to get in to "Letters" or what ever Duckworks category you think best in April or early May.  It's a wonderful addition to what is already shaping up as a fun filled Eastern Messabout.
   
    The grassy slope leading down to the boating beach at Elk Neck is such a pleasant place to gather in the evening, and we enjoyed the conversations so much last year, that it begged to happen again! So .. here's the first paragraph of a note we recently received from Norm Wolfe:

       "I would be pleased to share my experience in building and using both NormsBoat and RAIDER. Different boats, different locations, different uses.
       I have crude models of both, which helped in the design process and construction, and I will bring both. John Zohlen has suffered through helping me with some decisions on both, and may have a few thoughts to add."

    Many of you know Norm and John from the last couple years and know his very able, well traveled 'Norm's Boat', a Jim Michalak design. Norm has cruised it widely with the Shallow Water Sailors here in the states. You may not know that Norm goes over to Estonia every summer and sails in "Raids" in Finland. In 08' he had Jim Michalak design a boat for those cruises and had it built over there. This is 'Raider'. So we're in for some fascinating design/build/sailing conversation with lots of time for Q&A. About 7 or 7:30 after the Saturday Potluck.

     Make your plans, reserve a campsite if you haven't already, and PLEASE - let us know you're coming so we can enjoy the anticipation. Got a question ? Check the links and/or post on the Yahoo Group .. some one will respond pretty promptly.          https://groups.yahoo.com/group/EasternMessabout/

    Looking forward to seeing everyone.
    Bob Throne. for the EM ad hoc crew

---