Who needs the Superbowl?
Hi Chuck,
I am back on line now after a week off line due to internet server and computer problems. man what a relief!! i missed my daily Duckworks fix. can you imagine being a boat building addict and not being able to read Jim's Newsletter, not being able to gawk at endless boat plans, not able to order stuff from your site, not able to chat with fellow addicts on the Yahoo forums ??? it was horrible, but happily i am free all weekend to get caught up on everything i missed. who needs the Superbowl, i've got Duckworks!!
Gene
---
---
Build and go Voyaging
This coming September there will be a 'build and go'event in the Gulf of Morbihan, France. It's a special kind of messabout, where you can fly in from wherever, build a boat and then spend a week exploring one of the best small boat cruising areas in Europe.

The inspiration for this is an event back in September 2011 when Brian Anderson organised the 'Loire River Raid'. Seven of us spent a few days building two Michael Storer Quick Canoes under the guidance of the designer himself. Then we set off down the Loire for a week of adventure.

This time the plan is much the same but we'll be cruising the youngest sea in the world. In Breton 'Morbihan' means 'little sea' It's almost land-locked but tidal with some interesting currents here and there. Depending on conditions we might also venture out into the ocean.

The Gulf has mediaeval cities, neolithic stone circles, fishing harbours and islands aplenty to explore. You can even walk in Benjamin Franklin's footsteps. We'll also be able to spend a day sailing one of the traditional fishing boats with their distinctive two masted lug rig.

We'll need to keep numbers down to about ten. If you live near enough you can bring your own boat, but for some the building is a bit part of the fun. When I went I took my skiff but joined in the building. There's been a fair bit of discussion about what boats to build this time, so anyone with suitable knowledge still has time to contribute ideas.

If you're interested email BoatMorbihan@amarshall.fr and introduce yourself. Or start by looking through our Web site:

https://groups.yahoo.com/group/BuildAndGoVoyaging
Albert Marshall
---
Dreaming
I want to make this boat into a yawl: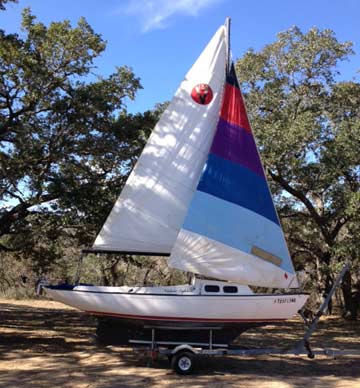 This is what I am going for: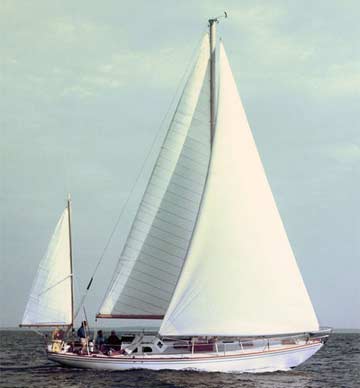 Jason Nabors
---
OBX
Hi Chuck,
So we had said originally that we were not going to be doing an OBX130 this year but as it turns out we will. Only we will be exploring the Pamlico Sound this year. This will be a test sail where we will be checking out a lot of potential camp sites for a more formal event in 2014. That being said we are inviting experienced sailors to join us in our explorations. A motor is suggested as we want to cover a lot of ground and if the winds aren't right we wont be afraid to start them up. The dates are August 26th to 30th. People who would like more information or who would like to join us this year or next can join our group on Facebook at OBX 130. People will probably have to sleep on board at least a couple of nights and be ok with some stealth camping. This will be closer to a 180 mile sail as the crow flies. It might even take us an extra day to finish. There is a KMZ file for those who are interested.
Paul, Sean, and Bill Moffitt
---
Everglades Challenge
The Everglades Challenge starts on Saturday March 2 and if you can get out to the beach at Fort DeSoto on Friday you'll see some of the best and strangest boats and sailors you've ever encountered. These guys push off the beach at dawn and sail/row/paddle down the entire coast of Florida to Key Largo, 300 miles in under eight days. I'm going to try to be there at the start but dawn is awfully early. If the weather's not too bad Helen and I may go and watch from "Helen Marie". This link here is for their new site and once you figure it out you can follow every boat from start to finish.
Dave Lucas
---
Likes Photo System
I like the way Duckworks mag has changed it's photo system for the better. You can get all of the photos in the article in large format in sequence by clicking on a photo....Then at the upper right and left you can go forward or backwards. That way you can see each photo in sequence in high quality large format....duh! See today's on peddle steering.
JIB
---
Doesn't like Photo System
I don't like the way the pictures cover the article when enlarged. Used to be, I could enlarge the photo, then refer to it while reading the article (especially handy when map images are included). Now, it covers the article. My workaround is to open the same article in two seperate browser windows. I can then read the article in one, and view the photos in the other.
 
Seth
---
New Blog
Hi Chuck,
I am writing to you from aboard Belle, my SeaPearl 28 cat-ketch.  I currently anchored at Cedar waiting for a weather window and a package from home.  My trip will include the Gulf coast of Florida including a rendezvous with the start of the Everglades Challenge and hopefully a visit my friends the West Coast trailer Sailing Squadron (WCTSS) at Cayo-Costa.  I will proceed at a leisurely pace toward the Everglades and the Keys.  My ultimate goal is the Dry Tortugas.  The trip is open ended and intended to enjoy all the places I wanted to spend time at when I was shackled by an employer.  Now as a retiree, I hope to meander south, sharing my missives and missteps with my readers on my blog. Perhaps you would care to share this with the readers.
https://seapearlboats.blogspot.com
Cheers from S/V Belle
Larry Whited
---
Thoughts on Google Ads
Hello Chuck,
Re: Google ads (item in January letters finding ads offensive) - I rather find the ads entertaining (tongue in cheek) with a trend towards pathetic. Look at them with an eye on technology. The Internet and online advertising has been around for 15+ years now. They are claiming that ads these days are finely targeted to what each user wants to see or what interests you. Yet, I go to Duckworks and what do I see? a) "Cremation planning. The most caring gesture that you can offer to your family and loved ones" ...ah really? Good to know, as Valentine's day is fast approaching. My 43-year old wife will be surely be amazed. Can't wait to see her face when she opens that letter with the gift voucher! And then b) "Free German Lessons. you can learn German Easily here. Over 200.000.000 lessons delivered" ...come on, I _am_ German! Google has not even heard me speak (because I do not use Skype), so how do they claim to know how badly my command of my first language is?? Apparently, they link my location (Germany) with the location of the website (US) and draw the consequence that I probably want to learn _GERMAN_ of all things?? The reality seems to be that they are really using complete c**p algorithms for ad targeting. Amazing how a company can do so well with such "technology".
Anyway, thanks for Duckworks - my daily dose of mental escape from the treadmill. Without this site and all of you contributing, this world would be less colorful. Thank you, thank you.
Mario Stoltz, Hamburg
---
Loves Video
Love the video of Salamis sailing. I am building a static hms surprise at the moment
craig
---
Fie on Sprit Rigs
Judy Blue Eyes from Charleston stayed here for a few days to try out her new 13 ft melonseed. We took her boat, my Laylah and Museum John in Jim's melon out to the beach and had a memorable day.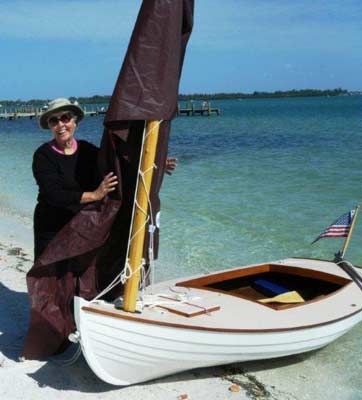 I broke my mast, John turned over with Helen in the boat and I discovered why sprit rigged boats are total crap. They should be outlawed and put in the same category as jet skis. I offered to convert Judy's boat to a gaff rig then it'll be a good little boat. Before all you snotter fans give me a ration think of this scenario; going to lunch at a little water front place that's directly downwind on a high seawall with lots of fishing boats and docks sticking out all over. It's a twenty knot wind directly into this mess, you have to fly in, tie up and drop sail while bouncing around off a dock. Eat a good lunch, get back on the boat, raise sail and beat away from the boats, docks and rocks. All in a little 13 foot boat that will turn over if you go up on the bow. Have a nice swim.
David Lucas
Lucas Boatworks and Happy Hour Club
---