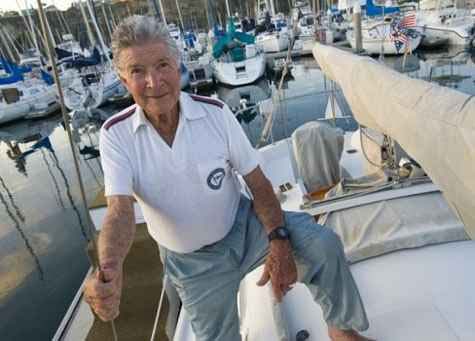 John A. Garau   Jan. 8, 1925 – Aug. 23, 2013
On Thursday August 23rd, 2013 we lost our father and our community lost one of its most unique characters and longtime citizens, John Aurelio Garau.    When Dos Equis XX created the "Most Interesting Man in the World" campaign they could have easily taken from Johnny's Adventures because in many ways… he was the Most Interesting Man in the World!
Dad (aka Junior) was born in Los Angeles, CA on January 8, 1925.  The son of Aurelio Garau Sr., an immigrant from Sardinia, Italy, and Salome' Blanchard from San Antonio, New Mexico.  His father owned the world renowned Delmonico's Restaurant and Cotton Club in Los Angeles.  Dad was always extremely proud of his heritage including his Great, Great Grandfather Albino Perez, the appointed Mexican Governor of New Mexico in 1835, and Carlos Blanchard a famous Wagon Train Master on the Santa Fe Trail. 
John was an original in Laguna, at least as original as they come.  He was brought to Laguna soon after birth in the late 20's.  He grew up on the beaches of Laguna and in Carlsbad where he attended Army and Navy Academy graduating in '43 where he was given the nick name of Frenchie.  Upon graduation John was off into WWII serving in the Army Air Corp and was stationed at the Santa Ana Air Base prior to going to flight training on the B24 bomber where he served as a navigator. 
After WWII he returned to Laguna and worked as a lifeguard both for the City of Laguna and in Avalon on Catalina Island and attended USC – Fight On!   Johnny was the oldest surviving Laguna Beach Lifeguard.  From all the stories I have heard from him and his close friends… he was a Hell raiser!  He danced many a night away at the Casino in Avalon and partied hard on the beaches of Laguna.  His fond memories included lifeguard parties at Bette Davis' house on Wood Cove and when he was terminated from the LB Lifeguards for waterskiing while on duty during a busy 4th of July weekend.   His stories, as most of us know, were endless.  He seemed to have been everywhere, done everything and met the most interesting people on the planet.  His experiences could have set stage for his own TV adventure series.
In the mid 50's he met and married Priscilla (Sally) Conley and they opened the Reef Liquor Store on Coast Hwy in Laguna.  They had 4 wonderful Children.  Jean-Pierre who, married to his wife Susan, living in Oregon, and has 2 beautiful twin daughters (23), Aria and Ashlee both living in Oregon.   Jean-Francois (Jaime), married to Kathy, living in Laguna Niguel with 2 children (Nicole 19 – Sophomore at NYU, Chris 17 – Senior at San Juan Hills HS).   Maria-Christina (Salome'), married to Aaron, living in Hailey, ID with two beautiful girls (Isabelle 21 – a dramatic artist and Annette 19 – Sophomore at USF) and Jean-Paul who lives in Sun City, CA.
After selling the liquor store business in the early 70's he opened Reef Realty on PCH and Thailia Street.   Many will remember the Surfing Santa on the office window at Christmas time.  John spent a lot of time with the local surfers at Thalia and Saint Ann's and use to anchor his Sailboat off Thailia Beach during the summer and commute to and from work on his surf board.   The Thalia beach crew loved the office location and stored their surfboards under the building and took advantage of the outdoor shower after a surf session.
In the mid-1980s Johnny started the first of many of his world adventures that he would do over the next twenty years including sailing the Western Pacific and Caribbean aboard the Sailboat Celerity with his longtime friends Bob Anderson and Herb Nolan.  He then sailed off traveling through Europe, New Zealand and Australia in camper vans, expeditions throughout Central and South America, Tahiti, Easter Island, Singapore, Thailand, Vietnam, Hong Kong, China and a number of other places that slip my mind at this time.  But I think he loved being in Hawaii the most and spent considerable time there with many friends, learning the Hawaiian culture and language.
Johnny, Frenchie, Junior, Dad or whatever the nickname was that you had for him (some good and some bad), left on his last great adventure and passed away peacefully on Thursday August 23, 2013.   John A. Garau is survived by his 4 children and 6 grandchildren.  As a small tribute to Dad we have renamed his sailboat, his home for over 35 years, as the O'Johnny of Laguna Beach.
Memorial Services will be held on Saturday September 21st at 8:00am starting with a Paddle Out at The Main Beach Lifeguard Tower at 8am.  Church Services will follow at San Felipe De Jesus Catholic Church in Capo Beach at approximately 11:00.  A Bon Voyage party for Johnny will be held at Lucy's El Patio following the services.  Later in the day the family and friends will depart Dana Point Harbor on the O'Johnny and Johnny's remains will be spread off the coast of the community that he lived, loved and will eternally be a part of.  My brother reminded me that the 21st is the Solstice.  A great day to begin a new journey.   If you have a boat you are welcome to join the flotilla! 
For more information check out his Facebook Site at https://www.facebook.com/john.garau.1?fref=ts.  In lieu of donations… Please If you have a great picture or interesting story about Johnny I encourage you to post it for all to enjoy. 
We will miss you and always remember you and share our family history with all future generations.  Bon Voyage from your children, grandchildren and your many friends all around the world!  You truly were The Most Interesting Man in the World!   Rest in Peace.
Robert Mooers