Whether you build, modify, or just boat around, the ultimate goal is time on the water. The following is a story of one of those all too brief times on the water in our home modified boats.
Perhaps each of us should be on a quest in our life's journey. Some quest may be large, others may be small but it is good for the soul. A friend of mine is on such a quest. He would like to boat the length of the Kanawha River (our local big ditch). Perhaps this quest is small in comparison to some but perhaps a little larger in an 11 foot RIB (Rigid Inflatable Boat). The Kanawha River has a navigable river length of 96.5 miles, 3 locks and much river history to be had. This article describes our recent overnight boat camping trip to help him complete a small section of his quest.
| | |
| --- | --- |
| | Steven D. - Quest leader |
Boat 11 foot RIB, modified for open boat camping cruising with removable center seat, dual 6 gallon fuel tanks, rigid fiberglass floor, floor, propped for efficiency with a high pitch prop on a 15hp Johnson 2 stroke.
Curtis P. and John S. - Quest scribe and nephew adventurer.

Floatinstein - Hull converted for camping/open boat cruising.
I started with an abandoned 1965 "Jet" aluminum hull, modified with a flat wood floor/deck, tiller steering using Yamaha 25 hp outboard, homemade "free" fender, tiller extension, and motor tilt lever and camping tarp.
| | |
| --- | --- |
| | John S. - Quest adventurer |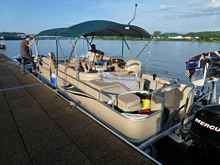 Mickey W. - Quest support. Mickey on the Mother Ship, bedded down on the couch of his pontoon in complete creature comfort.
The Mothership - 24 foot pontoon. The crew assembled at the river bank at my house with Steve completing his RIB assembly on the shore, Mickey bringing his pontoon down from Buffalo and my boat being on the bank.
Even though his boat has 115 hp, upholstered seats, porta toilet, Grill, Stereo, and various other amenities, we let him hang around with us because he slows down his cruise and waits on us.
We left at 6:40pm Friday evening on the 18 mile jaunt to the river city of Point Pleasant, WV, located at the junction of the Kanawha and mighty Ohio rivers.
| | |
| --- | --- |
| | Cruising at 18 mph on a slack river, we enjoyed the trip through the farmland, watching the mile markers slip by. |
The river is marked by mileposts which start from the river's junction with the Ohio and travel up stream. The markers and associated lights are good waypoints and are really handy when navigating at night. The Kanawha is a commercial river so passing the occasional tug and barge string can be intimidating as these tugs are often 2600 hp and pushing strings of barges upwards 1000 foot long and two to three barge widths wide. Fortunately, the river is wide and a small boat takes little room. Surprisingly, the wake from the tugs is not as strong as one would suppose and is well tolerated.
As the midpoint slipped by, the farm land gives way to river camps and commercial dockage and barge assembly areas nearing Henderson, WV. Working boats ferrying barges filled with products ranging from coal to chemicals work bank to bank so a bit of caution is needed when running this gauntlet - a load of barges has little braking and a lot of headway.
Reaching the confluence of the Kanawha and Ohio it is exciting to boat into/onto the larger Ohio (1500 feet wide vs. 750 feet wide) and head upstream the short distance to the Point Pleasant levy. The concrete levy and public floating dock is a welcoming place to rest for the night. Ominous black clouds and lightening had filled the western sky as we arrived. The boats were made fast and we rapidly walked the few blocks through town to McDonalds to eat a fast food dinner and watch the rain, lightening and wind go during fast moving storm as darkness fell. After filling up on not so healthy options we enjoyed the walk back to the levy with cooler temps and a wet ground after the storm. The boats rode out the brief storm no worse for the wear and we proceeded to bed down for the night. Steve, in the RIB, had just enough space for him and his gear, looking like a bug snug in a rug.
| | |
| --- | --- |
| On Floatinstein, we had plenty of room for two to bed down with sleeping pads and bags due to the large flat floor. | |
| | |
| --- | --- |
| | RIB |
Steve and I are shaking down our boats for a longer cruise so abstained from the comfort of cushions and such, choosing to sleep on our little boats and sort out all of the things that can come up: sleeping pads, pillows, stowage of gear, rattles and noises at anchor, etc. That is the beauty or building/modifying a boat- it can be anything and everything you want it to be.
The levy was mostly deserted with only a few night fishermen enduring the 60 degrees cooler temps. The water was wonderfully smooth with little river traffic and smooth sailing for a night of restful sleep until 3am.
From a deep sleep your mind comes alive. "Is that rain? Yes! It's raining now, heavy!" Up to rig the tarp, a quick task, using large spring clamps on the gunnels. They go on quick and hold well. Under the tarp, the rain pattering put us back to sleep and I didn't awake till daylight to a wonderfully clear sky and smooth river. Steve, without a tarp, had taken the rain in stride using a water proof bivvy sack to reduce his "wet time". He was either comfortable or tired as he was the last one to rouse from slumber and join us to survey the morning.
Since the old diner in town had long since closed, we walked back to McDonalds and had a healthier fare for breakfast with coffee and pleasant conversation before doing a little sightseeing in Point Pleasant (otherwise known in these parts as "Point"). Point is known for many things, a pre-Revolutionary center of commerce and history, a busy river city in the 19th and 20th centuries, a major boat production facility during War World II, A haunted city with the "Mothman" lurking here since 1968 and the collapse of the Silver Bridge crossing over into Ohio. We visited the welded, stainless steel, life-sized, Mothman statue displayed in the center of town, then across the street to the historic Lowe Hotel built in 1904 to house river travelers.
The old hotel has been through several floods with the first floor submerged in 1913 and 1937. Supposedly haunted with the souls of lost patrons, we only visited for a brief time finding no spirits to linger with us. Having a bit of extra time in our schedule we decided to boat a mile upstream and visit the now defunct Point Pleasant Marine Company. The old pilings, dock and river front building give interesting photo opportunities.
It was time to return, our boats packed and ready we turned downstream on the Ohio then turned into the light current of the Kanawha making good speed on the return trip up river and towards home 18 miles away. Being a Saturday, the river was busy with recreational boaters and fishermen in high speed bass boats jetting to their secret fishing spots. Ours being a sedate trip, we maintained our cruise of a steady 18 mph on the way home. It is a good speed to get where you're going and at the same time see a bit of the country side while you boat. Getting close to home and waving at familiar neighbors we beached at the landing in the sand and mud of the Kanawha banks.
The first part of Steve's quest to boat our native Kanawha is complete with a satisfactory end. Our heads are filled with ways to modify our boats to better accommodate our brief but exciting time on the river.
If you have a quest of your own and it involves a boat and a little water, begin now. Dream. Make it. Boat it. Life on the water is good!