Community Boat Shop Report
Boat Shop & Classic Boat Society Activities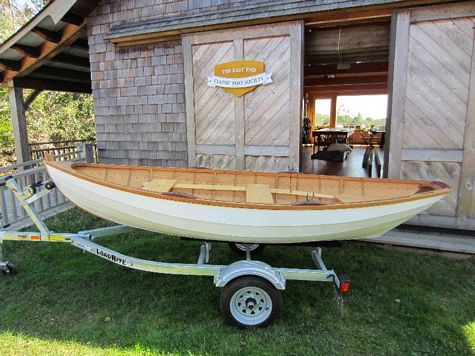 301 Bluff Road, Amagansett, N. Y.
Open Wednesday & Saturday 9:00 A. M. - 2:00 P. M. Year-round
No Admission Charge - Disabled Accessible - eecbs.org
Come Smell the Wood!
2013
Epoxy being applied to the keelson of the 2013 raffle boat Goeller Dinghy by volunteer members (right to left) Burt Van Deusen, Bill Hoppe and Ray Hartjen, president of the East End Classic Boat Society.
Epoxy now being applied to the keel of Goeller dinghy (note the thickness of the keel compared to the keelson).
The keelson was laid first on top of the Goeller's frames with the epoxy side up, then the keel was laid on top of the keelson and both fastened to each other by clamps. Excess epoxy is being removed by (clockwise from left) Bill Hoppe, Ray Hartjen, Nick Stephens, Burt Van Deusen, Don Schreiber and Richie Davgin. Small boats are initially constructed upside down and then turned right side for finishing.
2013 Goeller Dinghy Raffle Boat Blueprint
Profile 12' length, 4' 3" beam, white oak framing, Atlantic white cedar planks, oak transom, sassafras seats, copper rivets, silicon bronze screws and bolts, rig - single sliding gunter, propulsion - oars, sail and capable of taking an outboard. Will come with new Load Rite galvanized trailer.
Raffle Tickets You can purchase a book of 5 tickets for $20.
Herreshoff 12.5
Bow braces on Herreshoff 12.5 to maintain the proper shape of the hull for the installation of a new bow stem. Built in 1921 and donated to the Classic Boat Society by the late Mark T. Hughes, who lived in Shelter Island Heights, N. Y.
Steam Bending Ribs for the Herreshoff 12.5
Pierce Hance (right) with protective gloves removing a hot oak rib from the steambox (a white PVC pipe connected to a steamer) with volunteer members ready to clamp the rib into a predesigned rig.
Oak rib being placed into predesigned rig by Pierce Hance and fastened into place with clamps by (right to left) Ron Ahlers, Rich Kelsey, Richie Davgin and Nick Stephens while Ray Hartjen observes.
With the first oak rib securely clamped into place (right), the crew begins clamping a second rib that was just removed from the steambox.
New steam bent oak ribs installed in the Herreshoff 12.5
What is 21' long, 23" wide and has no knots? The above Atlantic white cedar plank inside the Community Boat Shop with the skeletal frame of the Goeller dinghy 2013 raffle boat visible in the background.
Classic Boat Society Activities
Sat April 27th 10A. M. - 11A. M. Annual Meeting for members of the East End Classic Boat Society. Come learn what happened in the past year and the plans for 2013. Committee reports will be given along with a talk by president Ray Hartjen.
Sat April 27th 12 P. M. - 3 P. M. Spring Open House for the public to talk to boat builders, see the 2013 Goeller dinghy raffle boat under construction and view the restoration work on the Herreshoff 12.5.