One day I decided that it was time for the kids to be a bit more independent, and be able to have their own boat for fishing and sailing. I started to search the web for a suitable boat design - not too big for a 10 year old to handle, but not a toy either. The first thing I found was the optimist, but somehow the flat bow did not appeal to me. Soon afterward I landed on Hannu's Boatyard website. There I found the Portuguese style dinghy. I loved the shape of the sheer line, I really liked the rocker on the boat, in general it was a pretty little dinghy I thought would be really nice. In addition, according to Hannu, three sheets of plywood can build two boats - well, I thought, that is great!
It did not take long to get busy on the boat and started to work out the details. I wanted this to be a sailer as well, although there were no plans for that. After reading Jim Michalak's newsletters and articles, it seem fairly straight forward to calculate the center of effort and the size of the center board. Eventually, I built both boats, and yes, they both were awesome sailors. The first boat I built with a center board and I have that dinghy even today. Originally I built an optimist sail for it and even today I use that, although, since then I took the sail apart and put some more broadseams in there. The first rudder on the boat was a traditional rudder, however the boat is too narrow to sit on the side to steer, so I converted that to a push/pull rod rudder, like the ones are common on canoes. It is a lot more comfortable position to face forward and steer and sail like that. The plans called for a longitudinal seat which works excellent for fishing and rowing, however when sailing, the boat heels and therefore one tends to counter balance the heeling of the boat. At this point it was obvious that the center longitudinal seat was not a good option for sailing - so I removed it. At first I wanted to build another seat in there, but it turns out that the boat is a lot more stable and comfortable when sitting on a cushion on the floor, and on the plus side, now the boat is even more spacious. To make even more room, I removed the middle frame cross beam, which is about 4" above the floor effectively dividing the boat into two halves, and layed it on the floor adding new braces for the vertical frames. This worked out very well too providing more space.
| | |
| --- | --- |
| | |
| | |
| --- | --- |
| | |
| | |
| --- | --- |
| | |
| | |
| --- | --- |
| | |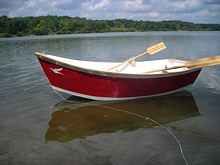 The second boat was a bit different, because it had two short, 4" deep and 3 feet long, keels on the bottom, and it was sailed with a lug sail. Although this boat tacked a bit slower than the one with the centerboard, it still sailed and pointed upwind very nicely. I no longer have this boat because at one point I could no longer do anything in my garage, unless I started to move boats out of there - so I gave it away to neighborhood baker - who since then still treats me with sweets every time I talk to him. Well, even bakers like to fish - I guess.
Over all, Hannu's Portuguese dinghy is an excellent little boat. It is very light, has very pretty lines and over all, a very practical little fishing and sailing boat. Interestingly, it becomes the favorite among the spectators on the shore line. Yes, simplicity has its inherent appeal, I guess.