Double Paddle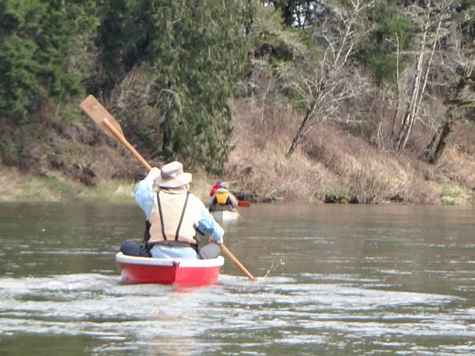 I'm making my first double-bladed paddle. I don't like kayaks and I don't like kayak paddles when they are used on canoes - it's an abomination. The first time I ever used a double-bladed paddle in a canoe was when Mike and I got rescued from Florida Bay - I didn't like it then, but it worked - and it tainted me.
I made a 12' skin-on-frame canoe, which I really like because it is light and portable and everything I love in a canoe. But it is short and I have become lazy - it is easier for me to keep a straight line with a double-paddle than a regular one.
I've put up my plans for making a double-bladed paddle. Probably ought to read it while the funny version still up.
Andrew Linn
---
---
Everglades Challenge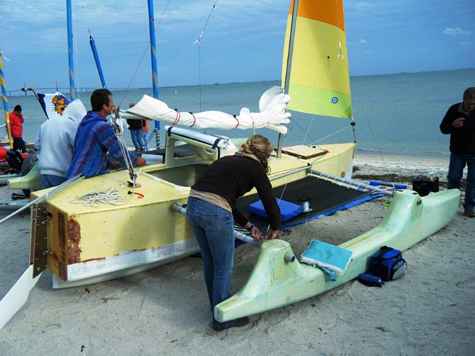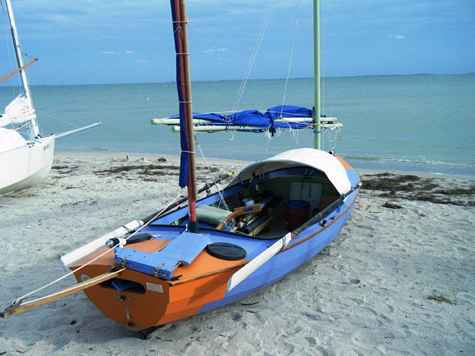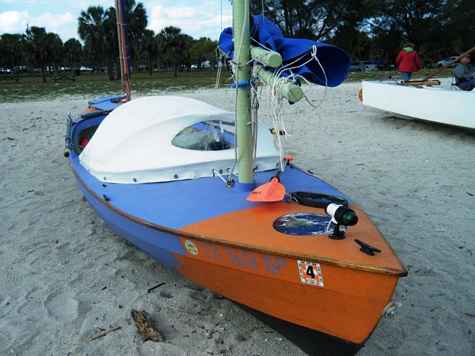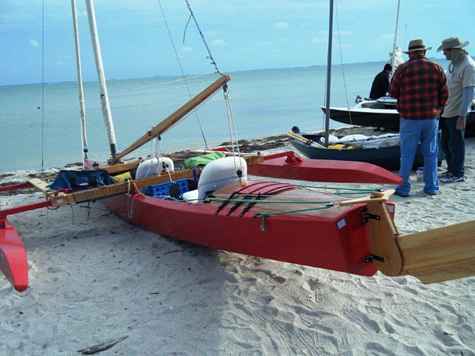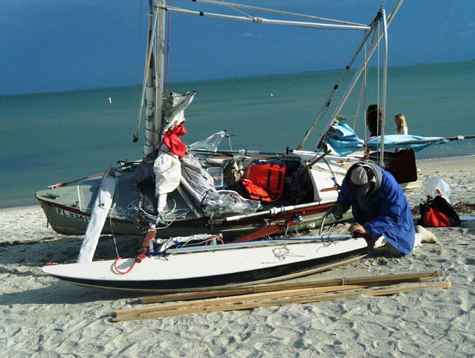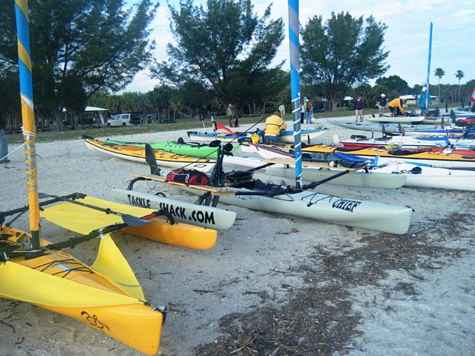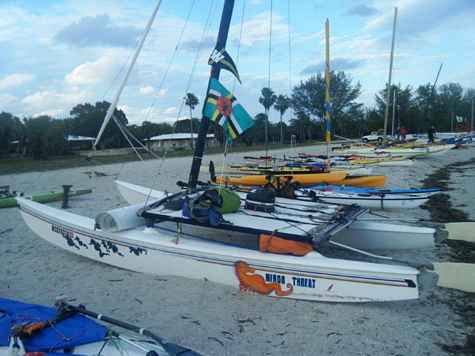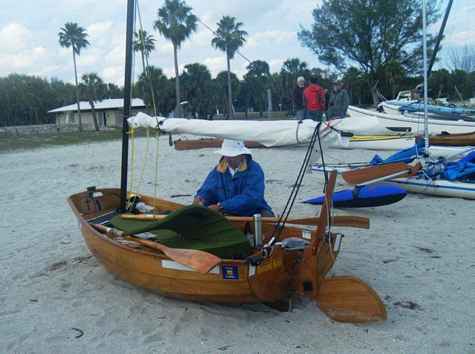 Here's some shots of the beach with the Everglades Challenge boats all lined up for the start. Chuck stopped by the Tiki hut and I took him for a ride on a real boat, "Helen Marie".
Jon Dobbs was at the start this morning and shot this video, sure is calm. Jon in the North American importer of a brand of longtail outboard motor kits, you know the kind with a motor on one end and a long shaft out to a prop that will go through anything.
Glen Hayes was also there and got these good shots.
I was at the Ringling bridge in Sarasota to see them coming through. It was dead calm at 11:30 and a line of black clouds came along and it was blowing 20 at 11:31. I've never seen anything like this. It wasn't a thunderstorm it was the front coming through. The kayakers were ahead in the calm but the sailboats were catching up fast. It was blowing the tops off the white caps on the north side of the bridge and calmer but still howling on the south side. Everyone was surfing whether they wanted to or not. Jarhead, Bill Fite in his black Sea Pearl was the first sailboat through on this inside route, I'm sure the hot-rodder's were flying on the outside. He was on the far side but looked like he was out for a Sunday sail. The kayaks had to really work to surf and not end up on their sides. Chuck the Duck came through in the blue and orange boat, going like hell with only one sail up.
Dave
Lucas Boatworks and Happy Hour Club
---
Windsprint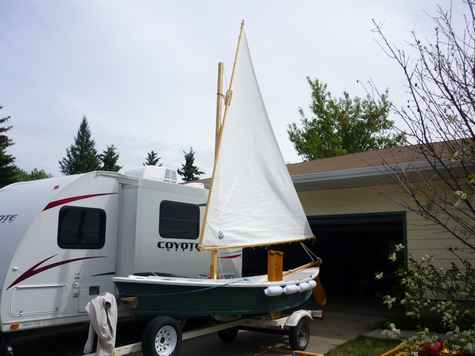 Thought your readers maybe interested in my modified Windsprint with a Sunfish sail. It works very well indeed. It moves even when the wind is almost imperceptible and will plane when the wind is sufficient.
Jim Gooley
---
Kevin Hahn
Here is some of first footage from Kevin Hahn of our 2012 Sail Oklahoma concert with Kelly McGuire of Redfish Islands recordings. We are planning to have Kelly return in 2013 and just have to finalize some dates when he is available.
Kelly is a sailor, an ex-yacht broker like Mike Monies was, and does in my opinion the best sailing music out there. I honestly like him better than Jimmy Buffet.
Anyway, hope you enjoy this as much as we did. Please plan on coming to Sail Oklahoma in 2013. Our concert was in our backyard, the stage is the deck by Mike's boat building shop, looks a lot more professional than that, but Mike built the deck just before Kelly arrived!
Jackie and Mike Monies
groups.yahoo.com/group/SailOklahoma
---
Timber!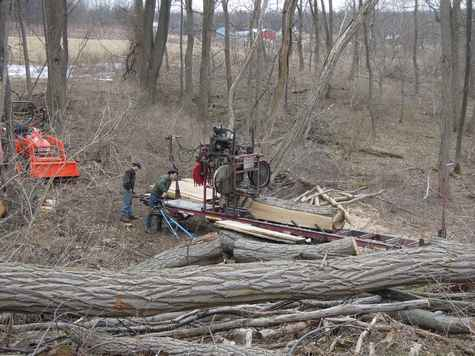 Here we are milling wood from hurricane Sandy's windfall, 1000 bf of 4/4 butternut and 500+ of 8/4 black locust; somewhere in the pile is the keel for a faering.

There was a honey bee hive in the canted log in the foreground; my wife is going to capture it tomorrow.
Here' my wife capturing the bees.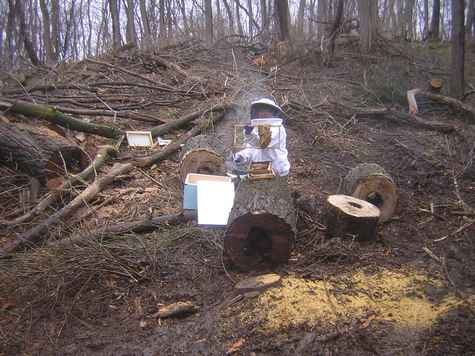 Craig
---
1988 Sears "Sears Super-Gamefisher"
A few photos of the Sears "Super Gamefisher"...1988 with 1950 Johnson "Seahorse 5". I intend to find original paint color and new decals for the Johnson.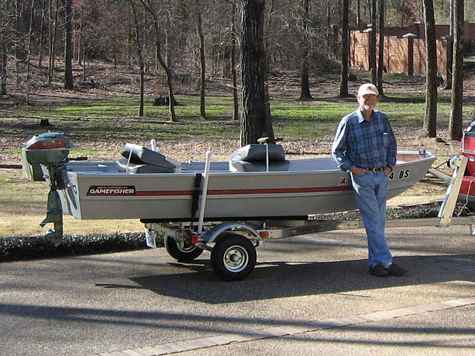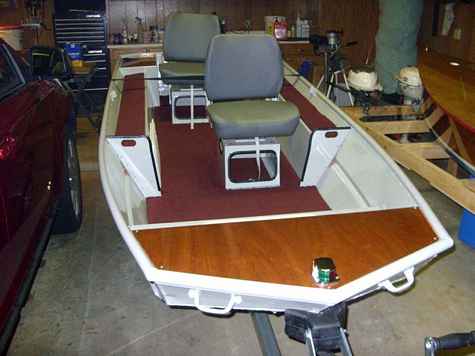 I bought the trailer (galvanized) off the internet. The trailer came in three big packages... I assembled and wired it myself. It was made for a max 12' boat and together with the 12' boat they make a neat little rig, I think. I'm especially proud of the 1950 Johnson outboard.
Ray
---
Canoe
I thought you might like to get an update on this. I built so that I could donate it to my daughters 4th grade class. They are studying the west ward migration, Native Americans etc, and will also do an over night stay at Sutters Fort here in Sacramento. As the Wren was made from a Native American skin on frame design, I thought it was appropriate. As part of this, the students in her class study pictographs, and so they painted a story on both sides of the boat. I have no idea what the stories are, but there is a turtle and an eagle in there! At the schools crab feed auction, the canoe sold for $850, which will help pay for field trips etc.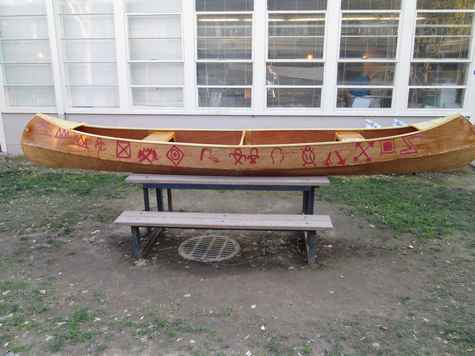 There are lots more pictures on my facebook.
All boats should be built to a deadline! I'm not sure if I will ever make an all varnished boat again! And due the garage full of other boats, it was mostly built on my dining room table!
Andy
---
Link to Blog Photos of Finish EC
Here is a great link to SonOfSandyBottom (SOS) Allan Stewart who won the Everglades Challenge with his dad in their Core Sound 20.
He is photoing all the boats as they get to finish line and dock and posting them on his blog.
He is a good sailor, builds boats. He and his mom won the Ultimate Florida Challenge last year in a tri of his own design and building. First time his mom ever sailed one and they had to finish it on the beach and launch a day late. Still won!
That finishing on the beach and launching untried boats sounds so familiar to me!
This was a remarkable Everglades Challenge. High percentage of finishers and fantastic record breaking times.
Paul and Allan Stewart posted a two days and 2 times time to go 300 miles more or less, that is 48 hours and 2 minutes! Graham Byrnes who designed both the Core Sound 20 and Core Sound 17 previously held record in the EC 22 he also designed and built.
The Core Sound 17 came in second and would have set a record time too but they stopped and rested in Flamingo.
Fantastic!
Jackie Monies
---
South Australian Wooden Boat Festival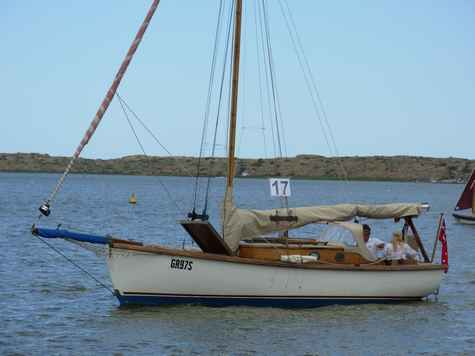 The weekend (22nd/23rd Feb) WE entered and took our Hartley TS16 to the Murray river port of Goolwa, SA. Over 200 wooden boats (mostly classic) were in attendance. I was surprised to see two Bolger designs there. One at the festival, the other berthed at the Hindmarsh Island marina. For those interested I've included a link to my Photobucket album.
John
---
A Real Standup Guy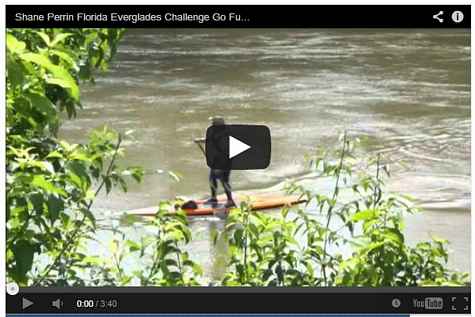 This remarkable young (to me!) young man paddled on a standup paddle board all this way from Tampa to raise money to buy/provide paddleboards for adults and children. Read his blog to find out why - he survived kidney failure and had a transplant to save his own life a few years back.
Anyway, some lowlife scum stole all his gear, his electronics (required), his personal and sleeping gear, food supplies, everything except his board apparently.
The young man's name is Shane Perrin. I watched his progress with amazement anyway, the conditions were anything but easy this year with high winds, rough water. I could not believe the paddleboarders were still going.
Shane stopped to sleep (wonder why he needed to?) and someone cleaned him out. I heard about this from John Bell (Mr. Moon) who we know from the EC and other boating groups who is trying to help him replace gear.
His blog/website is www.gofundme.com/10-days-400-miles&nbsp
After all that people helped us to save the Red Scamp Mike says we need to pass it on. Wish we could have sent more.
Jackie Monies (for Mike Monies)
*****
Shane was back on the water and paddling for all he is worth.  We don't know what he cobbled together to replace his stolen supplies, gear and electronics. I heard via the Watertribe forum that he had been filming the event with idea of putting a video together, so they got his cameras too.
 
I was at CP1 when both the paddleboard guys came in when Mike and Andrew were in the Red Scamp.  Here all the bigger sail boats and multihulls came in, totally trashed and wet, exhausted from the horrible sailing conditions.  Canoers, kayakers came in completely wasted with exhaustion, people were dropping out.
 
These two "kids" came in standing on those little boards, paddling away in their surfer dude shorts and tee shirts, positive and smiling, like nothing unusual was happening.
 
Blew me away.  I don't know if one of them was Shane but it doesn't matter.  Same thing.
 
Jackie Monies (who has made a very small donation- wish could be more)
*****
A few of you have asked me how to contact Shane Perrin, the stand up paddler who is about to make it to the finish line of the 300 mile Everglades Challenge in Key Largo.
Two ways, Shane Perrin shaneperrin@gmail.com is his email address.
The fund-raiser address is:
https://www.gofundme.com/10-days-400-miles#description
He has a Facebook page where you can friend him and a blog I believe but don't have those addresses.
Shane seems to be one of those remarkable people who do not give up, something I truly admire as I am not as committed sometimes! He paddles with one kidney, an obscure and rare disease that caused him to go on dialysis and more reasons to not do this than reasons to do it. Yet, he does.
Shane is raising money and consciousness about dialysis patients, transplant patients, children and adults through his Stand Up Paddling. He is buying SUPS to give to patients and while this may seem extreme, I understand exactly what he is doing!
I hope some of you will contact Shane and offer support. I know I will when he has a chance to get back to Fenton, MO after he finishes his record setting paddle.
Jackie Monies
---
Sail OK
Sail OK is a wonderful opportunity to see a LOT of homebuilt boats in one place from many, many designers and even go out and sail in them. It is also a unique opportunity to talk to the designers themselves and builders who can give you tons of information on the boats and builds. Seminars and workshops teach with designers and experts passing on valuable information.
No, we are not Annapolis or Port Townsend or Mystic Seaport but what we are offers the average builder or would-be-builder wonderful insights into building your own boat.
Jackie Monies- Sail Oklahoma
groups.yahoo.com/group/SailOklahoma
---
Chair
I'm going to have to buy myself a nice rocking chair to place on the bow deck of the Yellow Goose Shanty!

This non-rocking chair just won't do at all!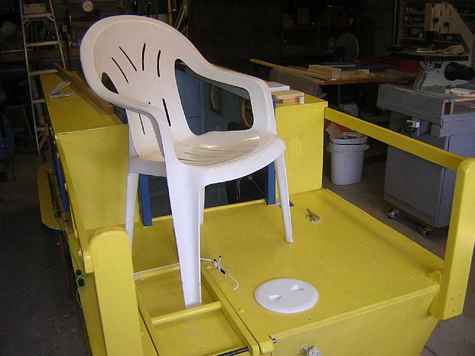 I can just see me at the 2013 Sail Oklahoma Boating Festival...toddy in hand...rocking in my rocking chair...watching Gene Berry working so hard assisting other boaters! 

Hey! I'd help...but, I'm old and frail....:>))

Bill Nolen
---
Mega Jumbo Tolman Skiff
I'm at the 90% complete mark. It took longer than I thought due to work, travel to NJ, deer season, the new house, and life. She is 26' 10 inches tip to tip. About 1900 lbs in these photos. Power is going on in a couple weeks with a Honda 150 and Yamaha High thrust 9.9. I built to workboat style finish, meaning 100 grit max sandpaper and once around for fairing. I do not like to sand. I like to fish.
She has a 3 ½ anchor deck, 7 foot cabin with two bunks, 6 foot pilot house with a bench seat with slip top for standing at the windows. She has fully opening lexan windows on a 45 inch opening, which I made so I can drive hook my arm out the window at the right height, 6'2" pilot house height max, nine separate compartments for safety and beach sand in the final coat of epoxy for non skid prior to painting.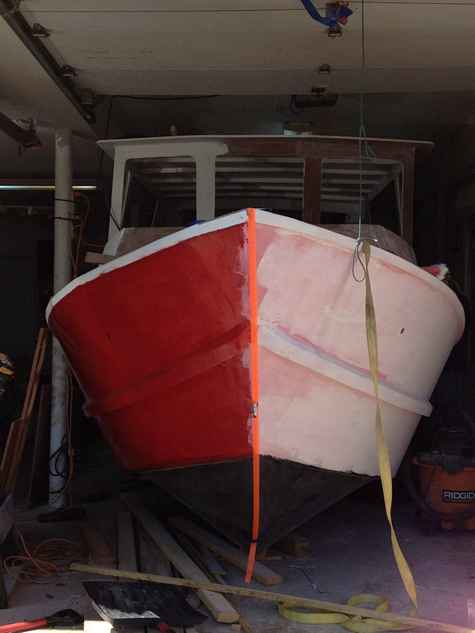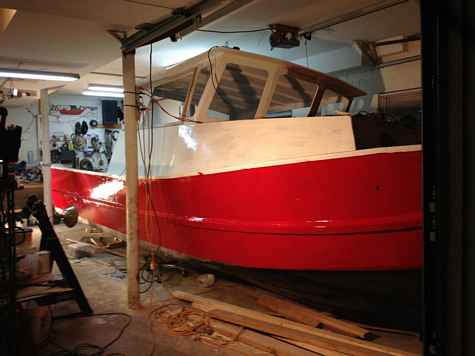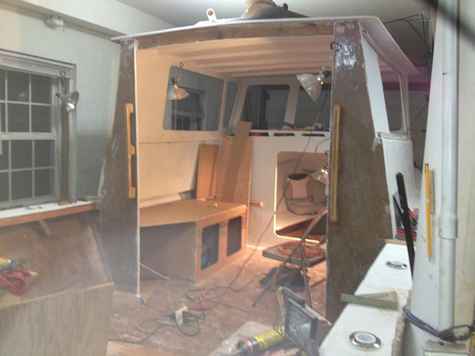 The boat is still in northeast Md for anybody interested. I think 500 hrs to build to my level and under 30K as she goes out the door including the new motors, new trailer, glass epoxy and wood. I used a lot of MDO from Harbor Sales and if I ever build another boat I will use that entirely. Its good stuff. Almost no voids and easy to glue up and finish.
I stretched the design limitations a bit, and so used a full 9 inch stringer and 5/8 ths bottom. She is a tank.
The boat will sail out of Ocean City Maryland, Indian River Del, and Manasquan NJ. Whichever port the tuna bite is closest too. Plus the upper Chesepeake for crabbing and rockfish.
Dave
---
GetMyBoat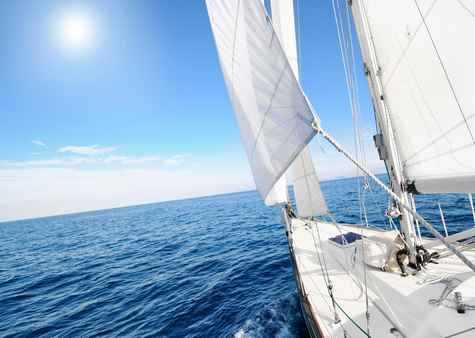 The world's fastest growing peer-to-peer boat rental site, launches with 2,000 listings...
I wanted to make sure you got the announcement for the official launch of GetMyBoat, the internet's fastest growing peer-to-peer boat rental site. Here are three reasons why I think your readers will be interested in us:
1) Peer-to-peer boat rental is probably the most sense-making peer to peer play in travel - owning a boat is wonderful but can also be financially onerous, and this model helps boat owners monetize their asset when they're not using it. It also spreads the joy of boating to those who would otherwise be shut out of the experience.
2) GetMyBoat is the most fleshed out, robust site of its kind on the internet. It's also the the most democratic - from kayaks to super yachts.
3) The folks behind it are serial entrepreneurs. They've launched half a dozen companies between them and they know what they're doing.
I can also send you some screen shots to make sure you have a feel for the site - and feel free to check it out directly! And, of course, call me with questions...
Shonna Keogan
---
LocoMotion
It's my favorite shot of Laura and I in our 24-footer, LocoMotion.
I think Dave Lucas actually took this shot, as we were passing him going out Bunces Pass.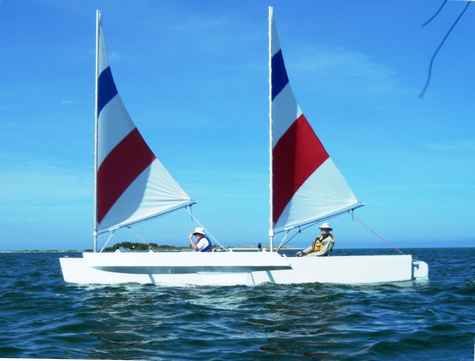 Break an oar!
Frank
---
Coastal Maine Water Trail Celebrates 25th Year with Events Throughout the Summer

PORTLAND, ME – In celebration of 25 years of sustainable recreation on the Coast of Maine, the Maine Island Trail Association (MITA) plans a rich series of events from mid March to Labor Day.  The purpose of these events is to raise awareness of coastal environmental issues and outdoor adventure opportunities along America's first recreational water trail.  Activities will include a film festival, a paddle race, island cleanups, a "Rock Hop Photo Op" on-island photo contest, and a Labor Day boaters conference.   

In 1988, a group of Maine small boaters announced the creation of the Maine Island Trail -- a coastal waterway that now links uninhabited islands and mainland sites from Kittery to the Canadian border.  Enjoyed by boaters of all kinds, and people who simply love the coast, the Maine Island Trail was established with 30 state-owned islands.  By adding a handful of islands each year, the Trail has grown steadily and now includes 200 islands and mainland sites.  The majority are privately-owned islands, including many land trust properties.   The Trail is managed by MITA and its many volunteers.  Over 25,000 people have been MITA members over time, some for most or all of the Trail's history.  

"Reaching our 25th year is a powerful indication of the wisdom of our founders, the effectiveness of our volunteers, and the continued generosity of our coastal property owners,"  reports Executive Director Doug Welch.  "It is a great testament to the power of a group of individuals who, with a little organization, have had a huge positive impact on the islands themselves.  In our early days, there was considerable uncertainty whether this model of allowing the islands' visitors to also be their stewards would work.  With 25 years of steady growth and positive economic impact, we can safely say that it does work."     

The Maine Island Trail links island properties together and it also links island visitors to the care of these special places.  In exchange for island access, MITA offers a variety of volunteer-driven stewardship activities including trash cleanups, use monitoring, and trail crew work.  In this way, island owners benefit from being part of the Trail.  "We promise island owners that their fragile properties will be in better shape if they are part of the Maine Island Trail than they would be otherwise," says Welch.  "Happily, this has proven to be true for 25 years now."

"It is a model of sustainable recreation -- of engaging the community with a fragile natural resource unique to Maine," says MITA Program Director Brian Marcaurelle.  "Everyone wins: the island owners, the volunteers, and the islands themselves." 

Special 25th Anniversay Events

25th Anniversary Kickoff at Maine Boatbuilders' Show
Saturday March 16, 6:00 PM – 8:30 PM
Portland Yacht Services, 58 Fore Street, Portland, ME
Attended by thousands each year, the Maine Boatbuilders' Show has long been seen by locals as the start of the boating season in Maine.  A free party for MITA members and members of the press will kick off the 25th Anniversary celebrations.

Film Festival and Silent Auction
Friday March 29, 6:00 PM –10:30 PM
USM Abromson Center, 34 Bedford Street, Portland, ME
This family-friendly event boasts a selection of paddling films and salty short films, plus a silent auction during intermission. 

Community Trail Trip and Photo Contest / Island Cleanups 
Saturday June 1 (National Trails Day) -- through Labor Day   
Throughout the summer, MITA will collect visitors' photo images from along the Trail and post them in real-time on a geo-coded satellite view of the coast.  Dubbed the "Rock Hop Photo Op," the photo competition will encourage the MITA community collectively to travel the entire Trail -- all 200 sites -- having fun and cleaning up the islands in the process.  Prizes will be awarded in a number of categories.  

MITA also launches its semi-annual Island Cleanups on National Trails Day in Casco Bay and moves up the coast region by region to Machias each Saturday in June.  The cleanups, which are often over-subscribed, take small boatloads of people to Maine's uninhabited islands where they spend the day cleaning the shores of trash and readying the islands for summer visitors.  Celebratory cook-outs are planned for the cleanups.  Interested participants should visit mita.org for details. 

Paddle Race 
Saturday July 20, Yarmouth Clam Festival 
The Maine Island Trail Association and American Canoe Association present a 6-mile kayak and canoe paddle race on the Royal River in Yarmouth.  Prizes will be awarded by category.   

Boaters Conference 
Saturday August 31, Portland 
The capstone event of the 25th Anniversary will be a day of family-friendly off- and on-water events in Portland.  Geared toward small boaters of all kinds, the event coincides with the Portland Brew Festival.  Photos from the Rock Hop Photo Op will be displayed and winners announced.  A speaking program will celebrate the future of the Maine Island Trail. The event is being supported by the American Canoe Association and a variety of Maine boating organizations.  


About the Maine Island Trail Association

The Maine Island Trail Association is a membership organization dedicated to the protection and enjoyment of the wild islands of coastal Maine.  Through 25 years of community-building, stewardship and education, the organization created the Maine Island Trail -- America's first recreational water trail.  (There are now over 500 water trails, according to the American Canoe Association.)  The waterway extends some 375 miles from the New Hampshire border to Cobscook Bay and the Canadian Border.  The Maine Island Trail was recognized in 2011 by Outside magazine as America's Best Sea Kayaking Trail and in 2010 by Downeast as the best trail of any kind in Maine.

Current members enjoy access to Trail properties for day use or overnight visits in return for observing low-impact recreation techniques and guidelines outlined in MITA's annual Trail Guide.  Members are invited to participate in a wide variety of volunteer stewardship projects to keep the islands pristine, accessible, and welcoming.  Annual memberships normally start at $45, but as a 25th Anniversary special, funded by a generous MITA member, new members can sign up at all live events for $25.  For more information contact MITA at 207-761-8225 info@mita.orgor visit www.mita.org