Center Console Workboat
Here's an item that I passed by yesterday on my way to work. Fortunately, it was still there this morning so I could take a photo.
At a first glance, I thought "hey, nice center console workboat" [the blue one alongside the orange barge]. Looks kind of cool, actually, but at a closer look:
... duh! A wastebin! Maybe I should get my vision tested one of these days.
Best wishes (and enjoy your summer vacation, everyone).
Mario
---
---
SERVICE AWARDS MORE THAN $14 MILLION IN CLEAN VESSEL ACT GRANTS Funding supports clean waters and recreational boating
The U. S. Fish and Wildlife Service (Service) announced today that more than $14.7 million will be awarded to 23 states under the Clean Vessel Act (CVA) grant program in 2013.
The first CVA awards were made in 1993. Since that time the Service's Wildlife and Sport Fish Restoration Program has awarded more than $200 million to states for projects funding construction, replacement, renovation and maintenance of facilities that assist recreational boaters in properly disposing of on-board septic waste. The program also provides information and education on the importance, benefits and availability of pump outs.
"Clean Vessel Act grants are essential to ensure clean water and healthy environments that allow for recreational boating opportunities," said Service Director Dan Ashe. "The CVA program has a substantial economic impact on local communities, which is a win-win situation for conservation initiatives and businesses across America."
Funds for the CVA program are provided annually from the Sport Fish Restoration and Boating Trust fund. These funds are derived through the collection of fishing tackle manufacturer excise taxes and boat and fishing import duties as well as motorboat and small engine fuel taxes. The program supports the user-pay, public-benefit cycle that has led to the successes of the Sport Fish Restoration programs. States apply for CVA funding and they or their partners provide matching funds to complete projects. Sub-grantees often include local municipalities and private marinas.
In addition to traditional on-dock pump outs, projects include pump-out boats that travel in designated harbors to make the sewage collection process more efficient and convenient. Some states also install floating restrooms in areas where boaters congregate and no restrooms are available.
"The Clean Vessel Act is a critical tool in helping the states to maintain clean and healthy waters for people and wildlife alike," said Assistant Director Hannibal Bolton of the Wildlife and Sport Fish Restoration Program. "The pump outs built through these funds ensure clean drinking water, sustainable ecosystems and healthy recreational areas will be accessible to the American people."
For more information on the 2013 grant awards.
For more information on the CVA program.
The mission of the U. S. Fish and Wildlife Service is working with others to conserve, protect and enhance fish, wildlife, plants and their habitats for the continuing benefit of the American people. We are both a leader and trusted partner in fish and wildlife conservation, known for our scientific excellence, stewardship of lands and natural resources, dedicated professionals and commitment to public service. For more information on our work and the people who make it happen, visit www.fws.gov.Connect with our Facebook page at facebook. Follow our tweets at twitter.com/usfwsmidwest, watch our YouTube Channel at youtube. com/usfws and download photos from our Flickr page.
---
Nolan Offshore Fishing
We took the big Tolman running 180 miles. We fished the Hot Dog, Hambone, Poormans Canyon and then finally Washington Canyon which we ended up about 60 nm out of Ocean City Md. The best part was that we used only about 50-51 gals for 180 nm. The wind was 15-20 and it was snotty out there at night. We fished all night in the Washington Canyon and were the only boat out there in the night
We found the fish at 6 pm, 14 hrs into the trip. We trolled 7 yft to 35-40 lbs with mostly small fish 27-30 inches.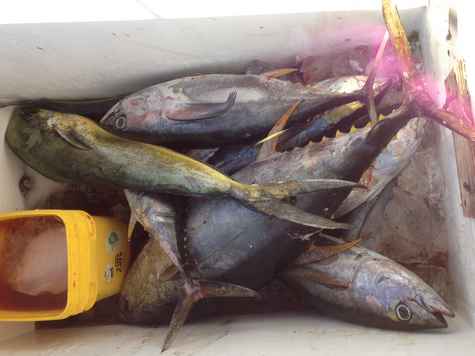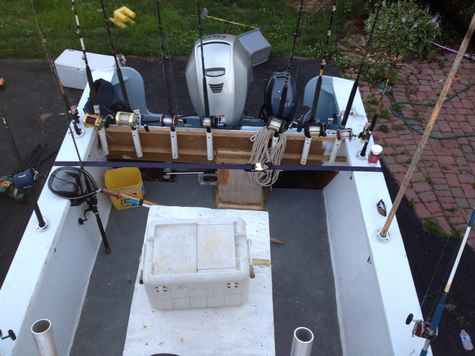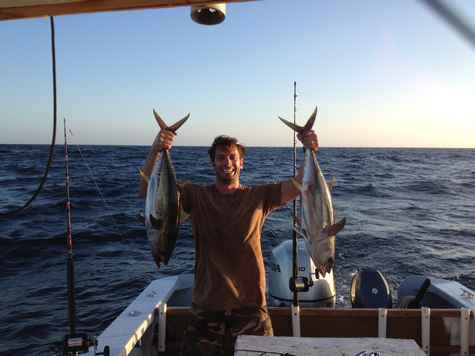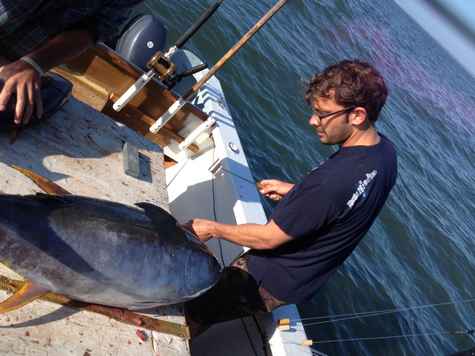 Two Mahi at night, one about 10 lbs one about 5 lbs, 4-5 big shark bite offs.
Very happy with the boat performance and fuel economy and comfort. A big Tolman Jumbo can take a lot of sea conditions and is economical to run, and very safe.
I had Gary S and Matt H, who turned out to be a great sailor and fisherman, and my father in law aboard.
Hope to get out soon in a couple weeks for a double overnighter.
Dave
---
Laguna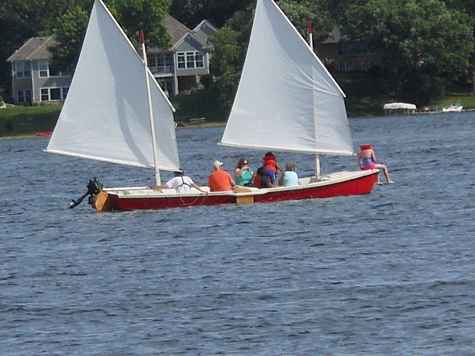 Thank you Chuck. I appreciate the fine service from you all.
Chad
Laguna Siete
---
Drug-Free Nausea Relief Psi Bands Help Sea-Faring Fans Quell the Queasies in Style
June 26, 2013 – Sea-goers will be able to quell their queasies in style and without drugs this boating season. Award-winning Psi Bands, the stylish drug-free acupressure wristbands for the relief of nausea, are now widely available at major U.S. drug stores. Psi Bands are a "must-have" product for cruisers, boaters, and anyone who enjoys spending time on the water (but doesn't enjoy the nausea that often comes with it).
FDA-cleared Psi Bands (www.psibands.com) meet the recent trends in healthcare for natural remedies with a stylish flare. Psi Bands (pronounced "sigh bands" as in breathe a sigh of relief) are:
drug-free, thus avoiding some of the common side effects caused by nausea medications, including blurred vision, dry mouth, and drowsiness;
uniquely adjustable around the wrist like a watch and at the acupressure point for personalized comfort and fit;
available in five fun designs (two of them unisex);
waterproof (swim, snorkel, or shower without having to remove the bands);
reusable; and
affordable.
In addition to relieving motion sickness, Psi Bands provide nausea relief due to pregnancy (morning sickness), anesthesia, and chemotherapy.  Psi Bands are worn on both wrists at the Nei-kuan acupressure point. Acupressure, an ancient healing art that uses pressure to stimulate the body's natural self-curative abilities, has grown in popularity because it is effective and easy to self-administer.
Co-founder Romy Taormina invented Psi Bands after personally experiencing many months of morning sickness during her pregnancies. She found nausea relief by using wrist acupressure. However, the existing products on the market were dull and unsatisfying, so she was inspired to create something both functional and fashionable for others who suffer from nausea.  
Psi Bands were recently featured on ABC's Shark Tank, The Jeff Probst Show, and Good Morning America. Psi Bands were voted the most buzz-worthy product of the year at the 2012 Travel Goods Association (TGA) trade show, and are a 2011 Huggies MomInspired Winner. Entrepreneur Magazine called Psi Bands a "stroke of genius" and Oprah's O Magazine called them "grace under pressure".  
Psi Bands sell for approximately $15/set depending on retailer and location. Psi Bands are now available at more than 13,000 stores nationwide, including at CVS/Pharmacy, Rite Aid, REI, Whole Foods stores, as well as online.  For a complete list of retailers and/or to learn more about Psi Bands, visit www.psibands.com
---
Marsh Duck Update, Cruising, Lessons learned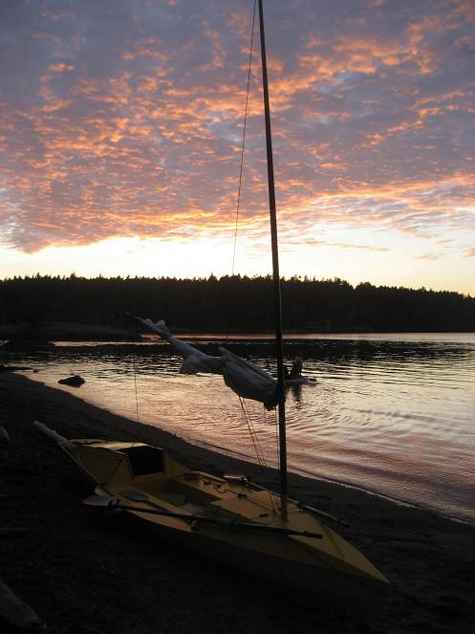 I've been out cruising on the Marsh Duck since May 10, in the San Juan Islands, the Canadian Gulf Islands, and the Strait of Georgia. We're currently in Powell River BC, at a friend's, waiting for materials to do repairs (broke the mast base).
It's been a wonderful cruise. I've learned a lot, seen incredible wildlife, met lots of wonderful people, and made some improvements to the boat. Conditions have ranged from dead calm to 25 knots of wind and 4 foot waves, and I've both sailed and rowed in that full range of conditions.
I've found the Marsh Duck to be wonderfully seaworthy and stable, better I had any reason to expect. I've learned to comfortably reef out in open water in the most severe conditions I've experienced so far.
I look forward to being out on the water again by the middle of next week, heading farther north, and gradually trying her in more severe conditions as well as exploring some wonderful waters. I imagine I'll continue cruising all summer.
For more about all this and/or to follow along:
www.scotdomergueblog.wordpress.com
Scot
---
Extreme Dock
Paul and Lauren came by to see this extreme dock I just finished. They have a backyard that's planted with all kinds of exotic stuff and Paul was telling her how I had this self watering dock. Naturally she said, "what the hell is a self watering dock", I would. Look at the top of the purple pipes at the green plants growing out the tops. Her pictures show this better than mine did. The up and downs are full of dirt and the sideways ones are hollow and connect the whole thing. The hanging pots are below little holes I drilled so when I open one valve everything get watered in about thirty seconds. Steve is also in this one with his giant umbrella boat.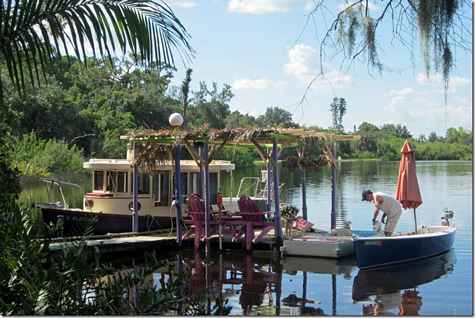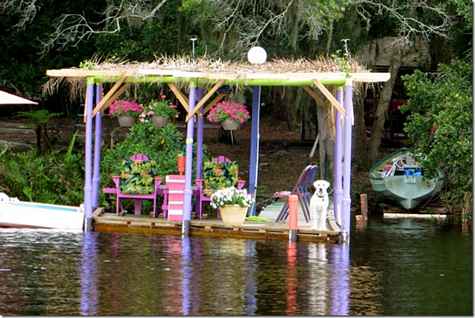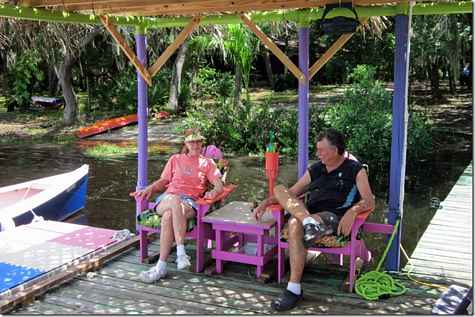 It does make you want to sit out here and enjoy the peace, if no one comes and talks to you which is just about impossible.
Dave Lucas
---
Mystic Seaport

I have just returned from a wonderful week-end at mystic seaport. The stars of the show (apart from the Keuka Whaler of course) were the Saint Ayles Skiffs. They rowed, they raced, the spectators screamed, and a wonderful time was had by all.
Here's the website: 70+ strong in scotland and building around the world!
scottishcoastalrowing.org

Craig
---
Pink Duck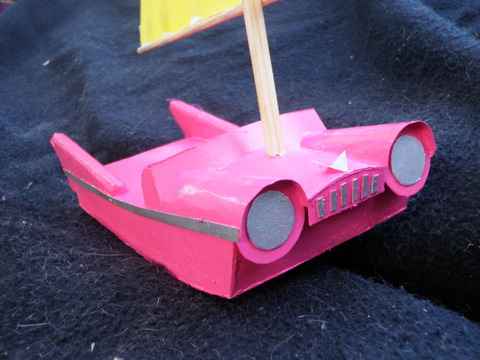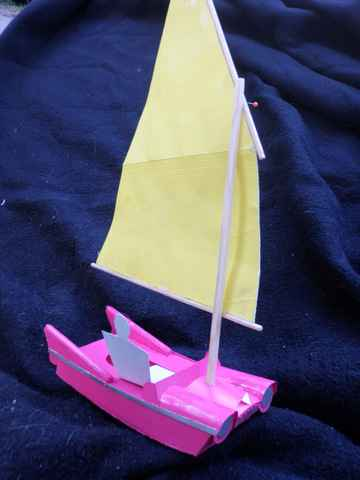 These are top secret photos smuggled across enemy lines and posted here at great danger! All I can say is try to make the next Texas200.
Chuck
---
Cardboard Boat
We assembled out 18' 4" cardboard boat (pics to follow) and we learned a lot. From that experience, I came up with a really Quick and Dirty Cardboard Boat plan.
The hardest part is getting the cardboard to bend - that takes some work. Pinching the ends is also tricky. Incorporating string into the build was a game changer.
Andrew Linn
---
'Transpac 2013'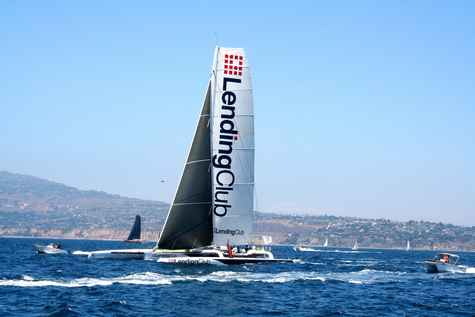 Tritium Racing attempts to set world record in 'Transpac 2013' Los Angeles to Honolulu race.
Tritium Racing sets sail on its 73-feet offshore trimaran on a world-record breaking attempt to travel more than 2,225 nautical miles (2,560 miles) within 4 1/2 days during the Transpacific Yacht Race, "Transpac 2013," from Point Fermin, Calif., to Honolulu on Saturday, July 13, 2013. Gladstone's Long Beach owner John Sangmeister skippers the ORMA 73, Lending Club named yacht, under the sail number "USA 3" and is joined by a crew of nine including Renaud Laplanche, CEO at Lending Club, Ryan Breymaier, captain, Gino Morrelli, watch captain, Will Oxley, navigator, Peter Stoneberg, main trimmer, along with Howard Hamlin, Jay Steinbeck and Erik Berzins. The current Transpacific Yacht Race record was set by Bruno Peyron in 1997 aboard Commodore Explorer, an 86-foot catamaran, in five days, nine hours, 18 minutes, and 26 seconds. Transpac's first race was in 1906 and took 12 days to complete and has since become one of the premier international sailing events. Transpac 2013 fielded more than 59 boats launching over a three-day period on July 8, 11 and 13, 2013. (Photos courtesy of Gladstone's Long Beach / Tritium Racing)
Cameron Andrews
---
Trimaran Catri 25
Trimaran Catri 25 - Fast, Safe and Green way to Travel the Sea. Designed in Latvia.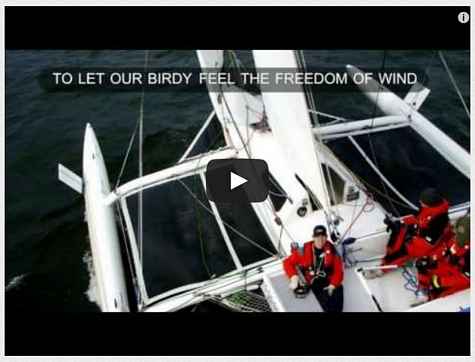 The new revolutionary trimaran - Minimal traction - Maximum speed - Superb stability - Environmentally friendly - Easy to transport.
As you already know the building of new concept yacht Catri 25 is at the finish stage and we are struggling to launch it. This is why we kindly invite you to support us on Indiegogo.
There are different ways how you can support us on Indiegogo:
Pledge, Share, Promote, Discuss, Ask us questions. Do anything that comes to your mind and could help us all get there! We highly appreciate your support and understanding! Thank you!
Sincerely yours, CATRIGROUP team
---
DUO 1000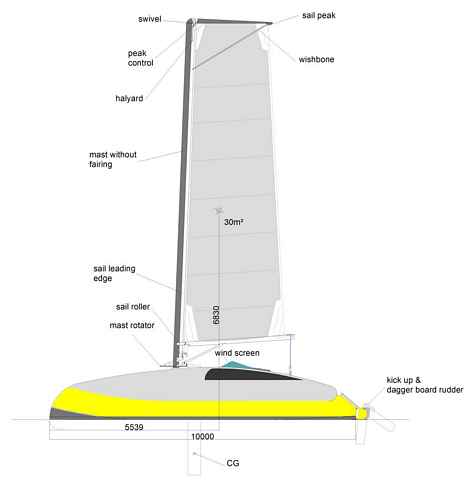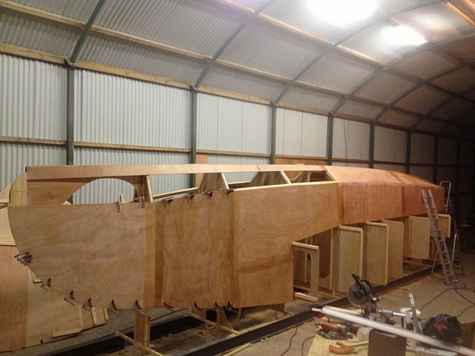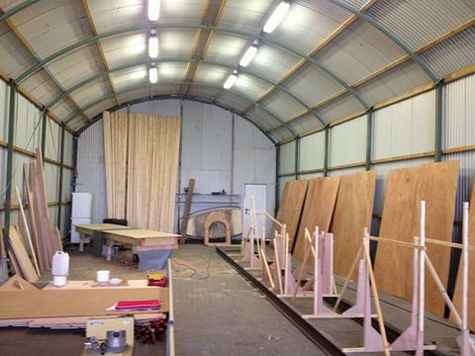 Here are some pictures from the new DUO 1000. The first one was started on the 1st of May.
Bernd
---
PDR Word Championship Practice
Here are some spectacular Facebook photos of former PDRacer World Champion Rick Landreville practicing for the weekend's PDR World Championships in Port Alberni, British Columbia.
And here is a great youtube video of Perttu Korhonen's launch of his version of the same boat in Finland. Again, the shots, this time from onboard and from an extension of the yard above, are spectacular.
Both Rick and Perttu were flying 89-90 sq. ft. PolySail-built lugs constructed just days apart on boats of the same design. There are some differences in the two sails based on the designer's version (Perttu's) and my own version (Rick's). Most of the differences are in the approaches to reinforcement patches along the luff, foot, corners, and grommets, and its affect on the finished weights of the 5.2 oz. white sails. Too bad both can't compete in this year's Worlds! I think it would be an interesting international matchup. I'm told by the organizers that there are a couple of representatives from the US who have signed on to compete in this event, but I don't know who they are. I'm hoping for lots of photos and a good write up.
Dave Gray
---
Last summer I built Michalak's Robote to replace my QTSkiff after its untimely demise (about which my attorney has advised me to say no more until the relevant statutes of limitation have passed ;-).
I keep it at my parents' lake house. There was just enough space to leave QT on the deck of the open boathouse, though things were a bit crowded. The extra length of Robote was too much to fit, so I hung it from the rafters to keep it out of the way and out of the weather.
What I didn't see coming was the swallows, who nested in the transom and proceeded to lay eggs.
As such, the Summer 2013 rowing season has been cancelled until the swallows migrate the hell away. (See the Migratory Bird Treaty Act of 1918 which makes it a crime to "molest" the nest of swallows and other migratory songbirds).
Does anyone have suggestions for storage that will prevent or at least discourage bird nesting next spring? I suppose I could car-top it back & forth from home to the lake, but that kind of kills the convenience factor. There's no room in the shed or the garage, so those aren't really options, either.
Ted Major
---
Safety At Sea: Transpac Race Crew Equipped
With McMurdo Smartfind S20 Survivor Recovery System
McMurdo has equipped the crew of a boat racing in the 2013 Transpacific (Transpac) Yacht Race with the company's Smartfind S20 Survivor Recovery System (SRS).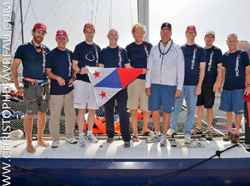 The Tritium Racing entry, a 73-foot trimaran, left Los Angeles on Saturday (July 13) and is attempting to break the record of 5 days, 9 hours, 18 minutes and 26 seconds for the 2,225 nautical mile race to Honolulu. The Transpac dates to 1906 and is held every two years.
"Crew safety is a primary concern in competitive offshore racing. The S20 is specifically designed as a personal AIS search and rescue locating device to quickly and efficiently locate and retrieve a crew member in a MOB situation," said Bill Eastwood of McMurdo.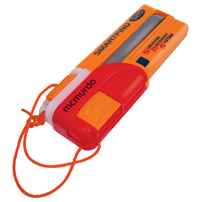 The McMurdo Smartfind S20 is worn on a lifejacket and activated by sliding off the safety tab and lifting an arming cap to deploy the antenna. The compact, lightweight unit sends alert messages, GPS position and a special identity code directly to AIS receivers within approximately a four nautical mile radius (depending on sea conditions).
No additional equipment is needed - the S20 ties directly into an existing AIS-enabled chart plotter and navigation system.
A unique, built-in, high precision GPS receiver - which updates every 60 seconds – assures accuracy of the data transmitted from the S20 SRS.
With precise location, distance and bearing data, fellow crew members (and nearby AIS-enabled receivers) receive all the information they need to locate the position of the person in difficulty and to enable a speedy recovery.
The S20 SRS will transmit continuously for up to 24 hours and has a seven year battery storage life. It is made of ultra durable ABS, waterproof to 15 feet, and includes a flashing LED light to aid with locating the activated unit at night.
For more information about the McMurdo Smartfind S20 SRS and other McMurdo safety and rescue products, visit www.mcmurdomarine.com.
---
Boaters: Need Help Fighting Hurricanes? BoatUS Adds Online Hurricane Seminars to Arsenal
ALEXANDRIA, Va., July 9, 2013 -- With the NOAA Climate Prediction Center forecasting an "active or extremely active season this year," recreational boaters will have to make storm preparations for a likelihood of 13 to 20 named storms. It's also important to remember that tropical storm and hurricane damage isn't limited to the coastline. However, if the battle in preventing hurricane damage is to be won, some boaters will need to use every tool in their arsenal of storm planning tools. Boat Owners Association of The United States (BoatUS) just added another weapon by offering three online seminars on Superstorm Sandy that share an analysis of what worked, what didn't, and suggests some lessons learned. The seminars, along with a range of free storm planning, preparation and tracking tools can be found at www.BoatUS.com/hurricanes.
While they were designed for marina and boat club managers, each one-hour long seminar shares relevant and important information for boat owners as well. All of the information is taken from first hand accounts of the BoatUS Catastrophe Response Team. The first seminar is an overview of what the BoatUS team learned, while the second and third tackle the topics of storing boats on land and water, respectively. All can be viewed at your own pace, starting and stopping at anytime. The only prerequisite to watch for free is you must be a BoatUS member - but they are also available to non-members starting at $30 through a partnership with the Association of Marina Industries (call: 866-367-6622).
In addition, BoatUS has free resources online for any boater owner, boat club or marina at the BoatUS Tracking and Hurricane Resource Center at www.BoatUS.com/hurricanes. The website offers easily downloadable storm planning materials including an in-depth Boater's Guide to Preparing for Hurricanes, and a Hurricane Preparation Worksheet that can be copied and great for handing out to slipholders, and checklists for what to do before and after a hurricane strikes.
Sample Marina/Club Hurricane Plans for boat and yacht clubs as well as up-to-the-minute storm tracking tools with live satellite images are also offered. A 24-page Yacht Club and Marina Guide to Preparing for Hurricanes shares success stories and failures of dozens of facilities that have experienced a hurricane over last two decades. The latest storm-tracking and forecasting information is also offered.