New York Weather
For boaters and the coastal towns, at the peak of the storm the surge, high tide, and a full moon high tide all came at once quite literally like a tsunami. An example is Union Beach, NJ 20 minutes from me is on Raritan Bay, not the ocean. It gives you an idea of conditions 3 hrs before the surge/high tide.
Same area seen from a police car after Sandy.
Scott Catherine
---
---
75 Prefab Floating Homes Form a Houseboat Town in Holland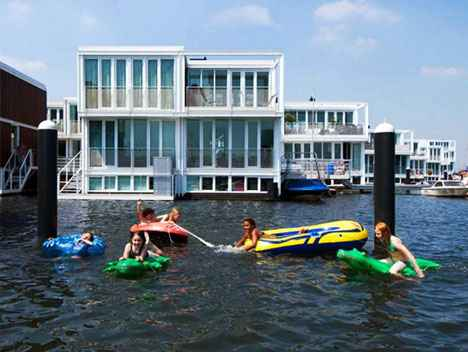 "There goes the neighborhood!".
Paul
---
Second Annual Float and Feast
Nov 24, 2012
What a great day on the water.
Andrew Linn
---
Wooden Boats Festival Threat Rejected
Found this:
The Tasmanian Government rejects claims the state's Wooden Boat Festival is under threat because of the forest peace deal.
Festival founder Andy Gamlin says the wooden boat building industry is already struggling to get the specialty timbers it requires.
He says things will only get worse under the peace deal, and the integrity of the wood boat festival is being compromised.
"The wooden boat festival is built on the premise that we have the best resource in Australia for boat building," he said.
But the Government's Rebecca White, says the state's craft industries were taken into consideration in the peace deal and it is ridiculous to say the festival is under threat.
"The legislation that we tabled in the Parliament that was passed through the Lower House actually provides protection for 38,000 hectares of specialty timber reserves," she said. ABC, November 26, 2012, 8:20 am
Graeme
---
Business Idea
The photo is from Grafton and shows a business opportunity for someone. He even swam greyhounds.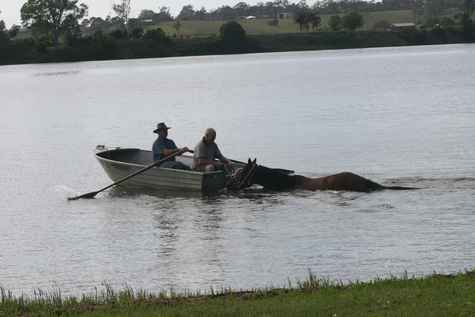 Stewart
---
Next Show Set April 19-21, 2013
Please join us for the Fourth Bayou Teche Wooden Boat Show, held in conjunction with the Bayou Teche Black Bear Festival, April 19-21 at Parc sur la Teche in Franklin, Louisiana. More information as we get closer to the show!

You may view the latest post at:
https://techeboatshow.com/?p=132
---
Messing About Bob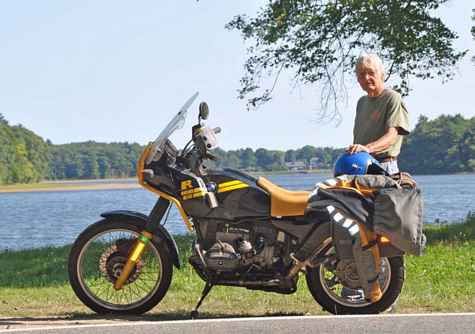 All of you should be subscribing to Messing About In Boats by now. Bob Hicks is the man who does it; been doing it forever. You'll be surprised to know that his real passion is motorcycles. What I want to know is how a guy can get to be in his 80's, riding motorcycles and not dead from road rash or bug hits or old ladies in big cars. He'd be long gone if he lived in Florida. Helen made me give mine it up when we got married, thank you Helen.
David Lucas
---
Helen Marie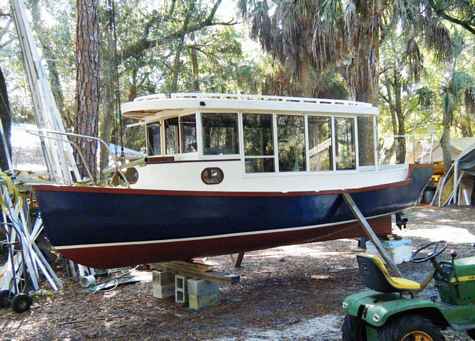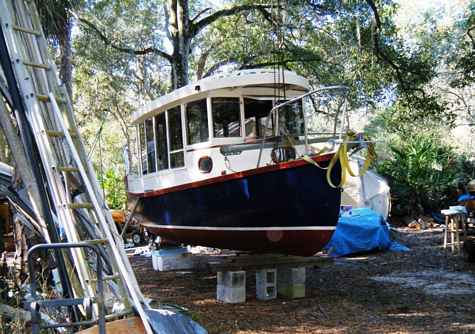 Here's the latest on my Helen Marie. She's not a work of art but very comfortable. She's raised up for a bottom paint job and looks good from twenty feet back. I do have to admit that it's a hell of a lot easier to build a boat with no systems than this monster with all the systems the Queen Mary has. Hot water, give me a break. The auto pilot needs to be rebuilt to fit the area.
There are two scenarios to explain this first set of pictures of Helen Marie over on her side. 1: I was being very thoughtful and went to great effort to show you how she looks from all angles. Note the first class bottom job and water line stripe. or B: We're a bunch of dumb asses and weren't paying attention and let her slam over while she was still hanging by a thread, rolling so fast and hard that she broke a two by six bunk board and scaring the hell out of some of the little girls who were suppose to be watching out for just this thing. No matter, this turned into a lesson in how strong I've built this thing. There was no damage at all; no glass went flying, no lumber cracked and the paint didn't even get scratched. Getting her back level was easy, we just got our engine hoist out, hooked it on to the stern rail and jacked it up. One of my goals was to make every part of this boat strong enough to lift the whole boat with that one part. You should see what's under the hand rail on the roof.
| | |
| --- | --- |
| | |
| | |
| --- | --- |
| | |
| | |
| --- | --- |
| | |
Here she is all ready for adventure. I think my next project will be a little less complex than this one.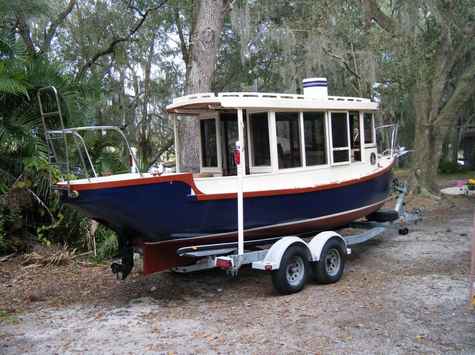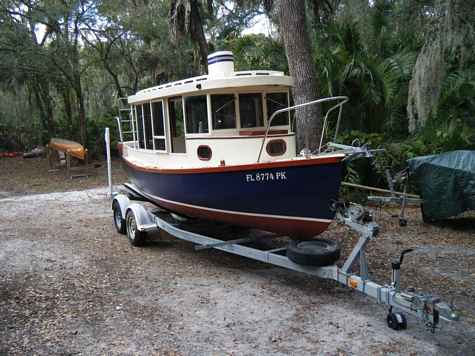 Dave Lucas
---
River Runner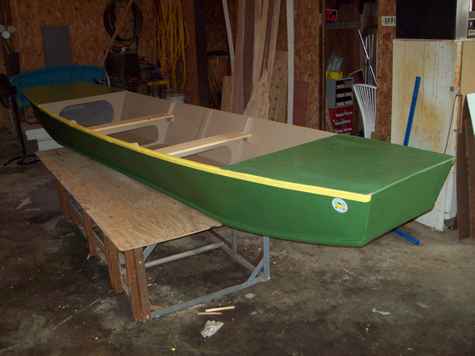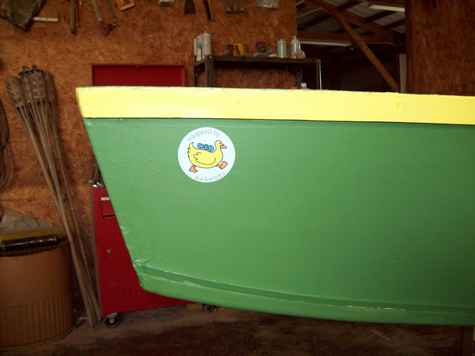 I thought I would give you a sneak peek at my latest. The paint is still drying as I write this. I will of course send better pics for your Splash column. Sandra you can see I put those troublesome stickers to good use : ). This is a Michalak River Runner narrowed 6". Thanks for the great service you provide, I really have no clue where I would find my boat building plans and materials if it were not for you guys.
Gene
---
Calendar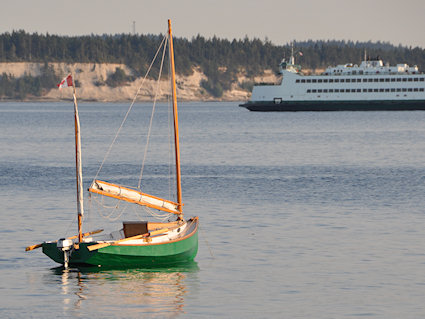 I hope I'm not out of line, but I thought that some of you might have some interest in the Coot Calendar that I put together every year. The Coot Calendars feature photographs of Coot Messabouts and Boats, and show the dates of messabouts and other events of interest to NW boaters. I only have enough Calendars printed to fill advance orders, so please respond soon if you want a Calendar. The Calendars will be $15 again this year, postpaid, if any of you would like one. Even if you're too far away to get to the events, you might enjoy the photos, which were taken by me.
https://groups.yahoo.com/group/MessaboutW
John Kohnen
---
Happy Holidays - Someone is Really Creative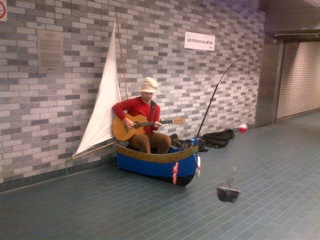 When I saw this guy playing music in the Montreal's subway, I immediately thought of Duckworks. Few bucks later I had a picture. Notice the fish stick and the pot for donations. Nice way to put people in a Christmas spirit.
Benoit
---
Christmas Parade
This is the Christmas parade float from my lovely wife's school. She and twenty volunteers spent 1,000 hours and not-telling money on this boat. It is 33feet in length, holds 12 kids and two mothers plus a porta potty. It will be in three parades and then what?
I thought it was special if fleeting. Happy holidays.
Fred
---
Water Tight Hatch Kits
These hatches can be used on any kit boat where the dimensions allow. Russell has used similar hatch systems on many boats and with the kit business, has really refined them. 
These hatches differ from most of their plastic counterparts in that they are actually water tight.  This is achieved with the combination of a very rigid lid and coaming, the right gasket material, and really slick machined Delrin turn-dogs.
The hatches are a bit of work to install and finish but the hatch kits come with a very complete photo manual and the result is an easy to use, flush, and good-looking hatch.
The kits include the machined, high quality Okoume plywood parts, (coaming, stiffener and lid), gasket, turn-dogs, fasteners, kevlar tether, and manual.
The coamings & lid stiffeners are cut from 12mm plywood. The lids are cut from 9mm plywood. Custom lids of different thickness are available upon request.
The Large hatch opening size; 8 1/2" x 15 1/2". Lid size: 10" x 17" The Small hatch opening size: 7 3/4" x 11 1/2". Lid size: 9 1/4" x 13"
The first run of these hatches has gone out to builders at another "Scamp camp" held in Michigan in October. When I get pictures of the installed hatches, I will post them on our blog. Hatch kits can be purchased from Small Craft Advisor Magazine or Port Townsend Watercraft.
Port Townsend Watercraft
Ashlyn Brown
---
Product of the Week: McMurdo Smartfind S10 AIS Beacon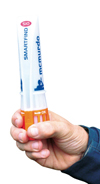 Waterproof to 60 meters, the Smartfind S10 Automatic Identification System (AIS) Beacon is designed to be carried by divers, boat crews or anyone else who spends time on the water for work or leisure purposes. When manually activated, the Smartfind S10 transmits both AIS and GPS data to the vessel the individual has come from and to other AIS equipped vessels within a typical four mile radius to give precise location information to aid the recovery of persons in difficulty at sea. Bearing and distance information is accurately transmitted and displayed on the AIS receiver or plotter, giving potential rescuers all the information they require to carry out swift retrieval of an individual.
More info: www.mcmurdomarine.com or call +44 23 9262 3900.
McMurdo - Silver Point, Airport Service Rd, Portsmouth - PO3 5PB United Kingdom
Add news@homeportmarine.com to your address book to ensure our emails reach your inbox.

Join the Marine Products Network Group on Linkedin

Product of the Week prepared by Home Port Marine Marketing
www.homeportmarine.com
---
6 Tips to Help Kick Off Winter Boating Season in the South
Sea Tow Services International Inc. (www.seatow.com), the nation's leading marine assistance service provider, offers these tips from its experienced, U.S. Coast Guard-licensed Captains on how snowbirds and other boaters can prepare for the start of high boating season in the South.
1. Do your annual maintenance. Whether you work on your boat and engine(s) yourself, or take them to your dealer or service shop, make sure your maintenance is up to date. The manufacturer's recommendation to service the engine at "100 hours or annually" actually means whichever comes first, points out Capt. Kerry Kline of Sea Tow Central Florida Lakes. "I met a Sea Tow member who had 95 hours on his engine and was waiting for it to hit 100 hours before he did the maintenance," says Capt. Kline. "The problem was, the last time the engine had been serviced was four years earlier, when he bought the boat."
2. Inspect the water pump. If the pump has dried out, or the impeller has disintegrated or is broken, it can do severe damage your engine the next time you run it. "I always recommend starting every season with a new water pump," says Capt. Ryan Pratt of Sea Tow Treasure Coast in Jensen Beach, Florida. "In the grand scheme of things, it's a lot cheaper than having to repair or replace an engine."
3. Check the fuel filter. When today's ethanol-enhanced fuel sits unused for three months or longer, it can precipitate out water. Remove the filter and pour some fuel into a cup to inspect it. Remove any water from your tank and change the filter.
4. Top off the batteries. The sun and heat in southern regions can evaporate the water in the batteries quickly. Top off batteries with distilled water, not tap water. Make sure all the terminals are clean and tight. Start your engine and let it warm up before leaving the boat ramp or dock to be sure it has a good charge and you won't end up dead in the water.
5. Maintain your trailer. Re-grease the hubs or buddy bearings annually and check the tire pressure before heading out to the lake or river. "The number one cause of blowouts is an underinflated trailer tire," says Capt. Kline. Don't forget to put the drain plug back in your boat before launching it.
6. Inspect your lifesaving equipment, including fire extinguishers and flares, and replace any that have reached or passed their expiration dates. Replace damaged lifejackets, and be sure you have the required number for your boat. Check that the kids' PFDs still fit them well and keep a couple of extra life jackets in children's sizes onboard for guests.
About Sea Tow
Sea Tow Services International Inc. is the nation's leading on-water assistance provider. Established in 1983 by Founder & CEO Capt. Joe Frohnhoefer, Sea Tow now serves members in more than 100 locations throughout the United States, Europe, Australia, U.S. Virgin Islands and Puerto Rico. For a full list of membership benefits, how to become a Sea Tow member, or to inquire about becoming a Sea Tow franchise owner, please visit seatow.com.
---